This article was originally published in the Summer 2018 issue of SUP Magazine.
While sun-drenched San Diego already sits atop America's list of most popular tourist destinations, now it can officially claim the title as the hottest paddle town on the planet. Of course, that won't come as a surprise to those locals fortunate enough to call San Diego home.
Whether you are into SUP surfing, touring, racing or even downwinding, "America's Finest City," will keep you stoked and on the water year-round, with nearly perfect weather and endless paddling options.
No matter your skill level, San Diego County is a SUP-surf fantasy land. The coastline's dotted with countless breaks from the Mexican border to San Onofre. While many local paddlers prefer the classic SUP-friendly waves at popular spots like Cardiff and Tourmaline, those with a sense of adventure will be rewarded with remote stretches of coastline that reveal shifting sand bars, rocky reefs and un-crowded point breaks shaded by magnificent sandstone cliffs.
RELATED: Best Places to SUP in San Diego
If touring is more your speed, San Diego has two massive bays and miles of beautiful coastline that are perfect for casual cruising. Mission Bay affords opposing views of keep-dreaming real estate to marine wildlife in wind-protected coves perfect for windy afternoons. Thirsty? Paddle right up to the dock at Barefoot Bar, a different type of waterside watering hole. Meanwhile, San Diego Bay offers sweeping views of the city's sleek downtown skyline, mega-yachts, huge Naval ships and the Coronado Bay Bridge.
For nature immersion, La Jolla Cove is a must. Against the backdrop of magnificent cliffs, paddlers can peer down into the crystal-clear water filled with bright-orange garibaldi (California's state fish), bat rays, leopard sharks, seals and dolphins.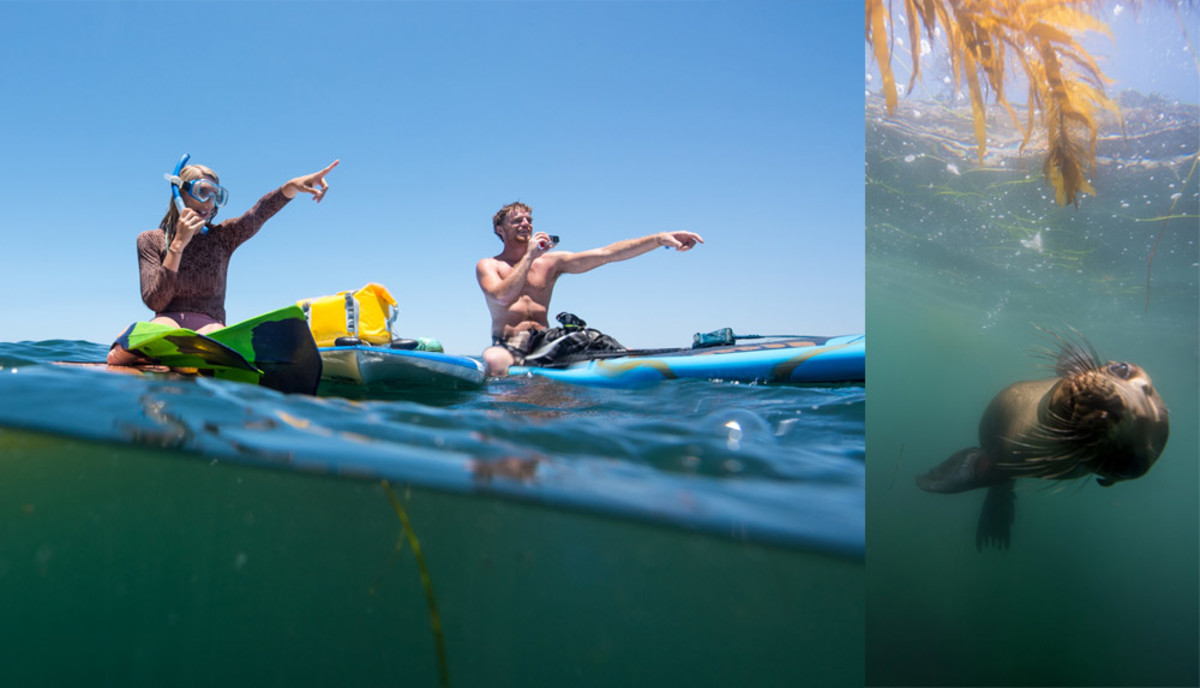 Of course, it takes more than pristine paddling options to justify a 'world-class' label. People matter. And San Diego has welcoming and passionate paddlers in spades, with paddling groups gathering regularly throughout the county. Don't let the surf lineups fool you; S.D.'s paddlers won't bite. They're happy to strike up conversations on or off the water.
Events are the easiest way to make those connections, and the area boasts two of the biggest in the sport. The Hanohano Huki Ocean Challenge attracts hundreds of paddlers to compete in Mission Bay each January, while the biggest event in SUP, the Pacific Paddle Games, takes place each fall at Doheny State Beach, located only an hour north of downtown. The county is also home to some industry big-hitters, including Boardworks, King's, Surftech, Tower, ISLE, the list goes on.
If you're still feeling crowded and can't yet see the upside of one of the largest, thriving communities of paddlers on earth, then consider its immediate proximity to the empty escape of Baja California.
RELATED
Best Places to SUP in San Diego
Paddle Town Battle #8 Finisher: San Juan, Puerto Rico
Paddle Town Battle #7 Finisher: Auckland, New Zealand
Paddle Town Battle #6 Finisher: Tampa, Florida
Paddle Town Battle #5 Finisher: Washington D.C.
Paddle Town Battle #4 Finisher: Toronto, Canada
Paddle Town Battle #3 Finisher: Honolulu, Hawaii
Paddle Town Battle #2 Finisher: Portland, Oregon
The article was originally published on Standup Paddling
For access to exclusive gear videos, celebrity interviews, and more, subscribe on YouTube!