By Paul Lebowitz

Update: On October 19, 2014, a woman paddling a white Kamanu Pueo outrigger canoe off Leadbetter Beach, Santa Barbara, was knocked into the water when a shark hit the boat's stern. It chewed up the ama. The woman climbed back onto her outrigger, then struck the shark with her paddle. She was not injured, but with her ama taking on water she made a hasty landing. She was the 18th paddler or pedaler to be attacked by a shark in California waters since 1989.
On Friday, October 3, a great white shark violently struck a Hobie piloted by Ryan Howell, sending the angler flying ten feet high into the skies off Vandenberg Air Force Base. He splashed down next to his Outback as the 17th California kayaker to suffer a hit from the ocean's apex predator.
Just hours earlier an unidentified man out for a maiden birthday kayak fishing voyage was tossed from his Pro Angler in roughly the same spot. Power boaters pulled his group from the water, but Howell and two of his friends weren't done fishing. It didn't seem like much of a risk to stay on the water.
"There had never been a repeat great white shark attack," Howell said, meaning on kayakers, accurately at the time. So much for that assumption.
A few other theories were disproven that day. For one, even a 'kayak' as large as a 14-foot long and 38-inch wide Hobie Pro Angler 14 isn't too big a target for an aggressive great white. The old saw that there's safety in numbers holds up, but only in the aftermath. Sticking within five feet of one another didn't stop a great white from shredding Howell's kayak, but it sure made the rescue easier.
Word of Howell's toothy ordeal spread fast in the kayak fishing community. One of the first Facebook posts called out kayak's pedal drive. "Hobie attracts another one!" "Seal flippers," said another, almost certainly a paddler. Is there any truth to it?
To find out, and also to answer a few other recurring questions I dug into my notes and scoured the Internet, particularly Ralph Collier's Shark Research Committee Pacific Coast shark news archives. Starting with Dan Prather at Bean Hollow in 2007, the first kayak angler shark-hunted along the California coast, I've interviewed a half dozen survivors. That's right, although the list starts with a couple of strongly suspected fatalities (that's a discussion for another time), every other kayaker struck by a great white off California has survived, usually without injuries – it helps to be well prepared. This is a good time to mention that the odds of encountering a great white shark while kayaking are fairly small, and can be reduced by avoiding marine mammal rookeries.
Paddle vs. Pedal
Check out the chart beginning with the tragic case of Tamara McAllister and Roy J. Stoddard, who were presumably killed by a great white strike off of Malibu's Paradise Cove in 1989. We could tally paddle versus pedal statistics from there (it's 12 paddle, 5 pedal if you must know), but it wouldn't make any sense. Hobie's Mirage Drive wasn't introduced until 1997. Another decade passed before a great white shark hit one of the company's kayaks. Let's start there.
Back to Dan Prather, whose red Adventure was the first Hobie attacked. The next two kayakers to feel the heat (both in 2008) were paddlers, recreationalist Bettina Pereira at Catalina and sea kayaker Tony Johnson off Tomales Head.
2009 was a quiet year, but August 2010 was tough. Adam Coca was hit hard at Bean Hollow, and a great white mouthed the bow of Duane Strosaker's sea kayak offshore of Gaviota (yes, his legs were inside the shark's mouth, inside his boat), a couple of particularly harrowing incidents. Both paddlers. If you're keeping score at home, that's one pedal kayak and four paddle kayaks since 2007.
From there, it's neck and neck between the two propulsion types. Harry Pali was pedaling off Pigeon Point when his kayak was hit in 2011. Joey Nocchi was paddling off Leffingwell Landing the next year. Mel Camu was pedaling; Micah Flansburg and an as yet unidentified man related to a kayak angler known only by the handle FlyYaker both paddled. That takes us up to the Vandenberg duo, who both pedaled.
If you kept up, you already know the score since 2007 stands at 7 paddle, 5 pedal – all of the flipper variety. Prop-style pedal drives are relatively rare on western saltwater. None have been hit by a great white. Counting anglers only, the numbers swing to 5 pedal, 4 paddle. Inconclusive? From here it looks like what you drive isn't the determining factor.
Next time, what the data shows about kayak color.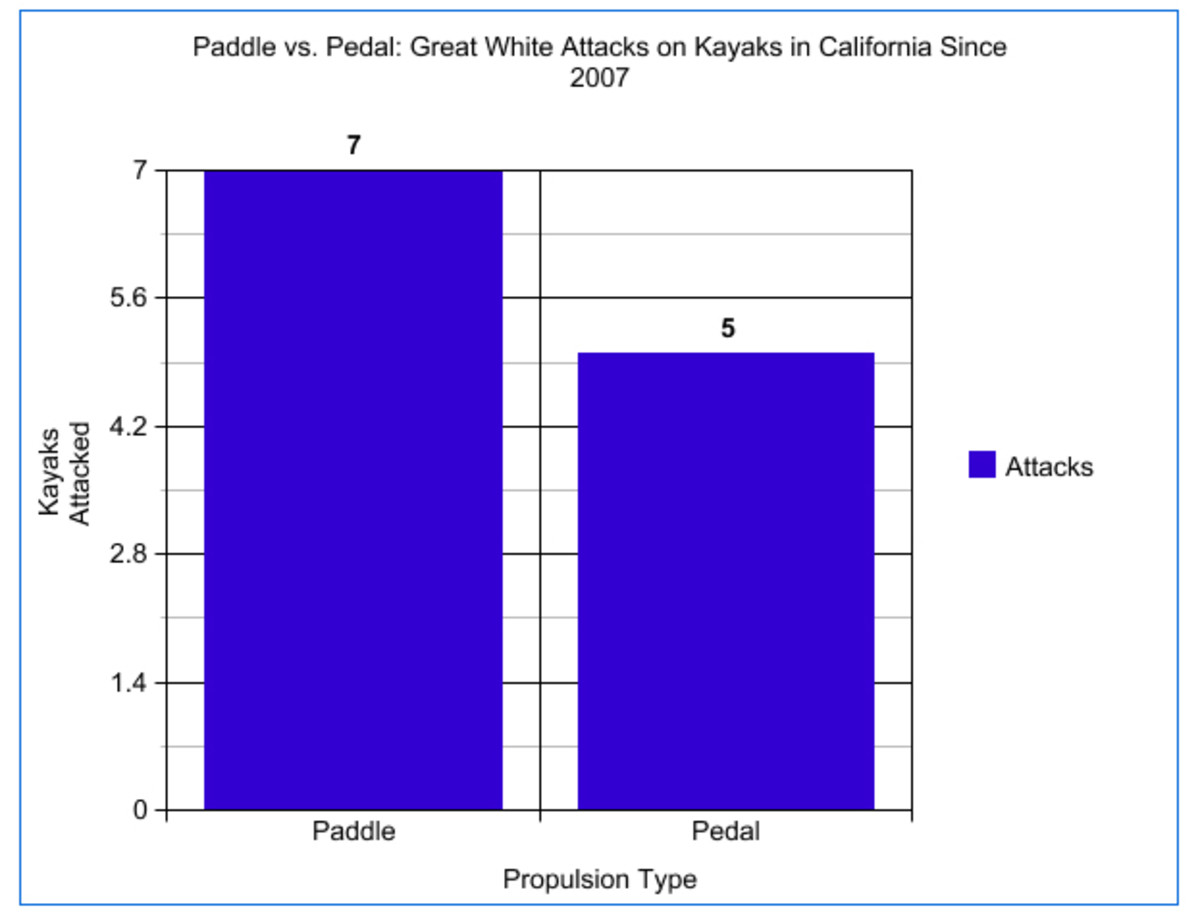 The article was originally published on Kayak Fish
For access to exclusive gear videos, celebrity interviews, and more, subscribe on YouTube!