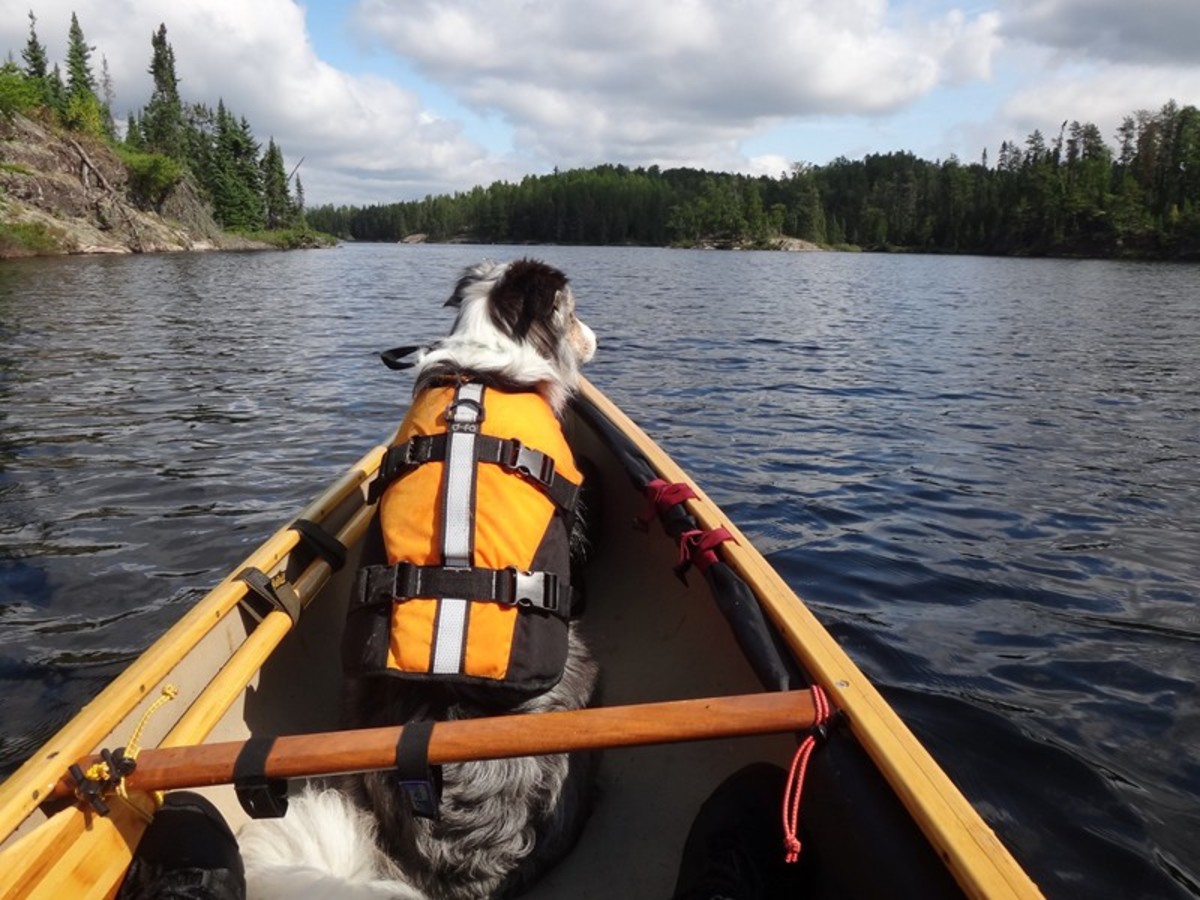 There might be no sleeker sight than a border collie in full stride, its glossy fur a blur and its tail sailing in its own wind. But canine experts warn that this breed is two and a half handfuls. If you don't give a border collie something to do, it will herd you, your kids, and the cat. The breed was bred to run and run and run, which can be problematic for smaller or sedate households.
The website, yourpurebredpuppy.com, which prides itself upon "honest advice about dogs," warns, "You must stay one step ahead of this challenging breed and most households are simply not up to the task."
So, is putting a bright, energetic border collie in the bow of a canoe and paddling and portaging through the wilderness of Quetico a good or risky thing? For Tom Tirabasso, 56, a small business owner in Carol Stream, Illinois, it's the only way to travel. Luna is a five-and-a-half-year-old female border collie and Tirabasso's BPP: Best Paddling Pal. She weighs 45 pounds and his Blackhawk "Starship" solo canoe, made of fiberglass, weighs 47 pounds. Luckily, Tirabasso only carries the latter, as Luna loves to portage. Upon reaching a campsite, being a border collie, she has excess energy for swimming and fetching, so Tirabasso travels with a ball and Frisbee.
Luna also has a pet PFD, which has protected her on the water and on slippery, rocky portages, for even a four-legged critter can slip and fall and its padding is appreciated. When paddling locally, Luna sits atop a floor pad in the canoe. Of course, padding while paddling and portaging doesn't solve all problems.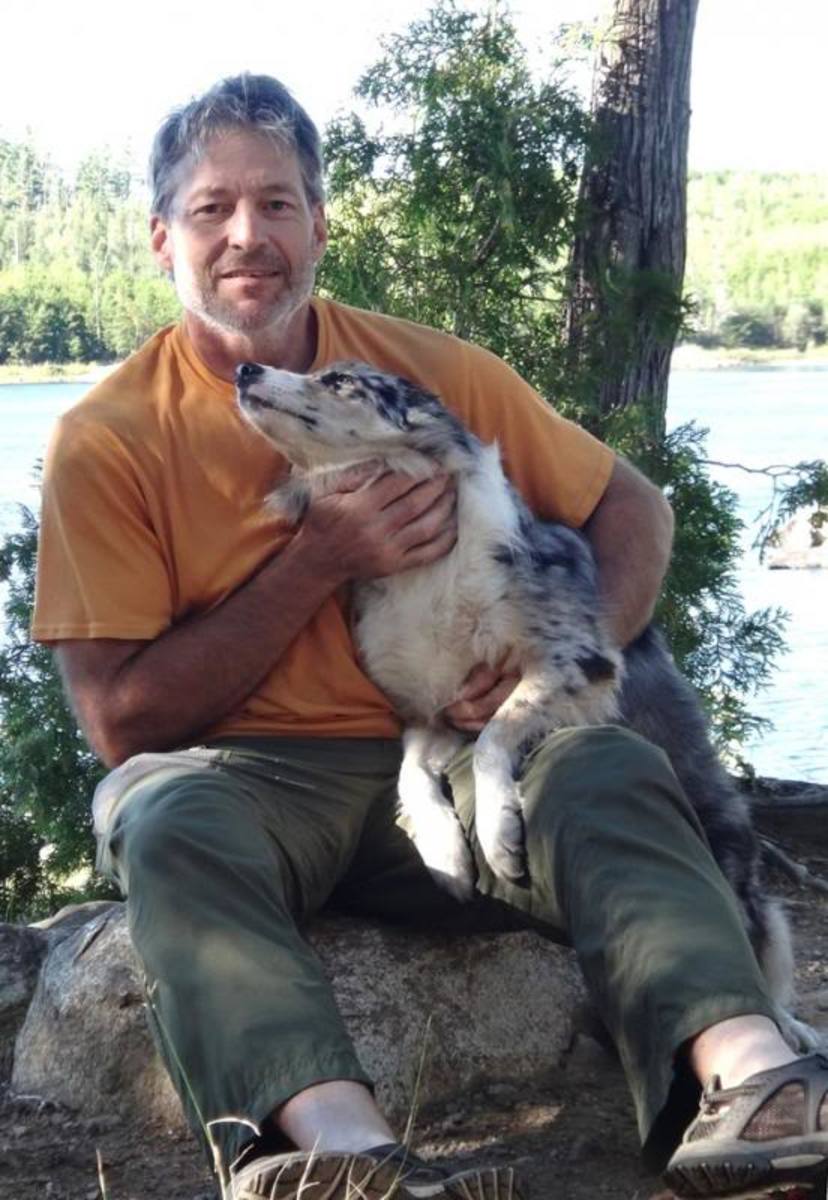 Tirabasso said, "On our first Quetico trip, we were canoeing on the McEwen River, which is in a very remote section of the park. It was very calm and there was a horsefly that just would not leave her alone. She would snap at it, but this fly would keep landing on her head. Luna was tired and really wanted to lay down, but couldn't because of this pestering fly. I couldn't help her out, but wished she could get it herself. I watched her snap at this fly maybe ten times before finally, yes, she got it! She promptly curled up in the canoe and napped the rest of the river in peace."
Another problem arose from an accidental bump.
"Luna is always good about staying in the boat and we've never dumped. However, one day, on a remote lake, she was looking out from the bow when I inadvertently tapped her on the head with my fishing rod. Startled, she instantly bailed over the side. Even with a handle on the back of the PFD, I couldn't lift her back in the boat. She saw the shore maybe 20 yards away and went for it. I followed her to the rocky shore and when I got close, she just hopped back in and acted like nothing had happened."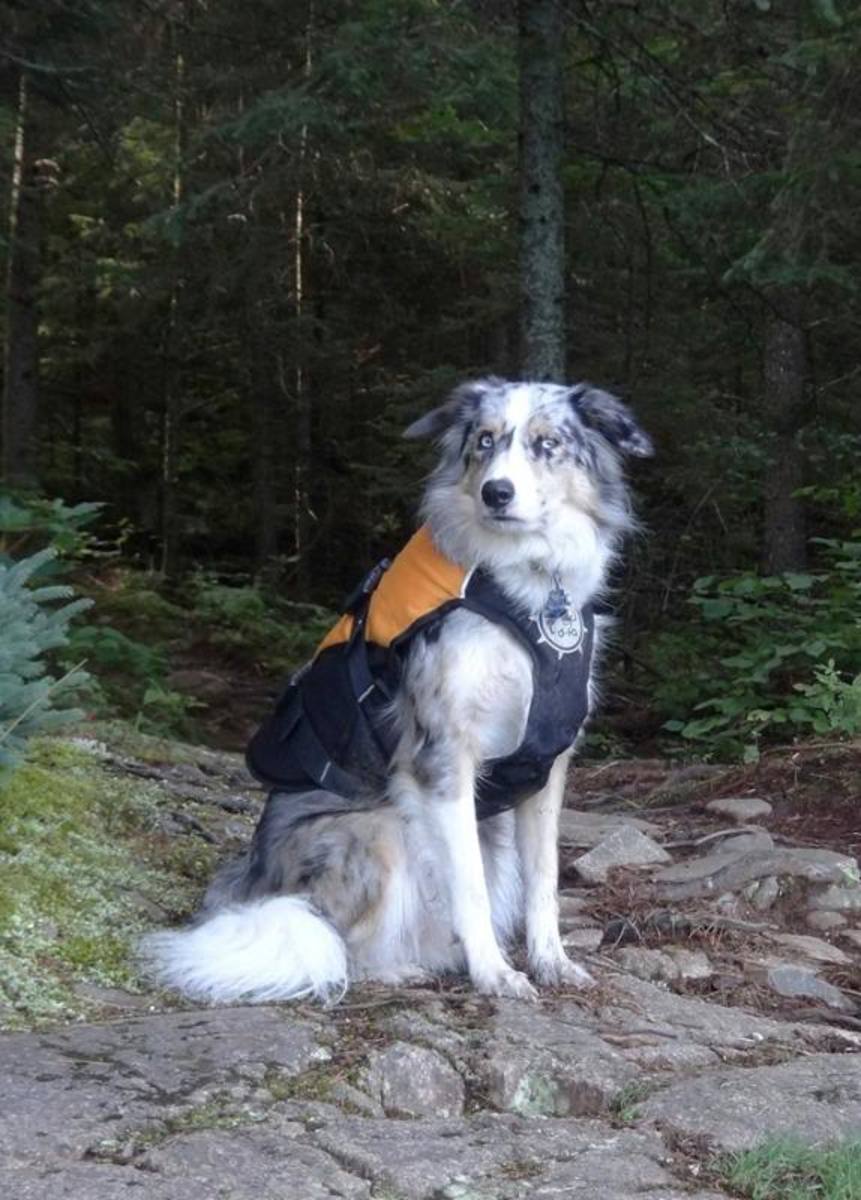 Prematurely exiting the canoe was something Luna used to do when approaching a shoreline.
"She first started to jump out of the boat on her own as we approached the shore. I stopped her from doing this when she landed awkwardly on a submerged boulder. Now she is very good about waiting for my 'okay' before exiting."
However, problems are the exception. To assure that, Tirabasso packs water and a collapsible plastic water bowl to avoid overheating. Most of Luna's time afloat is spent looking for loons and ducks and watching fish flop in the canoe. Tirabasso enjoys watching his watchful pooch. However, a border collie's bright mind likes changes of scenery and activity.
"It can be hard knowing that she's sometimes bored and wants to get out and run or play."
Tirabasso hopes he and Luna push deeper into the wilderness one day at Woodland Caribou Park, but wherever they are, this border collie is a near-perfect paddling pal.
"I'm just very thankful to have Luna as she's very comfortable and relaxed in the canoe. I couldn't ask for a better pal to have in the canoe on a camping trip. She's a great listener."
— More DOG PADDLING stories on CanoeKayak.com
The article was originally published on Canoe & Kayak
For access to exclusive gear videos, celebrity interviews, and more, subscribe on YouTube!