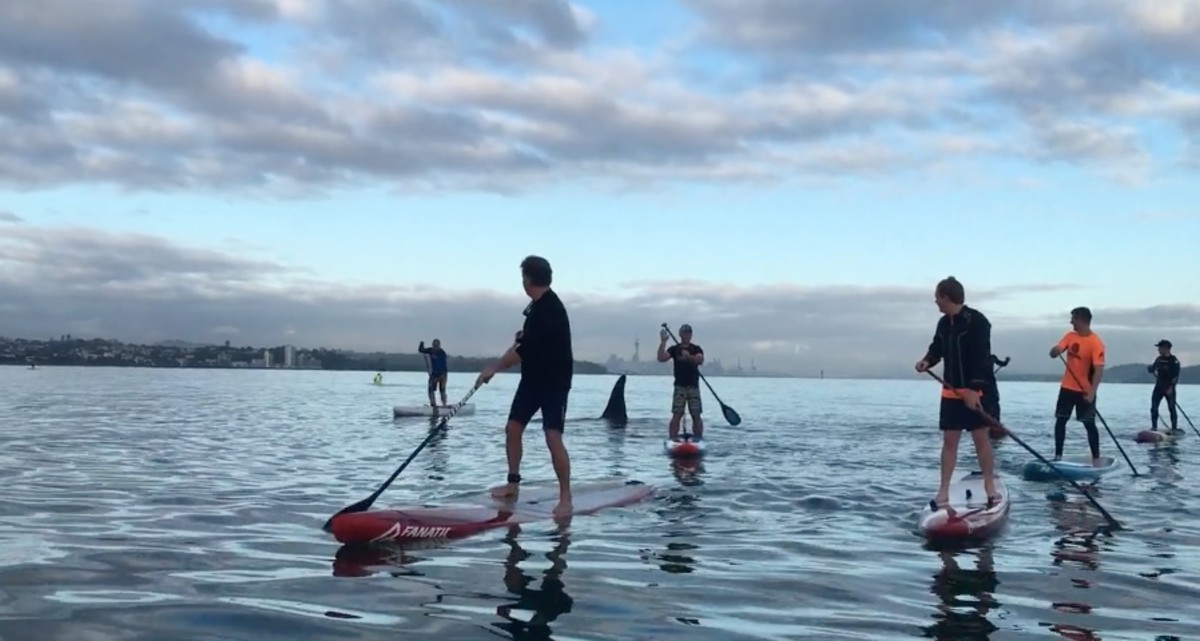 Several standup paddlers enjoyed an amazingly close orca encounter this week in New Zealand's Auckland Harbor, but video footage has generated substantial criticism.
The footage, uploaded to Vimeo on Thursday by Sam Thom, shows what appears to be an interaction between the orcas, or killer whales, and seven paddlers.
Paddleboarding with Orcas in Auckland Harbour from Sam Thom on Vimeo.
"It was great to see the orca coming right up beside us and touching the boards," Thom told One News Now. "We were all both excited and nervous to be so close to them."
It appears to have been a mostly one-sided interaction, however, as the orcas were in the tranquil waters to feed – one was spotted with a stingray in its mouth.
The Department of Conservation said the paddlers violated federal guidelines, which state that boaters and paddlers should try to remain at least 50 meters from marine mammals.
RELATED: Young orca greets boaters with an adorably loud hello
"There are no records of orca killing humans in a deliberate attack [in the wild], but the people in this video are putting themselves at risk by getting too close to the orca," DOC spokesman Nick Hirst told Newshub.
The guidelines are intended mostly to protect marine mammals from harassment, which is defined as anything that alters their behavior.
Hirst did not say whether the paddlers would be punished.
The footage on Thursday began to circulate via social media, generating nearly as much envy as criticism.
"If they want to go away, it's not a problem for the orcas," reads a comment on the Cetal Fauna Facebook page.
"Would get a massive fine for this in Canada," reads another. "Back off the wild animals you selfish humans."
Thom, 28, told One News Now that there were seven killer whales involved in the encounter, including "some big ones" and a few babies.
More from GrindTV
10 kayakers rescued in New York City on Hudson River after being hit by a ferry
Why running a trail race is about more than how you finish
How to bend those food safety rules (a little) while camping
For access to exclusive gear videos, celebrity interviews, and more, subscribe on YouTube!