Molokai gets fewer visitors than any other Hawaiian island, and not because it's any less spectacular. A lot of it has to do with Molokai's locals, some of whom are so protective of their rural Polynesian way of life that they've fought off virtually all tourism development — most famously in 2008, when local activists pushed the island's largest employer to shut its hotels, restaurants, and golf course and get off Molokai entirely.
The island's physical landscape is similarly intimidating, especially the mostly unpopulated north shore — a 38-mile stretch where 2,000-foot-high cliffs soar up from the surf, and rocky beaches are battered by 50-foot waves during winter storms. Just one lonely road dead-ends out there, and the only place to turn if you need help is a century-old leper colony that strictly forbids drop-in visits.
My buddy Mike Litter, who races outrigger canoes in San Francisco, and I planned to spend two days paddling that north shore. Some of his Hawaiian contacts were setting up the trip, and neither of us knew what to expect. As we dragged our luggage to what must be the only airport curb in Hawaii without a single hotel shuttle bus, we saw eight people waiting for us — and they were probably the fittest, tannest, most muscled human specimens I've ever encountered.
RELATED: The 50 Most Adventurous Men

"Could that possibly be our crew?" I asked.
A sleepy-eyed and broad-shouldered man approached. He introduced himself as Johnny Puakea. Among paddlers Puakea is a legend — a designer of cutting-edge, carbon-fiber racing boats, and an elite outrigger coach. When planning our trip, Litter had called Puakea to ask for advice. His response: "North shore Molokai? Never been. Once in a lifetime. Can I come?" Puakea called Jimmy Austin, a champion paddler whose family has owned a big Molokai ranch since the 1850s. Austin's response: "Wow, even I've never paddled back there. That's once in a lifetime. But we got to talk to the right people, make it OK." I later learned that Molokaiians depend so much on fishing for food that nobody camps on the north shore without assuring the right people they won't be poaching any protein.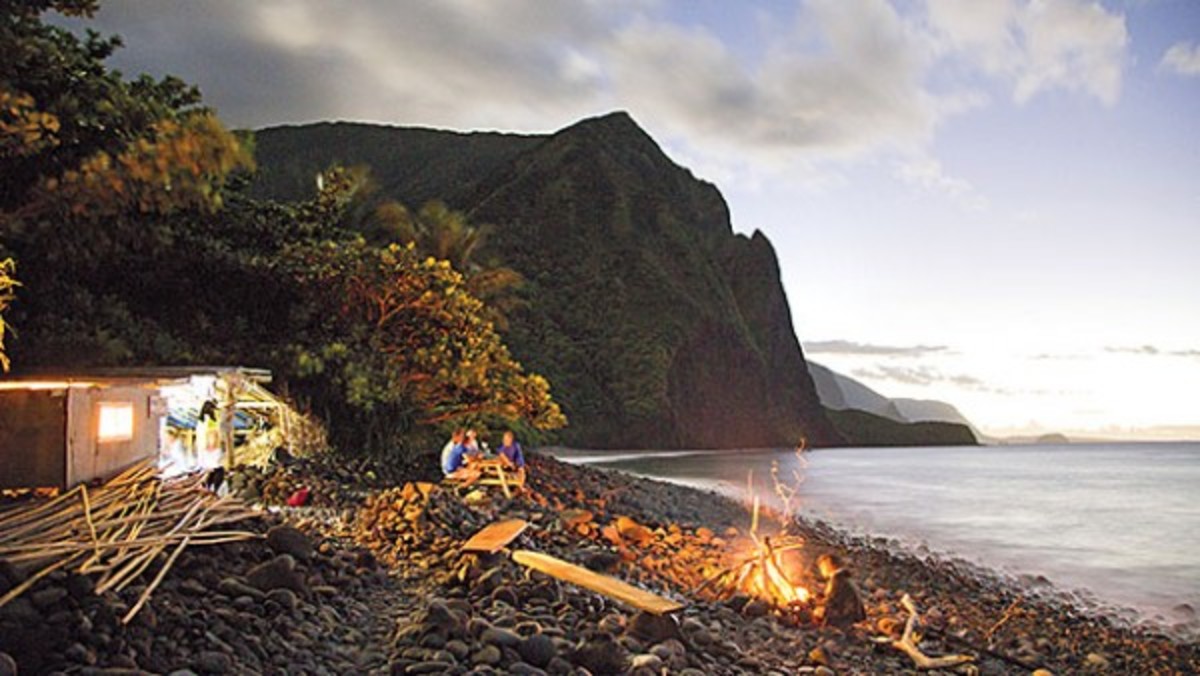 (Camping on the beach at Wailau, population one.)
Puakea and Austin took over the planning. They'd shared few of the details, which explains why Litter and I had no clue that we would be joined by a crew of elite paddlers from Honolulu and Molokai. There would be just one novice: me.
Puakea tossed our bags into the truck, and we took off. An hour later, we helped carry a 45-foot, six-man Puakea canoe (retail price: $19,500) into the shallow, warm water at Halawa Beach Park, at Molokai's far eastern end. We loaded food and camping gear into a fishing boat owned by a weathered and wiry Molokai local named Bozo Dudoit, who would shadow us and allow paddlers to rotate shifts, a standard practice in long outrigger races.
We were about to set off when a barefoot stranger ran out of the trees. He saw me and started screaming, "Who's the leader? You? Those beaches where you going — you tell me right now. No diving! No fishing! No exploiting!"
Dudoit pulled the stranger aside, talking fiercely, reassuring him until both men nodded and shook hands.
Puakea beckoned me into the canoe seat in front of his, and we started paddling, moving with the integrated precision of a rowing crew but at twice the paddling cadence while constantly alternating sides. I struggled to keep up as we left Halawa Bay, coming around a rocky bluff called Hinalenale Point. Yosemite-size cliffs came into view, laced with dark patches of jungle and cut vertically by pencil-thin waterfalls that rained down onto narrow slivers of beach.
An outrigger, I soon learned, isn't much like a standard canoe or kayak. Modern carbon-fiber versions, like ours, ride high and lightning fast over the surface, like a giant ice-skate blade. A big part of the fun is chasing and catching waves as you go. We'd been paddling for more than an hour, and my back and shoulders were beginning to seize up, when Puakea called out a wave approaching. "Okay, walk it in, walk it in!" he said. Our pace slowed, and then Puakea gave the command: "Now!" We attacked the water with all we had.
The giant hull surged forward as the wave lifted our stern and pointed our bow down into the blue trough. The canoe barreled down that blue slope like a giant surfboard. I was trembling with exhaustion when we finally stopped two hours and 11 miles later.
Our campsite was located where the pristine Wailau Valley cuts an opening in those north shore cliffs. As we hauled the canoe onto a beach composed of black cobblestones, an unusual-looking man emerged from a driftwood shanty. He appeared to be in his mid-fifties, was rail-thin and deeply tanned, and wore the sun-bleached clothing of a real-life Robinson Crusoe. Dudoit addressed the guy as Uncle Mike. He helped us ferry coolers of meat and beer from the boat to a neighboring shanty made of bamboo poles that supported a plastic tarp roof over four picnic tables.
Austin ignited a beach bonfire, and one of the Honolulu paddlers cooked a big chicken dinner. When it got dark, Puakea strummed a guitar — he jams occasionally with Jack Johnson — and Uncle Mike burned a giant spliff. He said he'd first come out to this beach in 1979 with his young wife. They'd raised three children on the beach to kindergarten age before she and the kids returned to the south shore. Uncle Mike stayed, and his now-adult children still visit. It was such a secret paradise, so utterly unlike the other Hawaiian Islands. I could understand why the locals preferred to keep the outside world at bay.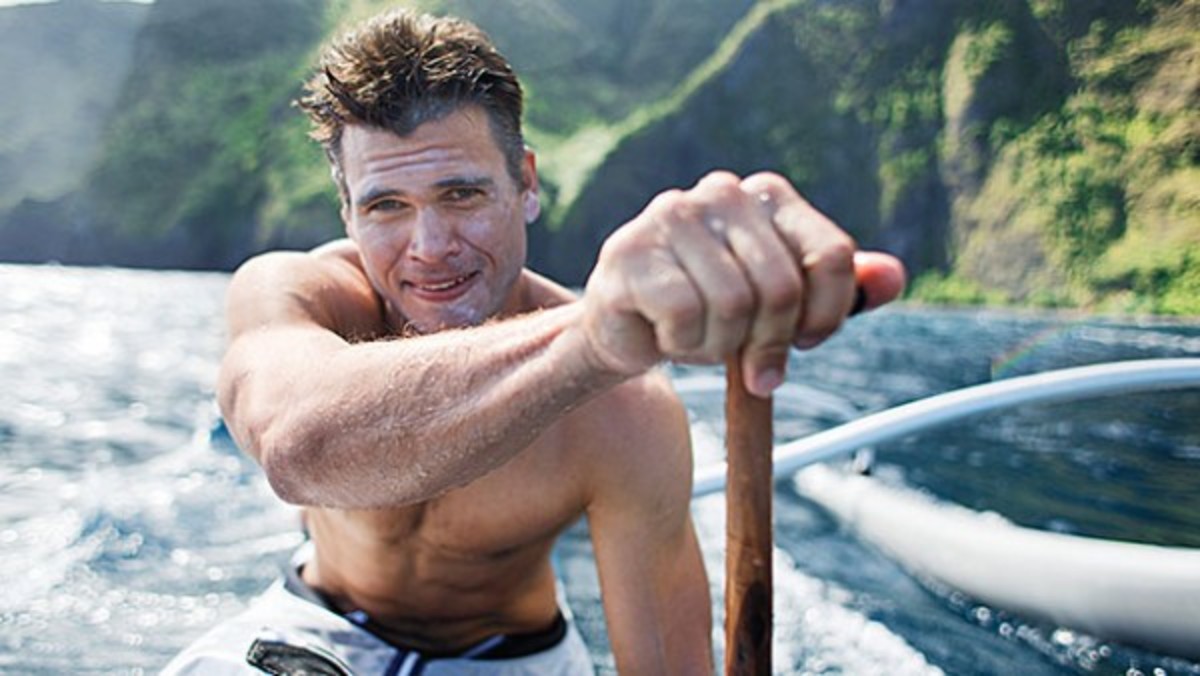 (Hayden Ramier, an up-and-coming paddler from Oahu, digs in.
A light rain started, then became a downpour. Uncle Mike returned to his shanty, and Puakea, Austin, and the rest of the crew inflated air mattresses. Litter and I slept atop the picnic tables, the rain rattling the tarp overhead.
The next morning dawned clear. As we got our gear together, I asked Puakea what was more important, paddling in sync or paddling hard. Puakea got a wry look in his eyes. "Dan," he said, "one guy out of sync wrecks the rhythm. Everybody feels it. Everybody knows who it is."
That thought haunted me as the crew paddled harder than ever, hammering through wave after wave as if in an all-out race. Wind tore across the stern, and the boat surged and sank as we chased down wave after wave. The steersman noticed a wave approaching. The crew attacked the water while the stern lifted, and we began gliding on the swell. Suddenly, the guy up front screamed, "Rock! Rock! Stop!" Just yards ahead, a sharp chunk of black lava broke the ocean's surface. "Left! Left!" the steersman shouted. I paddled hard on my left, but the steersman, catching my rookie error, yelled, "No, on your right! Right!" We missed the rock by inches and slipped into open water.
ALSO: Roughing It Off the California Coast

A few miles later, we rounded the island's western tip, our journey complete. We carried the boat onto the deep sand at Papohaku Beach, where an old Molokai Ranch resort was half-boarded-up. A few timeshares must have been open, because several lonely people hung out by the swimming pool. Wild turkeys waddled around the overgrown crabgrass lawn. We had dinner back at Austin's ranch house, where the dining room was decorated with old canoe paddles and cowboy hats. Through the window we could see feral pigs foraging in the garden and heard, somewhere out in the forest, wild deer barking — yes, barking — late into the night.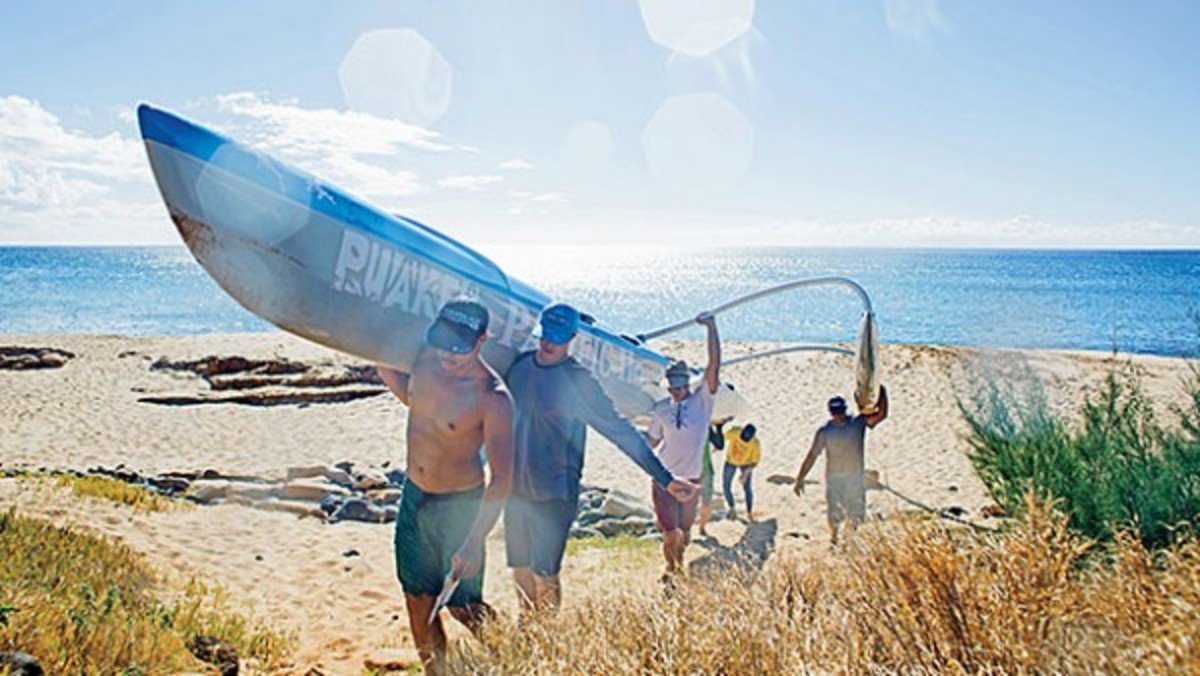 (After two days and 40 miles, the journey ends at Kephui Bay.)
Three More Molokai Adventures
Beyond the north coast, the island offers a lot more to explore.
SUP 
Molokai's south shore has the longest continuous barrier reef in the United States, which blocks big waves and creates calm, clear water that is ideal for standup paddling and snorkeling. Molokai Outdoors offers tours and rents gear.
Hike 
The trail to Kalaupapa, Molokai's infamous leper colony, drops approximately 1,700 vertical feet in just over three miles, with 26 switchbacks cut into a steep and rocky slope and views that are staggering. By permit only (Damien Tours).
Chill
On Molokai's west end, Papohaku Beach offers almost three largely empty miles of pristine white sand and blue water, with stunning views of the dormant Diamond Head volcano on Oahu, across the Molokai Channel.
For access to exclusive gear videos, celebrity interviews, and more, subscribe on YouTube!