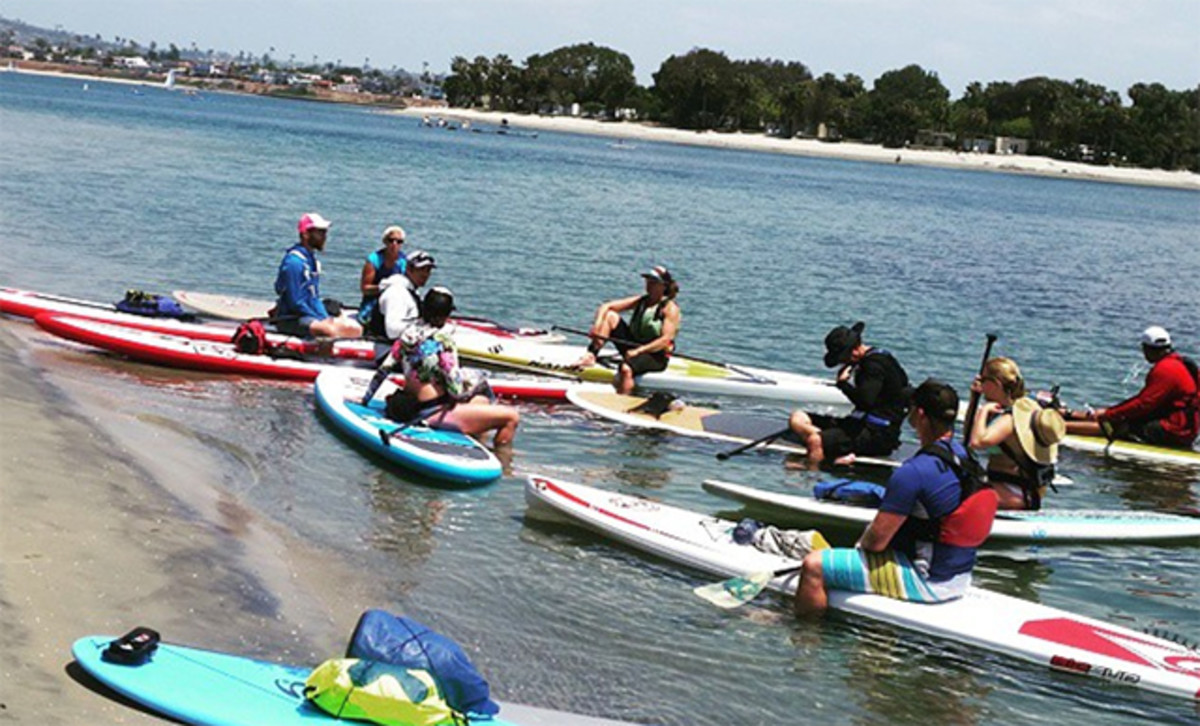 Growing Your SUP Community With Paddling Meetup Groups
I'm not an avid paddler, I can admit that. When I RSVP'd for a "Distance Training Paddle" on Meetup.com I was taking it simply to get out on the water and meet some new people, I wasn't expecting much. However, when I arrived at Baby Beach in Dana Point Harbor (an ideal beginner's SUP destination, FYI), I found much more than what I expected—a group of painfully awkward newbies trying to figure out paddling. Instead, I was greeted by four experienced paddlers who, to my knowledge, had all been to this "meetup" before. The event was lead by Tim Chandler of TRY Standup Paddle, a waterman always looking for new opportunity to grow with the sport of standup paddling and meet others with the same mindset.
Chandler loves paddling long-distance, but because of all the details that go into distance paddling not always easy to arrange a distance paddle. Logistical details like finding the right kind of cars with setups to carry boards, then finding drivers who are willing to drop off and pick up the paddlers at the two locations tend to hinder his distance paddling endeavors. It took him about a year to get the meetup group consistent and large enough to make it something legitimate. Chandler and others in the 100-plus-person group have been planning a distance paddle from Laguna Beach to Dana Point—about a 9-mile stretch and the perfect way to get used to open-ocean distance. Chandler seems like he would be ready for the distance tomorrow, but he holds these training sessions to find other paddlers able to keep up and ensure everyone is well prepared.
The workout at the meetup involved constant paddling, only stopping for boat traffic and to map out our course of action. Chandler emphasized the importance of getting into a paddling rhythm without stopping. When you're out paddling for hours on the open ocean, he said, it may seem like your not moving at all, but consistency is the key to progress.
Chandler, who I immediately distinguished as an instructor, voiced all his tips in words that were easy for any level of paddler to understand. One of the most helpful pointers he had for me was to always have my hands stacked on my paddle, and to stab the water when stroking. He described "stacked" as if "you have an apple in your top hand and you need to drop it to your bottom hand, you can't have one hand off to the side or you won't catch the apple." That advice alone had me paddling double-time with half the effort I was exerting before.
At the end of the session we returned to Baby Beach, and Chandler and the majority of the group set out for round-two. Unfortunately, I had plans so I couldn't partake in what I assume would be the more intense lap, but I do plan on returning to the group to continue upping my mileage. Chandler's training gave me a new goal to strive for, and one I wouldn't have considered to be within my realm of ambitions before. Now, the Laguna to Dana Point paddle sounds right up my alley.
Meetup groups like the one at Baby Beach are awesome on many levels. For beginners, they're a great way to build confidence and experience by paddling with friendly, like-minded people who enjoy helping newbies evolve. Meetups also provide a unique social experience; it's not always easy to meet new people, and I'd rather find friends at a real watering hole than one with a happy hour any day. Plus, right off the bat, you know you have something cool in common with the people you're meeting. So if you're new to paddling, or looking to expand your social group, I recommend checking out Chandler's group or one like it near you. Who knows, you may even find an extra special paddling partner one day. —Annie Maize
Find a Meetup group that paddles near you!
Check out TRY Standup Paddling meetup group.
How to prepare for a distance paddle.
The article was originally published on Standup Paddling
For access to exclusive gear videos, celebrity interviews, and more, subscribe on YouTube!