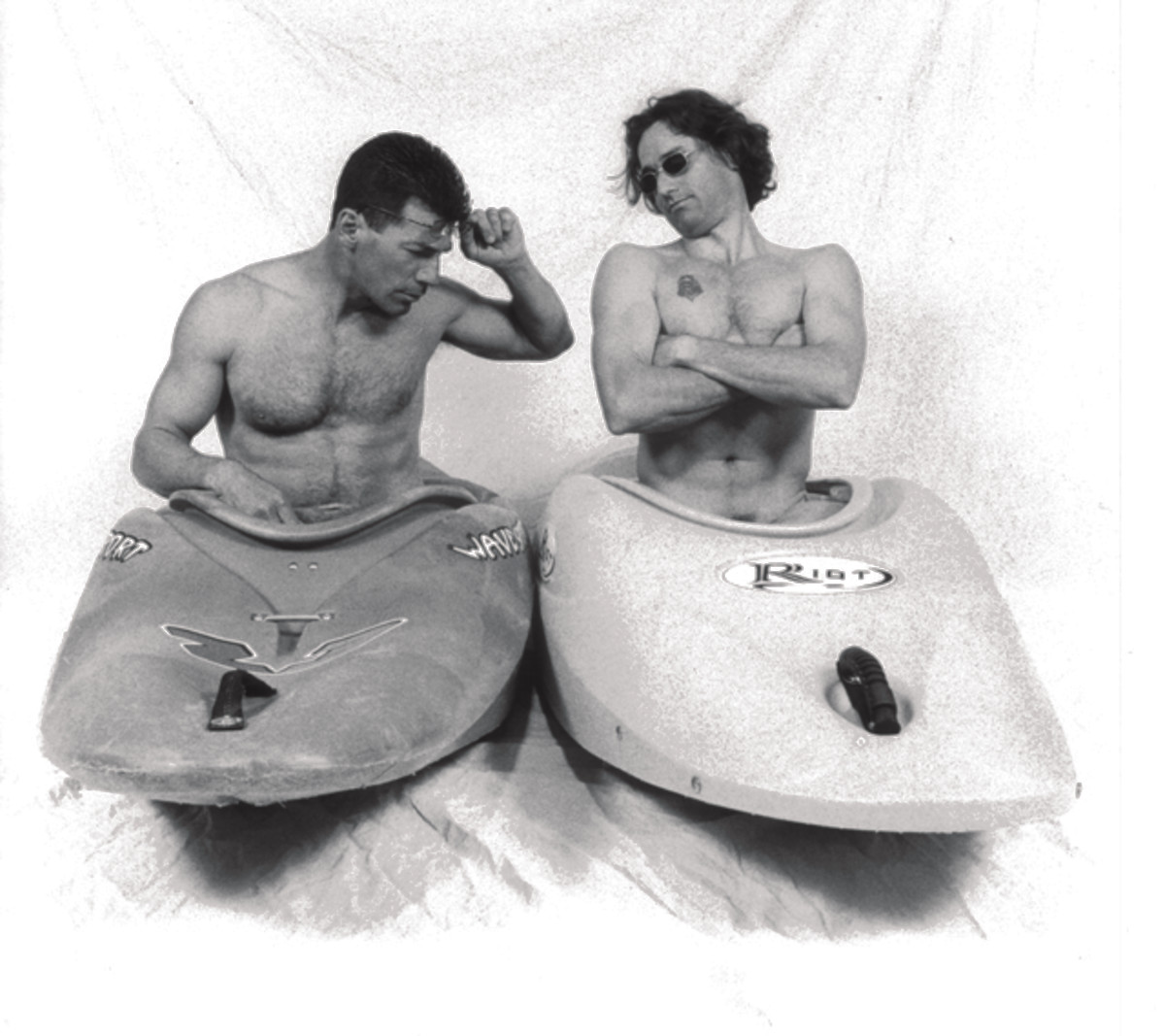 By Kurt Mullen
Corran Addison has mellowed. Or perhaps matured. Maybe he's just learned to censor himself.
Or maybe the 40-year-old's new restraint is a thin veneer, and beneath it he's still the testosterone-charged provocateur whose impulsive nature, native intelligence, and keen instinct for hype helped infuse kayaking with an insatiable energy in the 1990s.
Addison was a regular finalist at world championship freestyle events and helped invent many of the freestyle moves we use today (as much as he hates to admit it, we have Addison to thank for the now-mundane cartwheel). But above any of the paddling contributions, it's Addison's sharp mind for design and craftsmanship–and his marketing savvy–that sets him apart as a paddlesports innovator.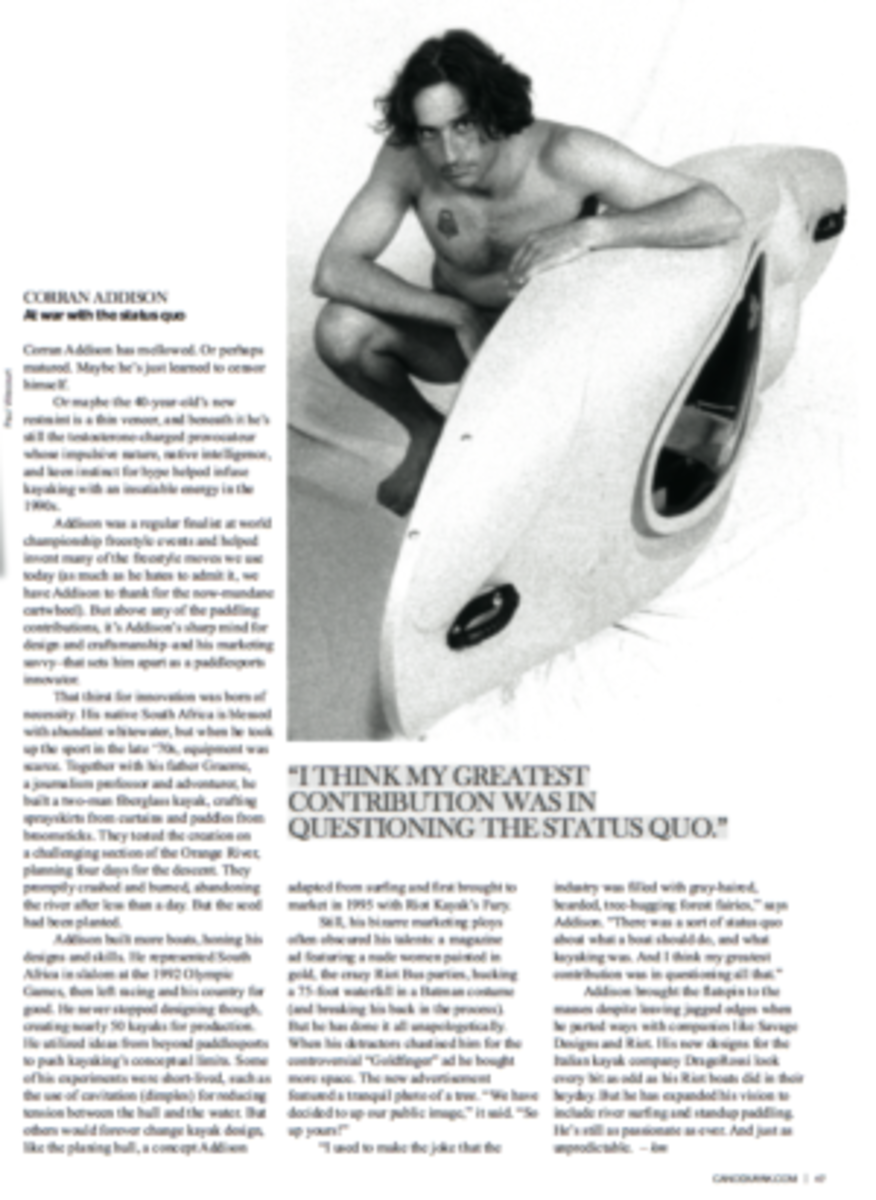 That thirst for innovation was born of necessity. His native South Africa is blessed with abundant whitewater, but when he took up the sport in the late '70s, equipment was scarce. Together with his father Graeme, a journalism professor and adventurer, he built a two-man fiberglass kayak, crafting sprayskirts from curtains and paddles from broomsticks. They tested the creation on a challenging section of the Orange River, planning four days for the descent. They promptly crashed and burned, abandoning the river after less than a day. But the seed had been planted.
Addison built more boats, honing his designs and skills. He represented South Africa in slalom at the 1992 Olympic Games, then left racing and his country for good. He never stopped designing though, creating nearly 50 kayaks for production. He utilized ideas from beyond paddlesports to push kayaking's conceptual limits. Some of his experiments were short-lived, such as the use of cavitation (dimples) for reducing tension between the hull and the water. But others would forever change kayak design, like the planing hull, a concept Addison adapted from surfing and first brought to market in 1995 with Riot Kayak's Fury.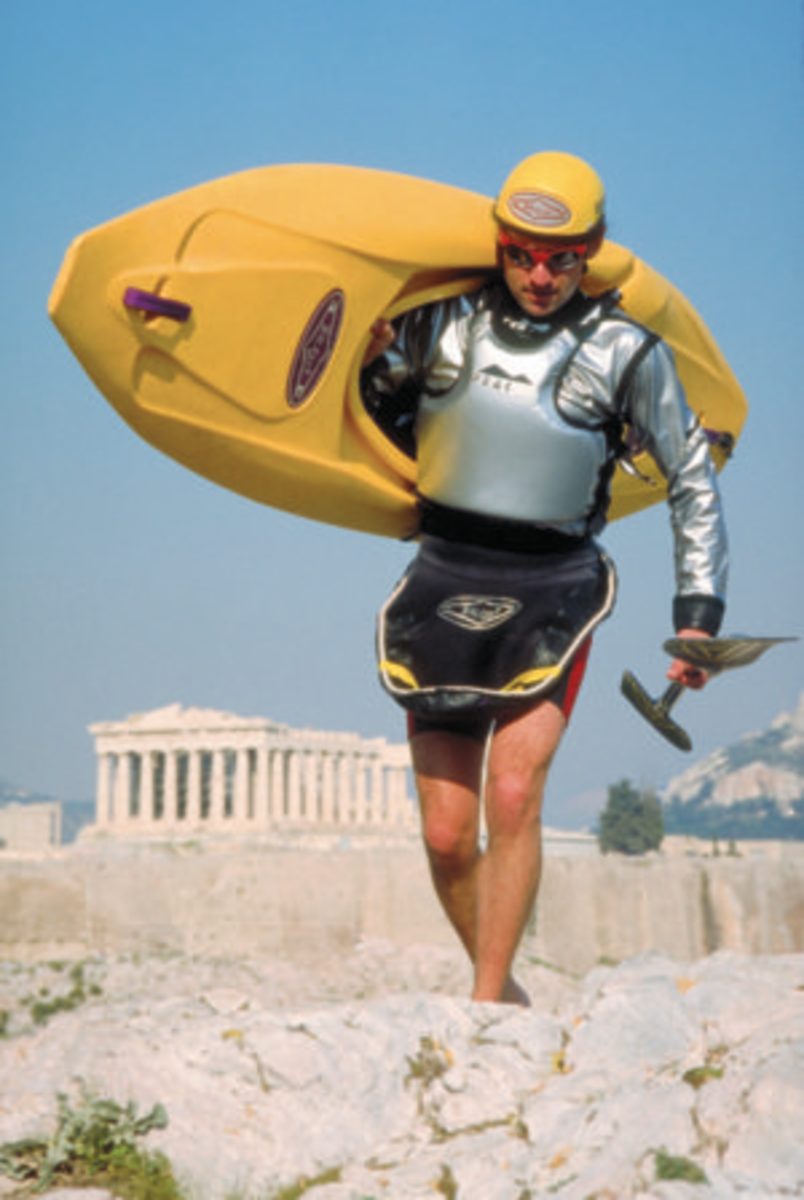 Still, his bizarre marketing ploys often obscured his talents: a magazine ad featuring a nude women painted in gold, the crazy Riot Bus parties, hucking
a 75-foot waterfall in a Batman costume (and breaking his back in the process).
But he has done it all unapologetically. When his detractors chastised him for the controversial "Goldfinger" ad he bought more space. The new advertisement featured a tranquil photo of a tree. "We have decided to up our public image," it said. "So up yours!"
"I used to make the joke that the industry was filled with gray-haired, bearded, tree-hugging forest fairies," says Addison. "There was a sort of status quo about what a boat should do, and what kayaking was. And I think my greatest contribution was in questioning all that."
Addison brought the flatspin to the masses despite leaving jagged edges when he parted ways with companies like Savage Designs and Riot. His new designs for the Italian kayak company DragoRossi look every bit as odd as his Riot boats did in their heyday. But he has expanded his vision to include river surfing and standup paddling. He's still as passionate as ever. And just as unpredictable.
This story first appeared in the Dec. 2009 edition of Canoe & Kayak, as part of our feature The Innovators.
Canoe & Kayak Innovators: 14 Visionaries Who Changed Our Sport Forever
Fun Brothers Jim and Jeff Snyder // Paddling Provocateur Corran Addison // The Prophet of Polyethylene // Warriors of the Self-bailing Revolution // Aluminum Canoe Guru Bill Hoffman // Sit-on-Top Visionary Tim Niemier // Open Boat Bomber Nolan Whitesell // Sea Kayak Savant Frank Goodman // The Bublik // Air Bag Revolutionary // The Royalex Miracle // Videographer Wayne Gentry
The article was originally published on Canoe & Kayak
For access to exclusive gear videos, celebrity interviews, and more, subscribe on YouTube!