This article was produced in partnership with Go RVing.
Why start a bucket list paddling trip along the Gulf Coast all the way out in Big Bend National Park? Two reasons: First, Big Bend needs to be at the top of any paddler's bucket list, and if you're going to be in Texas you may as well cross it off. Second, and before you say, "Texas is kinda big," you're going to be doing this trip in an RV.
With a bona fide mobile home as your adventure rig, long drives feel a little less long; you'll wake up refreshed from a night's sleep in a proper bed and energized by having your morning coffee surrounded by stunning views instead of freeway on-ramps. This is how you get from Big Bend to Lake Fausse Pointe, La., to Gulf Shores, Ala., to the Gulf Coast of Florida with boats, gear, friends, and family, making memories the whole way. Especially when the northern climes begin to cool, this warmer route offers an interstate pipeline via I-10 with side-trip escapes to put you alongside roadrunners and javelina all the way to dolphins, manatees and gators.
Speaking of RVs, you're going to need to choose one, and there are a lot of options. Since there are good campgrounds near all of the launch points below, you could get an apex predator Type A (see: Texas, everything's bigger in). However, you might want a little more maneuverability than you can expect from a rig that's more bus than truck. We have traveled in a small, diesel Type C (a Winnebago View), for the past five years and have found it to be an ideal combination of excellent fuel economy (16 mpg), livable space and nimbleness to access smaller-water launch points. The ample cooking, sleeping, and washing facilities are just as key as navigating a hairpin turn. One important note is that many of the campgrounds mentioned here do not have sites with power and water; be sure to fill/dump your tanks prior to arrival and understand the limits of your solar (if applicable) or battery capacity, so you're just as comfortable with or without hookups along the journey.
BIG BEND NATIONAL PARK, TX
The west Texas desert is straight out of central casting: hot, dusty, and with tumbleweeds blowing across the roads. But drive far enough south, to where the Chisos Mountains rise 6,000 feet above the deep limestone gorge of the Rio Grande River, and you've entered a different world.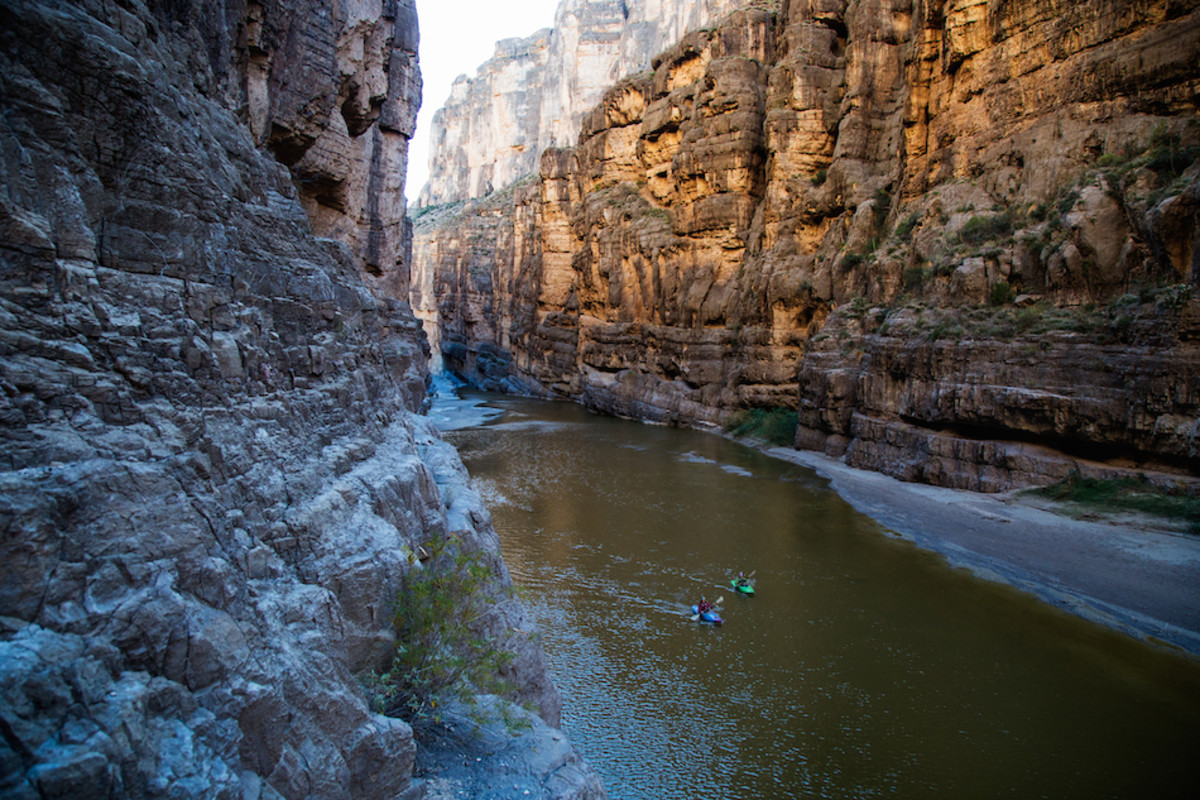 Paddle
With over 300 miles of Rio Grande to explore within the park, there are day trips and overnighters for paddlers of all ability levels. There is no shortage of local outfitters if you're looking for guided trips; if you plan to explore on your own, know that the river is dam controlled and water levels fluctuate, so be sure to check the flow before heading out. And, if you only have time for a day trip, a quick out and back up Santa Elena Canyon is a must, as is a hike through the upper elevations of the park.
Yes, you are floating along the international border with Mexico much of the time, and "I'm in the U.S. … I'm in Mexico … I'm in the U.S." jokes are encouraged — particularly if you brought your kids with you.
Eat
It's a good thing you're driving a kitchen, because Big Bend is a lot of national park and not much of anything else. If you're craving someone else's cooking, however, the quirky nearby community of Terlingua is home to the Starlight Theater, which provides a culinary tour of the local wildlife. 
Camp
If you're looking for camping with full RV hookups, head to Rio Grande Village, located on the park's southeast corner. The Cottonwood Campground has no hookups, but it's located right at the mouth of Santa Elena Canyon and can hook you up with paddling right quick.
LAKE FAUSSE POINTE STATE PARK, LA
The Atchafalaya Basin (gesundheit!) is North America's largest swamp, and Lake Fausse Pointe is the epicenter of it all. And, by "swamp" we mean "canoe trails meandering through old growth cypress trees and teeming with wildlife." If you're looking for gear or guides, head to Pack and Paddle in Lafayette before driving down to the state park.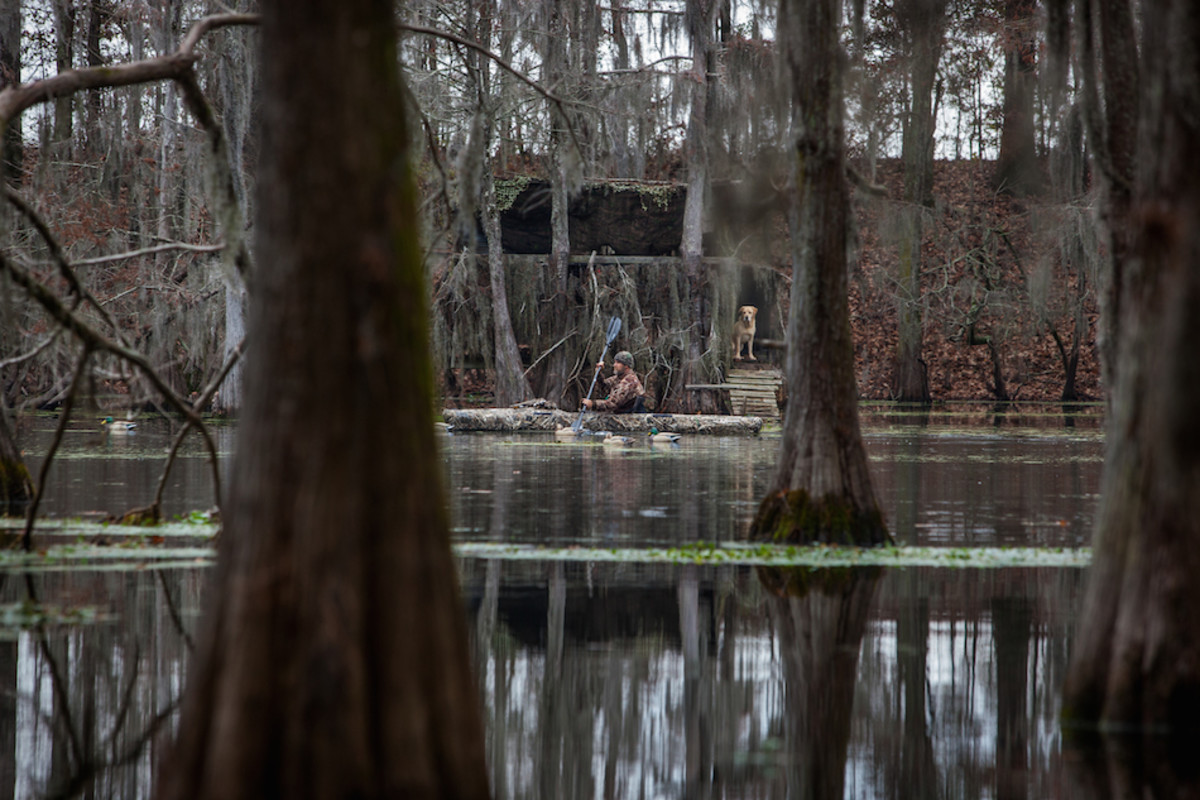 Paddle
The typical put-in for Lake Fausse Pointe is at the Interpretive Center. From there, inner and outer canoe trails are available, the former taking only a few hours to complete, and the latter between a half day and full day depending on how often you stop. Given that you're likely to see alligators, otters, and all manner of birds, you'll probably want to stop a bit. The water throughout is shallow and can get rough, so take the winds into account before setting out.
Eat
For locally caught seafood, head to Jane's Seafood in nearby New Iberia. Or, earn bragging rights at every diner you eat in for the rest of your life by heading to Avery Island, where the McIlhenny family has been making Tabasco hot sauce for five generations (and where they have their own restaurant, which presumably serves a bitching Bloody Mary).
Camp
Don't overthink it, camp at Lake Fausse Point State Park, which has full hookups.
GULF STATE PARK, AL
Fondly known to locals and visitors alike as the Redneck Riviera, the community of Gulf Shores is known for good food, southern hospitality, and being the perfect basecamp from which to explore Gulf State Park.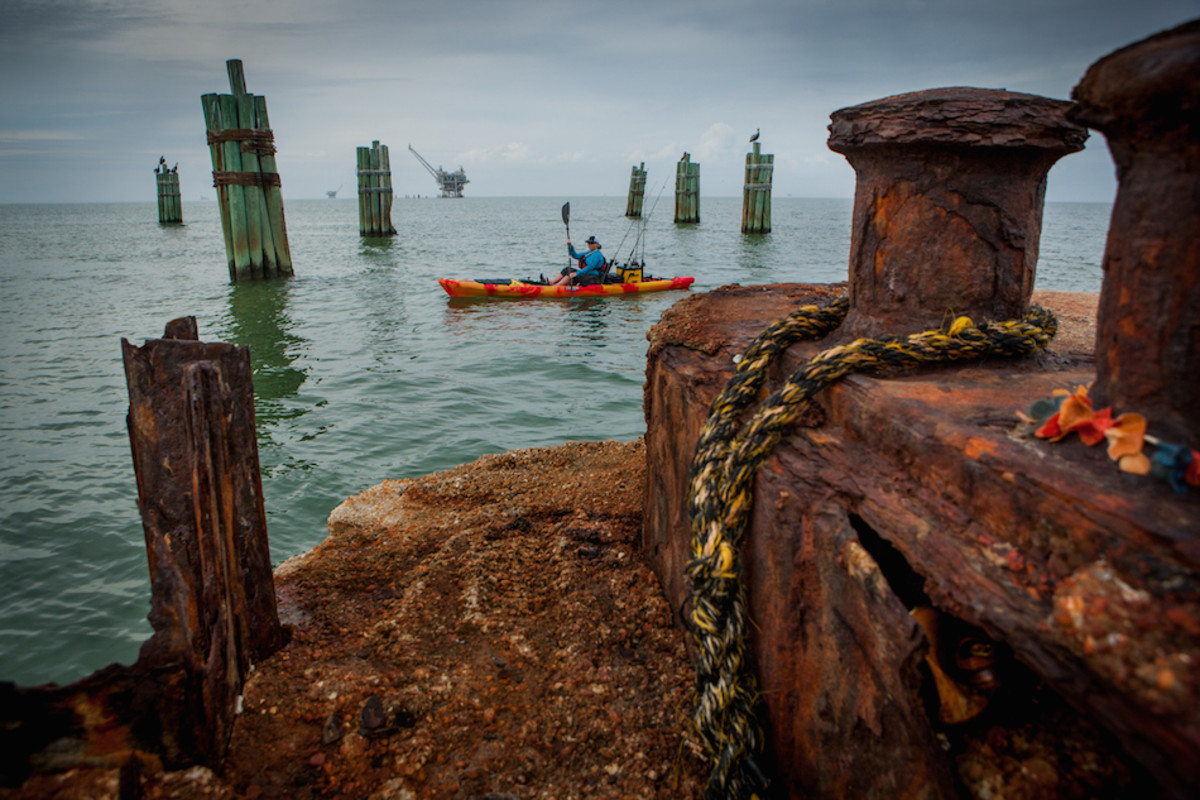 Paddle
The park provides both black water bayous and the crystalline salt water of the Gulf of Mexico. Spend the morning paddling the brackish intercostal waterway, where you're as likely to see a sunbathing alligator as you are to catch a local shrimper heading out to sea. Out in the gentle ocean waves, you may find dolphin. And bring a fishing pole, as this region is considered by kayak fishermen to be world class. If you need gear, head to Down Under Dive Shop.
Eat
Claiming to be "the most famous beach bar in the country," Flora-bama has a local raw bar and both kinds of music: country and western. There's also Lulu's, which is a cross between a seafood shack and a Chuck-E Cheese on steroids; fun fact: both Lulu's and Flora-bama claim Jimmy Buffet is a semi-regular customer. For a less spring break-y experience with elevated seafood, check out Fin and Fork.
Camp
The campsites at the State Park are as RV-friendly as they come.
ST. MARKS, FL
Though the Wakulla River's ancient cypress trees provided the swampy backdrop for Tarzan films and Creature from the Black Lagoon, paddlers flock to this Florida river that's fed from the world's largest and deepest freshwater spring for one reason: to paddle with manatees.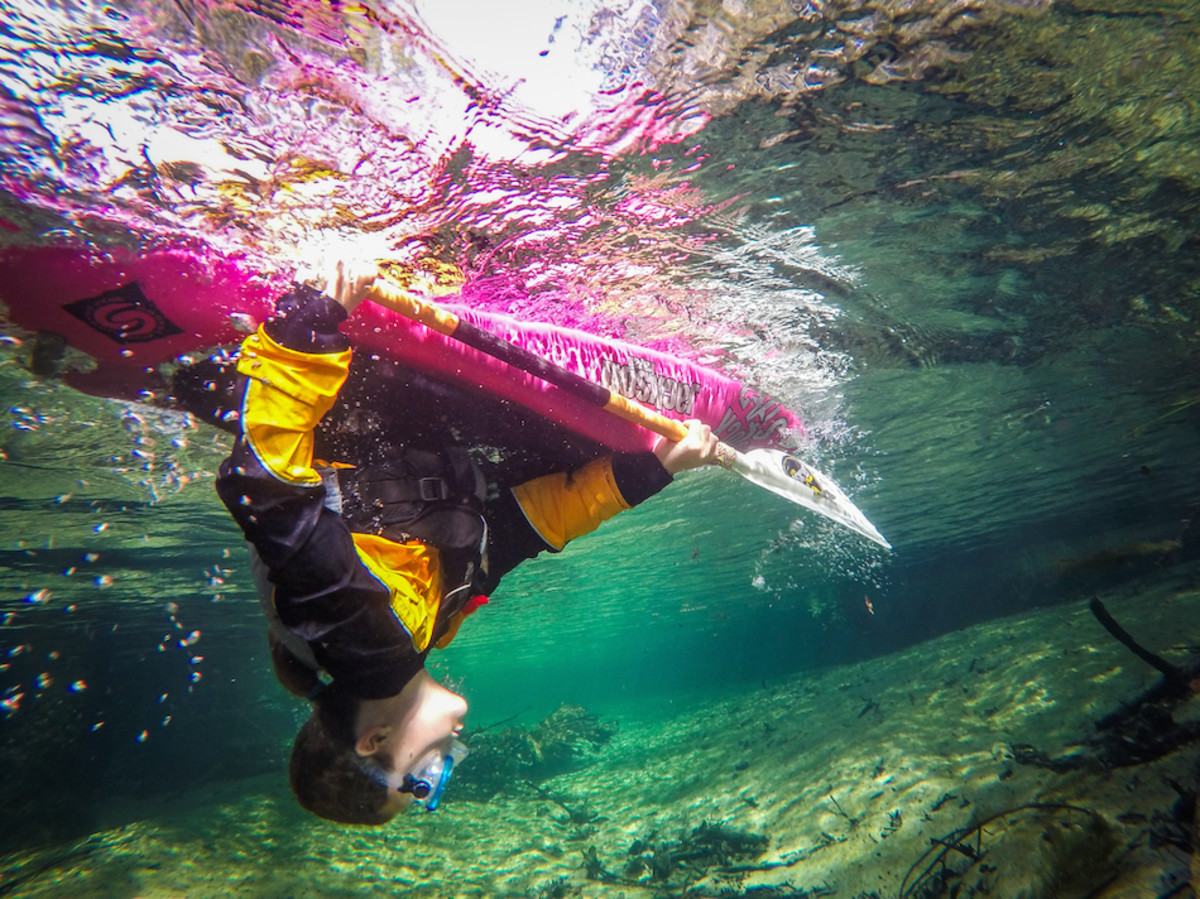 Paddle
One catch with the Wakulla is that its headwaters are located in Wakulla Springs State Park, where all personal paddlecraft types are prohibited (encouraging visitors to pay for the official boat tours of the springs). Simply head south of the park to the CR 365 bridge, and paddle up to the immediate park boundary, or head three miles down to the U.S. 98 bridge. TnT Hide-A-Way is located on the south side of the bridge, offering day rentals and shuttle service. Most paddlers launch there and head upriver against the minimal current before floating back down.
The St. Marks River offers paddlers a less developed, more brackish river paddling experience with plenty of manatee sighting potential as well. Paddlers motivated for more mileage and wilder waters should head just east out of town to the protected Wacissa River into the Aucilla, offering a 20-mile option on cold, clear swift-moving freshwater through a protected wildlife refuge.
Eat
If you're launching from the CR 365 bridge, paddle an additional three miles from the U.S. 98 bridge down the Wakulla to its confluence with the Saint Marks River. Round the park at the point and head 1/4-mile upriver to the locals' favorite Cooter Stew Cafe just off Riverside Drive, which is that rare restaurant where you just might want to consider buying the T-shirt. Either way, you can't beat the bacon cheeseburger and a side of its famed potato salad for less than $10.
Camp
The Newport Campground features five full hookups, six with water/electric, a dozen primitive sites, plus a boat ramp right onto the Saint Marks River.
RAINBOW SPRINGS STATE PARK, FL
There's a beauty to paddling in a clear and shallow current—a sensation more akin to flying than paddling—and Rainbow Springs has some of the best spring-fed, shallow current paddling in the nation.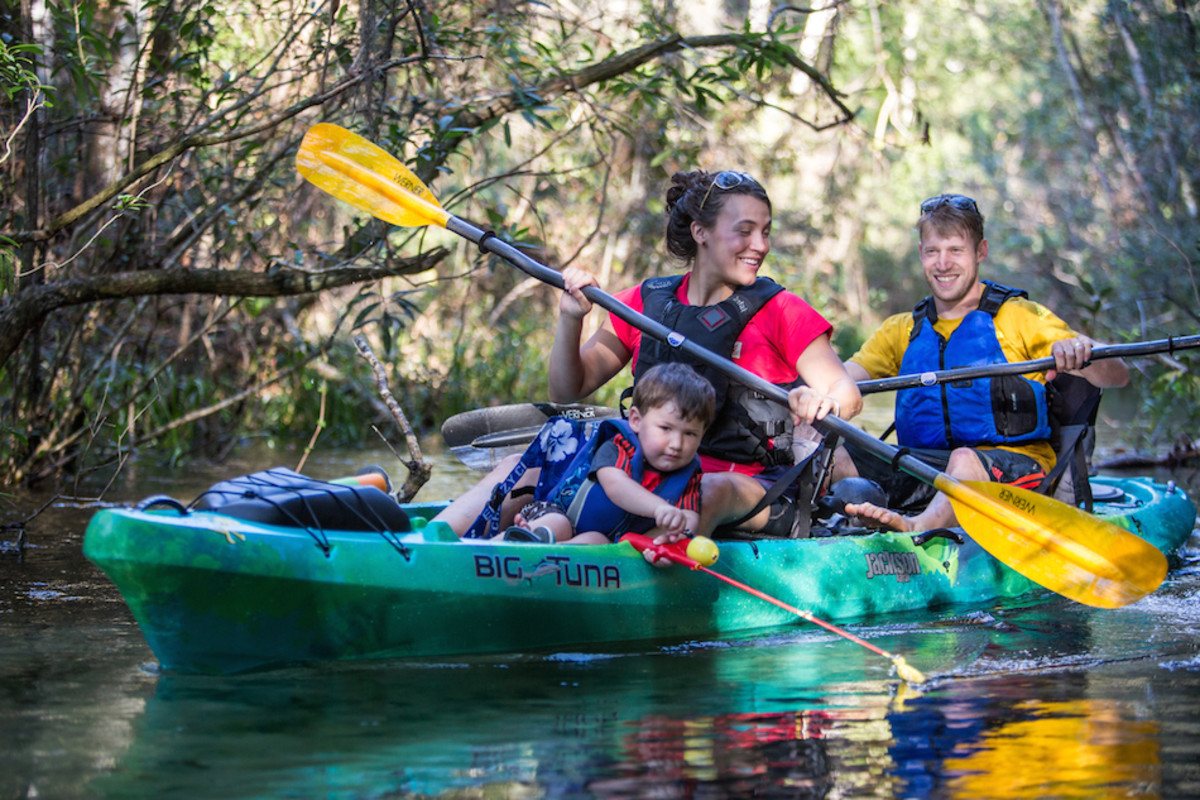 Paddle
Whether you are staying at the Rainbow Springs State Park campground, or choosing to launch just downstream and across the river at the county's KP Hole Park, paddlers should first head upriver toward the river's spring-fed headwaters. A mere 10-minute paddle upriver against mild current to the 'Devil's Elbow' bend in the river yields the best views of the largest spring in the whole system—on an especially clear days there is 30 feet of visibility into the underwater cave.
Cruise over verdant eelgrass and over countless tropical fish 3.5 miles downriver to the SW Hwy 484 bridge, or, add an additional mile down to Rainbow River Canoe and Kayak. The local paddlesports outfitter offers kayak and SUP rentals and a shuttle service back up to KP Hole. They also offer a shuttle up the Withlacoochee River, which offers a wilderness paddling alternative to the Rainbow that can be especially nice in summer months when Rainbow Springs experiences heavy inner-tube traffic.  
Eat
If you're floating the Rainbow River and taking out at the 484 Bridge, make sure to stop at Swampy's Bar and Grille, the ideal riverside café that's best known for, you guessed it, gator. Try it fried with the rémoulade, or blackened on a salad, if that's your thing. Taking out beyond the two rivers' confluence in town? Head across the street from Rainbow River Canoe and Kayak to the Blue Gator and order their grouper sandwich.
Camp
Rainbow Springs State Park Campground features full hookups, with 60 sites for both RV and tent campers. Sites fill up quickly and can be reserved up to 11 months in advance. Late fall through spring break is optimal for having the campground, and river, to yourself.
The article was originally published on Canoe & Kayak
For access to exclusive gear videos, celebrity interviews, and more, subscribe on YouTube!