Photos by Dave Freeman
Dave and I spent a week this fall paddling with four friends: Joseph, Jacob, Jeff and Jason: the J Team. Joseph is 14 and Jacob is 11. These kids are pros at traveling in the BWCAW in the summer and the winter. Their dad, Jeff, and long-time guide, Jason, had a few tricks up their sleeves to ensure that a good time was had by all during their five-night, six-day journey.
But first a little backstory … I met Joseph and Jeff several summers ago when they came up to Ely to head out on a BWCAW canoe trip with Jason. Then, during Paddle to DC, Joseph's mom contacted us to share that he had been diagnosed with leukemia. During one round of chemotherapy while Joseph was in the hospital, someone from the Make A Wish Foundation asked Joseph what his wish was. Instead of jumping at the chance for a pool or a sports car, 13-year-old Joseph thought about it and said that his wish was to save the BWCAW from the copper mining threat it currently faces. While the Make A Wish Foundation has yet to figure out what they can do to help with Joseph's wish, the point is that they got him to think about what his wish would be. Dave and I, and the Campaign to Save the Boundary Waters are doing everything we can to help that wish come true. We found out about Joseph's wish when we were just a couple days away from Washington D.C., and were touched beyond words. Since then, Joseph has been to D.C., and met with all the folks we met with plus the Secretary of the Interior Sally Jewell, and Smokey the Bear.
During A Year in the Wilderness, Joseph plans to join us in every season. The six days we spent together made his fall visit. The time flew by; seeing this place in the presence of a 14-year-old reminded us of what this place meant to us when we were his age. Being kids growing up in the city, this was (and still is) a wild wonderland where you can get in touch with your inner-self, learn what is truly important, and overcome daunting obstacles.
If you're a first-time parent, a scout leader, or just planning a canoe trip that will include some younger folks, I hope you'll find some of this information helpful.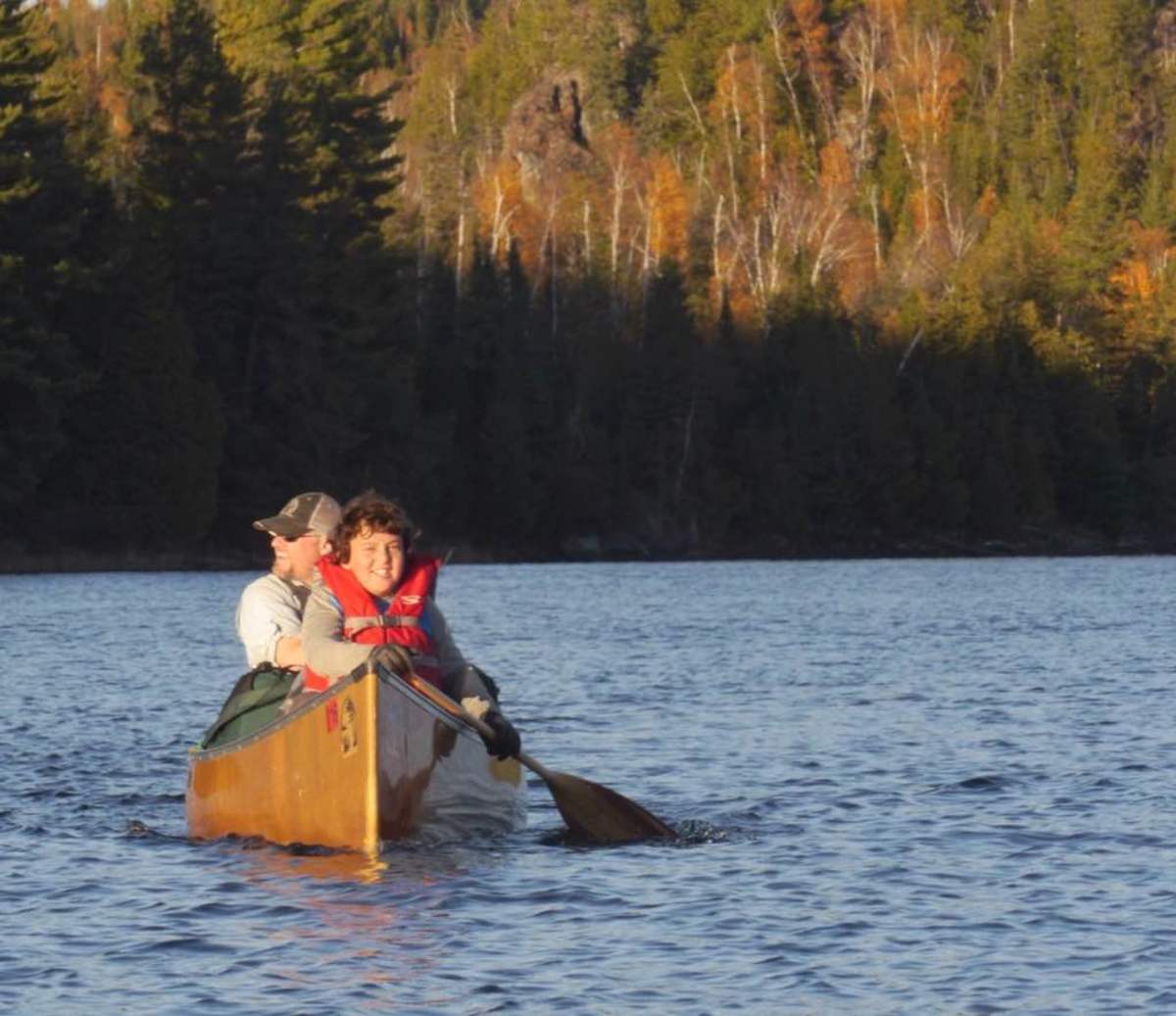 Adult-to-kid ratio: Our adult-to-kid ratio was quite high — 2:1. I think 1:1 would be fine too. You may want a little practice with this sort of ratio before considering leading a youth group where the kids outnumber the grownups. I say this because paddling and portaging are a lot of work. When planning your trip, keep in mind who will be carrying the canoe and heavy packs — and how many trips across each portage you'll have to make.
Balancing the load: The trim of the canoe is important, especially if you end up paddling in significant wind. Since Joseph and Jacob are burly paddlers, they each paddle in the bow with an adult in the stern. This can make for a stern-heavy situation with the bow almost out of the air in Jacob's case. Jason and Jeff loaded their canoes with more packs to the front. In Jason's canoe, he had an adjustable seat, which he slid forward for Jacob. The more even you make your trim, the easier it'll be to steer. In a pinch, I've even grabbed a large rock from shore and added it to the bow.
With anyone younger or less experience than these guys, I'd consider traveling with three people to a canoe too. This could give a chance for one kiddo to take a break from paddling if they get tired. To stave off boredom, have the duffer drop a fishing line in the water and troll.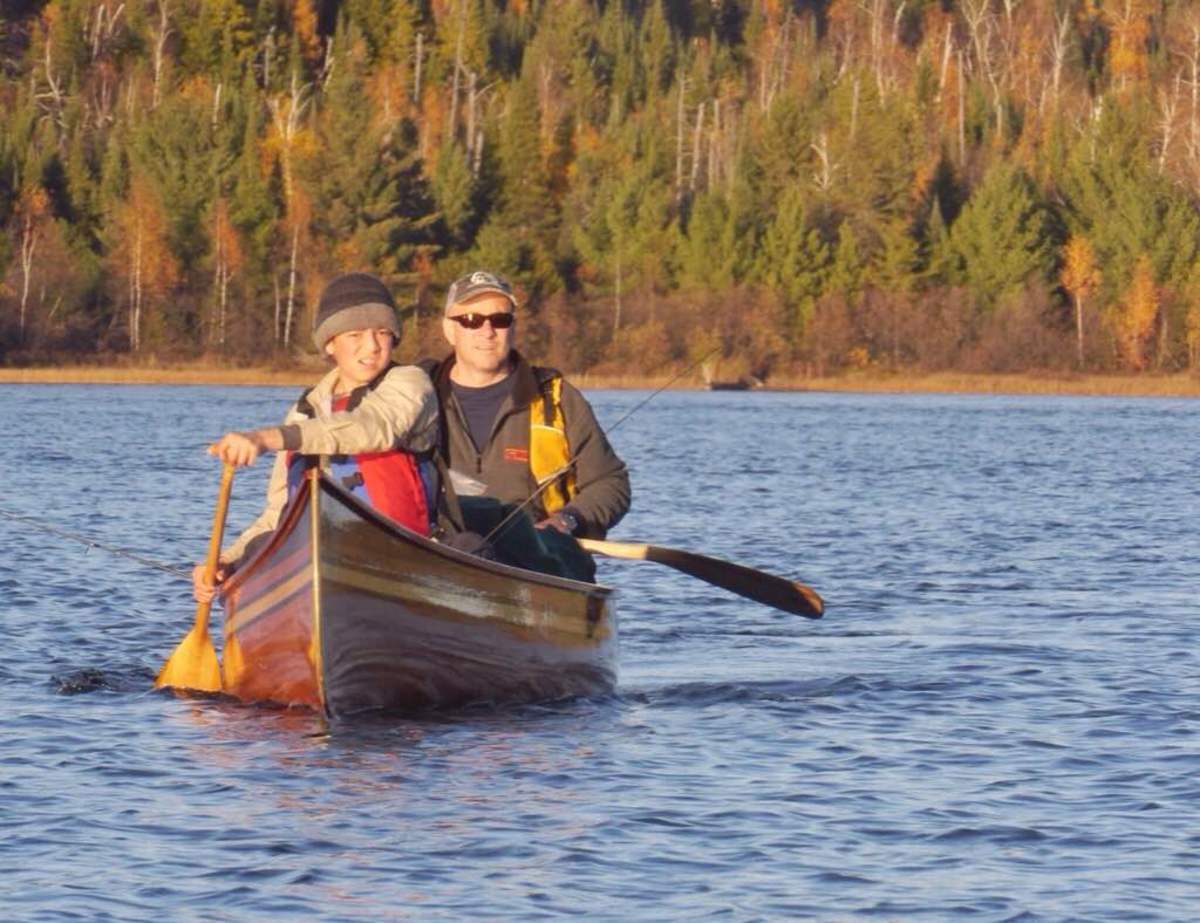 Fishing: Speaking of fishing, it is awesome. It is a great way to keep kids engaged and learning about the lake. Then when you actually do catch a fish, there is a whole new skill set to master when it comes to filleting and cooking the fish. Jacob happened to be the only one to catch fish on our trip– a smallmouth bass and a walleye! We invented a new dinner too. Chili Smac = chili + smallmouth bass + macaroni and cheese.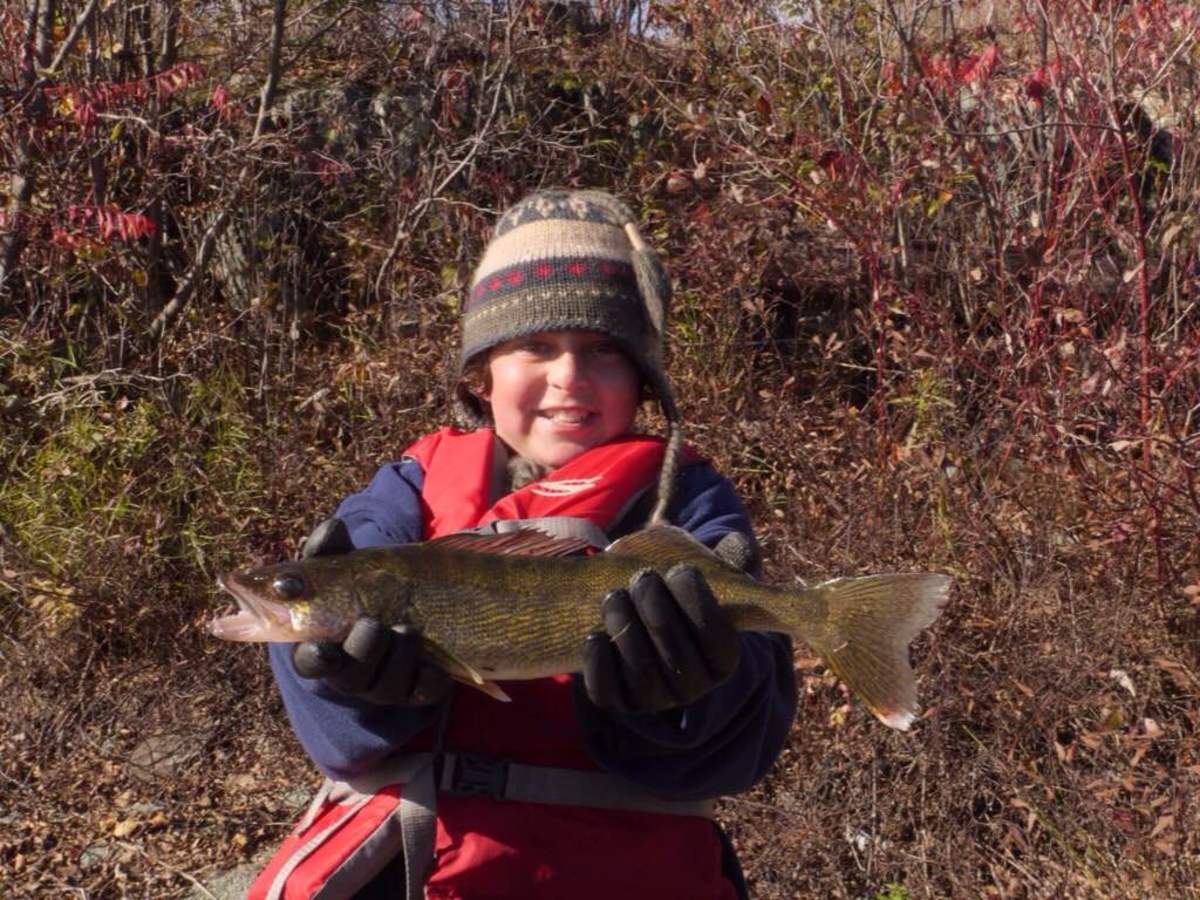 Portaging: Joseph is a master portager. He can carry as much as an adult and he doesn't complain (I think because he can't wait to get to the next lake and see as much of this country as possible). He even carried the canoe that he and his dad made for two portages! For those who are not quite as strong as Joseph, be sure to include some smaller, lighter packs. A routine is good too. Joseph and Jacob were in charge of the same packs for every portage. They also carried the fishing poles and paddles. Plan out your route and make sure the younger folks know how many portages to expect. I could tell that Jacob was mentally preparing himself to tackle each portage when we studied the map as a group in the morning and discussed how long each portage would be.
There are interesting things to see on portage trails too! If you're bringing two loads across, the trip back to get your second load is a perfect time to look around. You can quiz each other on tree and plant identification. If you look carefully, you'll probably find some animal tracks and scat long the portage too (and if you're lucky– animals).
Extra clothes: Whether it is from rain or slipping on a rock and going for an unintentional swim, youngsters are bound to get wet. Having dry socks and other warm layers to change into once you get to camp is a must. Be sure to actively engage in drying out wet clothes (hung in the sun or carefully dangling over the campfire) so they are useable in the near future.
Hydration: Nothing causes a drop in the fun-meter more than dehydration. The worst part is that you don't necessarily see it creeping up on you or the members of your party until someone gets a big case of the grumpies. Being proactive is key here. Encourage drinking water (or even water flavored with favorite drink mixes) at each portage or break in the action.
Snack bag at the ready: Grazing throughout the day will keep energy levels and spirits up. Don't be afraid to snack in between meals. You could even dole out granola bars before you start traveling each morning.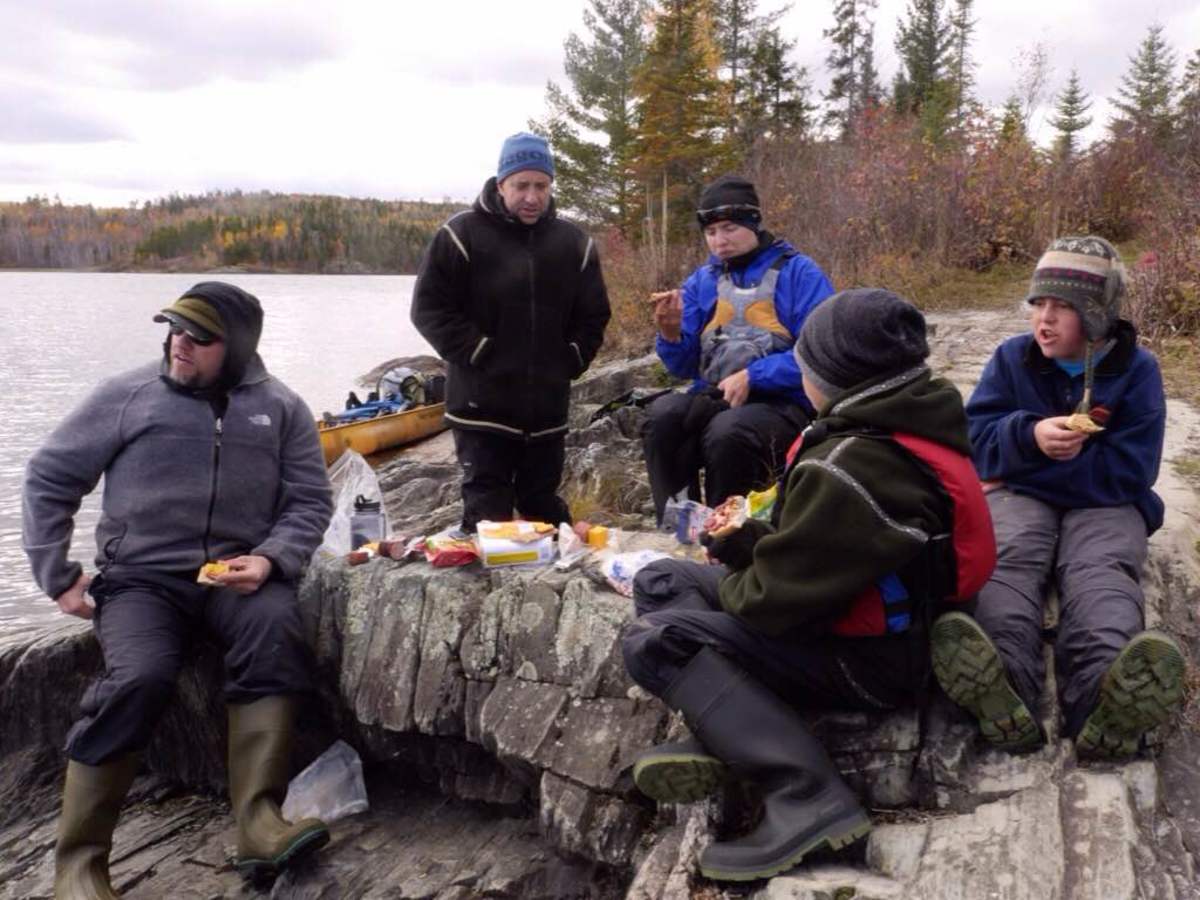 More paddling doesn't always equal more fun: As a kid, I found paddling and portaging to be laborious and boring. It was the time spent exploring a campsite that I was most interested in. I think this is true for a lot of young ones. This might factor into your route planning. If you're looking to take out especially young folks, maybe plan to set up a basecamp and save the 100-mile loop for a few years down the road.
Bring a deck of cards: Having some sort of familiar game is great for those times when you're stuck in camp due to weather. Jacob was a master Uno player. Of course, a game like I-Spy is great for the time spent paddling the canoe taking in the scenery
Positive risk-taking and overcoming challenges: I noticed that both Joseph and Jacob had pocket knives and they used them responsibly. They understood that an accidental cut is serious out here and would probably be a trip-ending event. When Jacob asked Dave if he could learn how to split wood with the axe, Dave showed him the safe way to do it (far from the rest of the group, only while Dave supervised, and kneeling so there was no potential for a missed swing to hit a foot). In the warmer months, they enjoy jumping off high rock ledges into the lake. Sure, there is some risk involved in any of these activities, but starting small and teaching safe practices instills a sense of responsibility and mastery. Telling a kid, "No, that is dangerous," only instills fear and a learning opportunity is missed.
Jeff explained how he sees his boys overcome challenges in each trip they take. Whether it is battling a headwind or making it through a long and arduous portage, these are opportunities to develop coping skills. Life doesn't always go your way and sometimes you have to dig deep to find your inner strength to carry on. Jeff sees the value in the time his kids spend in the wilderness. Not that anything ever fully prepares one for a diagnosis of leukemia, but I dare say that Joseph is handling it with the most inner strength and positivity I have ever seen.

— Read the previous dispatches in the Freemans' series from their #WildernessYear: Why the Boundary Waters Matter, and Canoe-Country Tips for the Shoulder-season.
— Learn more about the mining threat at SavetheBoundaryWaters.org, and check out the Freeman's educational info at WildernessClassroom.com, or follow them #SavetheBWCA and #WildernessYear.
— Check out the Freemans' Paddle to D.C. awareness-raising journey.
The article was originally published on Canoe & Kayak
For access to exclusive gear videos, celebrity interviews, and more, subscribe on YouTube!