On July 15, a five-man team will depart on a month-long expedition to paraglide the length of the European Alps, from Austria to Monaco. While this is not the first time the 620-mile-journey has been attempted, an athlete has never accomplished it by handcycling – instead of hiking or driving – in between landings and launches. The endeavor, dubbed Handi Cap Au Large, will be taken on by Vincent Delepeleire, a paraplegic who paraglides in his wheelchair and, if successful, will be the first human-powered paragliding crossing of the European Alps by a disabled person.
Delepeleire, 24, and his teammates all grew up in the same region of France and started paragliding together in 2009. After Delepeleire lost the use of his legs in a work accident in 2011, they co-founded In Cloud, a non-profit dedicated to adaptive sports adventures. This is In Cloud's first major undertaking.
The team will roughly follow the course of the Red Bull X-Alps, a grueling adventure race where participants paraglide and hike across the Alps. Delepeleire anticipates that weather will be his team's biggest challenge. "Alpine weather conditions can be unpredictable," he says. "If it isn't safe to launch from a given site, we'll start handcycling to the next." In uncooperative weather, that could mean handcycling up to 60 miles.
While his teammates are able to hike and ride regular bikes, they felt strongly about following an "all for one and one for all" philosophy. If Delepeleire's disability meant he had to ride a handcycle, they would all ride handcycles. "It required a lot of training for all of us," says Delepeleire. "At first, none of us were fit enough to handcycle the mountains."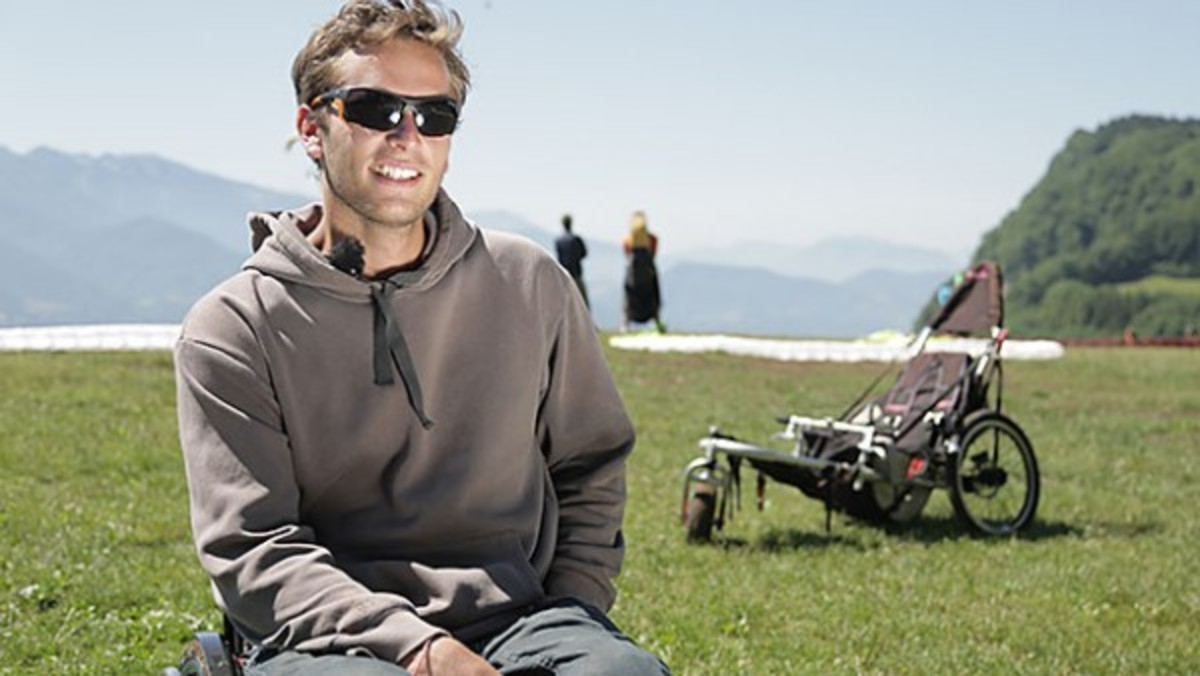 Surprisingly, Delepeleire says the paragliding is the easiest part – at least when he's airborne. He is able to navigate in the air just as he did before the accident, except he's sitting in a wheelchair attached to a paragliding wing, instead of in a harness. "You always control your wing with your arms; your legs don't matter," he says.
Take off and landing are a bit more complicated. But with the help of three friends, one to lift the wing to catch the air, and one on each side of the wheelchair to guide it down the hill into flight, Delepeleire's been able to lift off without incident. Landings require the use of what he calls his "handmade flying wheelchair" equipped with burly off-road wheels.
If all goes as expected, the team will arrive in Monaco in August. They then plan to donate their equipment through In Cloud – including solar variometers by BipBip, a Quickie Shark handcycle, and two Invacare Top End Force handcycles – to others interested in adaptive sports. "This is just the beginning," says Delepeleire.
Vu du ciel – Épisode 3 : les rêves de Vincent from Altitude Films on Vimeo.
For access to exclusive gear videos, celebrity interviews, and more, subscribe on YouTube!