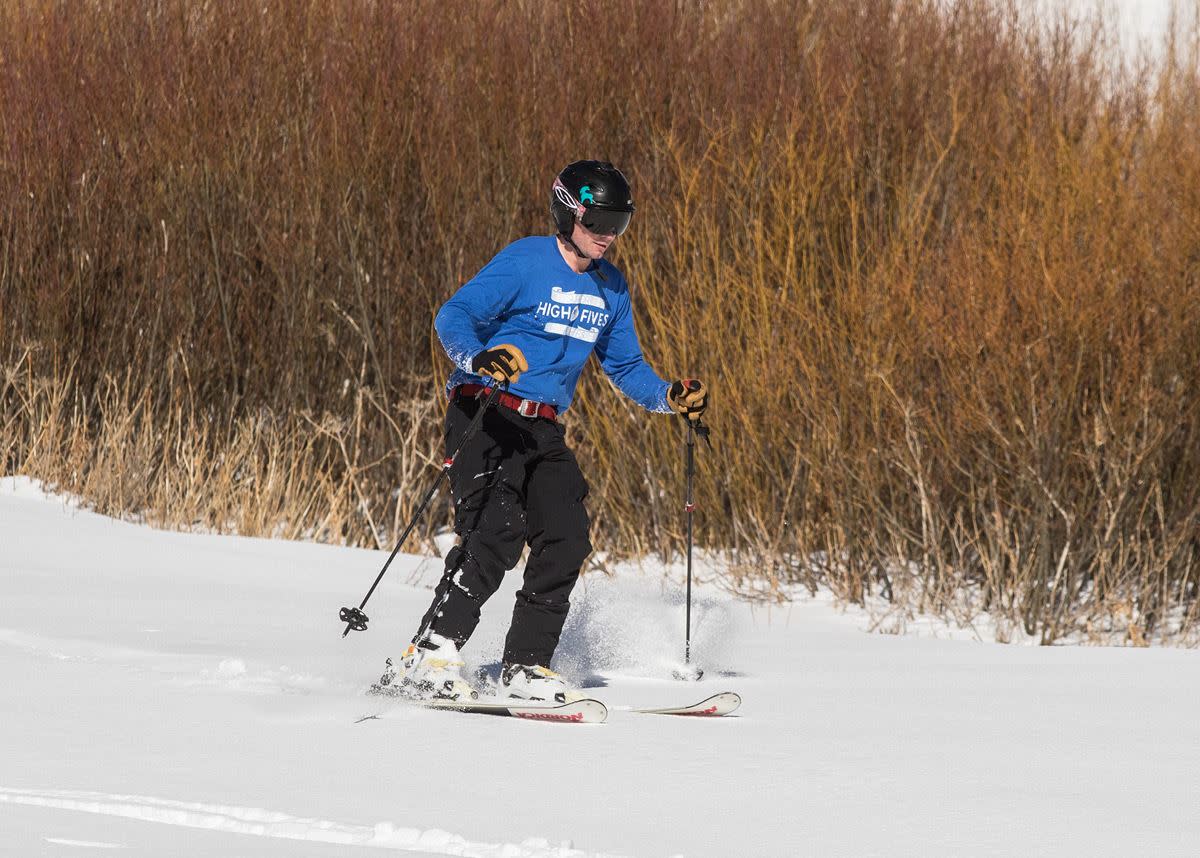 Exactly one year after being paralyzed from the waist down in a kite skiing accident in Patagonia, ski photographer Jim Harris is skiing again for the first time since his injury:
On Nov. 24, 2014, Harris was paralyzed when his traction kite slammed into the Chilean mountain he was on, breaking seven of his vertebrae.
RELATED: Aussie's miracle recovery from skydiving accident inspires thousands
In the time since, Harris' recovery has been aided by a massive online fundraiser and profiled in the documentary Places to Go. And Tuesday, exactly one year from the day he was paralyzed, Harris bookended a miraculous 365-day recovery by strapping on his boots again and skiing at the Alta Ski Area in Utah.
"My ski gear was still in duffle bags from Patagonia a year ago and my red jacket shell was in a garbage bag along with clothes they cut off me," Harris wrote in an Instagram video showing his first day back on the slopes. "The first day I wore that jacket didn't end well, but after almost a year of fighting to be on my feet, getting back on skis for the first time went much, much better. I ended up lapping the bunny slope a bunch … For the first handful of laps, I was tearing up each time I started sliding down the little hill."
Harris' journey from that injury has taken him from the icy slopes of Patagonia to hospitals in Cincinnati and Denver, to the High Fives rehab organization in Truckee, California. Along the way, Harris has had the support of a wide network of family and friends as he pushed to return to his passions of skiing and outdoor adventure.
"Jim is the first to say that his adventure over the past year has not been a solo journey," Jim's father, Jeffrey Harris, wrote on Facebook. "Jim has written before about the hundreds of people involved in reversing the effects of Jim's spinal cord injuries, but they all continue to deserve praise. It's an extensive cast for a one-man show, from the neurosurgeons to the nurses to the cooks to the medical technicians to the embassy staff to the pilots who flew him 11,000 miles to Cincinnati. All have our gratitude. To each and every one of you who lent a hand, thank you! For us, this may be the sincerest Thanksgiving ever."
Harris told ABC4 Utah that skiing was the fifth and final milestone on a checklist he had set for himself when he began rehab that included, among other things, being able to walk and live independently again.
Now that he has reached his first five milestones in the first year of his recovery, Harris insists he will be setting five more goals for the year ahead, most notably skiing more. And at the moment, that goal seems rather attainable: inspired by his recovery Alta awarded him a free V.I.P. pass for the season to allow him to put in as much time on the slopes as he desires.
More from GrindTV
Discovery Channel star lives off the land in loin cloth, tells all in new book
Legs of Steel to release innovative new ski film 'Passenger'
Ultrarunner Scott Jurek cited for post record-setting party
For access to exclusive gear videos, celebrity interviews, and more, subscribe on YouTube!