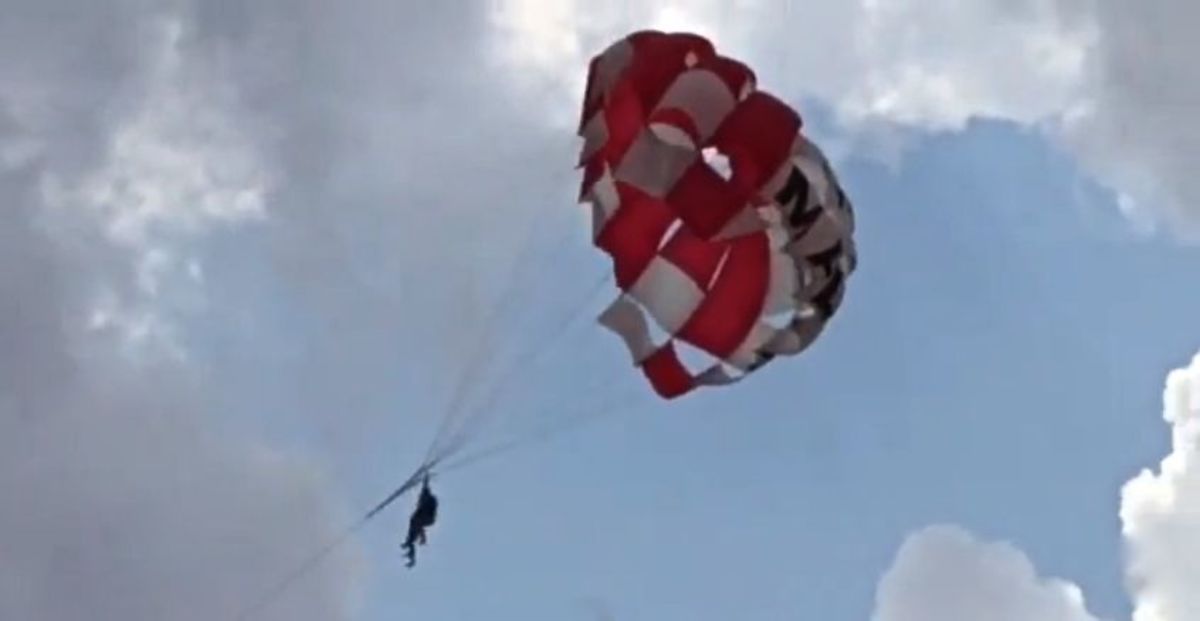 Two British vacationers in Malta were lucky to survive with just a few minor bruises and scratches when their parasailing rope snapped, sending them flying away, much to the horror of beachgoers below.
A freak storm hit northern Mellieha Bay, Ghadira, Saturday with high winds sending the parasailing boat off course into the beach where it tipped on its side, leaving Anthony Nisbet, 20, and his sister, Grace, 17, floating helplessly at the end of the parasailing rope.
Local resident Ivan Brincat captured the scene on video, which Anthony later called surreal (the rope snaps at the 2:38 mark):
Godfrey Bartolo, a director for Oh Yeah Cruises and Water Sports, was on the boat when the blast of wind hit. He told the Daily Mail he has never seen anything like it in his 28 years in business.
"We didn't immediately realize the danger when we were up there," Anthony told the Times of Malta, via the Daily Mail. "We were joking around about the bit in Jurassic Park when the paraglider detaches from the boat. We were more worried about the people down in the boat than us. Then the rope snapped, and I kept shouting to my sister to try to land on her feet."
Beachgoers screamed in horror as the parasailing vacationers flew out of camera range, landing in a field of bushes after being dragged alongside the wall of a boathouse. Luckily they lived to tell about it.
Anthony told the Times of Malta that they probably wouldn't be going parasailing again.
More from GrindTV
Chris Burkard's new photo book 'High Tide' captures out of the ordinary surf locations
Roxy's #RunSUPYoga 'triathlon' comes to Huntington Beach
Pro skier starts aggressive mountain running series
For access to exclusive gear videos, celebrity interviews, and more, subscribe on YouTube!