In the Cascade Range of the Pacific Northwest, a handful of hardcore ski mountaineers have linked ascents of active volcanoes – climbing up and skiing down behemoths like 14,411-foot Mount Rainier, 12,281-foot Mount Adams, and 8,365-foot Mount St. Helens – all in the same trip. But they use cars to get from one volcano to the next. Brody Leven intends to ride his bike, towing his gear behind him. If successful, he'll be the first person to bag a ski mountaineering trifecta in the Cascade Volcanic Arch that's not only 100-percent human-powered, but also fully self-supported.
Leven, 26, began his quest on June 10th in Portland with friend Abe Greenspan. Both are expert backcountry skiers with bike touring experience (Leven biked across the U.S., and Greenspan from the Oregon coast to Baja). Neither has ever combined the two sports. "It seemed like a good idea in theory," Leven told Men's Journal by phone from Troutlake, WA, two days into the expedition. "But in practice, well, our rigs weigh like 150-200 pounds each. Right now, we have no idea how we're going to make it up the steep, 15-mile gravel road leading to Mount Adams tomorrow."
If Mount Adams goes well, Leven and Greenspan will then bike to Mount Saint Helens, followed by Mount Rainier, and end in Seattle. Although Portland and Seattle are 173 miles apart by highway, Leven and Greenspan will bike about 500 miles total to access all three volcanoes (not to mention climb and descend some 30,000 vertical feet on skis). They've allotted three weeks for the entire trip.
Leven rides a Specialized Tricross, a combination commuting/light-touring bike that he says he's pushing to the limit. He's hauling his gear on a single-axel touring trailer, along with four panniers and an extra bag on top of the rear rack. His essentials include ski mountaineering gear (Salomon skis with Dynafit boots and bindings), a backcountry setup with crampons and ice axe, crevasse rescue gear for Rainier's glacier summit, camping equipment, spare bike parts, food, and water. Leven will wear the same Black Diamond helmet for cycling that he does for ski mountaineering. He tied a can of bear spray under his bike seat.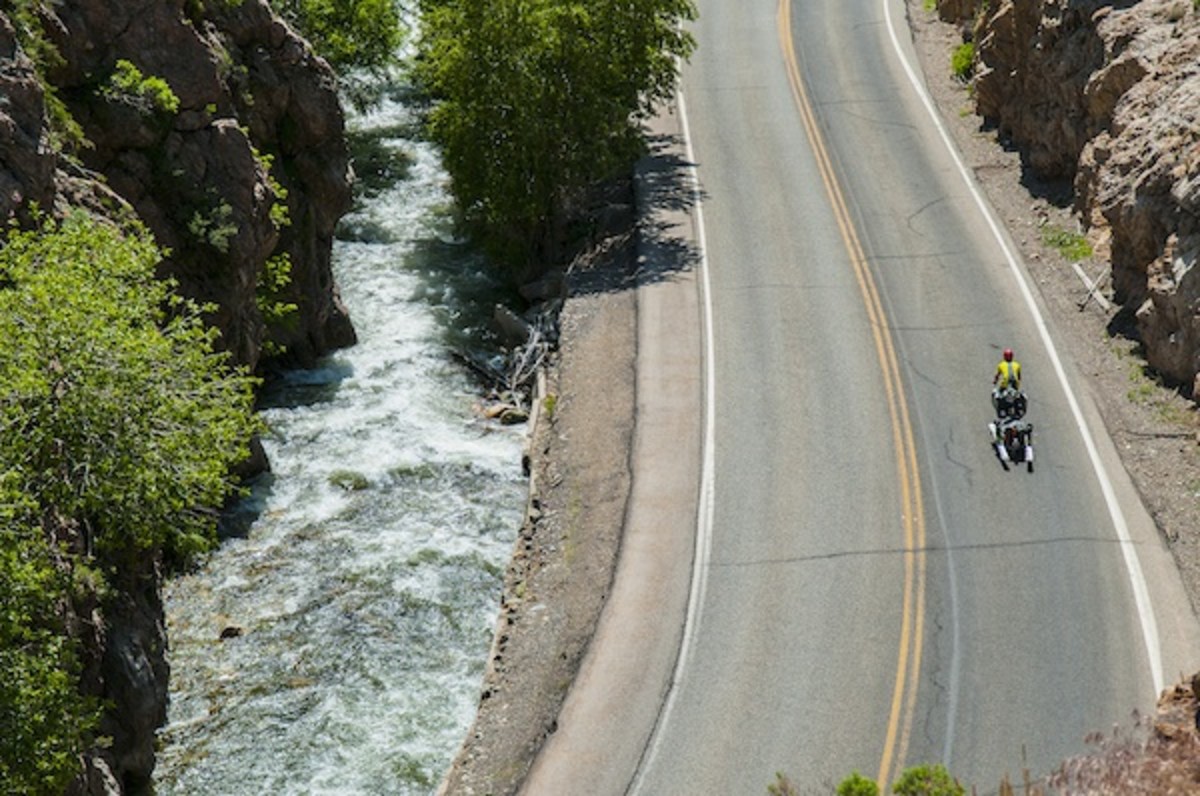 He and Greenspan prepare meals using MSR's WhisperLite, a one-pound camping stove. They keep their mobile devices charged with Goal Zero's Nomad 13 Solar Panel. The two men are sharing the Black Diamond Mirage, which is the company's lightest two-person tent. "We're going as fast and light as possible," says Leven. "I have one pair of socks, one pair of underwear. We have absolutely nothing that we don't need. And probably don't have some stuff that we do need."
Leven's toughest gear decision was his sleeping bag. He and Greenspan will encounter freezing temperatures on Rainier, including several frigid nights (it takes most people six days to summit). But they didn't want to waste weight on a heavy sleeping bag designed for extreme cold just to handle Rainier. In the end, Leven found a minimalist bag from UK-based Mountain Equipment that claims to be usable (not necessarily comfortable), down to 20°F.
Ultimately, Leven hopes that his latest undertaking flies in the face of the perception that epic adventures require big money. He says his budget is shoestring, and admits that he and Greenspan are camping using primarily gear and apparel that they already owned (like Leven's $8 pair of used cycling shorts). "You don't need big budgets, helicopters, chairlifts, jets, or even cars to have an adventure," he wrote on his blog. "You don't need a passport, a driver's license, or superhuman fitness. And you certainly don't need $4-per-gallon gasoline for your car."
For access to exclusive gear videos, celebrity interviews, and more, subscribe on YouTube!