Reviews by Alan S. Kesselheim

Photos by John Bolivar/Canoe & Kayak

This review first appeared in the July 2005 issue.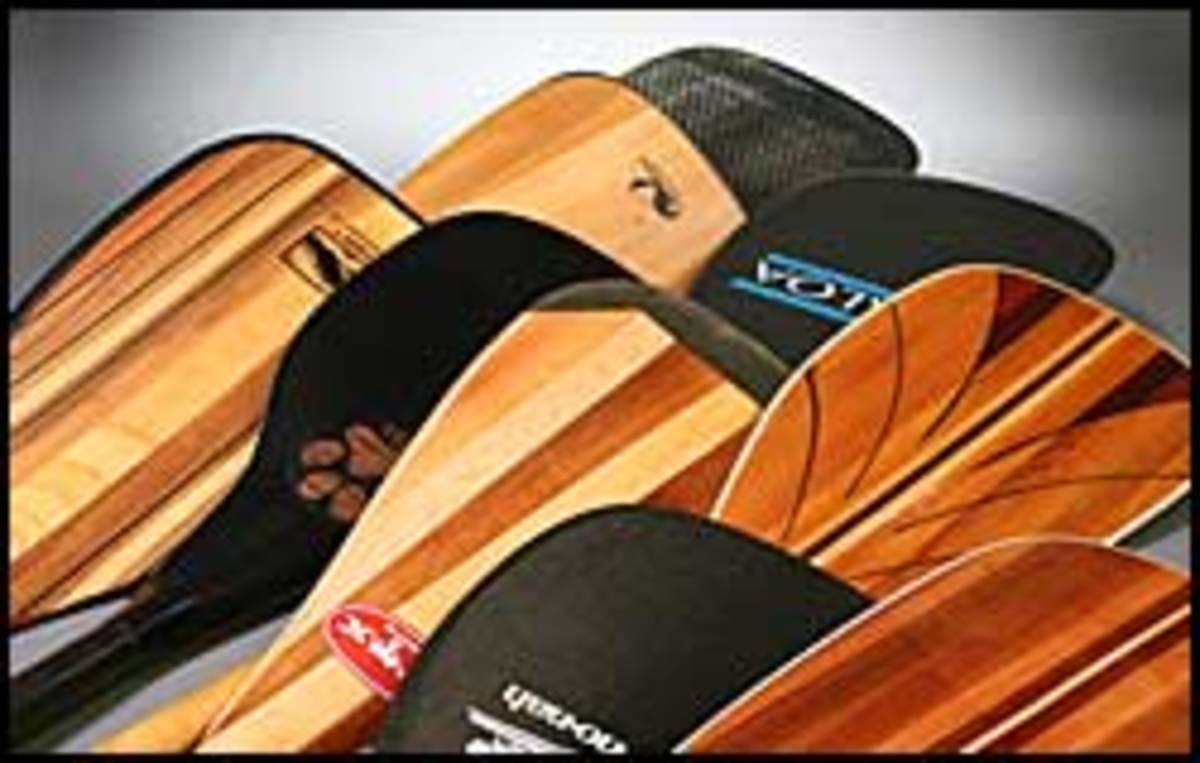 Years ago, Marypat and I were on a monthlong canoe expedition in northern Quebec. For the first time, we used those newfangled bent-shaft paddles. About a week in, we fell in with a couple of young men from Toronto. They were outfitted with the latest—Kevlar canoe, a custom spray deck, spiffy waterproof packs, the best of everything—except that their paddles were little better than clunky, hand-whittled clubs.
They were a young and strong paddling team blessed with a lightweight outfit, but they couldn't keep pace with us. We didn't feel like we were pushing ourselves, and yet the Toronto guys kept slipping behind. Finally, during the second day together, we offered to let them try our paddles.
If it hadn't been such an obviously crushing revelation, the looks on their faces when they dipped the paddles in for the first stroke would have been comical. After about 15 seconds, they stopped and silently handed back our paddles.
"If we don't give them back now, you'll have to kill us for them," one of them said.
The paddles enabled us to maintain an efficient cruising speed, and we were also less fatigued at the end of a long day than on any previous trip. Our strokes were more ergonomic and economical, and that effect was multiplied thousands of times every day. Translation: fewer knotted back muscles, less soreness in the shoulders, and no twinges of wrist pain. Simply put, better paddles trumped every other element in the equation, and ever since, I've been a convert to lightweight, ergonomic efficiency in my paddle choice.
The good news is that all the paddles in this review fall into the high end of the quality spectrum when it comes to weight, design, construction, and paddling efficiency. There isn't a bad one in the bunch. That said, there is plenty of variation in everything from grip shape to blade width to material. Picking a paddle that feels right, and that works for the conditions you prefer, is ultimately as personal as picking the right pair of shoes.
MY CRITERIA (5-Star System):
Weight: Having a lightweight paddle is perhaps the single most critical variable in preventing long-distance fatigue, because you're hefting it all day long, day after day. In that regard, some of these paddles are almost unbelievably light, as little as 12 ounces. Remember, however, that what you gain in weight you give away, potentially, in durability and stability in the water.
Stroke Stability/Flutter: Your paddles should feel solid in the water as you pull through on a stroke. The tendency of the blade to flutter or shimmy as you power through translates to a lack of efficiency and a need to grip the paddle tighter than you should have to.
Durability: A nice paddle might last you a lifetime, and considering the price of a good paddle, it had better last at least a respectable portion of a lifetime. New-age materials like carbonfiber or graphite, along with advanced lamination technology and amazing glues, have given manufacturers some tremendous advantages, but durability still remains a concern, especially at the lightweight end of the paddle spectrum.
Power/Control: Paddles are tools, and the ease with which you control your strokes and generate power is key to your tool-using effectiveness. Grip shape, shaft diameter, and blade width/stiffness all contribute to this category.
Comfort: Although this is a highly subjective matter, every paddle has its own level of comfort in the hands and in the motion of a stroke that is an intangible, but crucial, element in the daylong practice of dancing across water in a canoe.


Take a shortcut to a specific paddle.

Viper

Black Lite

Foxfire ll

Zephyr Ultralight

Honey Island Special ll

Carbon Bent

Bent/Wood

Axel

The article was originally published on Canoe & Kayak
For access to exclusive gear videos, celebrity interviews, and more, subscribe on YouTube!