Pete Cabrinha has both pioneer and legend status in three influential water sports. And he's nowhere near done yet. The 57-year-old windsurfing World Champion, kitesurf pioneer and designer, tow surfing legend, graphic designer, artist and businessman started surfing in the 1970s in Hawaii. Even as kid his passion for the ocean and his ingenuity was evident. With leashes only recently invented and not available in local surf shops, Cabrinha made his own using offcuts wrangled from a local dive shop.
By his early teenage years Cabrinha discovered the fledgling sport of windsurfing. "I was lucky to get into the sport at the beginning and the guys I were surfing with were at the cutting edge of progression and development," Cabrinha says.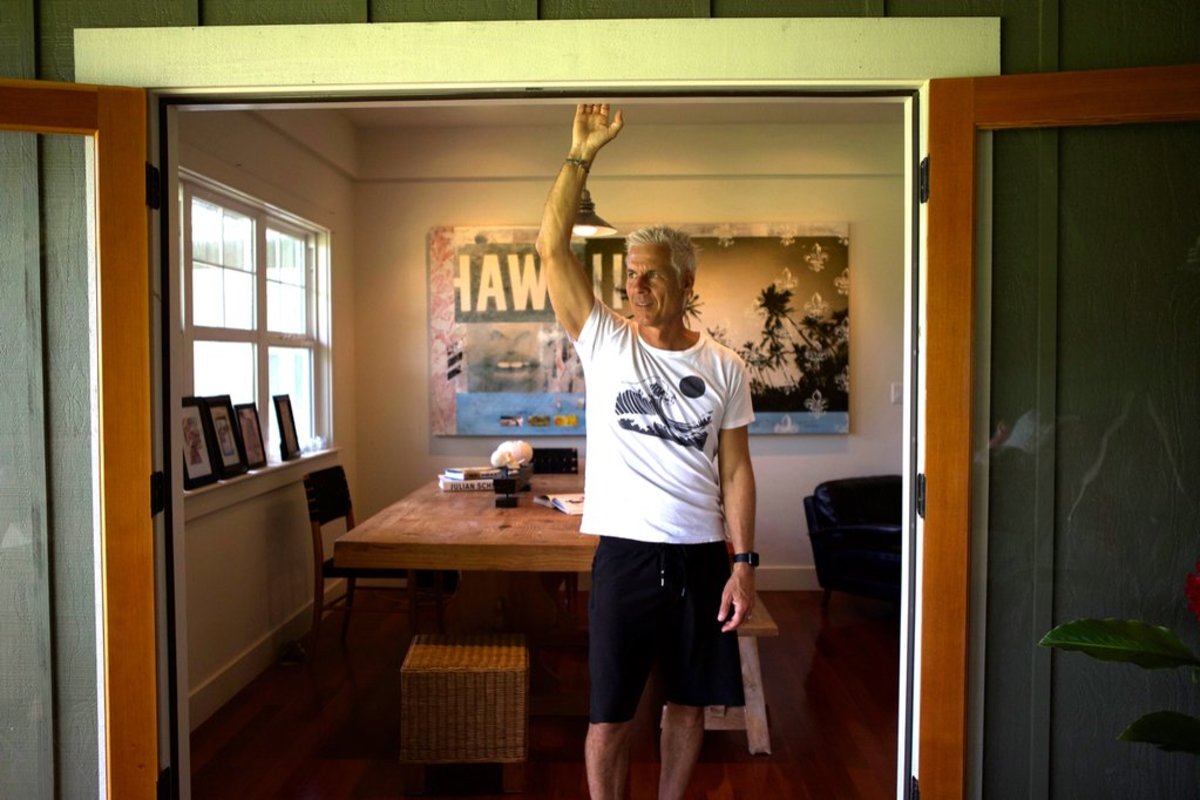 Cabrinha spent the better part of a decade as a professional windsurfer, touring the world on the professional circuit and eventually becoming World Champion in 1985. Typical for the endlessly curious Cabrinha, he immediately started looking for new challenges. Seeing that the marketing and design of windsurfing was often out of touch with the vanguard of the sport, he set about changing that.
"I was interested in graphic design and while I had little experience, I thought I knew the touch points of the sport so well that I could make a difference," Cabrinha says. While still sponsored as windsurfer, he dropped off tour and spent the next decade as a full-time graphic designer.
"The North Shore of Maui was hub of the windsurfing world back then," he says. "Being agraphic designer slash semi-pro windsurfer, I was in Maui a lot. That's when surfing came back into my life."
It was around this time in the mid-90s that Laird Hamilton, Buzzy Kerbox and Darrick Doerner were experimenting with the first-ever tow surfing on Oahu. The three were using an inflatable boat and a rope, and riding traditional ten-foot long Hawaiian guns. Back on Maui, Cabrinha and his fellow windsurfers had started attaching straps to their surfboards mainly to try new aerials and flips in small waves. When the images came back of the new tow surfing, Cabrinha and his crew realized that that their strap boards could work for the new form of big-wave surfing.
"Winter hit and a swell came and we tried our strap boards on bigger waves. We knew then that it would be possible to ride anything that the ocean threw at us," Cabrinha recalls. "Besides Laird, we were all mainly windsurfers and not known as big-wave surfers. So it was kinda new to us and really scary. However, being scared really pulled us together as we all tried to figure it out."
When the crew tried the new style of surfing at Pe'ahi or Jaws, they started to realize the real potential. With no other surfers and very little interest from the wider world the crew had a few seasons perfecting tow surfing on their own in what is now known as the world's best big wave.
On January 10, 2004 all that experimentation reached its zenith for Cabrinha. He towed into a 70-foot wave at Jaws, a feat that earned him the coveted Billabong XXL award and an entry into the Guinness Book of World Records for the largest wave ever ridden.
However, just like windsurfing, when Cabrinha had walked away from competition after becoming World Champion, he was already looking elsewhere in the ocean for a new challenge.
"When I first saw a kitesurfer launch into the air and get way more hangtime than any windsurfer I'd ever seen I was curious," he says. Cabrinha set about learning the new sport and quickly saw the potential. "It was so familiar and like an odd spin-off of all the sports we'd done before," he says. "There were a handful of guys who had a memory of the start of windsurfing and we knew it was going to kick. However the equipment was very basic, so out of necessity I started building my own kites and boards under the Cabrinha label."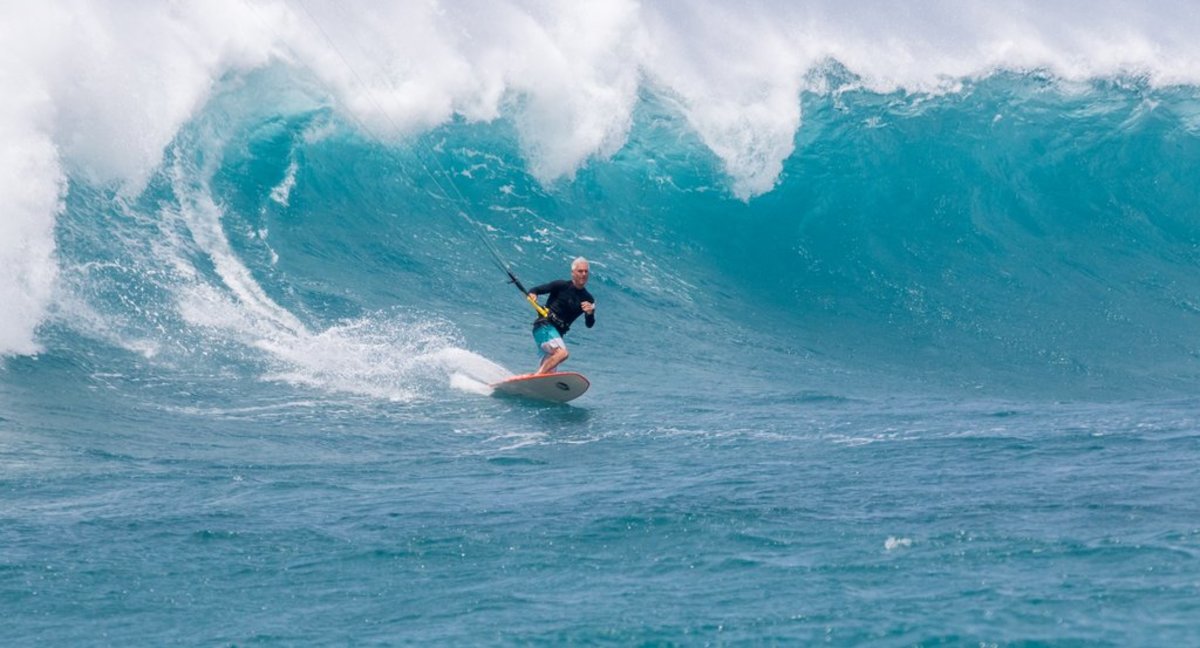 With Pete's waterman, design, marketing and graphic design skills combined it is perhaps no surprise that Cabrinha has grown into one of the biggest kitesurfing brands in the world. Whilst steering all aspects of the brand forward he has always maintained key control over the design aspects. Itwouldn't be shocking to learn that now he is also at the forefront of foilboard design, perhaps surfing's new frontier.
"Foilboarding reignited a feeling I haven't had in a long time," he says. "It is so addictive because you end up chasing two-foot waves with the same intensity as head high or double overhead waves. On Maui it's fired everyone up from the groms to the old guys. The future seems limitless."
If his roles in windsurfing, tow surfing and kitesurfing are any indication, no doubt Cabrinha will play a role in the future of foilboarding as well.
For access to exclusive gear videos, celebrity interviews, and more, subscribe on YouTube!