Your PFD should hug your body and stay in place on land or in the water, and it should feel good enough that you're happy wearing it for hours. Every body is different. Try a few PFDs and compare. Anticipate what you'll need to carry, and make sure the model you're considering can take it on. Strobe mounts and reflective piping are critical if you could get caught in the dark.
Take care of your PFD by rinsing off salt, sweat, and sunscreen, and it'll last for several years. But check it at the beginning of each season for tears in the fabric and other signs of wear. Retire your PFD proactively to ensure your safety on the water.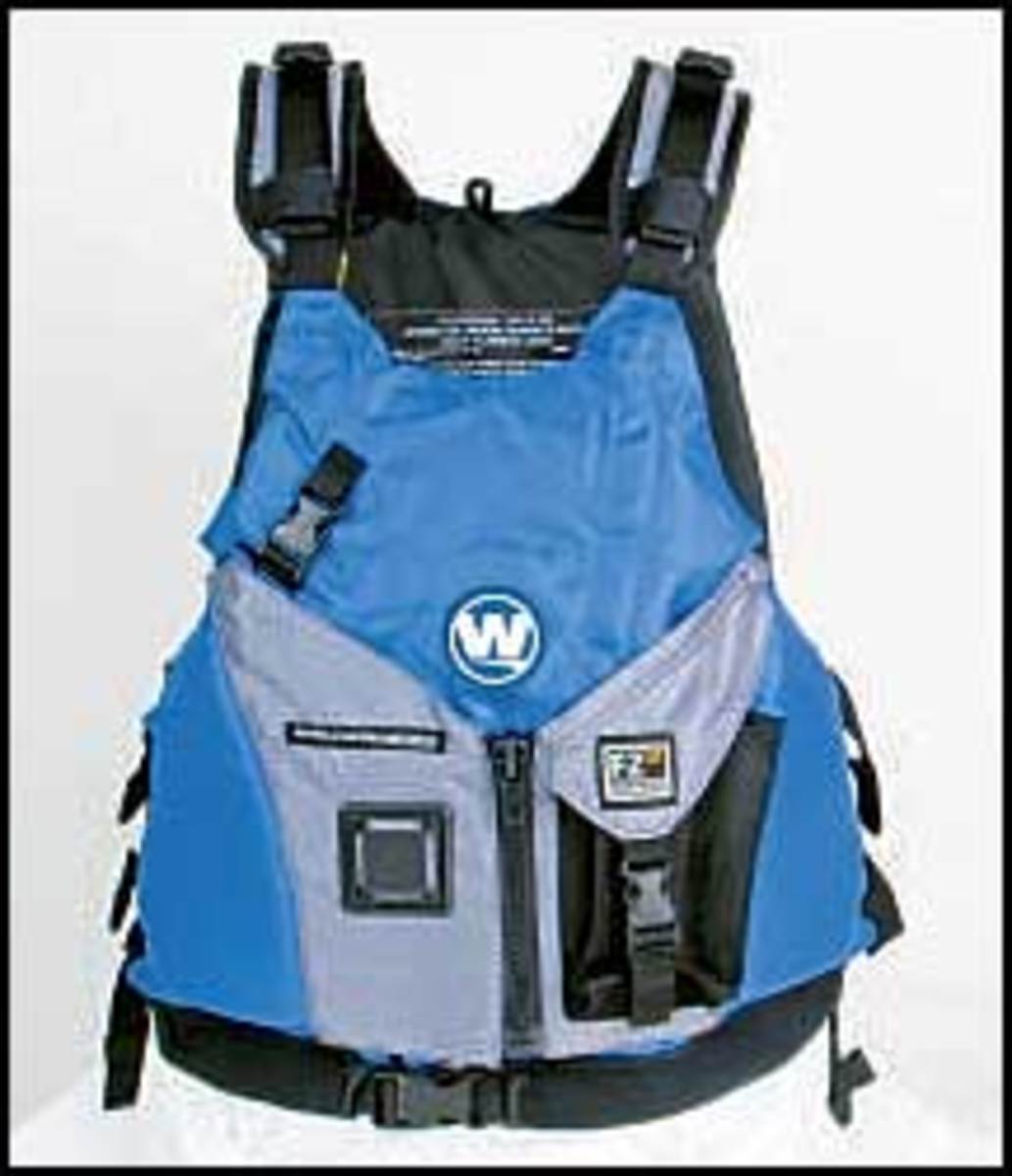 Wilderness Systems AF 6.5
The AF 6.5 is a side-entry PFD with three separate sculpted front foam compartments that conform to the body. Two side clips combine with a front zip to hold flotation low on the body, for reduced bulk. Back flotation is thin and moldable. Padded neoprene shoulders are adjustable, and the waist strap is neoprene covered. If the mesh sides don't keep you cool enough, you can up the airflow by unzipping the front. A flare pocket under the front zip keeps emergency gear close at hand, and a zip pocket under the front flap stores your keys on a clip and anything else you need to keep safe. A mesh outer pocket has easy access. Left-handed users complained that it was set up for righties, but they gave it the thumbs-up anyway. There is no reflective piping, but there are front and back strobe-attachment points. 16.6 poundsflotation, $69.99.
www.wilderness systems.com.
Astral Buoyancy Norge
The Astral Buoyancy Norge ranks high for both comfort and style. The Norge molds to almost every body thanks to organic kapok flotation sealed in an RF-welded polyurethane bladder that is much more supple and moldable than most PVC foam. The generous shoulder cut allows for unrestricted arm movement. The Norge has user-friendly details not found in other PFDs: fleece hand-warmer pockets and 11?2-inch side and waist adjustment straps that are easy to operate even with cold fingers. Neoprene flaps under the waist belt are soft against the skin, and neoprene padding under the adjustable shoulder straps prevents strap bite. The large, flat front pocket has a lanyard and a protective zipper cover that prevents accidental opening. Side panels provide both venting and wicking, and there's reflective taping and stylish overstitching. It's a general-use jacket also appropriate for whitewater, and it's a PFD that paddlers can feel good about wearing. Astral is the only company that has eliminated polluting PVC from their PFDs. 17 pounds buoyancy, $108.
www.astralbuoyancy.com.
Kokatat SeaO2
Paddlers who must have the latest and greatest will want to try Kokatat's SeaO2. A hybrid inflatable PFD for sea kayaking and general recreation, Kokatat's SeaO2 is the first of its kind designed specifically for paddlesports. The SeaO2 has a hidden flotation chamber in the chest that extends over one shoulder and into the upper back. Jerk the yellow pull tab and this PFD puffs from a low-volume 7.5 pounds of foam flotation to 22.5 pounds of foam plus air that will hold for at least 12 hours. An oral inflater/deflater tube lets you fine-tune on the fly. The sides are mesh and the back is mostly mesh below one flotation panel to keep you cool. Three cinching side straps snug things up. One zip and one clip front pockets hold spare cartridges and anything else, and reflective highlights keep you visible. We loved the innovation, but some Luddite testers feared the moving parts. All agreed that it was extra secure when inflated, but we wanted pre-inflation to be lower volume. This is not for whitewater paddling. Make sure to try it at home so you'll know how to work it when you need it. Two threaded 16-gram CO2 cylinders and two indicator pins are included. Additional kits are sold separately ($10 single, $24 triple). The 7.5 pounds of flotation when it's deflated will float 75 percent of users and be a swim aid for the rest. Inflated, the SeaO2 has 22.5 pounds of flotation. $174.
www.kokatat.com.
Kokatat Bahia Tour
The Bahia Tour is designed for high-back boats and hot paddlers. Kokatat leaves just enough lumbar flotation for padding and adds mid-back mesh for coolness and comfort. Articulated front panels are thickbutcomfortable. Expanding side-entry pockets are easy to get into, and an anterior electronics pocket puts gadgets one clip away. There's reflective tape front and rear, and front and rear lash points. It's not the lowest-profile PFD, but the flotation is placed thoughtfully so as not to interfere with paddling, and the bulk of it sits low unless you are large in the chest. 17 pounds flotation,$109.
www.kokatat.com..
The article was originally published on Canoe & Kayak
For access to exclusive gear videos, celebrity interviews, and more, subscribe on YouTube!