Text and Photos by Daniel Fox
Making photographs from a kayak can be a bit complicated, so before spending thousands of dollars on equipment only to find it flooded with seawater, it's worth taking a moment to figure out what your goals are. Do you simply want souvenirs from your trip or the ability to capture stunning nature pictures? Your choice will dictate the type of camera you will carry and the level of protection it needs.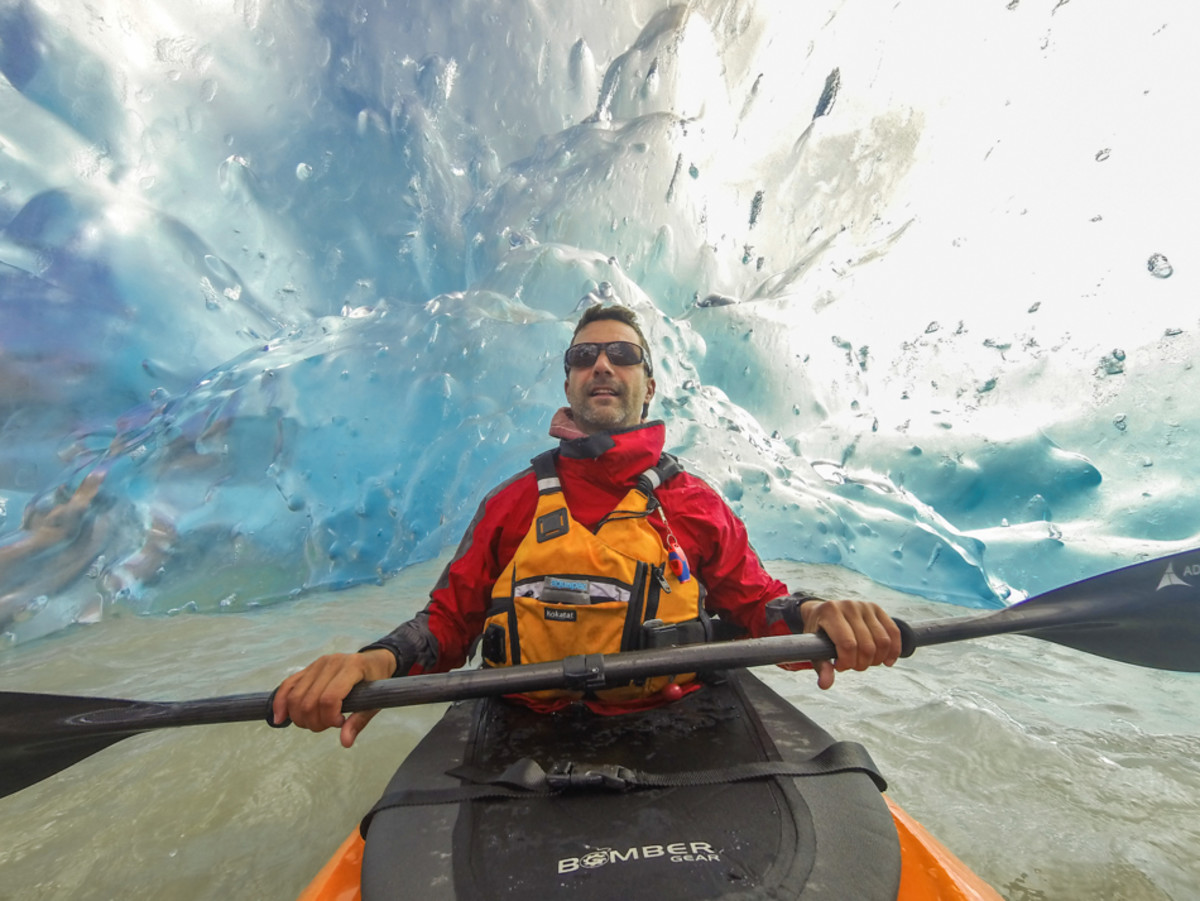 CAMERA
For many, a simple Point and Shoot will do. There is a great selection of waterproof cameras from Olympus, Panasonic, Nikon and Canon. If you go with the standard models, however, you'll have to find a waterproof case to protect them — Aquapac is one great choice.
There are also small, POV cams like GoPro and Garmin that can be mounted to your kayak or paddle. These are great for hassle-free video recording, getting interesting water-angles and grabbing selfies. There is also a good selection of accessories you can get to protect and mount your iPhone. Whatever you choose, just make sure to lash the unit to your PFD or kayak deck. It is crazy how quickly a camera can jump of your hands and fall overboard.
For professional-quality photography, you will have to carry a SLR with lenses. I recommend that you invest in a model with mid-range prices. You want to have quality but you don't want to have a camera that is so expensive you won't be able to relax when on the water, stressing every time the wind shows up. I personally like the new Canon 7D MKII or Nikon D750 because of their higher frame rates and image quality available at a moderate price.
Some of you might ask about the issue of a full sensor vs. a cropped sensor. If you want to focus on wildlife photography and simple use, a cropped sensor is the good option. They are also more affordable and compact. Full-sized (35mm) sensor cameras generally cost more, but they are the best option for those wanting versatility and the best image quality.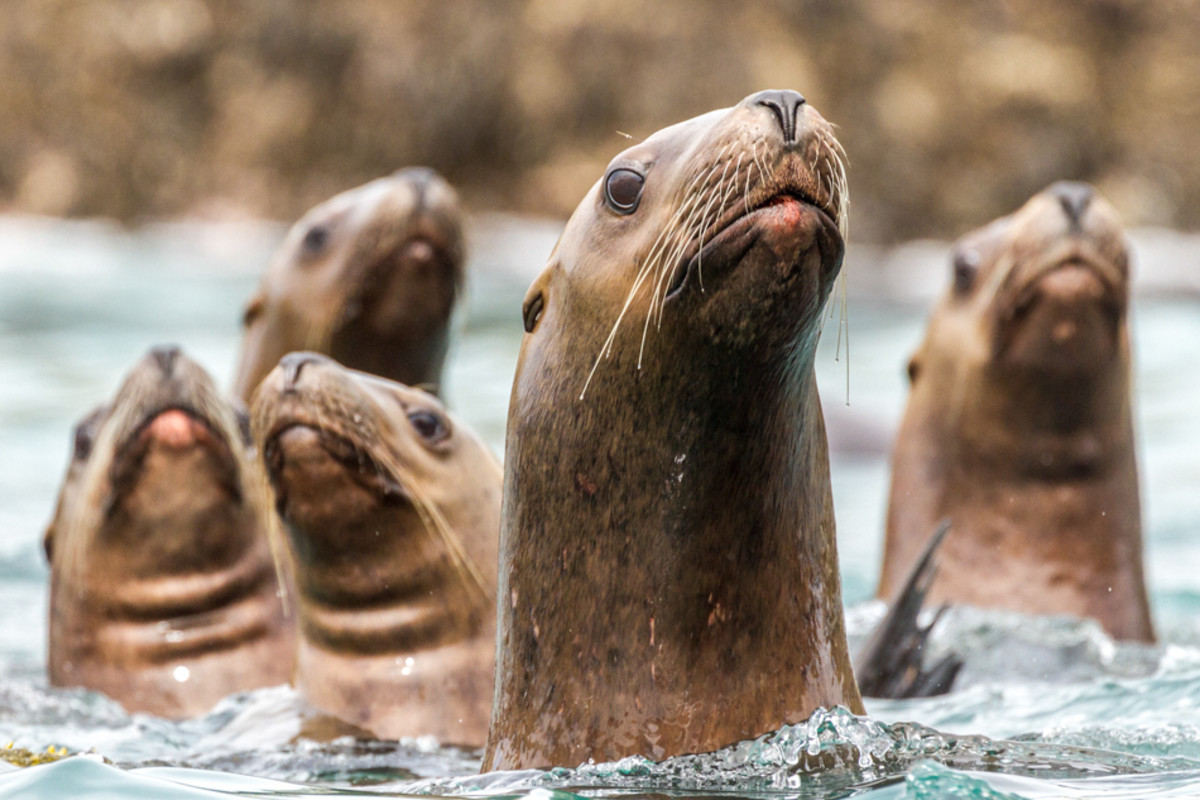 LENS
The choice of lens is tricky. Bringing multiple lenses broadens the range of photos you can take, but changing your lens on the water is not for everyone. Keep in mind your sensor size will dictate what kinds of lenses you can use. Also, if your going to invest in photo equipment it's worth knowing that lenses hold value and cameras devalue over time.
For wildlife, you'll want a lens that brings the action to you – something in the range of 200 to 300mm. If you shoot Canon, I recommend the Canon EF 70-300mm f/4-5.6L IS USM Lens. If Nikon is your weapon of choice then look for the Nikon AF-S NIKKOR 28-300mm f/3.5-5.6G ED VR Lens or the Nikon AF-S NIKKOR 70-200mm f/4G ED VR Lens.
For landscapes, you'll want something wider, from 12 to 55mm. I like the Nikon AF-S Nikkor 16-35mm f/4G ED VR Wide Angle Zoom Lens or the Canon EF 16-35mm f/4L IS USM Lens.
If you want to go fast and light, consider taking just one lens. Canon makes a great 24-105mm. Nikon's 24-70mm f/2.8 is the Swiss-Army knife of lenses. In the end, your choice of lens will depend on how much money you are ready to spend. If possible and within your budget, look for the "Vibration Reduction" feature some lenses have. This technological marvel is extremely handy, compensating for the shaking you will inevitably encounter while holding a larger lens.
Accessories. Make sure to have a couple of filters like UV filters and polarizers. UV filters are cheap and will protect your lens. You should always have one on. Employ a polarizer to remove glare from the water's surface and make colors pop. If you plan on camping, you can carry a small tripod and a shutter release cable to shoot landscapes. Finally, carry a couple of microfiber rags in your waterproof bags to remove the salt spray from your lens.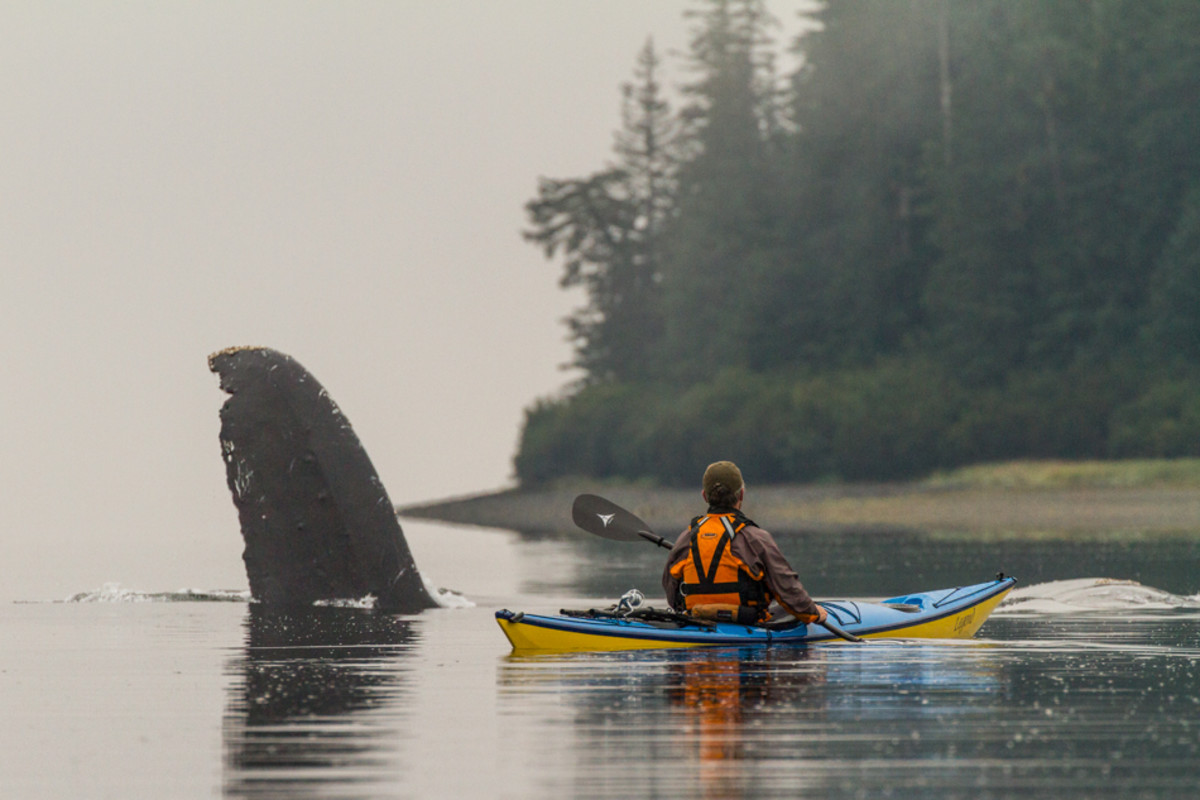 KAYAK
Once again, depending on your goals, your choice of kayak can make all the difference. Smaller POV cameras and Point and Shoots will work in virtually any boat. If you're photographing with a SLR, however, you'll want a boat that is stable and won't spin out of control at the slightest breeze. Rudders are extremely useful to keep a control of your movement. My ride of choice is the Wilderness Systems Tsunami with a rudder.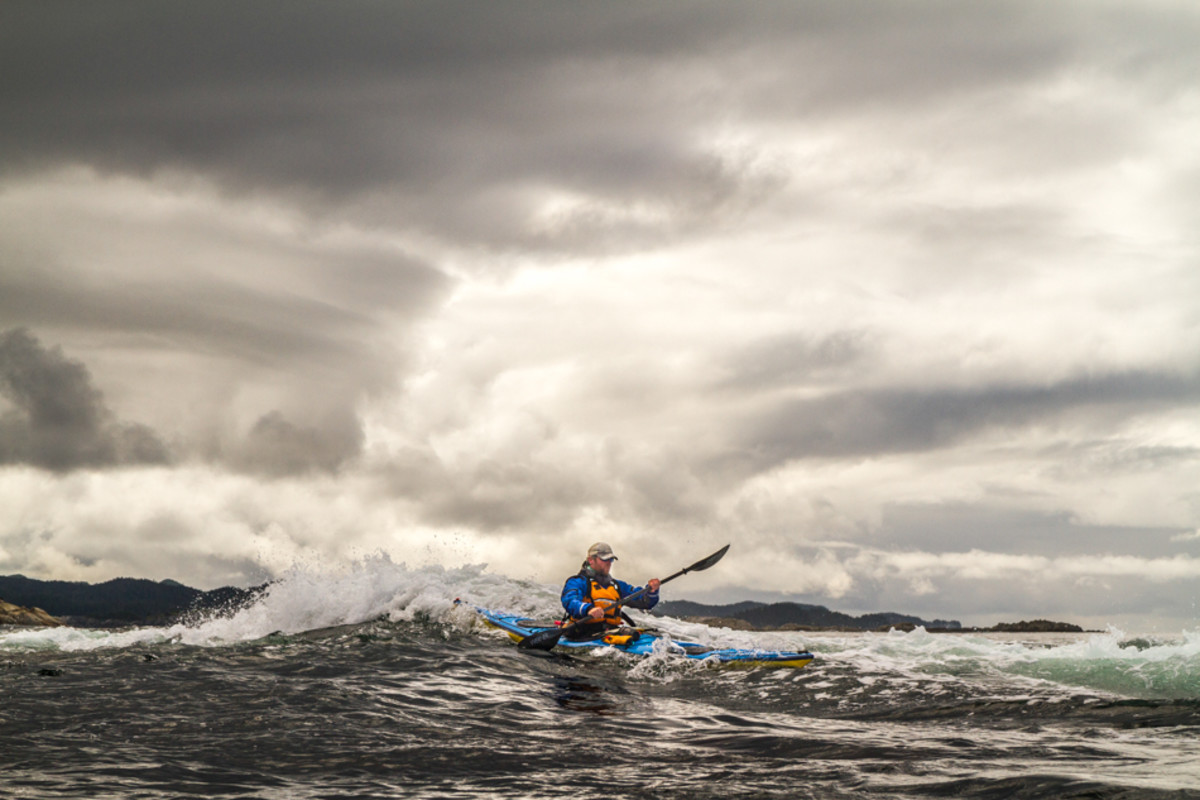 STORAGE
Here the bottom line is always the same: MORE MORE MORE. You can never have too much protection for your gear. Storage on or in a kayak can be a bit frustrating and everyone I know who carries a camera while kayaking has his or her own preferences. I personally don't like to have anything on the deck or in the cockpit, so I end up storing all my gear in dry bags in the hatches. I use two tough Sea to Summit Hydraulic dry bags – one for my camera with one lens attached, and one for the other lenses and photo gear. Both are stored behind me in the day hatch. Every time I want to photograph something, I take the camera out of the day hatch, open the dry bag first and put the strap around my neck. Once the camera is secured, I slide the dry bag off and clip it to my skirt or around my wrist. Then I take the shot. When I'm shooting frequently, I sometimes keep the camera hanging from my neck and resting in the open dry bag.
Again, this set up works for me because I spend long days on the water where the weather can change quickly. Unseen waves can come from nowhere and capsize you (some have!). Carrying a Pelican Case inside the cockpit or on the deck might be the better solution for some, but they are bulky and can quickly fill with a single splash from a rouge wave. Alternatively, a waterproof housing from Aquatech, SPL or Delmar could be your protection of choice, or waterproof shooting bags, like those from EWA Marine. There are no perfect solutions, just ones that fit your needs. Sea to Summit, NRS and Watershed all make great dry bags — just go for the toughest and thickest ones.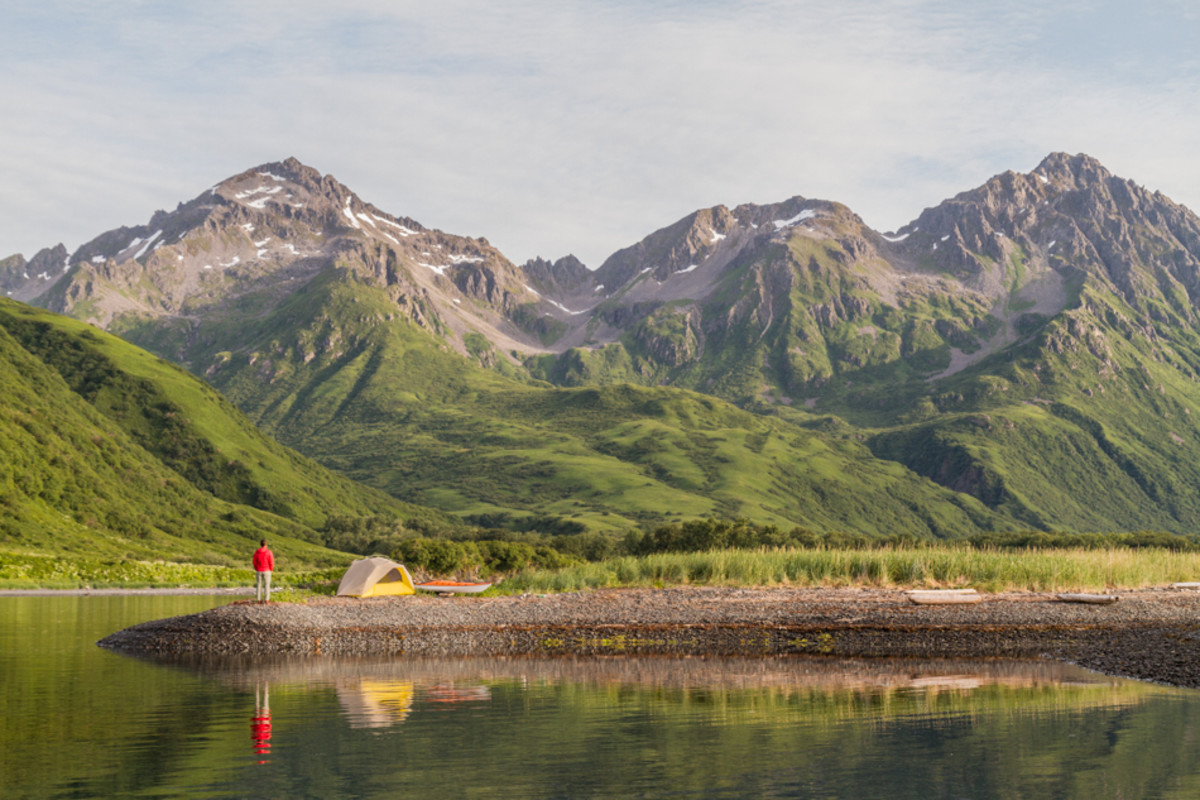 POWER
For short trips, bringing several batteries will cover your power needs, but if you go on longer, expeditions you will need to find ways of charging them. In the last five years, we have seen a marked improvement in portable power solutions. In the early days, I used to carry a bulky Brunton battery with a huge solar panel, but now Voltaic Systems is my go-to company. There are others like Goal Zero.
RISKS
Face the truth! Once you start doing photography from your kayak — no matter what type of camera you use or how much of a pro you are — one day you'll suffer the wrath of the unexpected. I strongly recommend you insure your gear through renters or pro-camera insurance, and accept the risks that come with the territory. Be wise and prepare.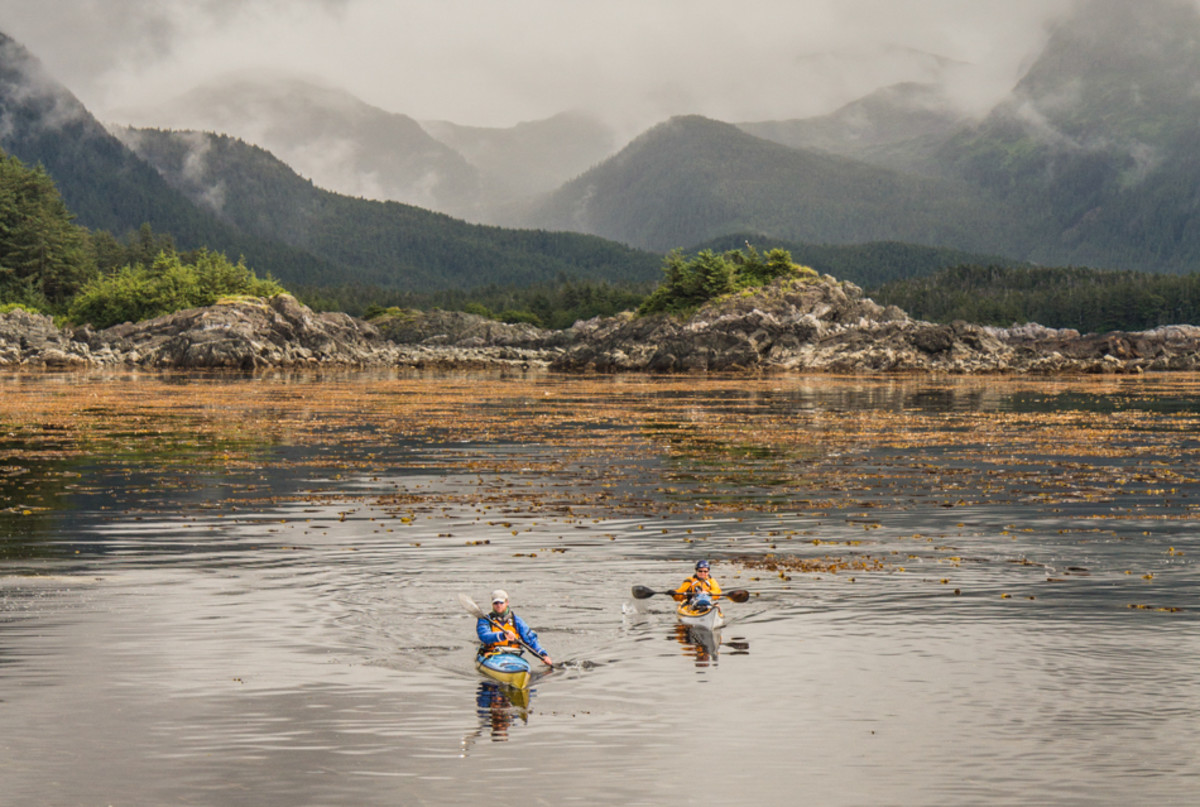 RESPECT THE CRAFT
If you invest the extra effort needed to bring a camera on the water, put some time into creating nice photos too. Learn about compositional theory such as the rule of thirds, depth of field, layers and leading lines. Don't be afraid to experiment with the basics of photography; get weird with your shutter speeds, aperture and light.
Don't limit yourself at taking photos from the kayak. Get on the beach, climb up on rocks or on a cliff and take portraits of your friends. Think about images that tell a story, rather than just document the action.
My final advice: learn how to delete! (Obviously not in the field but on the computer at home.) The digital era has brought with it the possibility of taking hundreds of photos at barely any cost and without taking up any space (always bring several memory cards). The downside though is I have seen too many people with thousands of photos, each slightly different than the previous one. Who wants to go through so many of the same? Choose your favorites, keep a small selection and be proud of them!
See you on the water!!
–On a 1,000-mile paddle from B.C. to San Francisco, Daniel Fox was caught in rough water in the middle of the night. His kayak broke in two trying to land. READ THE STORY HERE.
–See more great PHOTOS from C&K.
The article was originally published on Canoe & Kayak
For access to exclusive gear videos, celebrity interviews, and more, subscribe on YouTube!