How heavy was the 2nd Annual Red Bull Heavy Water?
Australian powerhouse paddler Michael Booth called it was the "craziest race I've ever done, hands down." 17-year-old Ryan Funk said it "felt like we were going out to surf Mavericks." And even veteran waterman Travis Grant admitted to being "nervous as hell" on the start line.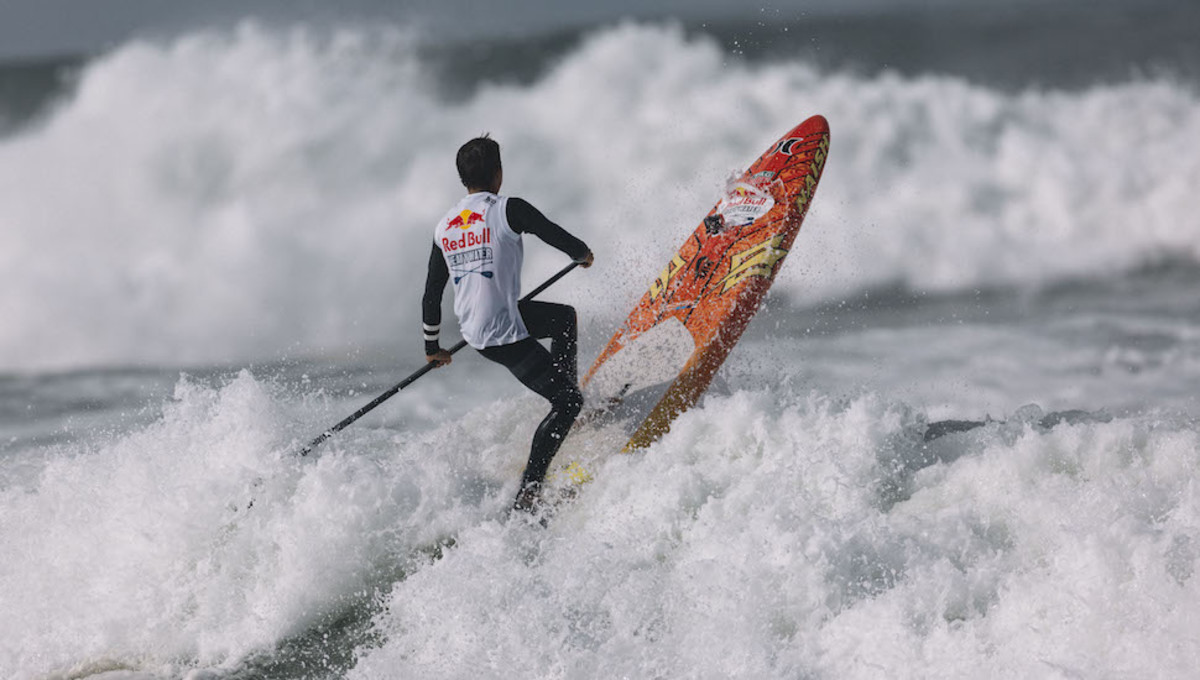 It was that kind of day as an elite collection of the world's top male paddlers challenged ferocious seas during a brutal 7.5 mile slog off the coast of San Francisco. With a giant northwest swell bringing waves as high as 15- to 20-feet, the race began in Ocean Beach with competitors attempting to navigate in and out of the punishing surf zone not once, but twice.
"The last time I went back out, there was the biggest wave I've ever seen," said Booth. "I was just looking at it saying, 'I'm gonna die.'"
The powerful waves were relentless and offered very few lulls for paddlers to sneak through the backside. On the media boat, we could only watch in awe as massive swells rolled under us and crashed ruthlessly in the impact zone. We knew the world's best paddlers were somewhere in there, if and when they made it back out seemed unlikely at times.
"I know my ability but you can't control the ocean no matter how good you are," said Grant. "I'm not gonna lie it was Vegas, it was luck."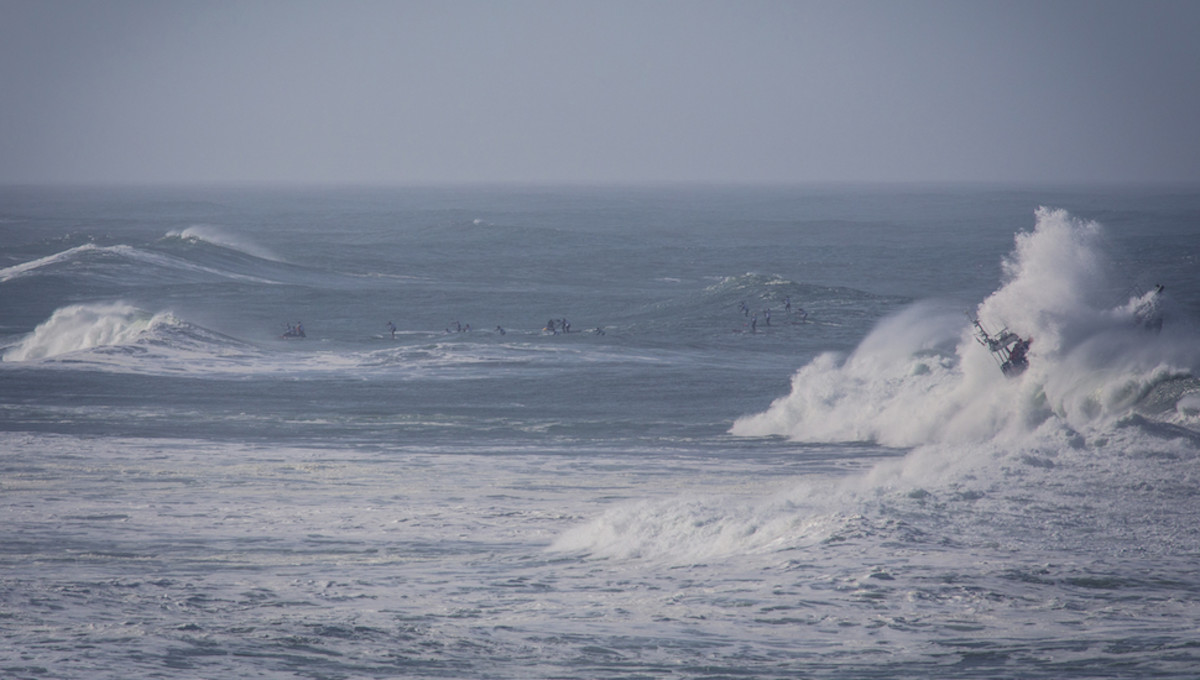 If this was a round at the poker tables, Denmark's Casper Steinfath got the royal flush. The Viking used a patient approach and was the first to emerge from the mist of chaos with nearly a half-mile advantage over Grant and Funk–who were locked in a spirited battle for second.
Despite the large lead coming out of the surf portion of the race, Steinfath still had six miles of angry ocean to cover before his lead triumph would become victory. With the massive swell and rapidly incoming tide, the mouth of San Francisco Bay looked the equivalent of a giant washing machine as he rounded Land's End past Fort Point toward the finish line. Despite the turbulent chop, the Red Bull athlete was able to maintain his composure and hold off a hard-charging Funk to claim first place and a hefty $20,000 payday.
"It's not always the strongest athlete that wins here, but the one that deals with the conditions in front of them," said Steinfath. "Definitely one of the biggest achievements of my career so far."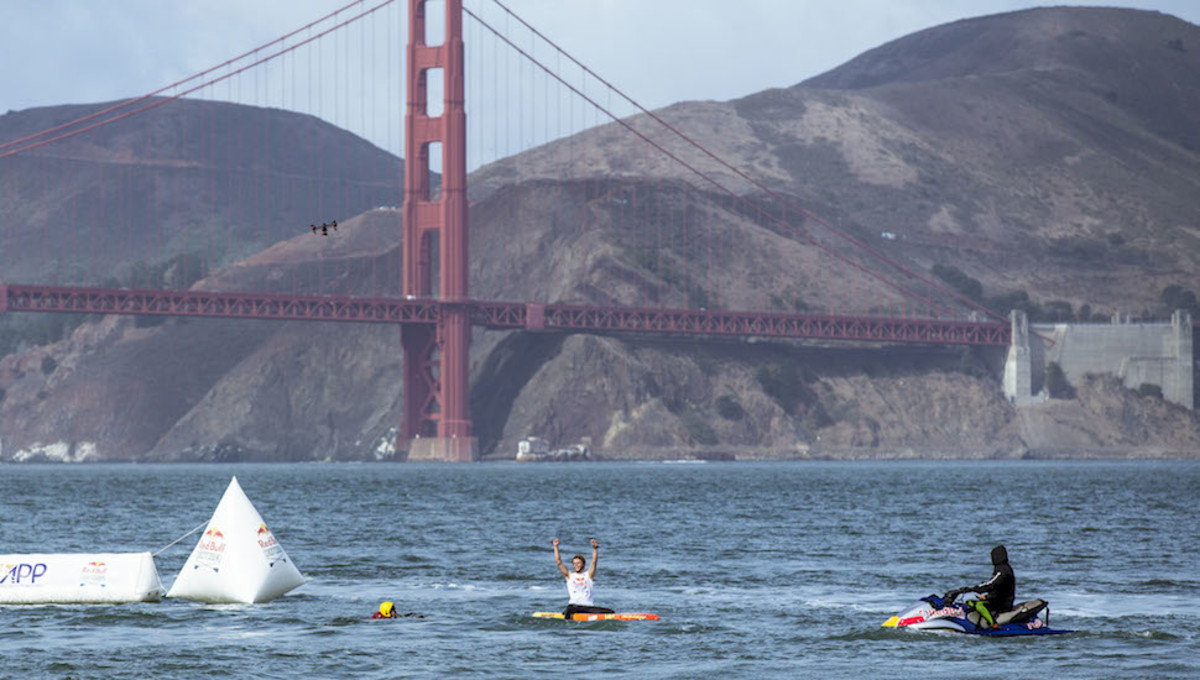 While Steinfath got the spoils, Funk provided the Cinderella story of the race with his unexpected second-place effort. The teenager credited the result to the mentorship of his long-time training partner, Connor Baxter.
"Connor and I trained here for a month before," said Funk. "There's no better person to train with than him. He's taught me basically everything I know in this sport."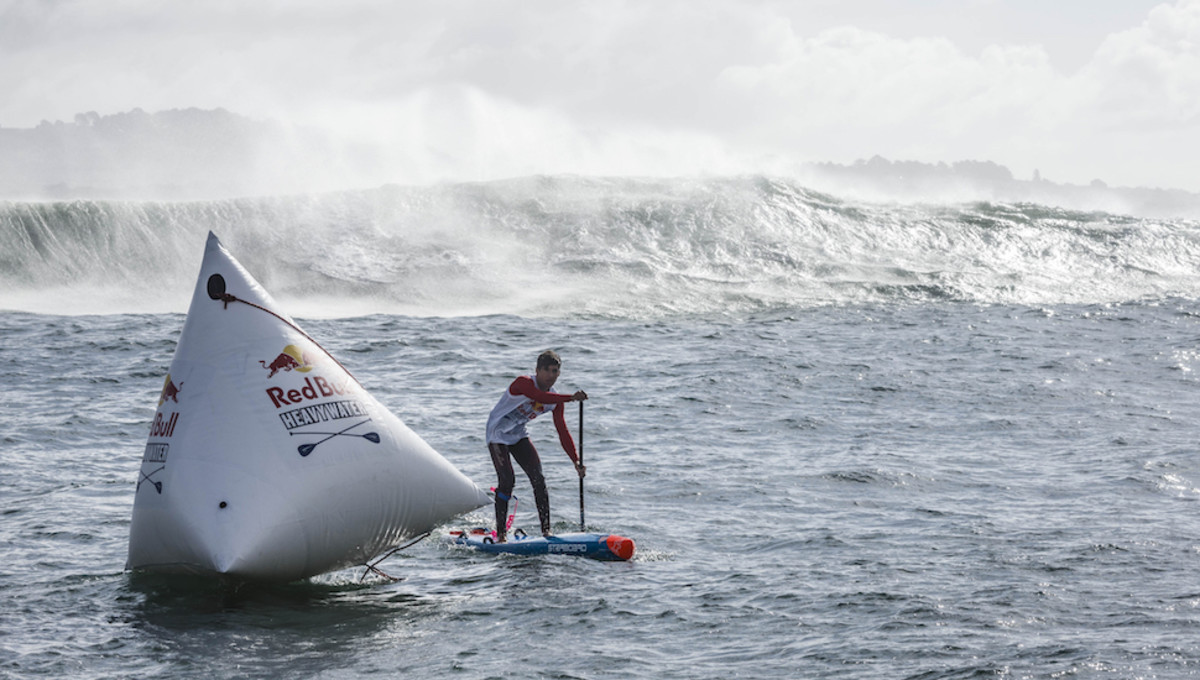 Speaking of Mr. Baxter—champion of the innaugural Heavy Water event last year—he wound up finishing ninth after getting worked by a few Ocean Beach whompers. Despite the tough finish, he was able to best Mo Freitas—the two were tied in points in the APP World Tour rankings coming into the event—to claim the 2017 APP World Title.
"The whole time there was always water moving and it was definitely very heavy water," said Baxter. "It's cool to be back here in San Francisco, win the title again and be able to go back home."
That puts a wrap on one of the wildest competitions in standup paddle history. While the day began with uncertainty about competing in such harrowing conditions, it ended as a testament to the incredible ability of these world-class athletes.
"I don't think you could get anymore extreme than that," said Heavy Water organizer Tristan Boxford. "It's called Red Bull Heavy Water for a reason and it lived up to its name."
Results
1.    Casper Steinfath, Denmark: 1:15:01
2.    Ryan Funk, USA: 1:16:01
3.    Travis Grant, Australia: 1:18:38
4.    Kody Kerbox, Hawaii: 1:24:16
5.    Michael Booth, Australia: 1:27:47
6.    Slater Trout, USA: 1:28:35
7.    Arthur Arutkin, France: 1:30:12
8.    Kai Lenny, Hawaii: 1:30:44
9.    Connor Baxter, Hawaii: 1:33:07
10.   Mo Freitas, Hawaii: 1:36:20
Related
See the 2017 Red Bull Heavy Water in its entirety with our full webcast. 
Female paddlers protest with #ipaddleforequality social media movement.
The article was originally published on Standup Paddling
For access to exclusive gear videos, celebrity interviews, and more, subscribe on YouTube!