Okay, I'll admit it. During my adolescent years, I had a big secret. An aspect of my character that was so unusual and odd that if it had ever been revealed, my reputation would have been destroyed. Once the most popular girl in high school caught me practicing this odd behavior; only quick thinking and a complete lie saved me from discovery, and utter abandonment. In college, things were better, but I was still shunned by some unknowing skeptics. These days I have come to accept my affliction, and even enjoy practicing my craft. What was my big secret? I was a closet bird-watcher.
This obsession led to my current situation. With a steady windchill hovering around 10 degrees, my friend Eric and I are standing on a rusty old railroad bridge in the middle of the Platte River near Kearney (pronounced car-ney), Nebraska, at dawn. Softball-sized ice chunks bob down the braided Platte, along with tiny gray feathers–sandhill crane feathers. A few other hardy souls are shivering with us, patiently waiting. We have come to America's heartland to witness one of the most incredible avian spectacles on earth, the annual spring migration of sandhill cranes along the Platte River.
They are one of two cranes that regularly breed in North America, the other being the whooping crane, the most endangered crane in the world. Standing four feet tall with a wingspan close to six feet, sandhills are an impressive bird, even to non-birders. Like all cranes, they mate for life. They spend the winter in New Mexico, Texas, and northern Mexico. During the spring they head north to breeding grounds in northern Canada, Alaska, and Siberia, with some traveling 7,000 miles to their marshy nesting area. Along the way, they stop to rest and feed in the fertile croplands along the Platte River in Nebraska. Just how many cranes? A half million birds stop along the Platte, almost 90 percent of the world's population of sandhill cranes.
At the moment, Eric and I are convinced we are seeing about 80 percent of that 90 percent. Right on cue with the fiery rising sun, the cranes explode in a flurry of feathers, creating complete chaos. Groups of hundreds, even thousands, take to the air, somehow navigating with each other, and blacken the sky. V formations head off in all directions in search of waste corn in nearby fields. The sound of their clucking is so loud that our voices are drowned out. I have been waiting to see this spectacle since my camp counselor turned me on to birding when I was 12 years old. I'm feeling pretty satisfied now, despite the numbness in my hands and toes. But I have another mission on our crane pilgrimage.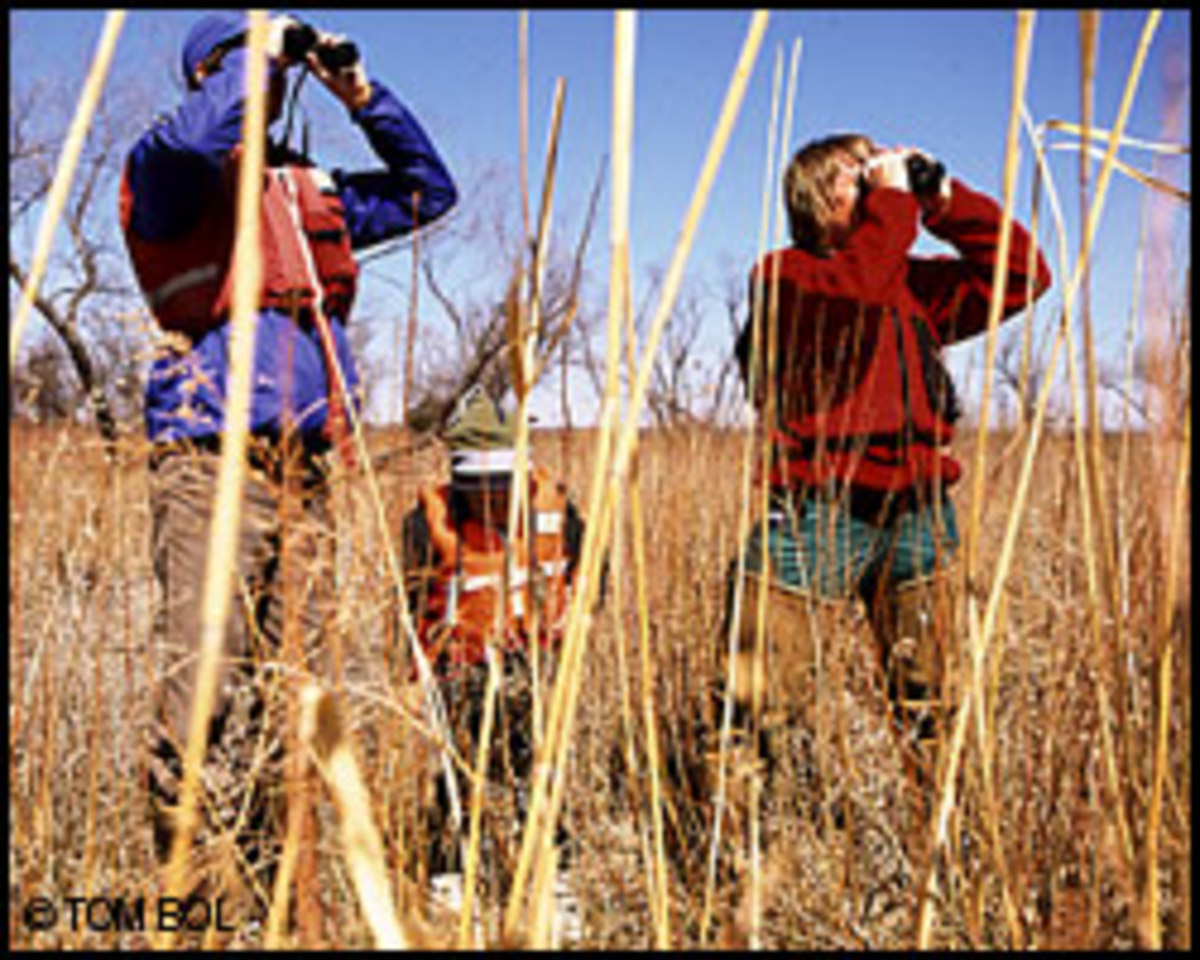 I really want to photograph cranes up close and personal, not as gray specs off in the distance. I have a powerful telephoto lens with me, and we've brought a secret weapon to ensure success–our trusty Mad River canoe. Our plan is simple. Load up the canoe, put in on the Platte near the cranes' feeding grounds, and float down the river like a stealth bomber, photographing from the canoe and fooling the cranes into thinking we're a giant piece of driftwood. Last summer I took great caribou images in the arctic using a similar tactic. I set up my camera on a raft, and we quietly floated very close to small bands of caribou without disturbing them; the photos were amazing.
So far my attempts to photograph sandhill cranes have failed. Eric, my wife, Cree, and our three-year-old son, Skyler, drove around dusty county roads near Kearney for hours, trying to get close to feeding cranes in cornfields. The crane-viewing brochures mention that this is the best strategy to get close to the cranes, using your vehicle as a blind and photographing from your car. I was able to get some decent crane pictures, but mysteriously the cranes would stay just out of range for a really close shot–it was almost as if they knew the range of my 500mm lens, and would not let me get a full-frame image.
In desperation I joined a guided group to a bird blind at the Audubon Society's Rowe Sanctuary, convinced this would get me close enough to photograph the birds full frame. Wrong again. Even though the night before there were hundreds of cranes directly in front of the blind, on this morning they had roosted along the river about a quarter mile away. Our guide commented that the cranes almost always were nearer to the blind. In my mind, these cranes were making this personal, and I was determined to get my shot. Time to use the secret weapon.
"The one thing you don't want to have happen is to be on the water around sunset or sunrise," explained Gene Hunt, the superintendent of Fort Kearny State Recreation Area. I had stopped by park headquarters to get as much boating information as I could. "If you disturb the birds when they are roosting, you are going to get a lot of nasty looks from people. Just be off the water a few hours before sunset."
Hunt mentioned that the North Platte was lower than he had seen it in a long time, the result of a three-year drought plaguing the area. The river was low but definitely could be run, so we grabbed our gear and portaged the canoe to a put-in near the Highway 44 overpass.
The Platte is a gentle river. Originating in the snowy alpine creeks of the Mount Zirkel Wilderness Area in northern Colorado, the river lazily winds its way through the rolling, windy plains of Nebraska, eventually joining the Missouri River near Plattsmouth on the Nebraska-Iowa border. The Platte cuts through miles and miles of fertile farmlands, the muddy banks lined with ancient cottonwoods and tall reed grasses. Duck blinds occasionally dot the shore. Near Kearney, the Platte braids out into many small channels. The challenge of boating on the river is finding the deep water, or else you end up dragging your canoe over shallow sandbars.
"Cranes up ahead," Cree whispers as we peacefully drift down a small channel near a plowed cornfield. "That's the same place we saw thousands of them roosting last night."
Getting There: Kearney, Nebraska, is located right off I-80 in central Nebraska. Kearney can be reached by air from Denver on United Express. Call (800) 241-6522 or log on to ual.com.
Logistics: The prime time for viewing sandhill cranes near Kearney is March through early April, with peak numbers around mid-March. If you really want close-up sandhill photographs, join a guided group to a blind at the Rowe Sanctuary. Call (308) 468-5282 for reservations. Good luck!
Lodging/Camping: For accommodations, try the Kearney Chamber of Commerce Web site at kearneycoc.org. Camping is available at Fort Kearny State Recreation Area. Call (308) 865-5305.
While You're There: Visit the Great Platte River Road Archway Monument on Interstate 80 in Kearney. Log on to archway.org. Take your bike and/or running shoes to enjoy the hike/bike trail at Yanney Heritage Park. Log on to kearneycoc.org.
Outfitters/Resources: Currently, canoes are not available for rent in Kearney, so you need to bring your own. For more information on the North Platte, log on to www.ngpc.state.ne.us/boating/canoe-npl.html. For a complete list of outfitters, visit our Adventure Paddling Directory.
"Let's pull in on that bank," I reply, pointing at a steep, muddy bank to hide our approach. I grab my camera, ready for action.
I quietly crawl up the bank, like a house cat approaching a sparrow at the bird feeder. I'm oblivious to the crane excrement, bird feathers, and mud caking my clothes. Nothing matters but the shot–I'm dedicated to the end. I slowly rise above the reeds, looking more like a tarred-and-feathered thief than a professional photographer. And I come face to face with–an empty cornfield. The cranes have left. A crane flying overhead has signaled my approach; these birds are smart.
We continue down the river, stopping occasionally to explore sandbars and duck blinds. Skyler delights in collecting sandhill crane feathers, the most tangible result of their presence. Sandbars have a mosaic of crisscrossing crane tracks, with occasional deer and raccoon prints interspersed among them. Tiny white and gray feathers, along with the constant overhead chattering, leave no doubt as to the massive number of cranes along the Platte.
It is a perfect spring day, with mild temperatures, cloudless skies, and the constant commotion of cranes flying overhead. I lounge in the stern, imagining where exactly the cranes I see are headed. Wyoming, Alberta, Alaska? Only they know. I keep an eye out for a flash of white amongst the gray, hoping to spot the rare whooping crane. A whooper was sighted yesterday nearby. But all I see are gray sandhills, thousands of them flying north. Fortunately for the cranes and birders, nearby wetlands have been preserved through Nebraska's Rainwater Basin Joint Venture.
Historically, wetlands and marshes were common in North America, stretching from the Gulf Coast to the Arctic, right along the central flyway migration route. Every spring these basins fill with rainwater and snowmelt, providing critical resting points for waterfowl and cranes. With increased population and agricultural development, many of these wetland areas were greatly reduced. Through the Rainwater Basin Joint Venture, which combines efforts of government agencies, conservation groups, private citizens, and local businesses, these critical wetlands are being preserved and restored, ensuring a healthy bird population in the future.
By mid afternoon we have reached our take-out near a highway bridge, avoiding sunset and disturbing the roosting cranes. As soon as we hit the shore, Eric takes off on a five-mile run to get our vehicle at the put-in. Cree, Skyler, and I shuttle muddy boating gear up to the highway. I am slightly disappointed at not getting my close-up photo of a sandhill crane, but this feeling is offset by a beautiful day of paddling with family and friends on the Platte.
Eric soon returns with the car, and we load up for the five-hour drive back to Colorado. As soon as we start driving, we round a corner and find hundreds of sandhill cranes right along the road, as close as we have seen them. "Look!" Cree points "Do you want to stop?"
My pulse rate is rising rapidly. This looks like an opportunity to finally get my crane photo. But as we start to slow down, I notice one crane that raises his head slightly, looking directly at me with his small beady yellow eyes. That crane knows I want his picture, and he isn't going to let me take it.
"Let's keep driving," I reply. "These cranes have my number."
But I'm coming back next year. With a stronger telephoto lens and a camo-colored canoe.
Tom Bol is a freelance writer and photographer who lives in Fort Collins, Colorado, with his wife, Cree, and young son Skyler.
The article was originally published on Canoe & Kayak
For access to exclusive gear videos, celebrity interviews, and more, subscribe on YouTube!