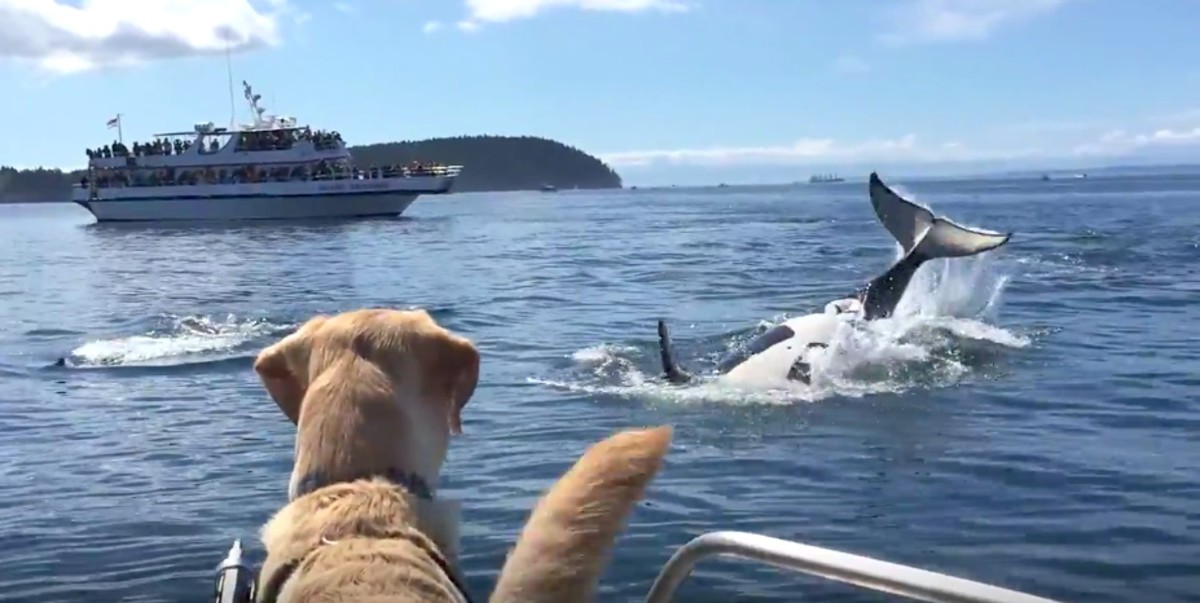 Kate and Jaycee Butler on Sunday enjoyed a magical encounter with endangered Southern Resident killer whales, especially an adult female who turned upside down to inspect the boaters, and even flipped water onto them with her fluke.
But the real connection appears to have been with the Butlers' dog, a yellow lab named Sailor, who wagged his tail and seemed as intrigued by this strange beast in his midst as the orca seemed by his presence at the bow of the Butlers' 22-foot boat.
<iframe width="620″ height="340″ src="https://www.youtube.com/embed/xpaJ-3atykM" frameborder="0″ allowfullscreen></iframe>
"He didn't bark throughout this whole encounter, and Sailor barks at everything," Kate Butler said. "He was so excited that when we got off the boat he peed for 10 minutes."
It was a phenomenal "super-pod day" in general for whale watchers at the San Juan Islands off Washington, as members of all three Southern Resident pods had gathered to feed and frolic. (Southern Resident killer whales feed exclusively on salmon and have never been documented attacking of feeding on a mammal.)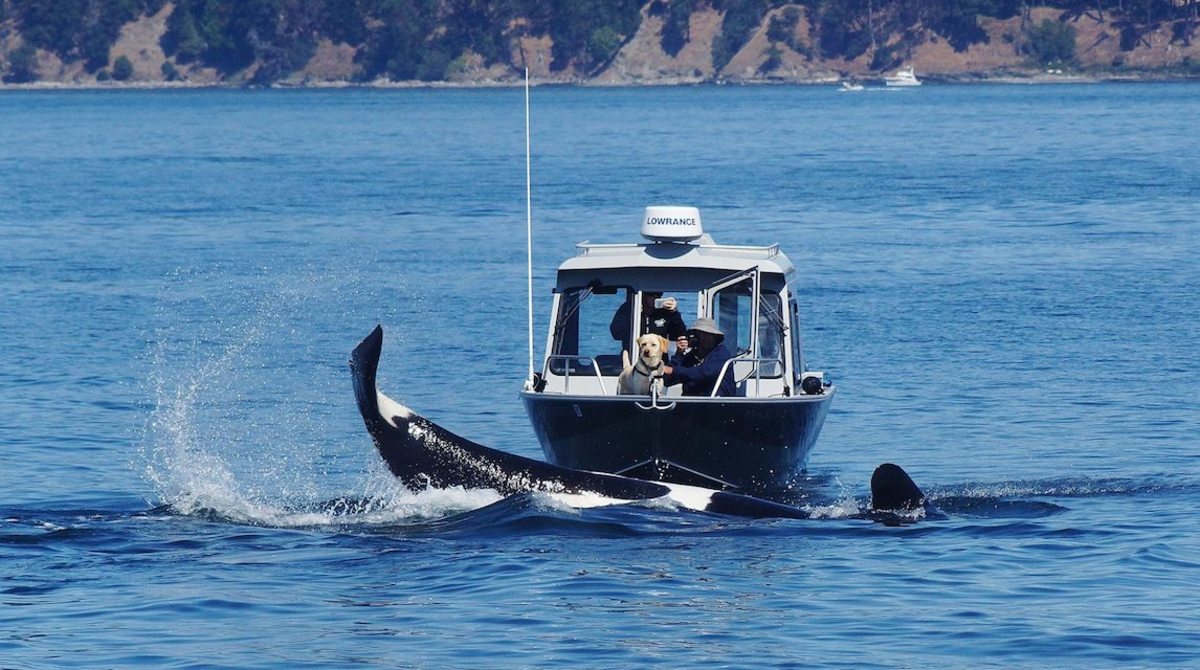 But for the Butlers, receiving a personal visit of such an intimate nature made for a once-in-a-lifetime experience.
"We've been coming out here almost every day, every summer for 40 years, and we don't think we'll ever see anything like this again," Jaycee Butler said.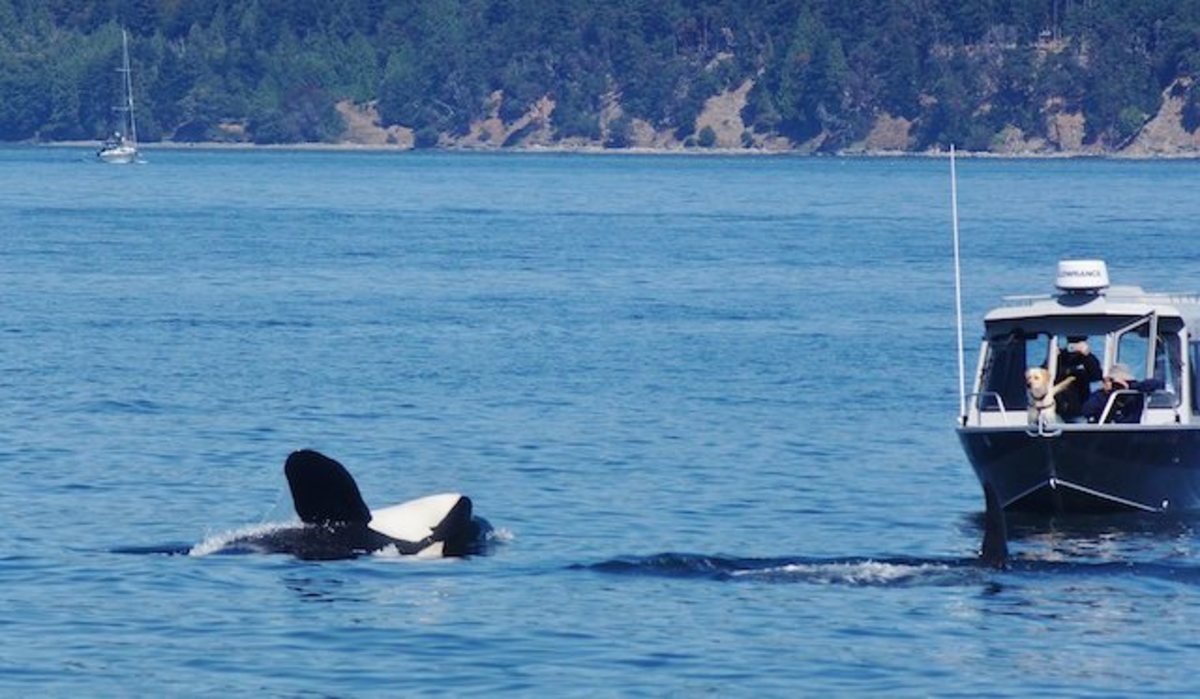 The bottom three images accompanying this post, captured by James Gresham from aboard a much larger vessel, Island Explorer 3, show the Butlers' encounter from a different perspective. (Island Adventures can be seen in the Butlers' video.)
The female orca on her back–cataloged as K13 and named Skagit, a mother of four with two grandkids – is shown with her eye above water as she swims to within just a few feet from the vessel's bow. (The vessel was idling and the Butlers were not violating any laws.)
"The orca is looking at the dog and the people, there is no question," said Alisa Schulman-Janiger, a killer whale researcher. "She is definitely checking them out."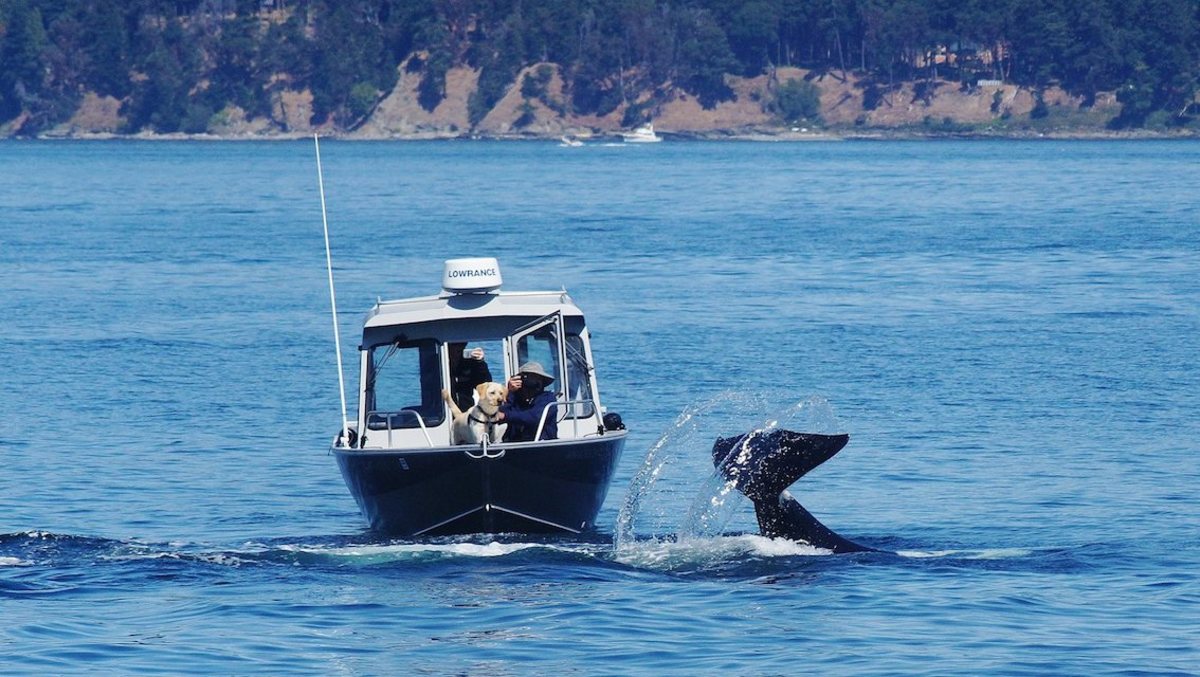 It's impossible to tell what the orca is thinking, or if it's singling out the dog as the focus of its curiosity. But orcas and other types of whales are used to seeing people, and less accustomed to seeing dogs.
"It's all conjecture, but this orca's head is up and she's very focused on the boat," Schulman-Janiger said.
This is the second video in the past week showing an apparent connection between whale and dog, the other occurring at Whale Point in British Columbia, involving a humpback whale that swam to within yards of a dog watching from shore.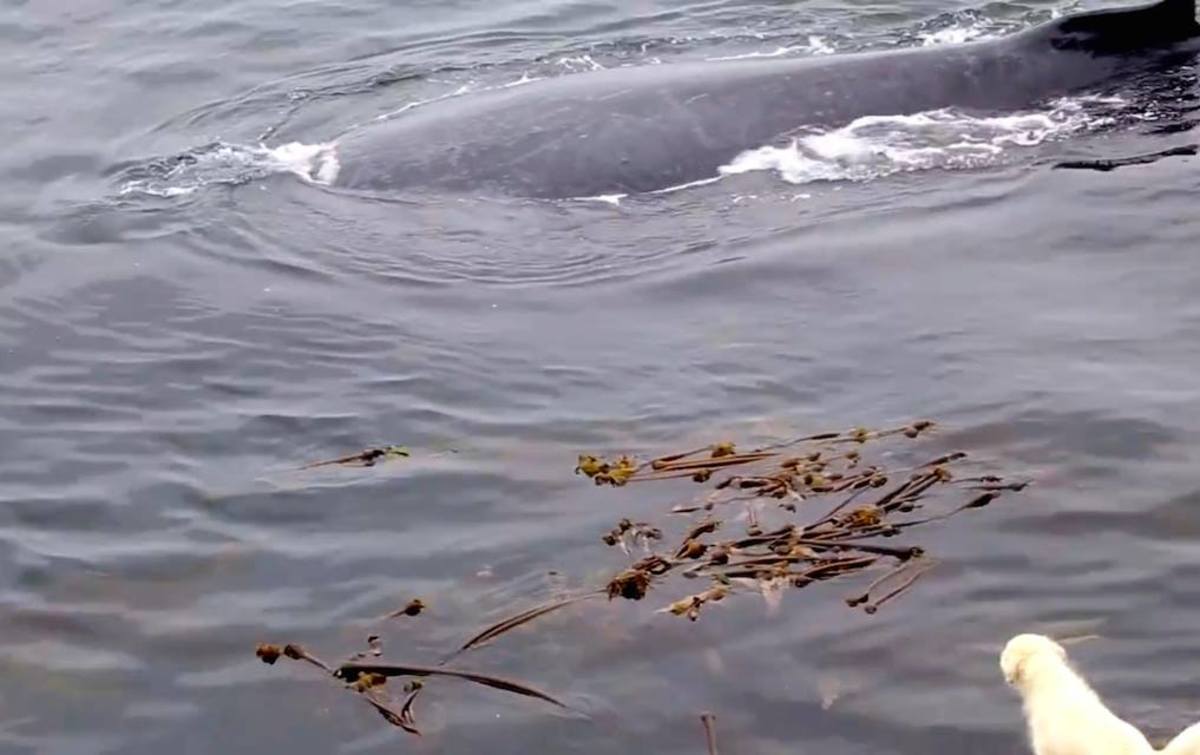 The "Orcas visit Sailor" footage was captured via iPhone by Kate Butler, who was captain and videotaped from the cabin, while Jaycee was taking photos while holding Sailor's collar.
"He's been out dozens and dozens of times and has never jumped in, but this time he just might have because he was so excited," Jaycee explained.
There was no such concern about Sailor's brother, Finnegan. Throughout this entire encounter, the Butlers said, Finnegan was asleep in the cabin.
–Editor's note: Melisa Pinnow of the Center for Whale Research identified K13 (Skagit) for this story, based on the orca's distinctive white eyepatch. 
More from GrindTV
Aaron Gwin's downhill MTB run at Windham: Best of 2015?
Marcy MacDonald becomes first American to swim across Loch Ness
8 reasons why Teahupoo is the most dangerous wave in the world
For access to exclusive gear videos, celebrity interviews, and more, subscribe on YouTube!