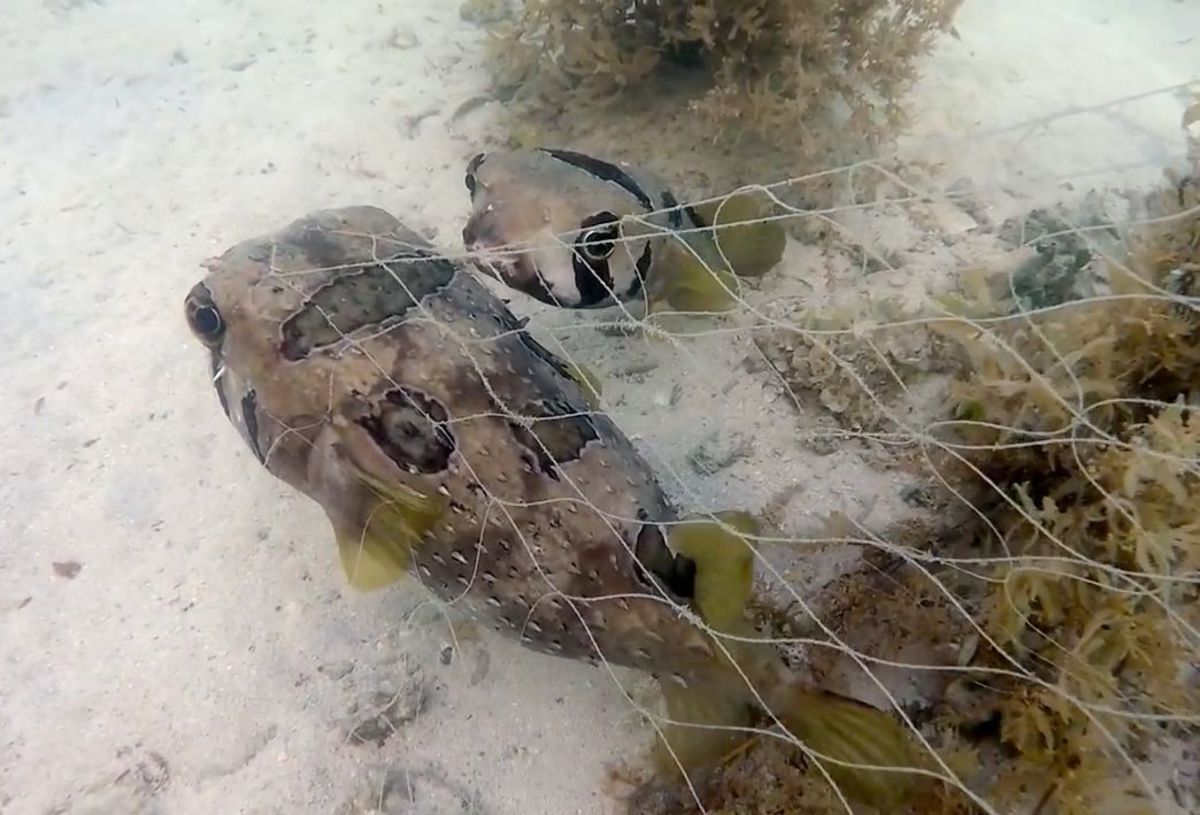 Who knew fish could have a tender moment? Or were capable of being a BFF? Or could be so downright loyal?
These traits were on full display by a porcupinefish as it remained by the side of a fellow porcupinefish that was helplessly tangled in a ghost net in Chaloklum Bay, Thailand.
Bram Spierings and Anne-Marie van Noord were snorkeling when they came across the trapped porcupinefish and its loyal friend that remained close by.
Spierings found a piece of broken glass and began cutting away the net as the other videotaped the rescue. What unfolded in the video provided by Core Sea was extremely touching:
Despite the presence of two humans, the free-swimming porcupinefish never left the side of its tangled friend.
Jonathan Balcomb, an author of books on animal behavior and emotion, including the upcoming What a Fish Knows: The Inner Lives of Our Underwater Cousins, explained the special relationship to National Public Radio:
"This touching video shows virtuous behavior in two distantly related vertebrates. A porcupinefish bravely keeps vigil for his entrapped comrade, while a kindhearted snorkeler gingerly negotiates the situation with an improvised cutting implement — the bottom of a broken bottle.

"A skeptic might think the bystander fish is just curious, but if that were the case, the fish would have fled the scene when the large ape approached. Like many fishes, pufferfishes (of which the porcupinefish is a member) can live a decade or more and can form lasting bonds with others of their kind or with human caregivers."
Spierings had another idea.
"I think it is mating season and the male fish (the one not tangled in the net) thought this was a good female to mate with," he told Jukin Media.
More from GrindTV
Runaway whale-watching boat crashes into seawall near dock, injures 7
http://www.grindtv.com/random/base-jumping-icon-arrested-following-fatal-jump-in-georgia/#WP1WDBATjXszleJv.99
Experts chime in after catch of mysterious 'alien fish'
For access to exclusive gear videos, celebrity interviews, and more, subscribe on YouTube!