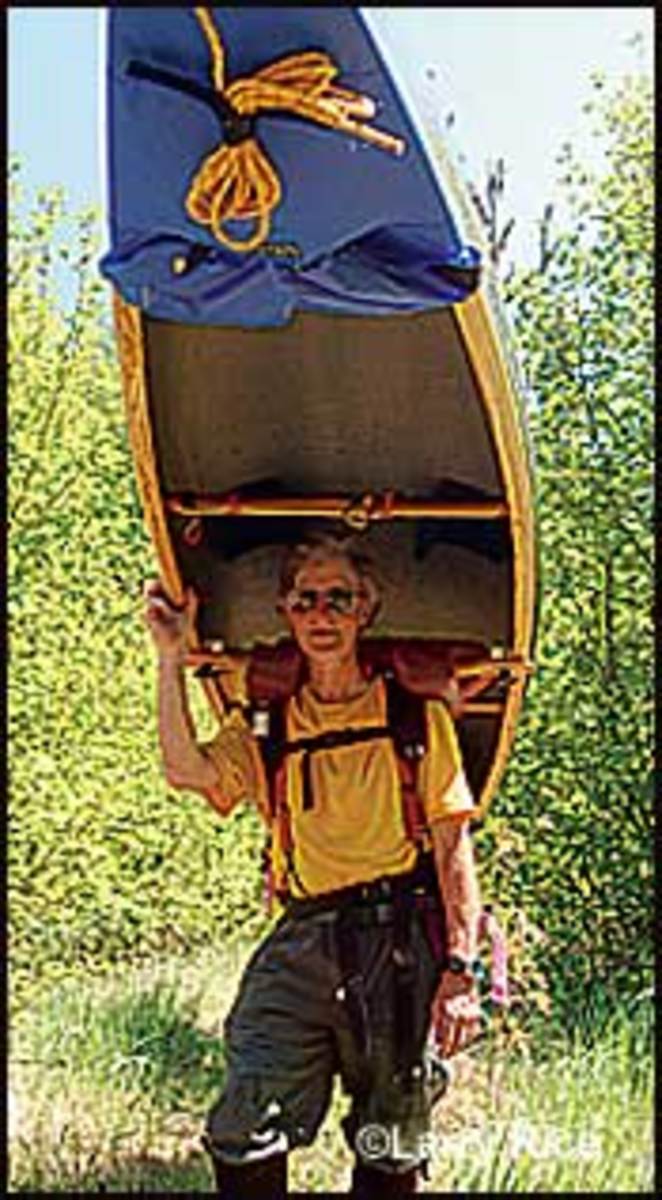 By Cliff Jacobson
Set your boat up right: Nothing works as well as a curved wooden portage yoke with thick Minnesota-style pads. The canoe should balance on the yoke and be just a little bit stern heavy. Double-bolt the yoke and thwarts; single bolts won't handle the torque; thread an extra nut onto a couple of the bolts so you'll have spares. Don't: Use paddles as a carry yoke. It's hard on paddles, and harder on you.
Use a tumpline: A tumpline is a strap that reaches across the crown of the head and allows you to keep the load in line with your spine. Everest Sherpas use tumplines, but Americans still insist on backpacks with hip belts. You tell me: who's the professional? On good trails, a tumpline allows you to back-stack gear—carry two packs one on top of the other. Don't: Carry anything on your chest. Ever. Keep a low profile while bushwhacking and at least one eye on your feet.
No loose gear: Everything goes in packs so small items aren't lost in a capsize or left behind. A carefully sealed tripping pack is almost completely waterproof, but a hassle to get into, so carry a personal daypack for the things you need often. Gear is a lot harder to lose if it's brightly colored, but shouldn't all be the same color either. A bush pilot won't spot five belly-up red canoes, but if you've got a red, yellow and a blue, he'll see them. Don't: Leave small items like paddles, thwart bags, and map cases tied into the canoe when you portage it.
Scout the trail: Only rookies strike out into unfamiliar territory with canoe on their head, veterans know to scout the trail with a light load first. You never know when you'll spot a shortcut to the river; that's why you should leave the canoe for last. Don't: Leave your canoe with one end in the water. Tie it off. Wind happens.
Bring tape: Use colored plastic surveying tape to mark seldom-used trails. Don't: Leave it when you finish.
Carry tools: On oft-travelled routes, carry a hatchet and a folding saw for clearing portages. If you go deeper, you'll want a three-quarter axe and a full-frame saw. Many northern routes haven't been traveled in years, even decades, and hacking away at deadfall after deadfall with a hatchet will leave you exhausted. Don't: Give up on finding a portage, or run a drop because the trail is too daunting. Even with a sat phone, rescue may be days away.
C&K contributing editor Cliff Jacobson weighs about a Duluth pack below the national average, but there's nothing small about his opinions. Especially when it comes to portaging. "It's not my system," he says. "It goes back to the early fur traders, and the Native Americans before that. Everyone did this the same way, because it works."
–Check out more SKILLS tips from C&K
The article was originally published on Canoe & Kayak
For access to exclusive gear videos, celebrity interviews, and more, subscribe on YouTube!