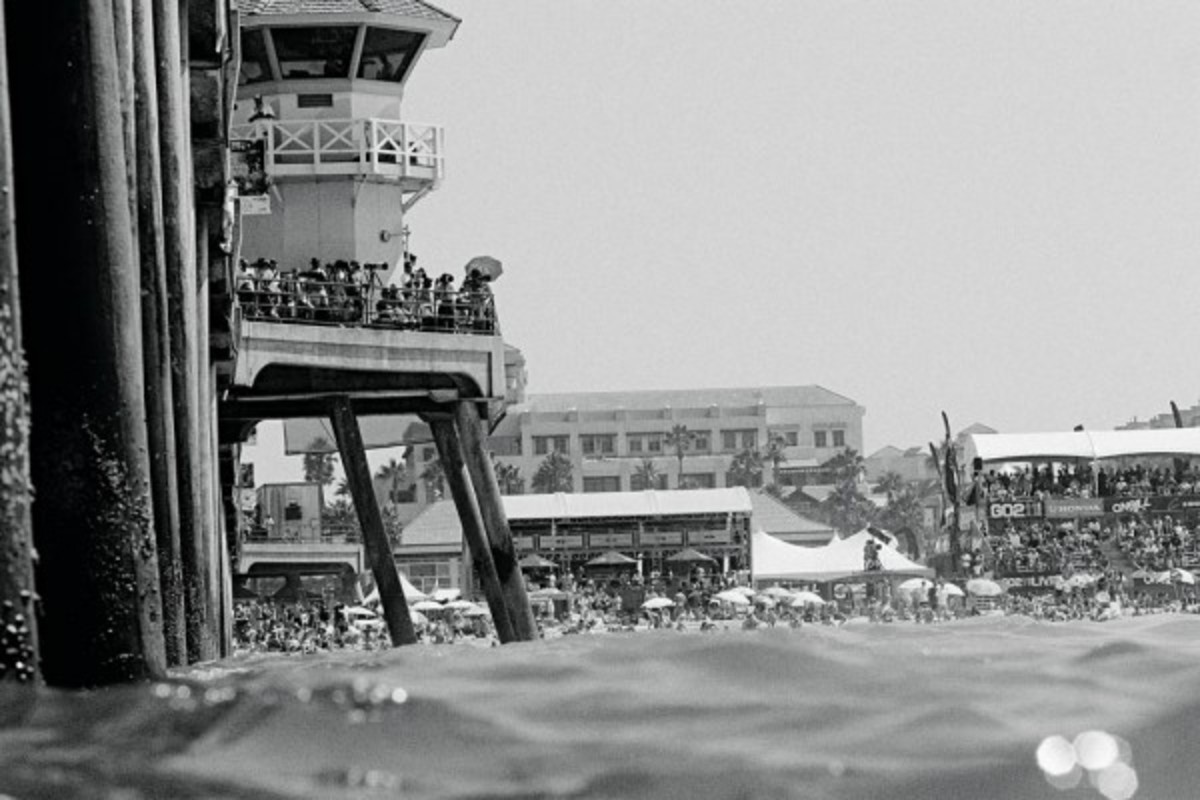 Photo: English
Welcome to the 16th Anniversary of the Surfing Walk Of Fame. We're proud to bring you this year's inductees, and even more so since it's the 50th anniversary of competition at the Huntington Beach pier.
In the following article you'll meet this years honorees. Each has a made important contributions to surfing on their own, but together they represent an incredible group of people who have had an immeasurable impact on the sport, both abroad and locally.
Congratulate them with us on July 23, in front of Jack's Surfboards.
16th Anniversary of the Surfing Walk Of Fame
Thursday July 23, 2009
10.00a.m., PCH and Main Street, in front of Jack's
Inductions
The Champions of "50 Years At The HB Pier" • Honor Roll
Mark Martinson • Surf Champion
Fred Hemmings • Surf Pioneer
Duke Boyd • Surf Culture
Wendy Botha • Woman Of The Year
Jackie Baxter • Local Hero
In Memoriam
Bud Browne (Surfing Walk Of Fame Inductee 1996)
Peter Troy
Midget Smith
Dick Baker
Duke Boyd • Surf Culture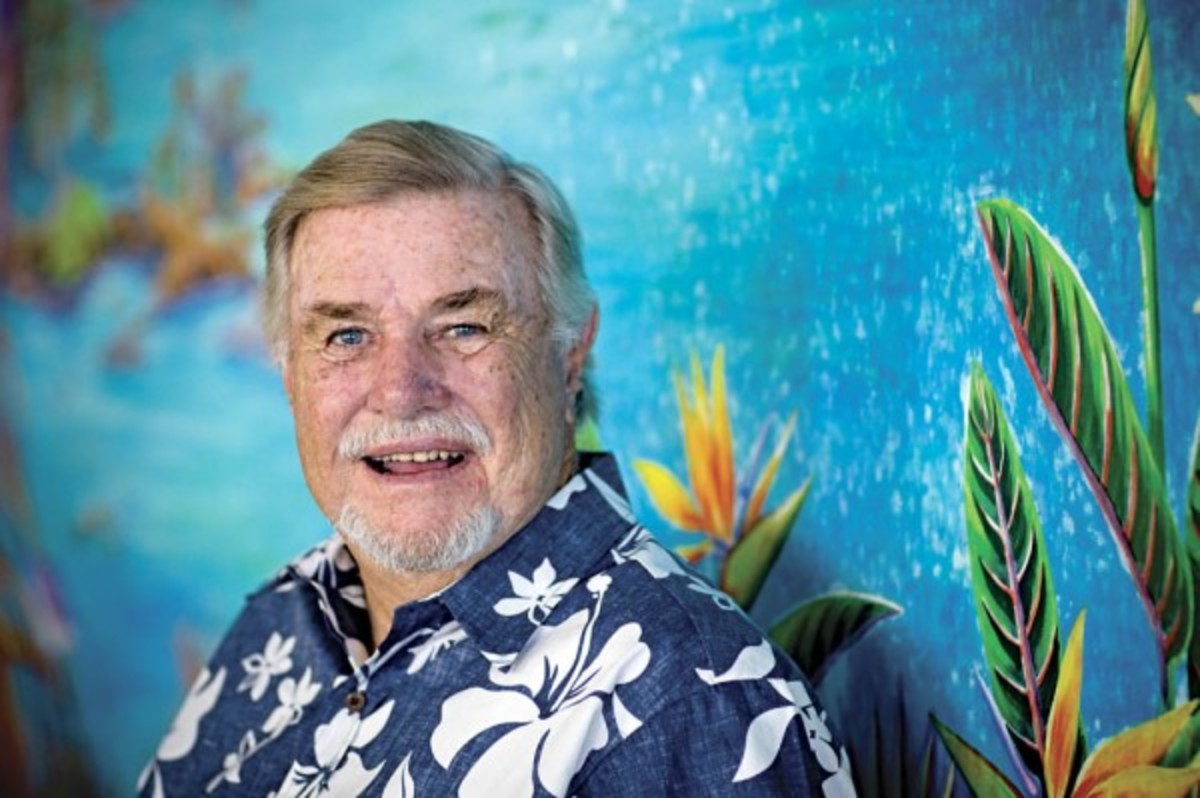 The man behind Hang Ten, and the original innovator in branded surf wear. Photo: Bielmann/SPL
In the early 1960s, Duke Boyd approached Doris Moore, a manufacturer in Long Beach, and suggested that she make surf trunks with the soul of the "M Nii" surf trunks from Hawaii. The idea was to create trunks for surfboard shops. He named the brand Hang Ten, and Doris became his business mentor.
Duke took his new Hang Ten surf trunks on the road and started selling them to stores that today would be called core shops. Jacks Surfboards, a new shop in Huntington, recognized the future. They were worn by all the cool surfers and featured on the back cover of Surfer magazine.
Duke realized early that the branding of a hardcore product had to be worn by well-known, core surfers. So he introduced the concept of grassroots advertising, with the best surfers wearing Hang Ten trunks: Mickey Munoz, Dewey Weber, Corky Carroll, Phil Edwards, Donald Takayama, Jeff Hackman, and Steve Pezman were a few of the surfers that wore them.
He also knew that branding was important, putting the Hang Ten logo in a highly visible place (two feet on the left leg side by side). Duke also brought Velcro to surf trunks, he was the first.
Duke created a "lifestyle," coining the term. Those that lived that "lifestyle" were cool. By the 70s, Hang Ten had salesman all over the U.S.—Hang Ten was growing into a huge international brand.
At the same time Duke was also running an advertising agency for surf companies. He created the name Body Glove, as well as logos for Dive and Surf wetsuits, Miki Dora's "Da Cat" model, for Bing Copland's "Pocket Rockets." And for Greg Noll, he helped create the most popular and unique ad campaign in the history of the sport. He helped George Downing create the objective scoring system for judging surfing contests, and with Jeff Hakman created the "expression session" for surfing—an anti-surf-contest format.
When Duke sold Hang Ten he retired to Colorado, skied with Joey Cabell, Hunter Thompson, and explored life. While he lived in his EST dream world, he realized he could do it again.
Along with Dick Graham, Duke approached Gerry Lopez and Jack Shipley, the owners of Lightning Bolt Surfboards, with the idea of licensing the symbol and name. They went for the idea and brought a whole new dimension to the brand market. Again, licensing was the perfect successful venue.
Duke and Graham brought new marketing concepts to the arena, with music (including Hawaiian music), paid surf stars, action surf, and grassroots advertising to the forefront, and the Lightning Bolt name and symbol was an instant hit. Duke found the perfect new symbol and applied his vision and ability to build another huge business.
We could go on with Duke's achievements, but the point of this article is to point out that Duke was the first to bring all these elements to the forefront in surfing. Duke is the first surf-business innovator and his concepts are still in use today throughout the surf world.—John Bernards
*Note: Steve Pezman contributed to this piece
Wendy Botha • Woman Of The Year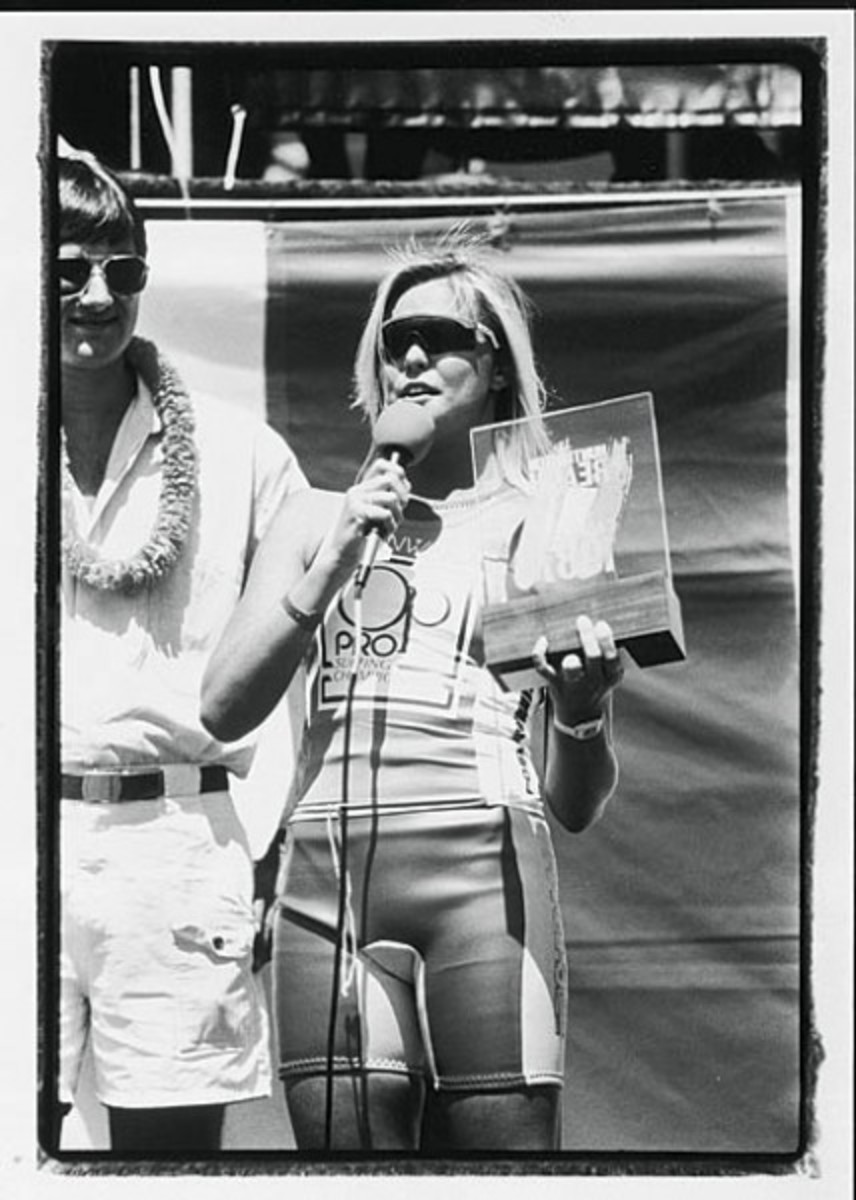 The Original Women's Performance Surfer. Photo: PT Collection
In the early 1980s, Wendy Botha burst on the scene and ushered in what many believe was the beginning of women's performance surfing. She had a hugely successful pro career, winning four World Titles, but it didn't come without a fight.
Wendy grew up as a self-confessed tomboy in the small South African coastal community of East London. The female surfers she grew up with were not as competitive as her, so she had no choice but to compete with the guys. Necessity is the mother of invention, and in this case Wendy's need to be competitive prepared her to pioneer a new level of performance in women's surfing.
"I always looked up to Martin Potter," she says. "Not just because of his surfing, but because he lived in Durban at the time, I could related to him." The assimilation with Pottz no doubt inspired Wendy, and in 1987 she would win her first world title.
With the onset of apartheid, the 1980s became an extremely tough time to be a South African. "The apartheid era was an extremely difficult time, but I never realized the full extent of it until I started to travel. When you grow up in something like that with nothing to compare it to, you know no different."
By this point she was living in Australia and in the process of obtaining citizenship, but the 1988 tour came up quick, and as the tour neared Japan she was told she was ineligible to do the event because of an athlete embargo imposed on South Africans. Wendy believes her inability to surf in Japan that year significantly hampered her 1988 world title campaign.
In 1989, Botha would travel the world tour for the first time representing Australia, and her competitive success went to the next level. She would go on to win a record seven events that year and become Australia's first-ever women's World Champion.
Botha, still far from finished, would go on to win the World Title twice more in '91 and '92, but it was in '93 that Wendy would make her boldest statement. "The women's tour was receiving little media in those day," she says, "and I was very fortunate to be surrounded by some very media-savvy people—people who were always looking for new ways for me to promote myself and surfing."
One such idea came in the form of a centerfold pictorial for Australian Playboy. The issue was a huge hit and completely sold out. Though the photos were extremely tasteful, Wendy had her critics.
"Some people said I put the sport into disrepute," she says, "but I don't see this as the case, and I have no regrets."
These days she's a mother of two, living on Australia's Gold Coast, partnering a family business. And she will be present on the day of her induction.
"My kids are coming with me and I am so ecstatic for them," says Botha. "They have been to Huntington's Walk Of Fame before, and when I told them the news they thought it was the coolest thing in the world. It is really special to have been recognized for my achievements, and to share that with my kids will be extra special. I'm stoked!"—Jock Barnes
Fred Hemmings • Surf Pioneer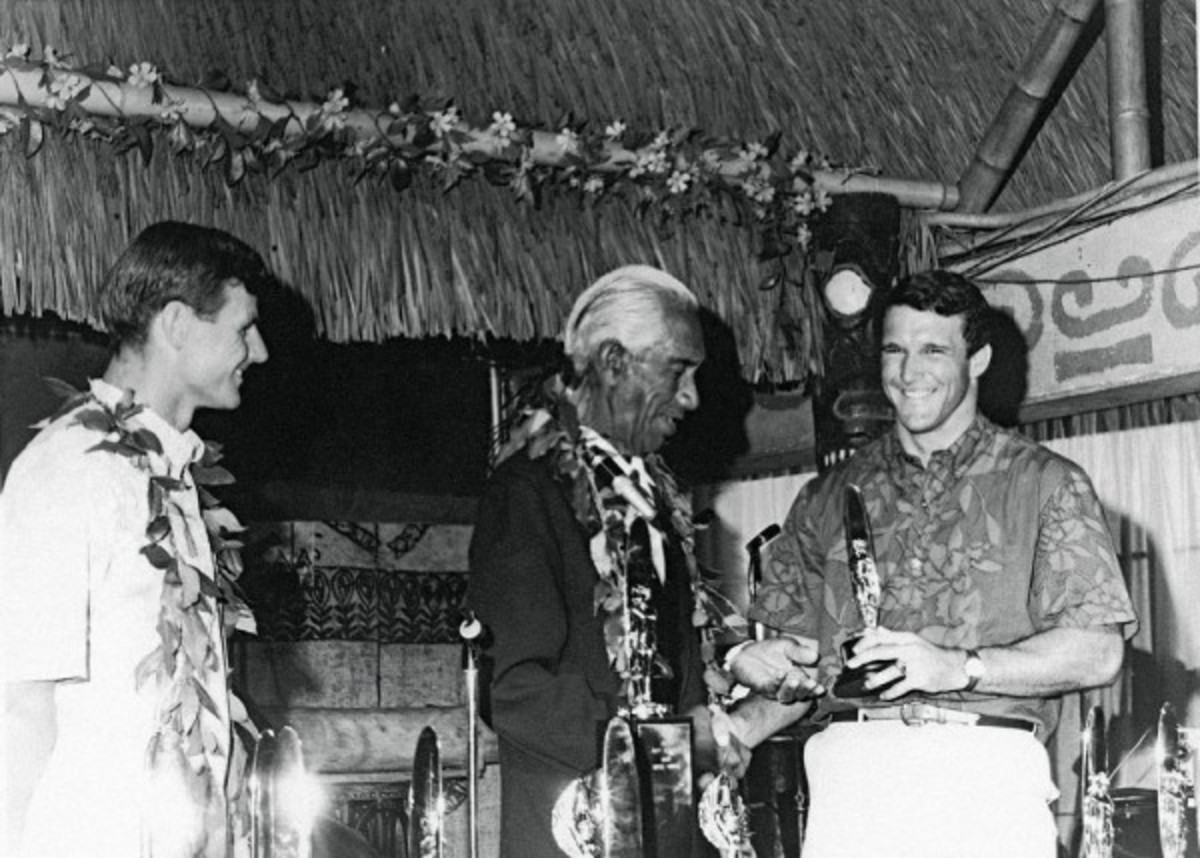 The Godfather Of Professional Surfing. Photo: PT Collection
If it weren't for Fred Hemmings, I wouldn't be called a World Champ.
Fred was born in 1946 and raised in Honolulu, and from early on was an all-around waterman, joining the famous Hawaiian Outrigger Canoe Club as a ten-year-old.
Thanks in part to his football days at Punahou High, where he was a standout linebacker, Fred developed a mainstream sports approach to being a competitive surfer. Without question, he was the first surfer who tried to make surfing professional. He didn't just attempt it, he lived it, as arguably the most competitive Hawaiian surfer of the mid-60s, winning and placing in most of the major events of the time.
Starting out in junior events, Fred soon established himself as the man to beat by winning the juniors' division of the Makaha International Championships in 1961 and 1963, at that time considered the world's premier event. He followed that up by winning the men's division in 1964, runner-up in 1965, and won it again in 1966. In this same time period he also won the Grand Championship of Peru, but the highlight of his competitive career was winning the 1968 World Championships in Puerto Rico over a highly acclaimed final field that included two previous champions, Midget Farrelly (1964) and Nat Young (1966), as well as Russell Hughes, Mike Doyle, and a young Reno Abellira.
In the midst of the "peace, love, and happiness" movement of the late 60s, Fred didn't exactly fit in with the Woodstock generation, nor did he care. He wore a suit and tie to the World Championship awards banquet and told the Los Angeles Times, "I looked like an IBM computer salesman at a Cheech and Chong convention. I have never been one of the in boys of surfing, I never cared what they thought about me."
A short while later he began organizing and marketing the sport in Hawaii, where he became the color commentator for ABC TV's Wide World Of Sports coverage of the Duke Kahanamoku Hawaiian Surfing Classic. From that event he established a lifelong friendship with New York television producer Larry Lindberg, which lead to the next phase of pro surfing with the launching of the Smirnoff Pro/Am in 1970, followed by the Pipeline Masters, the World Cups for both men and women, and soon after the International Professional Surfing (IPS), which declared me the first World Pro Champion.
In that same L.A. Times interview, Fred succinctly delivered his philosophy on pro surfing: "If there's anything that I've been weak at, I've spent my career selling surfing to the public, but not selling myself to surfing. I think many surfers are cultists, and they think they can paddle into the water and not be part of the world. For surfing to ultimately succeed, it has to function within the social fabric of our society."
In 1983, Fred was ousted as head of the pro tour and went on to establish the Triple Crown Of Surfing, linking the events he had created into a North Shore series that outside of winning the ASP World Championship is the next most important title to add to a professional surfer's résumé to this day.
Since the mid-80s, Fred has had a political career in Hawaii and today serves as a State Senator.
More importantly for surfers everywhere, he is the godfather of the sport we know today! —Peter "PT" Townend
Jackie Baxter • Local Hero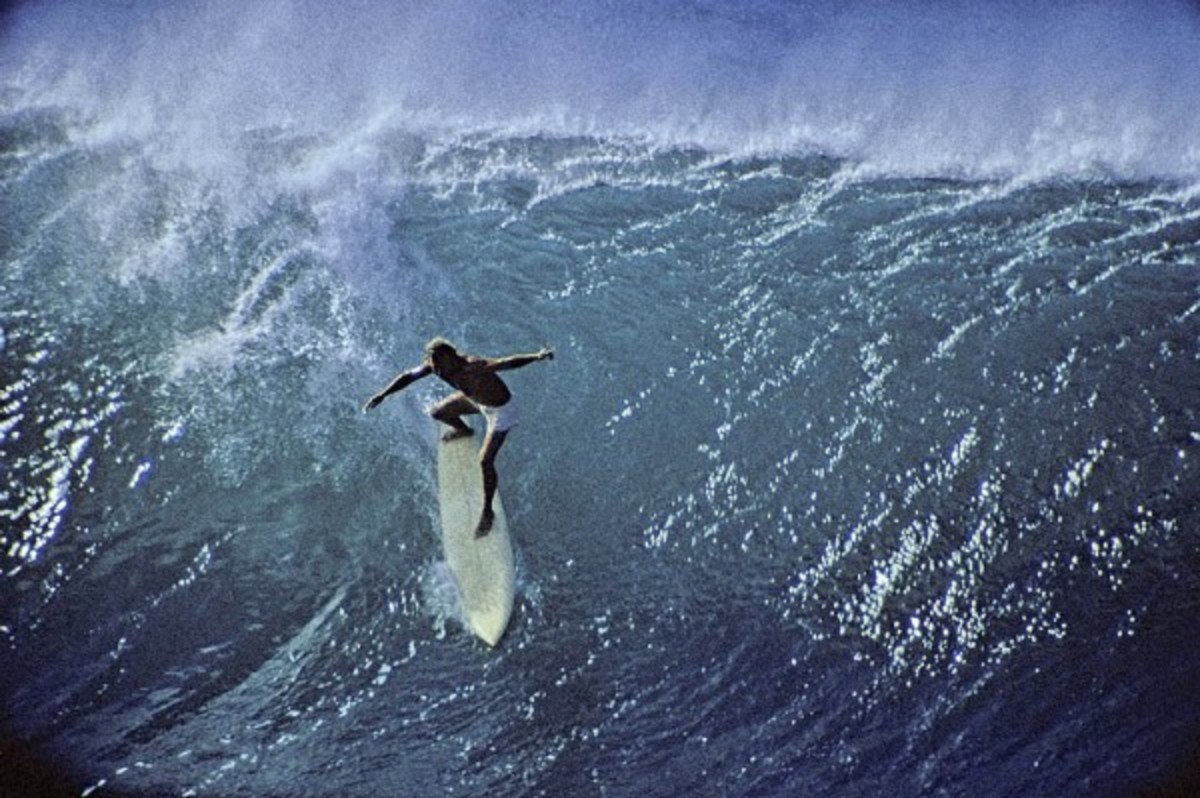 Jackie Baxter hangs on by his toenails on an ultra committed drop at Pipe, even by today's standards. Photo: Divine
When I was a teenager in Coolangatta in the early 70s, surf magazines inspired our direction in the water. I distinctly remember getting an early 1970s issue of Surfing right around the time we were getting into Kirra that had an article called "Jammin J," about Jackie Baxter, and after reading it, I wanted to be him.
Jackie started surfing in 1959 in Venice, California but soon moved to Huntington Beach where he became a fixture at the H.B. Pier where he was a Vardeman Surfboards teamrider and participated in the California contest scene. However, contests were not his thing, and in the late 60s he relocated to Hawaii's North Shore to chase waves.
In those days there weren't boat trips or WCT events, just a few events on the North Shore like the Duke Kahanamoku Hawaiian Surfing Classic. These were all impossible to get invited to, especially for a kid from California. So "freesurfers" like Baxter headed for Hawaii to test their skills and hopefully earn reputations for charging in the best waves in the world.
If you charged hard enough, it could lead to invitations to those North Shore marquee events. In 1971, Jackie's surfing got noticed, and he was invited to the Duke, though being invited to the Golden Breed Expression Sessions of those first year's of the 70s was more of testament of his "freesurf" attitude.
Those Golden Breed Expression Sessions were the antithesis of competition, where competitors went out in sessions with no judges and when it was all over the surfers voted on who they felt rode best with special awards being presented. In Expression Session II, held in macking ten-foot-plus Pipeline, Jackie charged, further extending his reputation, which was captured in the Hal Jepsen film of the same name.
In that 70s edition of Surfing's profile on "Jammin J," Gerry Lopez described him perfectly: "Being one of the hottest from Huntington Beach area, JB was in a position for a rapid ascent to the top of the contest scene. Here was the predicament: the road of commercialism with its glory, dollars, bright lights, and so forth was instant, plastic, and already in his hands. But on the other end, there was Hawaii with absolutely nothing to offer but good, clean waves and the simple way of life. That was it: soul surfing or plastic jerseys?
"Jackie took the tubes, and since then has come to terms with himself and the ocean. His fantastic surfing is merely an extension of his peaceful state of mind that has evolved here in Hawaii. Jackie's style is unique and entirely his own. A dissection of the various aspects of JB's style allows for the comparison with other surfers. For instance, his power trip is along the same line as Kanaiaupuni's. His finesse and smoothness are similar to Hamilton's. Explosive like Nat's, and completely out-of-sight like David's, but most of Jackie's style is impossible to categorize except as his own."
Hefty praise and company for the soft-spoken and humble Baxter. Jackie returned to California in the mid-70s and eventually settled in San Clemente to raise a family. His son Josh has become one of the premier longboarders of the renaissance, and Jackie is still there to this day.—Peter "PT" Townend
Mark Martinson • Surfing Champion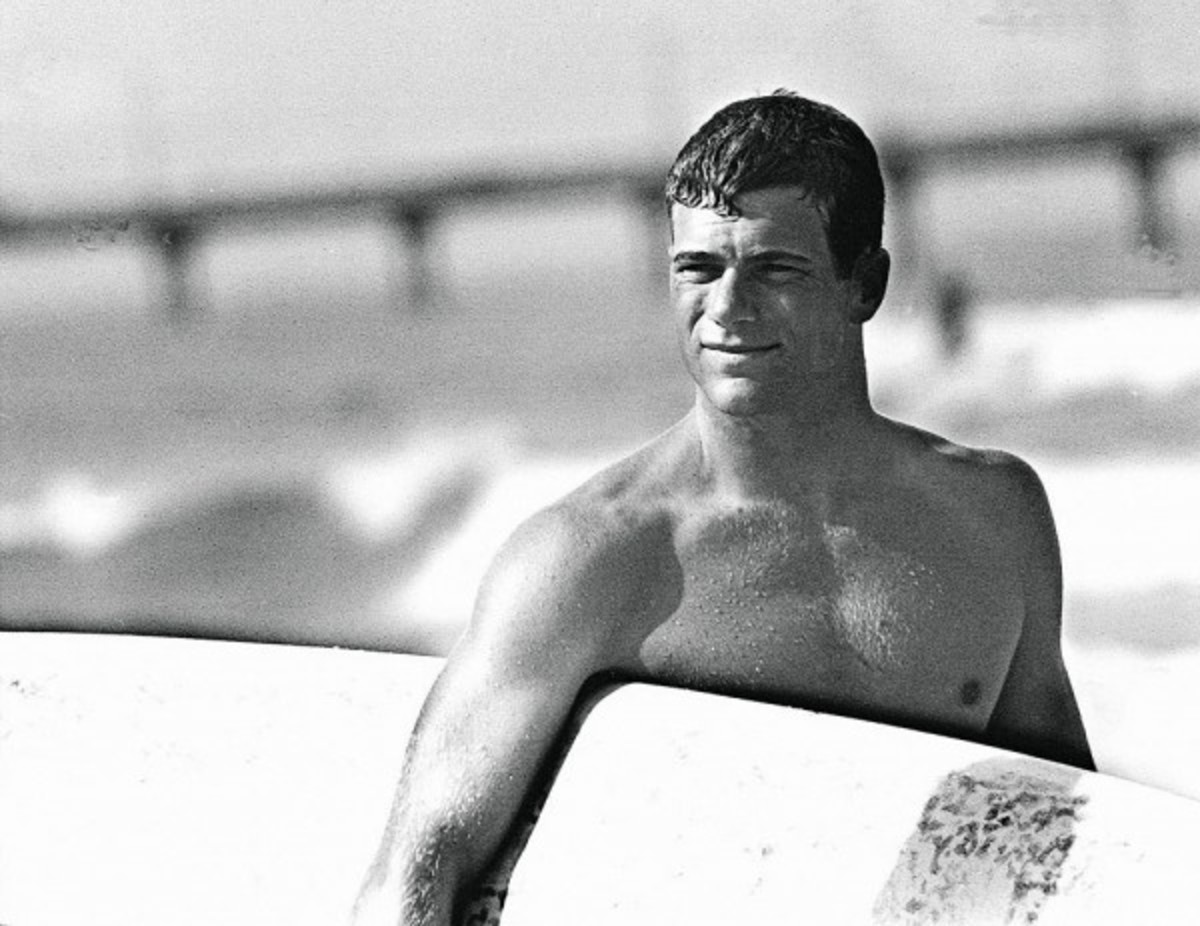 After the shortboard revolution, performance surfing became all about laying it on rail, and Mark Martinson had one of the best bottom turns of the era. Photo: Hetzel
Mark Martinson was born in Long Beach in 1947 and began surfing in the 50s. By 1962, at fifteen years old, he'd finished second in the juniors at the U.S. Surfing Championships at the H.B. Pier. A few years later, in 1965, he would one up that result and claim the men's title.
That same year he ventured off to Peru for the World Championships where he befriended "Mr. Endless Summer" himself, Robert August. "I really didn't know Mark that well," remembers Robert. "I respected him as a good surfer, then we ended up in Peru and we hooked up. We had in common a love for having a few beers, and we were surrounded by these beautiful, rich women, which was right up our alley. We were supposed to stay for two weeks and we ended up staying for three months and became really great friends, and it's stayed that way ever since."
Upon Mark's return he was served with his draft induction notice that would bring his competitive career to end. But he decided he wasn't interested in going to Vietnam and took off for the rest of the decade traveling the world, much of the time in the making of the MacGillivray/Freeman films Free And Easy and Waves Of Change, at times traveling with legendary Laguna Beach stylemaster Billy Hamilton and the late '68 Australian Champion Keith Paull.
He was arguably the first bona fide surf movie star, the equivalent of today's surf video stars. During the making of these movies he was all over the magazines, which was capped off by the first 70s cover of Surfer magazine—a scorching, buried-to-the-stringer bottom turn on a beautiful North Shore right-hander. That turn was a Martinson trademark, a low crouch power turn that pushed the boards of the time to the breaking point.
Ironically, that Surfer cover came out while he was still on the run from the FBI. They finally caught up with him in 1971 and he was sent to basic training. After only three weeks he flunked out due to an asthmatic condition.
After that Mark went into commercial fishing for the next couple of decades and then reunited with buddy Robert August, shaping his model under the Robert August label. He spends much of his time in Hawaii with his longtime companion Jeannie, where they reside to this day.—Peter "PT" Townend with Robert August
Honor Roll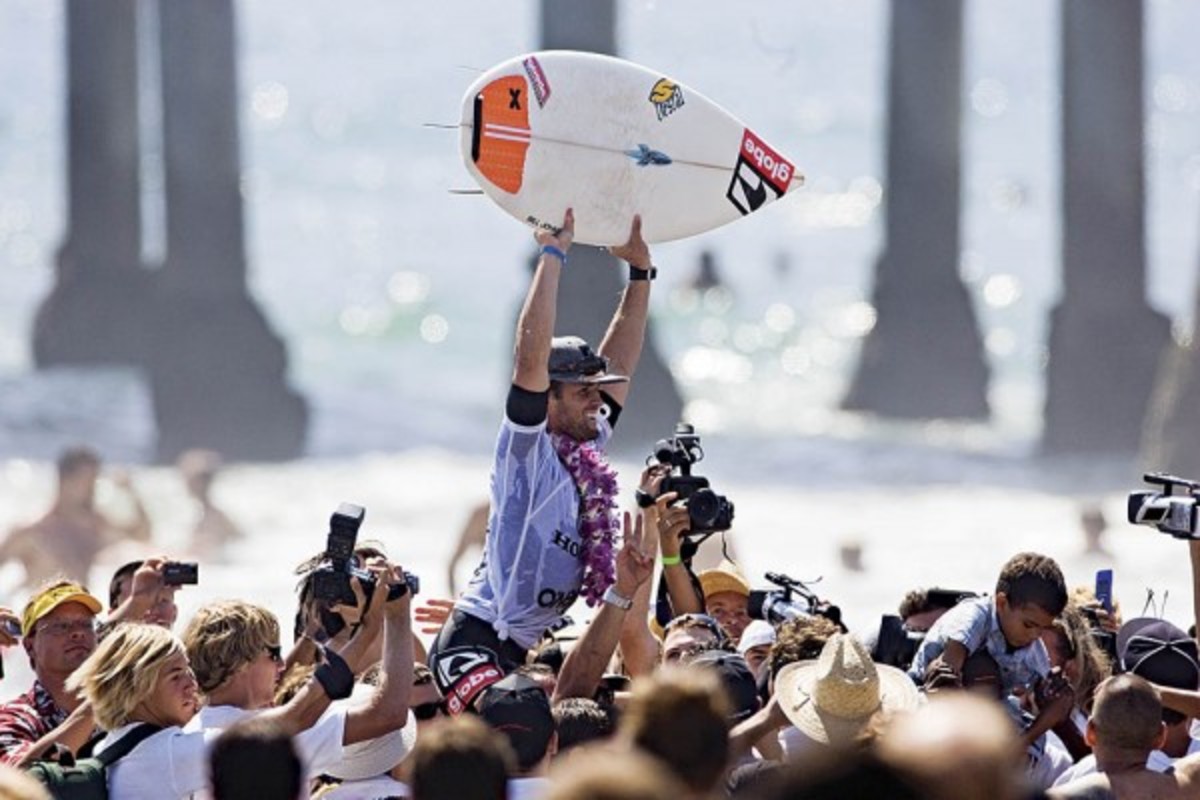 The Champions Of 50 Years At The Pier. Photo: English
It's amazing to think it's been 50 years, a half-century, since the first West Coast Surfing Championships ran at Huntington Pier. Since then, surfing has transformed from a counterculture activity into a full-fledged mainstream sport, with million-dollar athletes and a multibillion-dollar industry.
And it's all happened under the shadow of the H.B. Pier. But even more important than the pier are all the athletes that have made competing at Huntington what it is today: the undisputed biggest surf contest in the world.
Join us in honoring the past men's and women's winners from the last 50 years. As you scan the names, you'll see it's an incomparable list, with world champs, legends, and pioneers of surfing. You start to understand why every pro surfer dreams of winning at Huntington, not just to win in front of tens of thousands of screaming fans, but to put their name on a list as long and prestigious as this. Congrats to everyone, and may the next 50 years be even more amazing.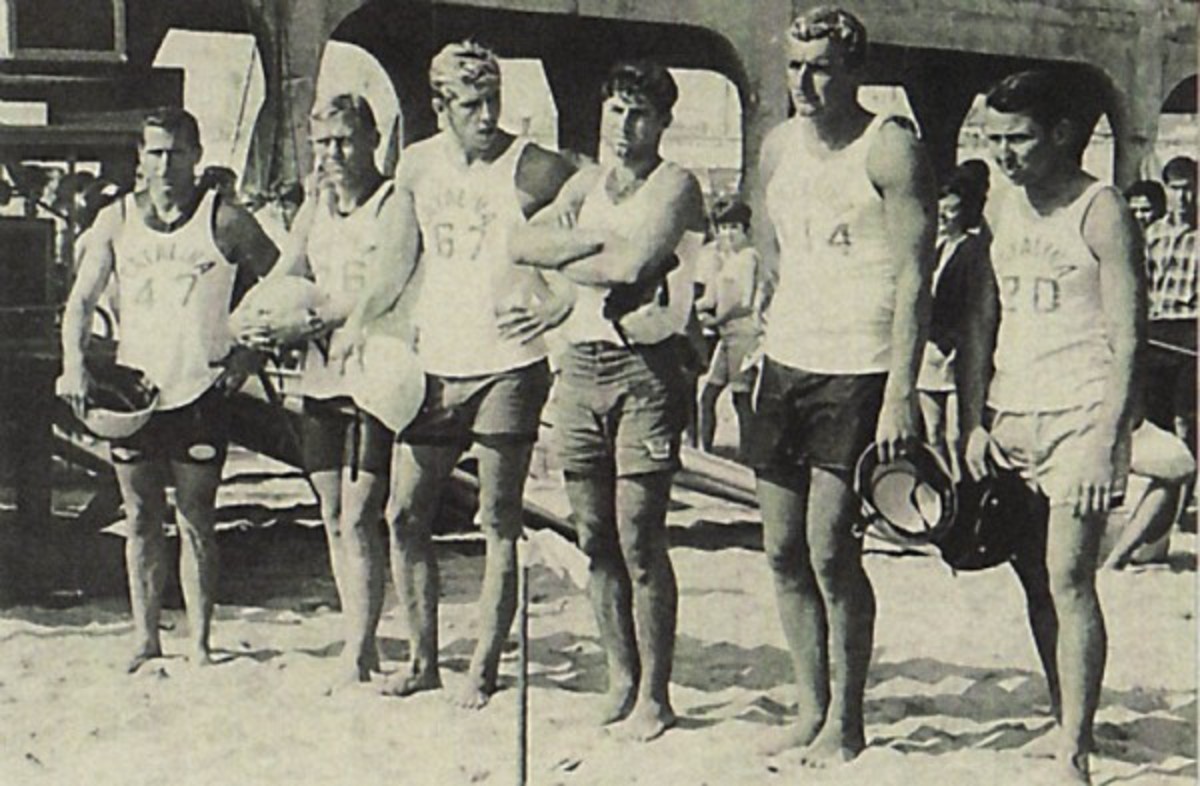 Photo: PT Collection
As the West Coast Surfing Championships
1959: Jack Haley, Linda Benson
1960: Mike Haley, Linda Benson
1961: Ron Sizemore, Linda Benson
1962: Ilima Kalama, Gudie Wilkie
1963: LJ Richards, Candy Calhoun
As the United States Surfing Championships
1964: Jim Craig, Linda Benson
1965: Mark Martinson, Joyce Hoffman
1966: Corky Carroll, Joyce Hoffman
1967: Corky Carroll, Joyce Hoffman
1968: David Nuuhiwa, Linda Benson
1969: Corky Carroll, Sharon Weber
1970: David Nuuhiwa, Joyce Hoffman
1971: Brad McCaul, Jericho Poppler
1972: Dale Dobson, Mary Setterholm
As the Op Pro
1982: Cheyne Horan, Becky Benson
1983: Tom Curren, Kim Mearig
1984: Tom Curren, Frieda Zamba
1985: Mark Occhilupo, Jodie Cooper
1986: Mark Occhilupo, Frieda Zamba
1987: Barton Lynch, Wendy Botha
1988: Tom Curren, Jorja Smith
1989: Richie Collins, Frieda Zamba
1990: Todd Holland, Frieda Zamba
1991: Barton Lynch, Frieda Zamba
1992: Team USA (Kelly Slater, Richie Collins, Todd Holland, Mike Parsons, Alisa Schwarzstein)
1993: Sunny Garcia, Kim Mearig
Photo: English
As the U.S. Open
1994: Shane Beschen, Lisa Andersen
1995: Rob Machado, Neridah Falconer
1996: Kelly Slater, Layne Beachley
1997: Beau Emerton, Rochelle Ballard
1998: Andy Irons, Layne Beachley
1999: Shea Lopez, Keala Kennelly
2000: Sunny Garcia, Tita Tavares
2001: Rob Machado, Pauline Menczer
2002: Kalani Robb, Pauline Menczer
2003: Cory Lopez, Cheslea Georgeson
2004: Taj Burrow, Cheslea Georgeson
2005: Andy Irons, Julia Christian
2006: Rob Machado, Sofia Mulanovich
2007: C.J. Hobgood, Stephanie Gilmore
2008: Nathaniel Curran, Malia Manuel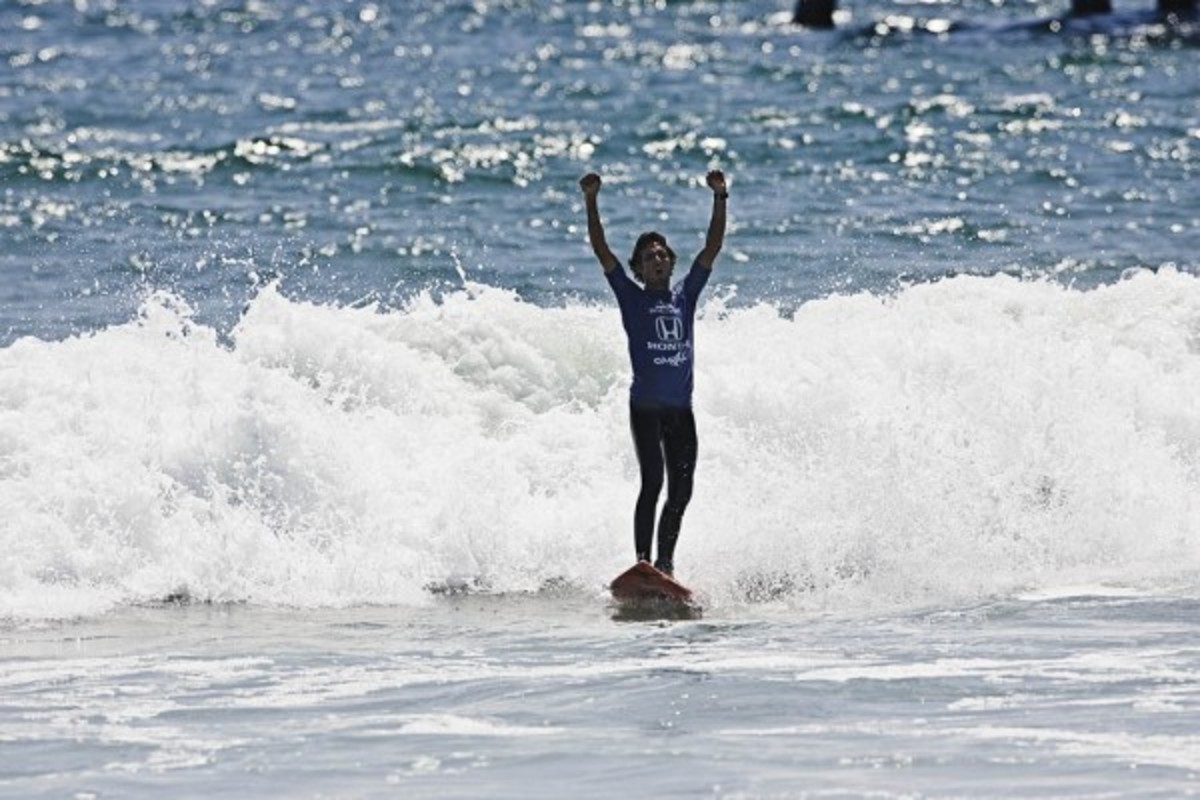 Photo: English
For access to exclusive gear videos, celebrity interviews, and more, subscribe on YouTube!