By Larry Rice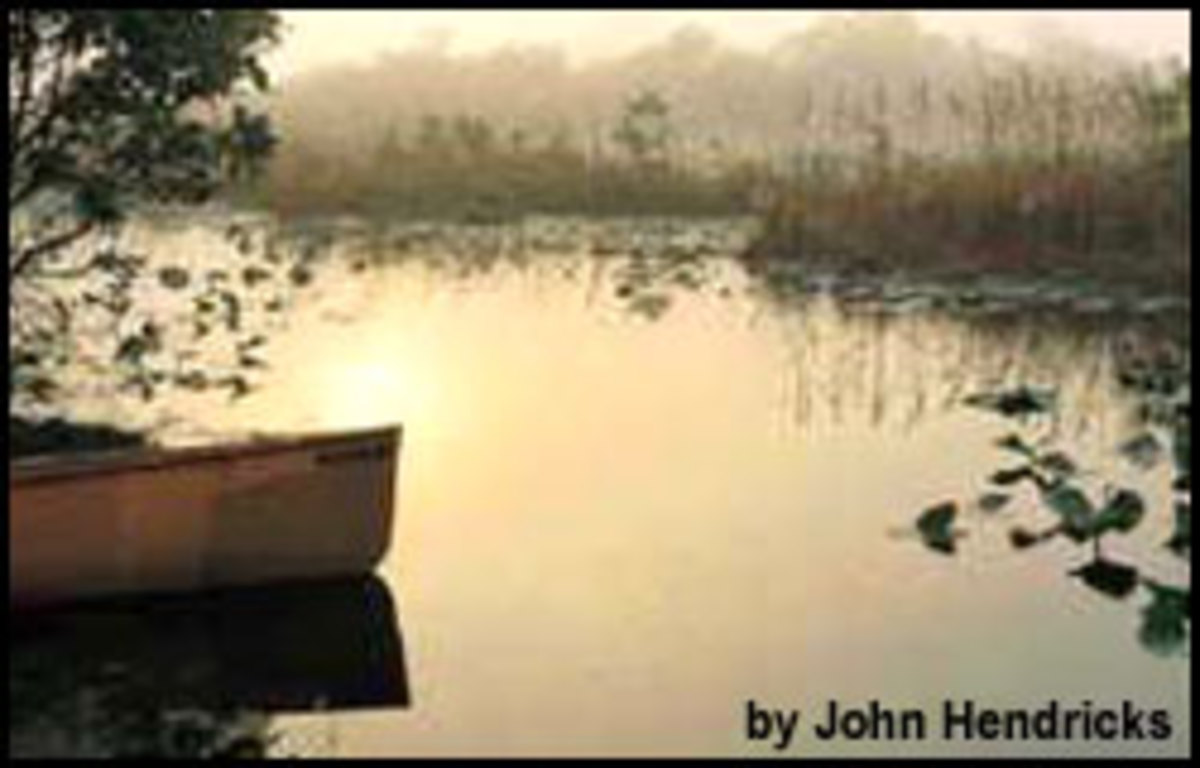 "In my opinion, one has only matured in the sport of paddling when you can discover as much adventure in exploring a local swamp or marsh by canoe as in running whitewater or traveling to far-off lands." -Ralph Frese, Chicagoland Canoe Base
Swamp. A word that conjures up visions of tangled vegetation, oppressive heat, treacherous mud, fetid water, and countless things that creep, crawl, sting, and bite. A gloomy place full of malicious creatures; a mysterious, menacing place with the will and the power to suck an unwary traveler into its bowels.
At least that's the myth that Hollywood wants you to believe. In truth, swamps are fascinating realms that both confirm and contradict popular notions. Certainly, swamps can snare the careless. But they're also treasure troves of beauty and natural wonder, containing some of the most fragile and biologically diverse ecosystems on this planet. A swamp sojourn can be as safe and enjoyable as any backcountry endeavor-assuming that you're properly prepared.
The meaning of "swamp" may vary from region to region or between individuals, but generally a swamp can be compared to a wet woodland, unlike a marsh, which is dominated by grass. Harnett T. Kane, author of The Bayous of Louisiana, maintains that a swamp represents a natural succession from the marsh to the forest. "It is a place," he says, "that seems often unable to make up its mind whether it will be earth or water, and so it compromises."
This mingling of ecotypes is what makes a swamp experience so uniquely rich. For great wildlife watching and botanizing, visit a swamp. For prehistoric sounds and a feel of the primordial, visit a swamp-the liquid land.
Thoreau wrote that "hope and the future for me are not in lawns and cultivated fields, not in towns and cities, but in the impervious and quaking swamps . . . that was the jewel which dazzled me." Certainly, lofty peaks, mighty glaciers, and rushing streams have their undeniable allure, but so does a dab of sedge and slough or the strange beauty of flooded wooded chambers and lily-strewn prairies.
Listening to the song of the Carolina wren, the hoot of a barred owl, the cry of the bobcat, the roar of the bull alligator, one thing is certain: swamps are among earth's enchanted natural areas. Canoe through a dream world of stately cypresses and silent Spanish moss and twisting blackwater channels . . . and, like Thoreau, expect to be dazzled, too.
Here is a sampling of some of the best-preserved swamps (sometimes intermingled with marshes) on the North American continent. These waterlogged depressions-lopsidedly concentrated east of the Mississippi River-vary in size from relatively small, oasis-like areas surrounded by steel and concrete to vast tracts of wilderness covering hundreds of square miles. They are the survivors of what was once a much larger distribution of wetlands that have been completely destroyed by draining, dredging, and filling. According to the National Wildlife Federation, of the original 215 million acres of swamps, bogs, and marshes in the continental United States, less than half remain, and these are disappearing at a rate of 300,000 acres per year.
Enter the swamp. Reach out and touch it. Have it reach out and touch you. These low-lying, watery wildernesses are our "hope and the future." And there are not a great many such places left.
EVERGLADES NATIONAL PARK, FLORIDA: No introduction is needed for this sprawling park at the tip of Florida-it is one of the flattest, most visited, most studied, most threatened units in the National Park system. What is not so well-known, however, is that the park has marked a 99-mile inside water route, from Everglades City, in the northwest Everglades, to Flamingo, in the southern reaches of the National Park land mass. For those who have the time and the inclination to escape the crowds, there is no better way to experience the mangrove wilderness of Everglades National Park.
What must surely be one of the most unusual trails in America, the Wilderness Waterway winds through a maze of brackish creeks, rivers, and large bays where once only mangrove-wise guides went. (Note: even though it's called a "wilderness," motorized boats are allowed throughout the Everglades; however, when I paddled the trail, I saw them infrequently, and on most days not at all.)
Nearly every kind of marine life found in the Caribbean is found along this predominantly estuarine labyrinth. You have a chance to see beautiful and often rare bird life such as roseate spoonbills and ibis, as well as elusive wildlife such as bobcats, black bears, and panthers. Porpoises, alligators, and possibly even the rare, shy manatee may swim by your boat.
Although numbered markers guide you through the mangrove forests and open bays and around countless islands, careful planning is necessary for this 6- to 10-day trip by canoe or touring kayak. Paddlers must be properly equipped with nautical charts and compass. The trail twists and turns as it penetrates the green jungle, past ancient Calusa Indian shell mounds and through nameless sloughs, sawgrass prairies, and eerie mangrove tunnels. The greatest danger, however, is wind; over half the trail is on open bays, which can get rough when small craft advisories are posted.
Camping is allowed at designated sites available along the route, either on shell mounds, island beaches, or "chickees" (wooden tent platforms built up on stilts over the water). Because the mangroves are virtually impenetrable, missing or not reaching a site means spending the night in your boat. Water has to be carried, as there is no fresh water available along the whole trail.
The best time to make a 'glades journey is during the dry winter months, since mosquitoes (there are 43 species in the Everglades, but only 12 of them bite) and sand flies make summer unbearable. No matter when you go, take adequate bug repellent and a tent with no-see-um-proof netting. Naively, I made a trip once lacking both-never again. Backcountry permits must be filled out at either of the ranger stations in Flamingo or Everglades City.
Contact: Everglades National Park, (305) 242-7700. You can rent canoes at the Flamingo and Gulf Coast visitor centers, where you can also get maps and directions. A backcountry permit is required for overnight camping, and a seven-day launch fee of $3 is charged for nonmotorized boats. Necessary reading: Guide to the Wilderness Waterway of Everglades National Park, by William Truesdell, available through the Everglades Natural History Association, (305) 247-1216.
OKEFENOKEE SWAMP, GEORGIA: Covering approximately 680 square miles of southeastern Georgia and a corner of Florida, the Okefenokee Swamp is one of the oldest and most primitive swamps in America. About 80 percent of the swamp is included in the Okefenokee National Wildlife Refuge, an antediluvian place teeming with life spun from the ooze, moss, and slime. The unstable peat deposits that cover much of the area quake at a human footfall, a phenomenon that gave the swamp its Seminole Indian name: "Land of Trembling Earth."
Most of the swamp is a shallowly flooded forest of cypress, black gum, and bay, a dim and mysterious quagmire where you'll feel a thousand miles from civilization. But not all is dark and menacing. The swamp forests interweave with sunlit expanses of marsh called "prairies," covered with lily pads, grasses, and carnivorous plants growing in several feet of tannin-tinted blackwater.
Three modern visitor centers are situated at the edges of the refuge, but only by canoe can you explore the heart of the place. During a typical tour, you might see otters, deer, raccoons, opossums, and maybe even a bobcat or black bear. Alligators are frequently observed, not surprising since an estimated 15,000 of the big reptiles inhabit the Okefenokee. As for birds, there aren't too many places outside the Everglades where large flocks of white ibis mingle with sandhill cranes, herons, and egrets, in addition to waterfowl, ospreys, anhingas, and barred owls. Frog choruses give the wet place much of its incomparable nighttime atmosphere.
The swamp could be a bewildering place to navigate with its dense tangles and featureless terrain, but six color-marked canoe trails have been established within the Okefenokee's 353,981-acre national wilderness area. The shortest trip is 15 miles long and takes two days, while the longest (and my undisputed favorite) is 44 miles, taking five days. Overnighters camp on partly roofed wooden platforms or on designated island clearings thronged with pines. Be aware that paddling can be slow going and strenuous on shallow and/or narrow trails. You may have to get out of your canoe and push across peat blowups or shallow water.
March-April is the most popular time to visit the Okefenokee Swamp, when temperatures are mild, the water is high, and the wildflowers are in bloom. An equally fine time is from November through February, with few mosquitoes, cool days, cold nights, and migratory birds. Reservations for the popular canoe trail permits are taken up to two months in advance, and should be made early.
Contact: Okefenokee National Wildlife Refuge at (912) 496-7836 for more information on trail conditions, general information, and permits. For canoe rentals, shuttles, and related services, contact the Suwannee Canal Recreation Area at (912) 496-7156; or Stephen C. Foster State Park at (912) 637-5274. Necessary reading: Paddling Okefenokee National Wildlife Refuge (Falcon Publishing, 1998), the first and only guide to the refuge's canoeable waterways.
GREAT DISMAL SWAMP, VIRGINIA: Seen from the air during the summer, the Great Dismal Swamp in southeast Virginia is a sea of green forest, broken only by a shallow lake and a few man-made ditches, some hundreds of years old. The woodland swamp contains forms of plant and animal life seldom seen elsewhere-many at the northern limit of their range. Black bear, whitetail deer, bobcat, beaver, and river otter inhabit the area, and 207 species of birds have been reported, with 92 species nesting in the swamp. Among the insects are 72 butterfly species.
The area's mystery, beauty, remoteness, and solitude have attracted many people for many reasons. Early in the 1700s, Colonel William Byrd II provided the first extensive description of the Dismal Swamp, describing it as a body of "dirt and nastiness" where "foul damps ascend without ceasing, corrupt the air, and render it unfit for respiration." A few years later, George Washington, who owned part of the swamp and surveyed it in 1793, noted that it wasn't really so dismal. He called it "a glorious paradise." Remarkably, it still is.
Presently, 109,000 acres of this brooding swampland are contained within the Great Dismal Swamp National Wildlife Refuge. Lake Drummond, a natural circular lake covering 3,100 acres within the refuge, is in the heart of the swamp. Large, ancient bald cypress trees line its shores. Paddling the nooks and crannies of the dark-stained lake on a misty, chilly morning, it's easy to see why there are so many legends and stories about the swamp. One early English writer described the Dismal as "a place in which the imagination plays strange tricks on its victim."
Canoeing is permitted on Lake Drummond and the Feeder Ditch, with access from U.S. Highway 17 on the east border of the refuge. The refuge does not allow camping; however, the U.S. Army Corps of Engineers, in conjunction with the Fish and Wildlife Service, operates a free campground (accessible only by boat) at the spillway on the Feeder Ditch.
Boating (and birding) is best in the Dismal during April and May-ample water, mild temperatures, and a lack of bugs are the benefits. Autumn is also a nice time to canoe; bugs and temperatures moderate during September.
Contact: Great Dismal Swamp National Wildlife Refuge at (757) 986-3705.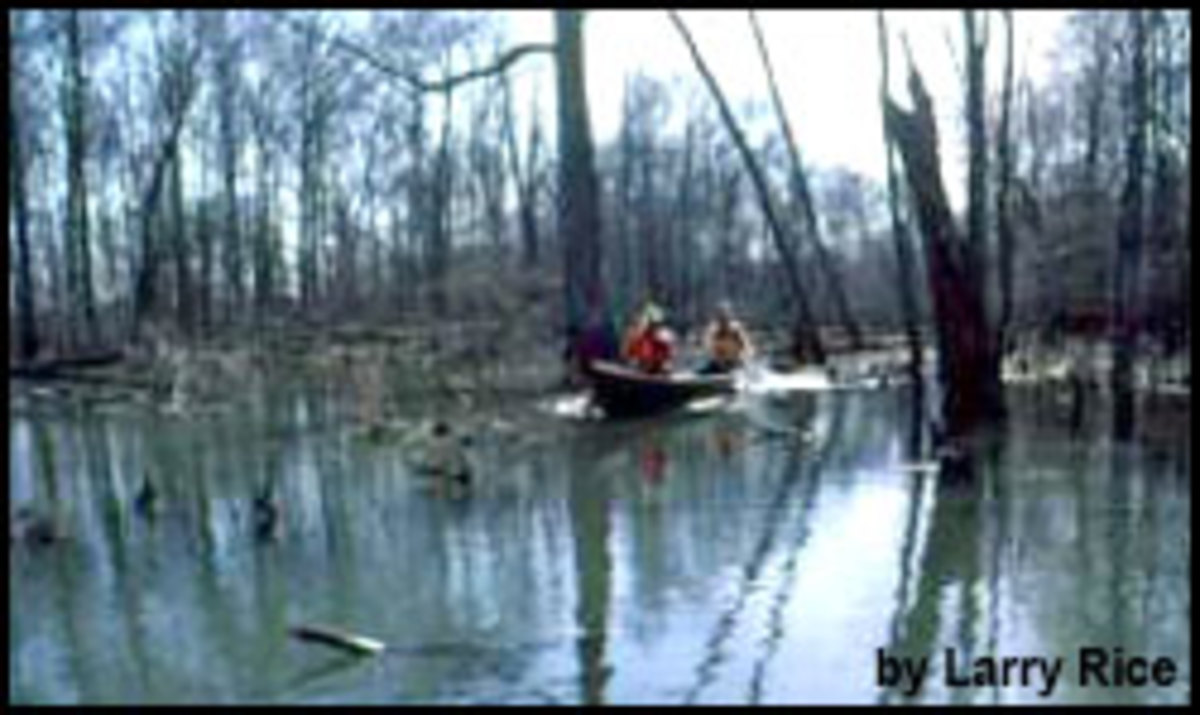 MINGO SWAMP, MISSOURI: Deep in the boot-heel country of southeast Missouri, just 80 miles south of St. Louis and 40 miles west of the Mississippi River, is a sprawling depression ringed by rolling hills and limestone bluffs. Covering some 16,000 acres of the 21,676-acre Mingo National Wildlife Refuge, Mingo Swamp is the kind of place in which Huck Finn might have gotten lost.
To the Shawnee and Osage Indians who made camp here hundreds of years ago, Mingo meant "treacherous and unreliable." Today, Mingo Swamp is a haven for both wildlife and nature enthusiasts. The refuge has three hiking trails, including boardwalks into the swamp, but to really feel Mingo's pulse you'll need a boat, preferably a canoe.
After stopping at the visitor center off State Highway 51, launch your canoe on Stanley Creek or the Mingo River. These narrow, dark, and sluggish streams wind sinuously into the ancient swamp, of which 7,730 acres have been designated a Wilderness Area where no motors or man-made alterations are allowed. Here, in the quiet of wooded wetlands with their magnificent stands of cypress, tupelo, and swamp cottonwood, listen to the call of wood ducks and pileated woodpeckers; watch for herons, beavers, raccoons, muskrats, swamp rabbits, and a rare mink, otter, or bobcat. There are plenty of venomous snakes in the swamp, especially cottonmouths, but the serpents pose no threat unless one accidentally plunks into your canoe from a trailing vine.
Figure on a leisurely one- to two-hour paddle on the Mingo River or Stanley Creek to Monopoly Marsh, in the swamp's interior. You can explore all day, but all visitors must be out of the refuge by one-half hour after sunset.
A visit to Mingo can be worthwhile at any time of year, but the most desirable months are March to May and September to November, when temperatures are cooler and wildlife is most abundant. (Note that in certain seasons parts of the refuge are closed to provide an undisturbed sanctuary for waterfowl and nesting bald eagles.) Camping is not allowed in Mingo, but camping facilities are available at Wappapello Lake, eight miles west of the refuge, and Duck Creek State Wildlife Management Area, five miles to the north.
Contact: Mingo National Wildlife Refuge, (573) 222-3589. Inquiries on camping should be directed to U.S. Corps of Engineers, Wappapello Lake Management Office, (573) 222-8562; or Duck Creek State Wildlife Area, (573) 222-3337.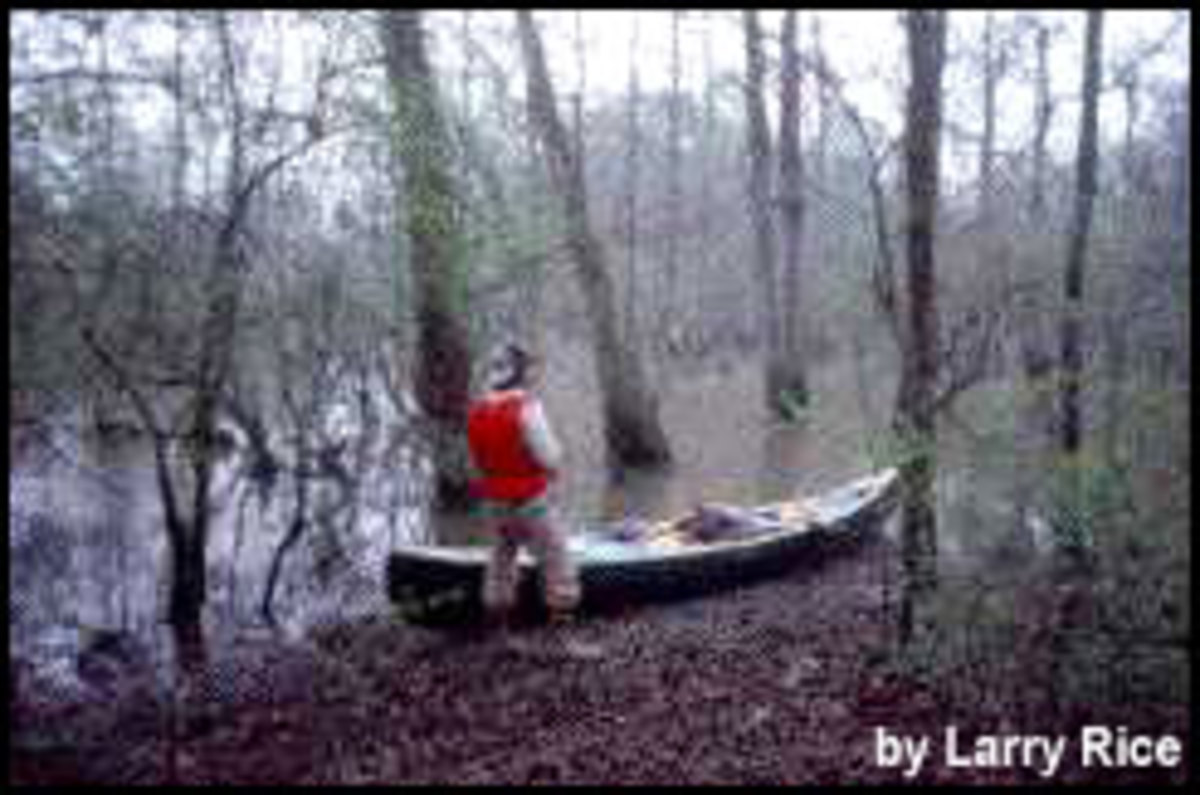 BIG THICKET, TEXAS: Located in eastern Texas, not far from the Gulf of Mexico and near the Louisiana line, is a hodgepodge of junglelike rivers, blackwater bayous, swamps, and savannas called the Big Thicket, which once covered more than three million acres. Only about 300,000 scattered acres have survived, 86,000 of which are contained in Big Thicket National Preserve in nine separate land units and four water corridors.
The Big Thicket is an area of contrast and surprise-a biological crossroads of North America. The Thicket nurtures plant life found in southeastern swamps and the arid southwest, the Appalachian forests and the open woodlands of the coastal plains.
Trekking through the Thicket can be deceiving and treacherous, but if the opportunity arises, you certainly should canoe it. Of most interest to paddlers is a 54-mile section of the Neches River that flows through the preserve, from below H. A. Steinhagen Dam to the U.S. 96 bridge. Lining the slow-moving, flatwater river is a dark curtain of hardwoods laced with stands of pine, and hushed baygall swamps with towering old magnolia and water tupelo trees.
Primitive canoe camps range from clean white sandbars to open palmetto flats on the fringes of the Thicket. But for an otherworldly campout, I enjoy sneaking into one of the many cypress sloughs and oxbow lakes for the night. Misty, spooky places of green solitude, they have evocative names that call up visions of Civil War deserters, moonshiners, and desperadoes who once holed up in the Thicket. But today the area is mostly the realm of birds (over 300 species have been recorded), 'gators, deer, otters, razorback hogs, and one of the continent's foremost selections of reptiles and amphibians.
The river can be floated all year. Summers are hot and humid, with daytime temperatures between 85 and 95 degrees. Moderate temperatures in the mid-50s are normal for winter. Spring and fall are the most pleasant seasons for outdoor activity.
Contact: Big Thicket National Preserve at (409) 839-2689. For shuttles and canoe rentals, call EASTTEX Canoes at (800) 814-7390; and ask about Village Creek, an excellent choice for an additional one- or two-day paddle through the Big Thicket.
EIGHT MORE SWAMPY GETAWAYS:
GREAT SWAMP, NEW JERSEY: This 7,400-acre pocket paradise survives within 25 miles of Manhattan's towers. Though it is surrounded by suburbia, it is possible to get lost in this land of wooded swamps, bogs, freshwater marshes, and uplands. The swamp contains an abundance of wildlife, along with an enormous variety of plant life. Contact: Great Swamp National Wildlife Refuge, (973) 425-1222.
REELFOOT LAKE, TENNESSEE: A series of spectacular earthquakes in 1811 and 1812 created 14,500-acre Reelfoot Lake. A 13,000-acre national wildlife refuge attracts over 239 bird species, including extensive numbers of bald eagles, waterfowl, and songbirds. Containing virgin bald cypress stands, this is one of the most picturesque areas in the nation. Contact: Reelfoot National Wildlife Refuge, (731) 538-2481.
CONGAREEY' SWAMP, SOUTH CAROLINA: A near-pristine strip of lowlands along the Congaree River, this is a rare example of an original southern hardwood swamp. The swamp is of ecological interest because several relatively undisturbed ecosystems are found in close association: forests, lakes, bogs, sloughs, creeks, and rivers. Contact: Congaree Swamp National Monument, (803) 776-4396.
CORKSCREW SWAMP, FLORIDA: Florida's largest remaining stand of virgin bald cypress is in this 11,000-acre National Audubon Society sanctuary. A two-mile boardwalk trail takes visitors through swampy ponds and a remnant of an undisturbed primeval forest. The swamp's watershed has the largest colony of endangered wood storks in the country, as well as otters, bobcats, and alligators. Contact: Corkscrew Swamp Sanctuary, (941) 348-9151.
BAYOU COUNTRY, LOUISIANA: Mostly flat and mostly wet, with many freshwater swamps and open, sunlit salt marshes, the 20,000-acre Barataria Preserve Unit of Jean Lafitte National Historical Park and Preserve, on the outskirts of New Orleans, is quintessential bayou country. The area is literally crawling with life. Nine miles of canoe trails, closed to motorized boats, allow exploration of the swamps and marshes. Another 20 miles of waterways are open to all types of boats. Contact: Jean Lafitte National Historical Park and Preserve, (504) 589-3882; or the Barataria Unit at (504) 589-2330. Canoe rentals are available just outside the Preserve.
CADDO LAKE, TEXAS: A sprawling 32,000-acre swampy maze, Caddo Lake flows west to east across the Texas-Louisiana border about 25 miles south of Arkansas. The lake's western region contains one of Texas's most scenic and historic canoe trails, which allows coverage of more than 100 miles of bayous, sloughs, and cypress swamp. Contact: Caddo Lake State Park, (903) 679-3351.
GREEN SWAMP, FLORIDA: Just 20 miles west of Disney World, the enormous Green Swamp is the southernmost true hardwood swamp in Florida, still undeveloped and virtually impenetrable. Five rivers have their source here (the Hillsboro is a favorite for canoeing). And, if you believe the stories, Sasquash the Swamp Ape, a southern Big Foot, also lives here. Contact: Lake Louisa State Park, (352) 394-3969.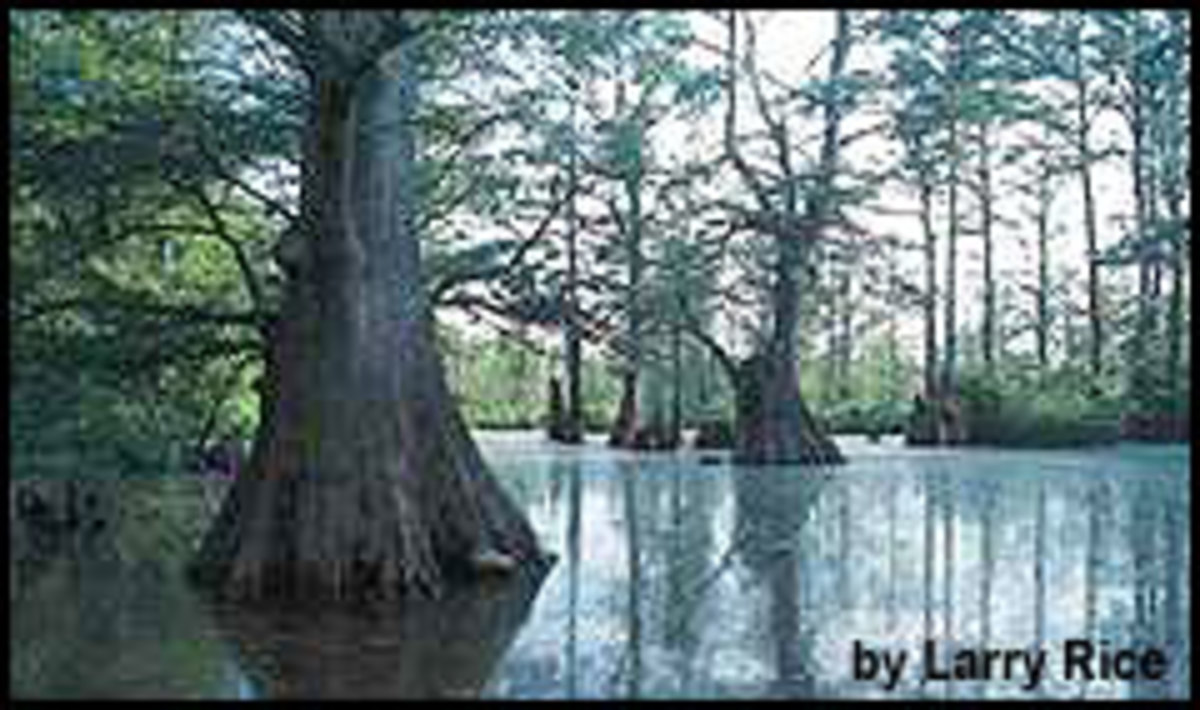 CACHE RIVER BIORESERVE, ILLINOIS: The 38,000-acre Cache River Bioreserve, located in the southernmost tip of Illinois, represents the northern limit of cypress and tupelo swamps in the Mississippi Valley. As a result, the protected corridor encompasses a variety of rare ecosystems, wildlife, and plants that is extensive for the Midwest. Cut and marked canoe trails lead through a state-owned segment of the swamp. Paddle to the state champion bald cypress tree, which is over 1,000 years old and has a buttress circumference of 34 feet, 3 inches. Contact: Cache River State Natural Area at (618) 634-9678; rentals are available from Cache Core Canoes, (618) 845-3817.
Larry Rice's first trip with his wife-to-be was to the Okefenokee Swamp. They had a great time, despite the fact that she had left her mother sobbing for fear she'd never see her daughter again.
The article was originally published on Canoe & Kayak
For access to exclusive gear videos, celebrity interviews, and more, subscribe on YouTube!