In the world of backcountry skiing and snowboarding, many riders view Alaska's steeps as "the promised land." To professional splitboarder and Karakoram Communications Director Russell Cunningham, his favorite riding is in his own backyard in Washington's Cascade Mountains.
The remote, rugged Cascades have some of the world's highest recorded snowfall and can receive 10 feet of snow in a single storm.
"It's rugged as hell, inhospitable and approaches are heinous efforts," Cunningham tells GrindTV. The payoff: the maritime snow is wet and sticky and quickly stabilizes, which means it stays, at least momentarily, on slopes of 50 to 60 degrees.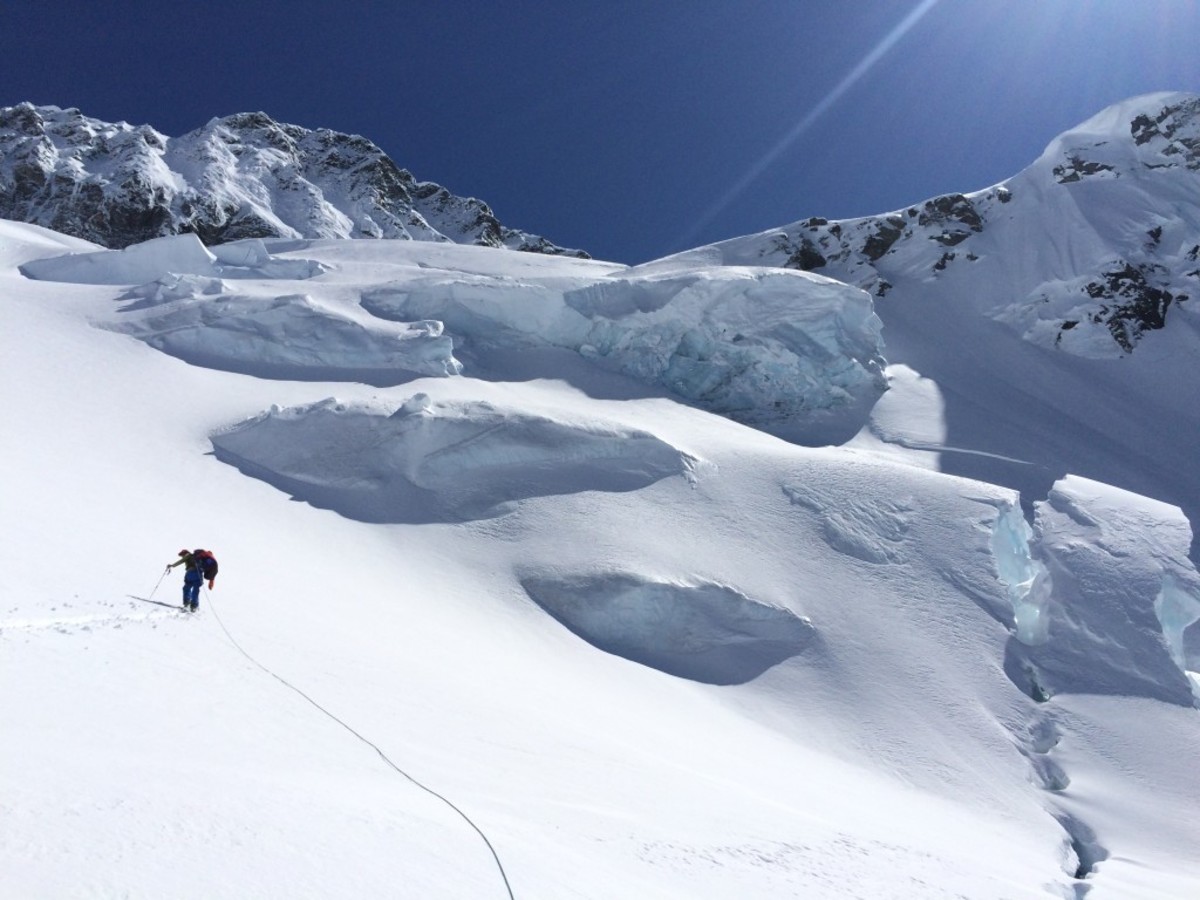 To date, Cunningham's most memorable backcountry outing was the highly technical "double hit" of Mt. Shuksan's Hanging Glacier Headwall, as well as the Northwest Couloir on Mount Shuksan in the Cascades, which he finally completed on his eighth attempt, in April 2015, with his friend, the late Adam Roberts.
The summit of the iconic 9,131-foot pyramid-shaped peak rises steeply towards the sky from above a glaciated massif. Because of its iconic beauty, it's one of the most photographed peaks in the Northwest.
And to backcountry riders, the descent is hard to beat – 5,000 to 6,000 feet of vert, of which 3,000 feet exceeds 50 degrees.
"It's a huge peak that reminds you of Chamonix and Alaska put together," Cunningham says. "It's the sickest line in the area."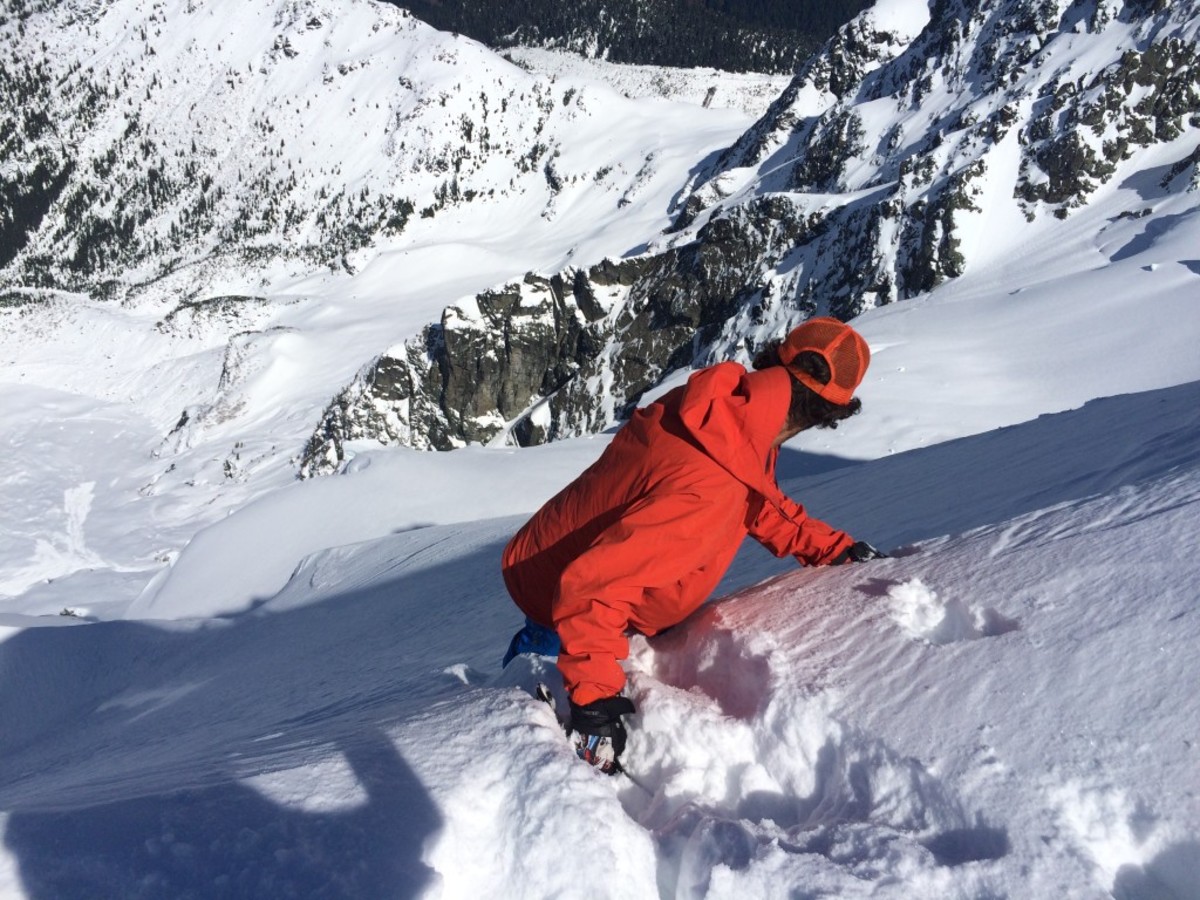 Cunningham describes himself as a snowboard alpinist, and that's just what he looked like when descending Mount Shuksan with short ice axes firmly gripped in both hands to control his descent.
Descending the mountain took as much mountain sense as it did experience, which is why it took so many attempts. During previous outings, Cunningham retreated due to rime ice, which turned the slopes into giant ice rinks, extreme wind slab avalanche danger, and simply being unwilling to commit to the sketchy terrain while risking a 4,000-foot fall.
Finally the day came where Cunningham and Roberts felt 97 percent confident that the slope wouldn't slide, and they went for it.
Before dropping in from the top, they fastened their climbing rope to a rock, clipped to it and then slowly crept in, stomping hard with their feet and checking for a shift in the snow.
When they were satisfied with their findings – the terrain didn't budge no matter how hard they stomped on it — they committed to the 60-degree slope.
Soon, Cunningham tells GrindTV, "It got really interesting, really quick — I was on four to six inches of powder over water ice."
Afraid of losing control, he stopped, sunk his ice tools into the snow and down climbed down 100 feet to reach safer 55-degree slopes. Once on safer ground, the two were able to link turns, then jump the gap between where the glacier meets the wall, and continued down, ripping down the 3,000-foot slope at 40 mph.
"[Later] that afternoon the whole wall started avalanching all over the place. It was a poignant reminder to listen when the mountain speaks," Cunningham says.
Two years later Roberts, Cunningham's best friend, entered complex terrain on another mountain, solo, and was killed in a large slab avalanche.
Looking back on that day on Shuksan, Cunningham thinks about his friendship and another fallen comrade in the high-stakes game of extreme backcountry skiing, Liz Daley, who died in a slide in Argentina in 2014. Daley inspired him to try the line he and Roberts descended on Shuksan and he dedicated it to her.
"[That day on Shuksan] we did it right by choosing our weather window and snow conditions with extreme precision, and even then it was still playing with an element of uncertainty that you can't completely eliminate. It was the most powerful and moving experience of my life," he tells GrindTV.
For access to exclusive gear videos, celebrity interviews, and more, subscribe on YouTube!