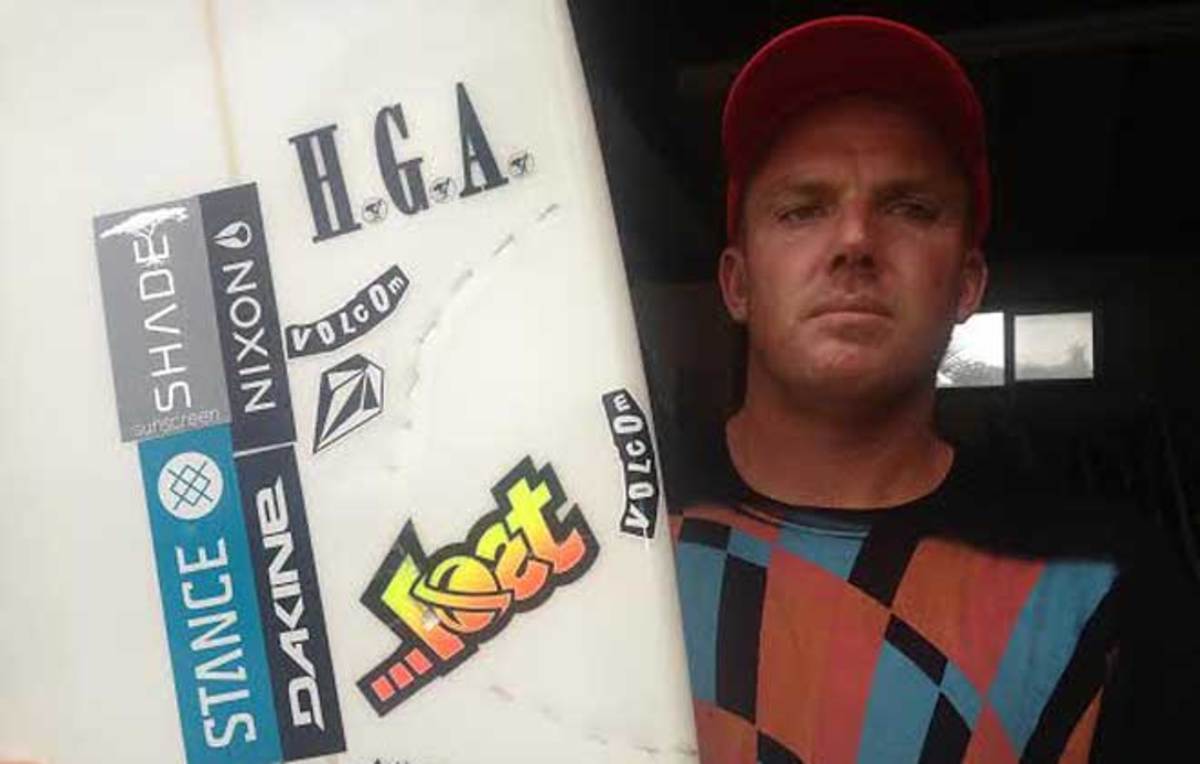 While waiting to catch a wave, professional surfer Kaleo Roberson fought off a 14-foot tiger shark Saturday by sticking his surfboard into its mouth and then hitting it twice with the board.
Roberson was surfing 100 yards off Maalaea, Maui, with his twin 8-year-old sons and 6-year-old son when he saw a disturbance in the water at his left.
"That's what saved my life," Roberson told GrindTV Outdoor in a phone interview. "I happened to be looking where it was coming from. It was splitting the water in a weird way."
Next thing he knew, a huge mouth opened in front of him. At first he thought it was a whale shark but soon realized it was much more dangerous.
"The mouth was so big, and it was already open there was no time even to think," Roberson told GrindTV. "It was just pure reaction to stick my board in its mouth."
Because Roberson was using a special, high-tech surfboard made of epoxy, the tiger shark was unable to bite a chunk out of it, leaving only teeth marks, as you can see in the photos.
"It was kinda stunned," Roberson explained. "It almost idled there, face to face with me, and I had no choice. I started beating it with the board. I hit it with my surfboard twice. I swung it like a bat."
He said he let out a "Braveheart" battle cry and attacked it back.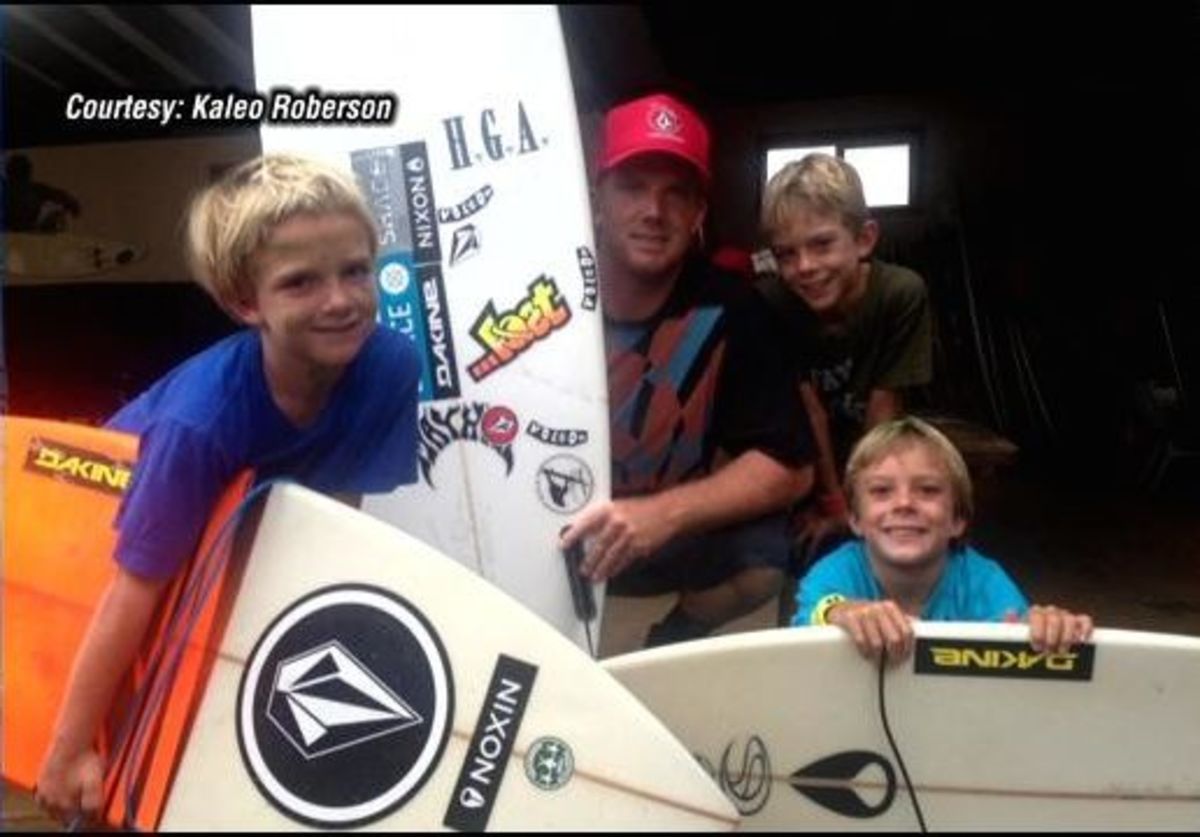 Roberson said his oldest twin, whom he was holding with his right hand when the attack occurred, thought a marlin or mahi mahi was jumping on him.
"I started screaming 'shark' and pushed him and his brother on a wave," he said.
"After it hit me, I hit it twice, and it turned so hard that it hit me with its tail and boosted me 4 or 5 feet through the water, like an extra push with the current of its tail."
With his sons safely retreating, Roberson paddled over to an underwater cameraman and carried him into the beach.
John Patao identified himself on Facebook as that cameraman, saying on Facebook, "Seen everything happen in front my face!…Mahalos for giving me a ride back to shore!"
Roberson told GrindTV that he believes the tiger shark that attacked him was a tagged shark, adding that lifeguards had been tracking a 14-foot tiger shark and a 12-foot tiger shark shortly before the attack.
Here is a report by Hawaii News Now:
Hawaii News Now – KGMB and KHNL
Roberson has been surfing for 30 years and this was the first time he experienced a close encounter with a shark.
"It came out of the water and the mouth was so big, I watched the water drain out of its gills," he told GrindTV. "I can't get that out of my mind."
UPDATE: On Monday, two days after Roberson's incident, a 58-year-old standup paddle boarder experienced a shark encounter at Kahului Harbor on Maui, according to Maui News.
Department of Land and Natural Resources officials said the man "felt a hard bump on the back of his board, knocking him into the water." The man then observed a dorsal fin about six feet away. Bite marks were visible on the board.
The DLNR issued a warning not to enter the ocean for any reason when the water if brown or murky, and closed waters at Kahului Harbor for one mile in each direction through at least Tuesday.
Follow David Strege on Facebook 
More from GrindTV
"Edge of Sanity" asks surfers to shed clichés.
Surfing's 5 finest sets of brothers
Kelly Slater completes surfing's first 540
For access to exclusive gear videos, celebrity interviews, and more, subscribe on YouTube!