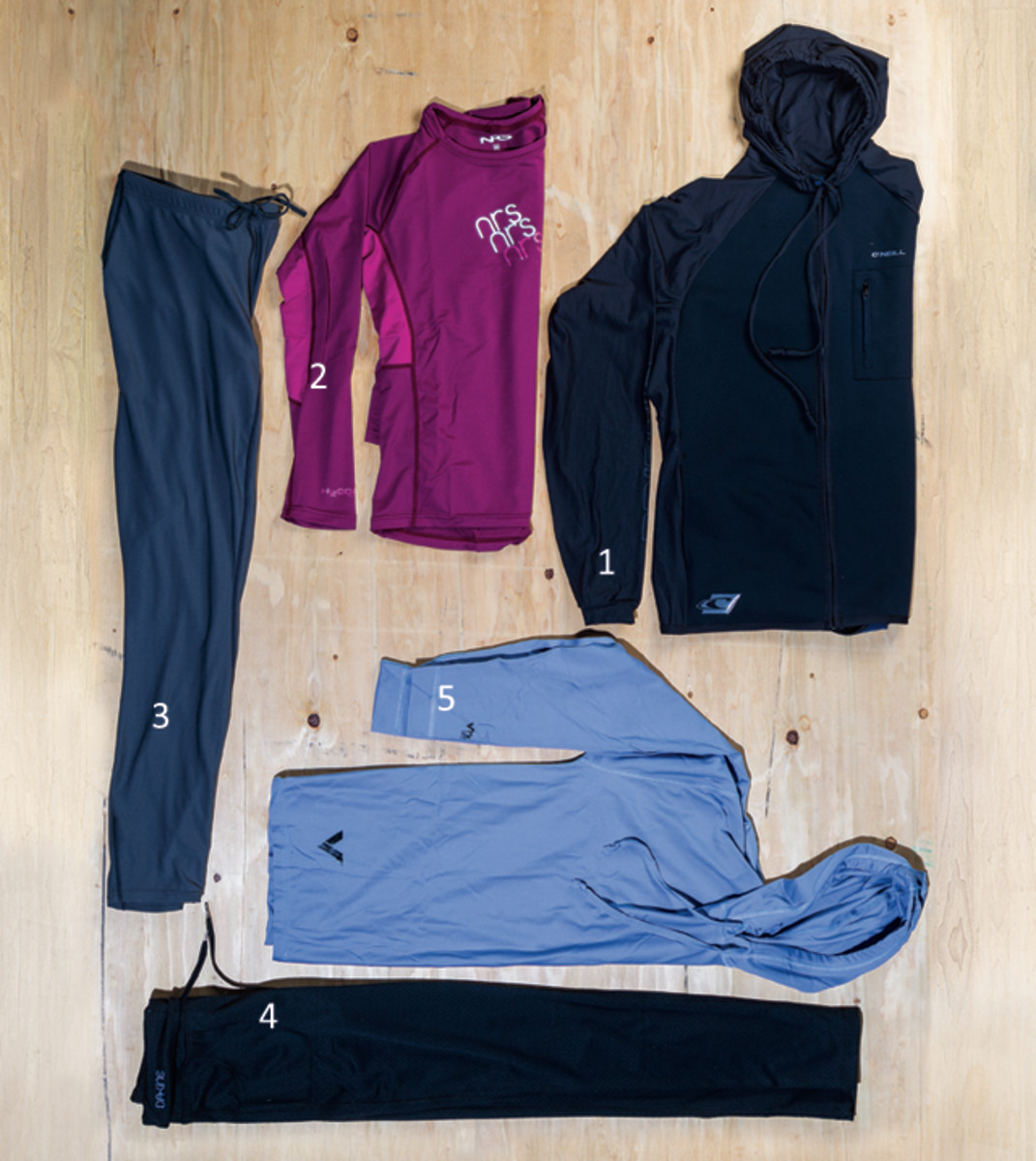 Protective Paddling Apparel
1. O'Neill Supertech Jacket
$120, ONEILL.COM
The Supertech is a sleek little paddling jacket. With a neoprene chest and light, airy sleeves this thing keeps you extra warm on those windy summer days while still providing UPF 50+ protection against the sun. Zip pockets on the chest and back allow for storage of items like lip balm, keys, iPhone, etc. while waist pockets let you keep your hands warm when scoping your put in. It doesn't chafe either: wear it with a shirt or without. A little too warm for standard summer days but a great option for when the weather isn't cooperating.
2. NRS Women's H2Core Silkweight L/S
$40, NRS.COM
NRS' H2Core line is designed specifically with paddlers in mind. This translates to rash-free standup sessions all summer long. The Silkweight longsleeve is smooth on the skin and provides great breathability whether you fall in the water or not. The UPF 45+ fabric will keep you protected from the sun's harmful rays. No excuses to call off a session.
3. NRS Men's H2Core Lightweight Pants
$50, NRS.COM
Not all of us live in places where we can wear trunks all summer long. Enter the H2Core pants. These puppies are comfy as sin with a fit that can be worn under boardshorts, as a layer or by themselves. They breath well when wet and wick away moisture from the skin, keeping you warmer when it's cool and cooler when it's hot. No clamminess here. And they dry quickly. A great piece for the sun-conscious outdoorsman.
4. DaKine Hex Pant
$60, DAKINE.COM
The Hex Pants are a multi-use gem. First, the waist can be worn up high or folded over for a low-rise fit. Second, the moisture wicking properties and hex pattern lining keep you warmer when wet and cooler when dry, letting them be worn as a layer or as a sun block. The hex also allows the stretch fabric to move with your skin for a more comfortable fit then your average yoga-type pant. They also come in blue for less sun attraction. A comfortable pant on the water or off.
5. Victory KoreDry Loosefit Hoodie
$72, VICTORYKD.COM
The UPF50+ Loosefit Hoodie is one of our summer favorites. Victory's fabric repels water unlike any other we've seen which means it dries faster and keeps you warmer than your average water-wear. The loose but athletic fit feels great on the skin and practically disappears when you're paddling while the hood allows you to cover up even more when the sun is beating down. It's a simple, well-designed piece that you'll throw in your rig every time you head to the beach: you won't want to be caught without it.

This gear review originally ran in our Summer 2014 issue as "Shelter From The Sun."

The article was originally published on Standup Paddling
For access to exclusive gear videos, celebrity interviews, and more, subscribe on YouTube!