The last region in our North American roundup is truly the tale of two countries. On one side we have the Pacific Northwest that, in many ways, sits an untapped resource in the world of lift-serviced mountain biking. Despite some rugged mountain terrain and favorable trail conditions, most of the best trail riding is done without the help of machine (something that can also be attributed to strict national forest regulations). On the other side, we have British Columbia, arguably the best stretch for mountain biking in the world. Grippy singletrack and daringly creative builds have made the far left of Canada the paradigm for all other mountain biking zones to follow. Lift access and excavated builds are the norm, not the exception around here. Some very good areas didn't even make the list in this final region; it's that tough in the Wild Northwest. Check out the nine spots you simply can't afford to miss.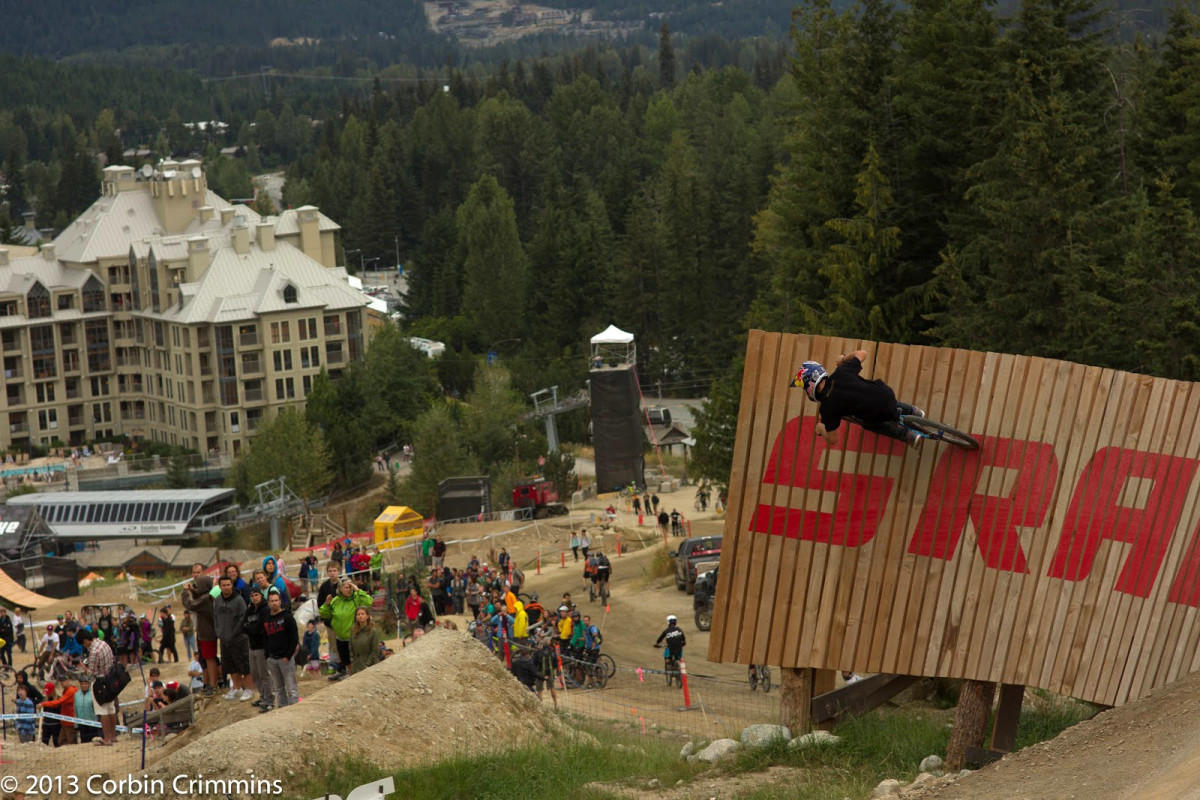 10. Kirkwood Resort Bike Park. Kirkwood, California
The first of two Tahoe mountain bike parks on our list, Kirkwood Bike Park features 11 downhill trails of varying skill levels and over 11.5 miles of singletrack. A skill park near the base has several jump and ladder features, and the connecting trails offer another fistful of cross-country options. At 10,000 feet Kirkwood is definitely high altitude, so pack your oxygen tank. There have been complaints about Kirkwood's lack of flowy trails compared to other bike parks in the area, but with screamers like Red Cliffs and Whiskey, Kirkwood still draws an adventurous crowd. Views are never in short supply in the Tahoe area, and an intermediate ride down Caples Crest supplies some stellar vistas. Kirkwood Bike Park is only open on weekends however, so plan accordingly.
Day Pass: $35
9. Panorama Bike Park. Panorama, British Columbia
Nestled in the jagged Kootenay Rockies, Panorama Bike Park has built a reputation on steep, rooted trails and short lift lines. Offering nearly 1,300 feet of vertical and 17 downhill options ranging from beginner to white knuckle, Panorama has an entire array of terrain cut into picturesque mountain faces. Not there for the views? Freeriders can get rowdy on the jumps and wallride features on Bender or the designated Drop Park at the intersection of Rocking Horse and Moose Powder. In addition, freeriders will dig the new Snakebite feature left behind by the Rockstar Bike Rodeo this summer. Insanity—a fast, flowy track with pressable turns that wind through tight forest and open fields—used to host the Canadian Downhill Mountain Biking Championships. Panorama also has access to several cross country trails, including Delphine Trail. Panorama's major downside is its distance from major metro areas (3.5 hours from Calgary), but on the other hand, lift lines are never long and trails are usually empty—not a bad trade-off.
Day Pass: $41
8. Stevens Pass Bike Park. Leavenworth, Washington
Stevens Pass puts Washington on the downhill mountain biking map in a big way with some of the only classic Northwest riding with lift access south of Whistler. Weaving through old growth forests, loamy singletrack highlights the Northern Cascades resort and its four trails. While the trail count is small, the Stevens Pass mountain bike operation is relatively new (it opened just last year), and trails are still being built (a beginner trail is in the works for the end of the season or early next year). Wind down Lichen It for a not-too-intense gladed singletrack experience and hook up with its sister trail Loven It for an extended downhill. Advanced trail Wookie is the marquee crowd pleaser with several wooden features and fast, flowy downhill. Stevens also has a skill park near the lift for honing tricks and landings. Open Friday through Sunday, the nearest mountain bike park to Seattle seems to have a lot of upside and may challenge the rankings in years to come.
Day Pass: $35
7. Sun Peaks Bike Park. Sun Peaks, British Columbia
Sun Peaks Bike Park 2013 TEASER from Sun Peaks Resort TV on Vimeo.
With nearly 2,000 feet of vertical, it's hard to consider Sun Peaks seventh on any list, but in the land of downhill mountain biking giants, that's how it has to be. That being said, there's nothing small about the interior resort—except the lift lines. Sun Peaks' high-speed quad accesses 36 downhill trails, providing less time on the lift and more on the singletrack. Technical riders will feast on Insanity One and Gnar-Boom, while the gravity benders will enjoy jump lines on trails like Steam Shovel and the freeride-specific Dirt Jump Park. Sun Peaks sits in a sub-alpine zone, for those looking to enjoy the bounties of Mother Nature over breaking speed records. Smooth Smoothie is an entertaining beginner option accessible from the top of the lift. After a year of reworking due to beetle kill, popular trails Sweet One and Sugar are back open for riding and several other trails have received maintenance as well. For those that like pushing speed and getting air, Sun Peaks is a great low-key alternative to B.C.'s bike behemoths.
Day Pass: $39
6. Alyeska Downhill Mountain Bike Park. Girdwood, Alaska
Alyeska is Alaska's first lift-serviced mountain biking and the northernmost resort on our North American list. 2,500 feet of vertical highlights this Chugach Range representative with over 15 trails to choose from. While Alaskan riding may seem daunting on paper, Alyeska has plenty of terrain for beginners (check out Chips N Salsa) and intermediates (Tanaka Grasslands is a must). For the more advanced riders, head to Xtra Tuff for some rocky and rooted singletrack and connect with the tight and winding International trail. Freeriders have plenty of jump lines to work with throughout the resort, including a series of hits on Bobcat and a skills park near the base. Two lifts access terrain for most of the year, but the tram opens for a month starting in September to provide a handful of new trails and some extended vertical. In addition to lift access, day tickets include free unobstructed views of the ocean, Turnagain Arm and the Chugach Range. Oh, and during summer months the sun doesn't set until after 10 so expect your après to be on the sunny side.
Day Pass: $25
5. Northstar California Mountain Bike Park. Truckee, California
The Bike Park at Northstar California from Northstar California Videos on Vimeo.
With the amount of lift access combined with the amount of adrenaline junkies in the Lake Tahoe area, it just makes sense that Northstar is Northern California's biggest and best bike park. Thirty-three downhill trails spread over 1700 feet of vertical highlight the bike park—a selection that's not for the faint of heart. Trails like Easy Rider and Bumps & Bends ease novices into the game, but it's advanced selections Livewire and Boondocks that have expert riders choosing Northstar over its Tahoe area competitors. Like most California trails, Northstar's feature loose rock and deep sand. Often referred to as "brown pow", the dry, loose sediment on the trail gets a little bit dicey at high speeds, so Northstar has installed irrigation systems on select trails (such as Livewire) to keep surfaces tacky and rideable. The resort also partnered with GoPro this year to install GoPro mounts along Lower Gypsy, allowing riders to film themselves remotely with a smart phone GoPro app. So whether you're looking to get the shot, or just get after it, make sure Northstar is on the list.
Day Pass: $48
RELATED: GETTING TO KNOW THE NORTHSTAR BIKE PARK WITH LOCAL COACH LUKE SHEPPARD
4. Fernie Alpine Resort Bike Park. Fernie, British Columbia
Another feather in British Columbia's cap, Fernie Alpine Resort Bike Park is a massive network of cross-country and downhill trails in the region's interior that caters to all types of riders. Tallying 37 downhill trails, this Lizard Range resort has plenty of beginner terrain, including dog friendly options like Boom and Hobbits Trail. Wide, machine-groomed trails make learning a fun experience and mountain views don't hurt either. Riders looking to experience a little more than a relaxing day on the path can head over to Top Gun for high speed rollers and pressable berms or take on crowd favorite Rumplestumpskin with its mixed bag of alpine meadow, tight glades and technical, feature-laced singletrack. Make sure to check out Megasaurus and wind through three alpine bowls for an extended decent sure to get the blood pumping. If you're the competitive type, drop in to Fernie's dual slalom course at the base of the Elk Chair. Fernie operates two lifts on weekends, but only utilizes the Elk Chair during the week, so plan accordingly.
Day Pass: $45.95
3. Silver Star Bike Park. Silver Star Mountain, British Columbia.
Silver Star Bike Park – Open for 2013 from Virtu Media on Vimeo.
In any other region, Silver Star would lock down a number one ranking, but unfortunately for them, we're not in any other region. Even still, with over 18 options for top-to-bottom riding and not a single fire road in sight, Silver Star is the real deal. Built by "godfather of mountain biking" Cam Sorensen, Silver Star is the epitome of progression, with berms, table tops, and wooden features of varying difficulty levels seamlessly integrated into all of the mountain's riding. Rides are decently long with 1,600 feet of vertical and the trails are some of the most tacky (note: we're not talking about cheesy) in North America. For those that want to really dial in their freeriding skills, Silver Star's two skills parks are the perfect venue. Pros are raving about Silver Star's new Jedi Mind Tricks intermediate trail, which, despite its trail designation, has a boatload of freeride features built into a flowy downhill trail. So far only stage one of three is open, but the trail has already built a following. Keep an eye out for the Freeride Festival, which rolls through Silver Star on August 30.
Day Pass: $40
2. Kicking Horse Bike Park. Golden, British Columbia
This interior resort is the stuff of legends. Twenty-seven trails spread over 3,700 vertical feet, Kicking Horse Bike Park offers some of the longest laps and most specialized terrain in the game. Experts won't be able to get enough of LYM—an advanced trail that rides entirely on one extended wooden bridge—or Stickrock—a trail that flies down steep rock walls with wooden features thrown in. If that has you shaking just reading about it, don't worry, easy trails off of Catamount Chair allow for a more relaxed day at the mountain. Rock Garden is the place to go for interesting wood features and the Jump Zone has freeriders covered with a line of table-tops that increase in size. Trails are loamy and well maintained, so if you're up for it, high speed is always an option. Still, on these trails it might be better to walk them before opening up the throttle. Not for the faint of heart, Kicking Horse is a beast of a hill with some serious vert.
Day Pass: $44.95
RELATED: GALLERY: OPENING DAY AT THE WHISTLER BIKE PARK
1. Whistler Mountain Bike Park. Whistler, British Columbia
Whistler has long been the mountain bike park gold standard, and we'd like to report that in 2013, nothing has changed. With the newly expanded Peak Zone open for this season, Whistler offers 5,000 vertical feet of downhill awesomeness and enough terrain to keep dedicated riders occupied for seasons upon seasons. Tacky trail conditions and expert builds by Gravity Logic have earned Whistler distinction around the mountain biking world. Choose from 57 different trails, or try your hands at three skills parks, a drops park, a jump park, a downhill course, a giant slalom course, and a slopestyle course designed by esteemed trail builder Paddy Kaye. From the top of Whistler Mountain, fly down Top of the World, one of the highest lift-accessed flow trails in the world. Freeriders can rip down trails like Crank it Up or test out the revolutionary Boneyard slopestyle course. The Garbanzo Zone is a serious vertical challenge with famous rooted and rocky singletrack and descents that can take up to an hour (for good riders). The list is endless at this B.C. mountain biking park, so checking it out may be the best way to take it all in. If festivals are what you're after, the annual Crankworx Festival is the biggest celebration in biking, occurring every August.
Day Pass: $61
For access to exclusive gear videos, celebrity interviews, and more, subscribe on YouTube!