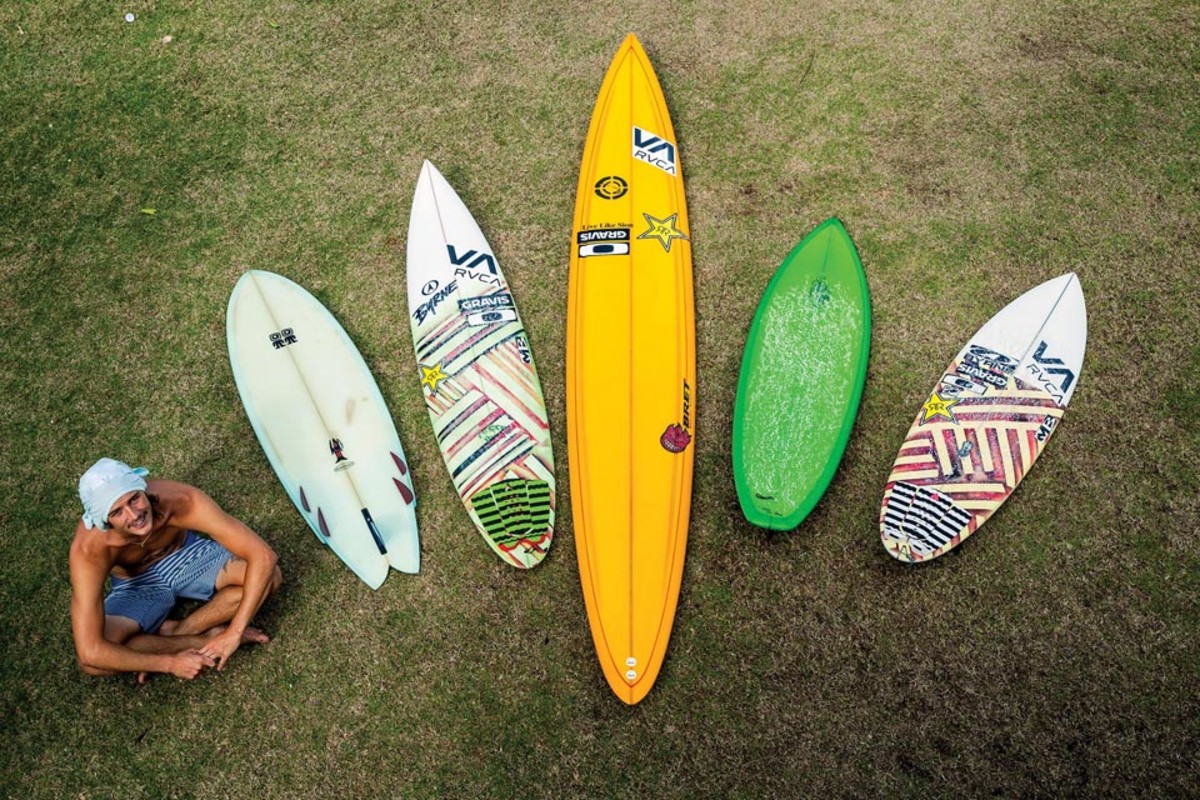 Quivers: Danny Fuller's Mixed Shooters
As seen in the May 2013 issue of TransWorld SURF magazine, subscribe today and get a free gift!
Danny Fuller
Height: 6"1"
Weight: 175 lbs.
From left to right:
5'10" x 20 3/4" x 2 5/8" Campbell Brothers Bonzer, Octafish Model
This is an amazing little hovercraft. I'd never tried one before, and I was amazed at how fast they are. I rode it at Off The Wall and did some of the best turns I've done in a long time. The angle that the fins are set and the medium-size single fin, the performance of this board is a combination of just about everything.
7'1" x 18 3/4" x 2 5/8" Byrne Surfboards, Fuller Quad model, by Michael Baron
This is my Pipe board, I ride it at six to10 foot first reef. I've brought the length down a little bit from what I used to ride. I know it's not John John's 6'6", but now 7'1" for massive Pipeline, that's my go-to number.
11'7" Bret Surfboards pintail quad, by Bret Marumoto
I went to Jaws last year for the first time ever, and brought a 10'. I didn't know if I even wanted to go there, but I was stoked I did. I was riding a 10' and the waves were absolutely huge, bigger than anything I've ever seen, and I felt like I was on an 8'. I didn't really get any waves that session, so I had to reevaluate my whole deal and went and ordered an 11'7". I just felt like if I wanted to catch the biggest wave of my life I needed to stop f—king around and get real. I was so stoked I was able to achieve that goal; on the last day of 2012, I got the biggest wave of my life, a big left at Jaws, and the 11'7" f—king handled it.
5'10" Joel Tudor surfboards single fin, by Tom Eberly
Joel Tudor gave me this board a little more than 10 years ago, it's good for working on your form and straightening things out, just letting things happen naturally rather than forcing it.
5'9" x 19 1/2" x 2 3/8" Byrne Surfboards, Peanut round pin by Michael Baron
Not pictured: A stroller to wheel around Danny and Tory Praver's new baby girl…congrats!
For access to exclusive gear videos, celebrity interviews, and more, subscribe on YouTube!