Roof of the World: Film Trailer from Thunder Dragon Media on Vimeo.
The Zanskar River, which winds through Kashmir's slate mountains in the northernmost reaches of India, is often compared to the Grand Canyon, and when you're paddling it in a kayak, alone, it's easy to see why. Steep cliffs rise 4,000 feet on either side, and ancient monasteries perch high on limestone bluffs. Paddling here offers the purest sense of isolation.
It was day four of what was supposed to be a week on the river, when the biggest storm in five decades hit. As the dark clouds rolled in, the Zanskar turned into a muddy flood, its wide, placid waters roiled into a maelstrom of Class IV and V rapids. Heavy rain hit from all sides. Boulders the size of SUVs tumbled down the canyon walls, smacking the water with sounds like sonic booms. I paddled desperately to stay in the river's main flow, where I would be safe. It was a moment of pure adrenaline and surrender — and exactly what I was looking for.
I've been guiding expeditions and filming television and feature documentaries in the Himalayas for decades, descending every river in Nepal and summiting Everest twice. But this trip was different. I had recently turned 50. It occurred to me that an epic, soul-searching journey was long overdue. And so I embarked on my most ambitious and personal trip yet: a 108-day solo expedition across the entire length of the Himalayas, 4,000 miles from India through Nepal to Bhutan by kayak and motorcycle and on foot. I decided to document this expedition, too — filming by myself or with just one cameraman.
RELATED: The Complete 2015 Adventure Race Calendar

The Tsarap Chu and Zanskar rivers were the first leg. Thanks to the storm, I completed the Zanskar's final 90-mile section — which usually takes about three days — in a 12-hour frantic push. Exhausted but exhilarated, I arrived in Leh, the capital of India's Ladakh district, where I traded my kayak for a vintage 1982 iron-barrel, 500cc Royal Enfield motorcycle. I'd bought the bike secondhand in Delhi and rebuilt it specifically for the expedition. Fully loaded, she was a thousand-pound monster.
Riding her on the treacherous, unpaved roads of the Tibetan plateau was a lot like running Class V whitewater: You really have to pay attention or you're going to get waxed. I was racing to the Taglang La — at 17,500 feet, one of the world's highest vehicle passes — desperate to cross before winter closed the pass for six months. I spent three weeks traversing this remote, lunar landscape before descending into the teeming cauldron of life that surrounds Rishikesh, an ancient city nestled on the banks of the Ganges.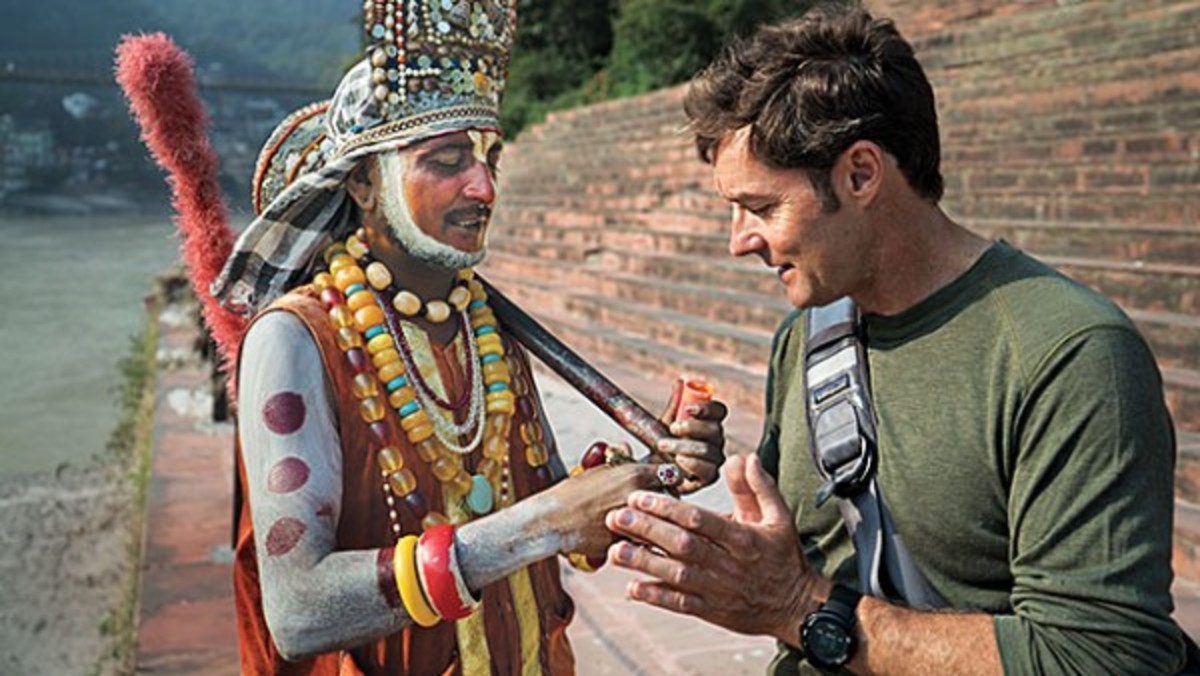 (On the banks of the Ganges, a man dressed as the monkey god Hanuman gives blessings.)
I stopped to tend to repairs and visit with friends. This is no longer the quiet, spiritual retreat made famous by the Beatles. Today, there are thousand-room ashrams, luxurious condos, internet cafes. The Ganges is still the site of Hindu bathing rituals, but downstream it is one of the country's most polluted rivers. I watched people dump garbage directly into the water, only to see crews of workers pick up trash on "clean up" days.
From there, I headed east through rolling Himalayan foothills, passing rural villages where teenagers herded goats while talking on cellphones. Arriving in Nepal, I stopped in Pokhara to visit my old friend Sano Babu Sunuwar. We'd first met 18 years ago, when he was a teenager learning how to kayak. Now 32, Sano is an internationally acclaimed adventurer — celebrated for paragliding off the summit of Everest — and owner of Babu Adventure Resort and School, a beautiful stone lodge and paragliding complex at the top of a remote ridge facing the Annapurnas.
We spent a day boating on Pokhara's Fewa Lake. Thirty years ago, I would camp on the shore. Now, that campsite is a sprawl of ugly buildings and you can't swim without getting rashes or pinkeye. And it's not just this lake: Parts of the Bhote Khosi river, once one of the best rafting trips out of Kathmandu, now resemble an open sewer. Over a dinner of dal bhat, Sano told me how worried this makes him about Nepal's future. With great ebullience, he described his efforts to change that — leveraging his status as a local celebrity and investing a percentage of his profits to support clean water projects and school tuition for local kids. "Anything is possible, Gerry-dai!" he said.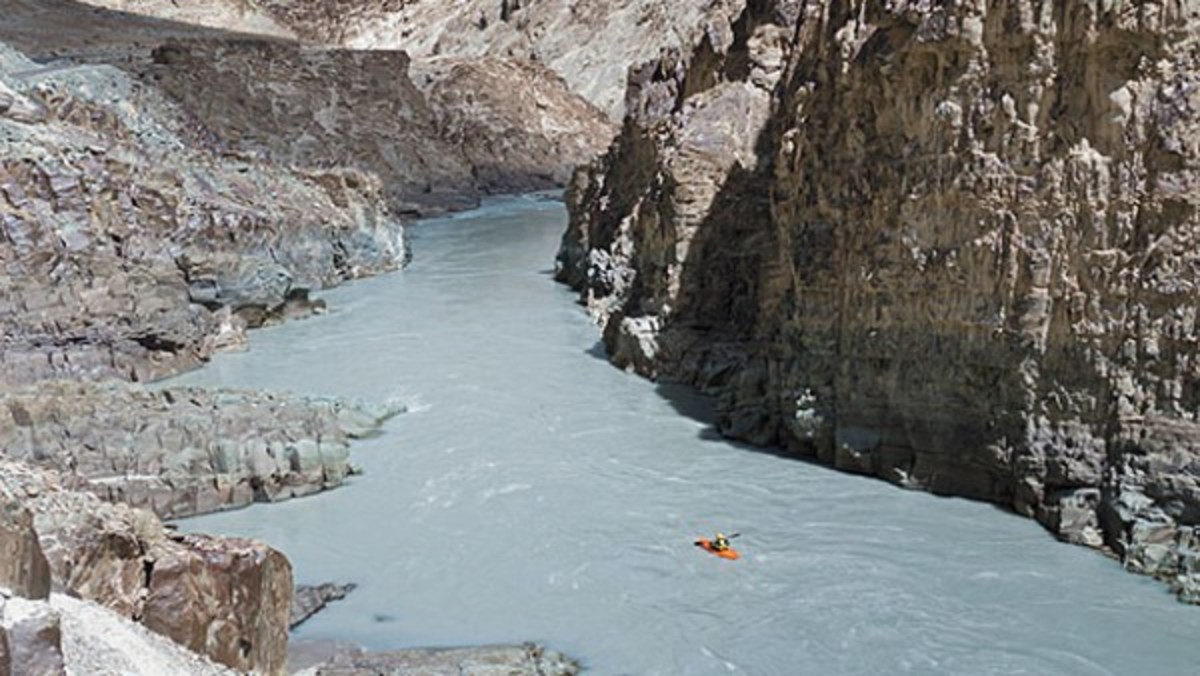 (Paddling India's Zanskar River in stormy conditions, Moffatt ran the last 90 miles in just 12 hours.)
The final leg of my trip took me through Bhutan. After the hustle and pollution of India and Nepal, it was like arriving in Middle-earth. A single road winds through a sparsely populated land of dense rain forest and arid alpine mountains known as the "kingdom of the clouds." Gunning the Enfield, I ascended 7,000 feet of switchbacks in seven hours. At one point, a truck loaded with kayaks stopped alongside me. It turned out these were Bhutanese guys I'd taught to kayak 16 years ago. They invited me to tag along as they guided clients down the Po Chhu, a Class III river that meanders through verdant jungles pulsing with wildlife, farmland, and quiet villages. The trip evoked my earliest days in the Himalayas, but I wondered how long it could last — considering that many of Bhutan's rivers are being dammed to create hydroelectric power for India.
MORE: What's Inside: The 2015 Adventure Issue
Traveling with this new generation of adventure guides, I couldn't help but reflect on my own three-decade career. When I first came to Nepal, every river was a pristine jungle paradise. Now, we no longer run many of them — there's too much trash and human waste. It struck me that by bringing people into such sensitive areas, I was contributing to the problem. That had to change. So instead of simply guiding, I've made a commitment to work with the next generation of adventure entrepreneurs, training them to do more to protect these resources. I'm also making films to document the threats facing the Himalayas.
In Samdrup Jongkhar in eastern Bhutan, I said goodbye to the Enfield. I debated shipping her home, but decided against it — the bike belongs on the high mountain passes of the Himalayas, not the smoothly paved freeways of the U.S. As for me, I just want to live out the rest of my life knowing I'm doing my best.
For access to exclusive gear videos, celebrity interviews, and more, subscribe on YouTube!