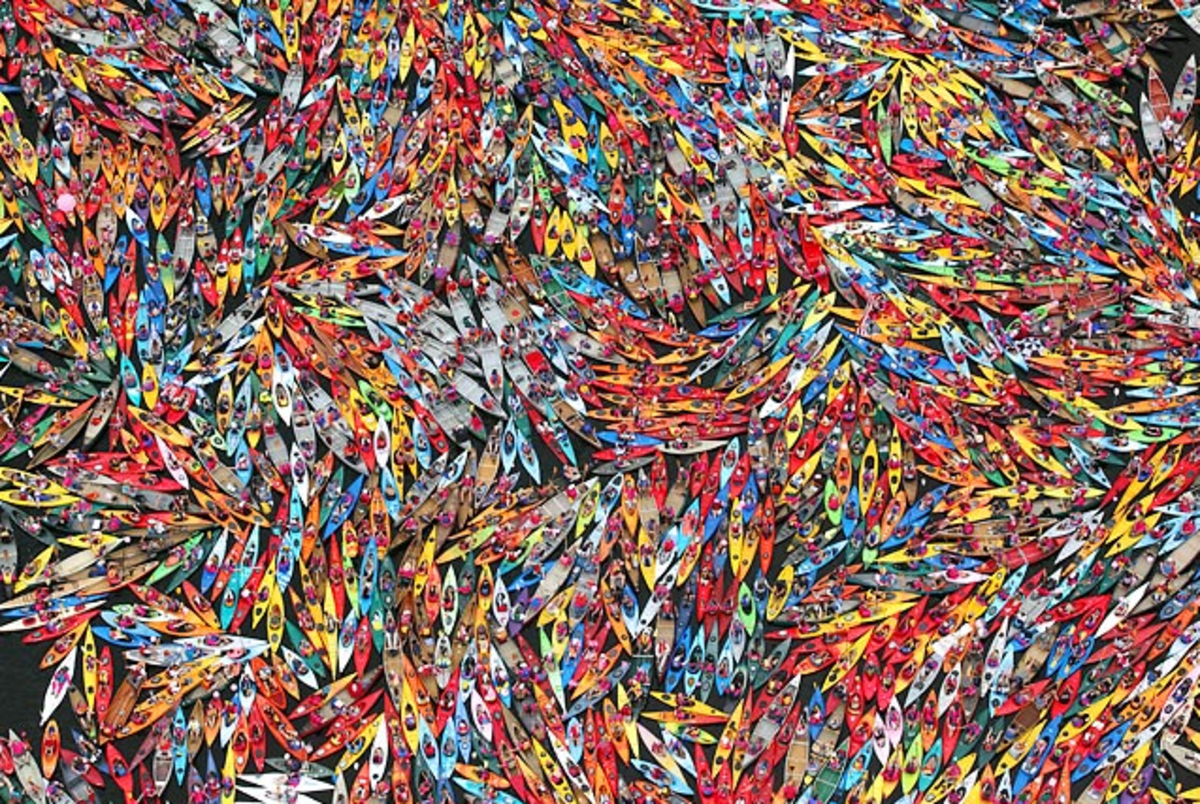 By Katie McKy
2,099. That's the number to beat: the Guinness World Record for the most canoes and kayaks ever gathered into a single cohesive floating blob, set last Aug. 31 at the Suttons Bay Floatilla event in Michigan.
On Sunday, a small New Hampshire community will do its best to claim the record for their beloved Lake Winnipesaukee. If they succeed, Raft-A-Palooza will cover the lake in a mass of Kevlar, Royalex, fiberglass, aluminum, and wood that will look, from aloft, as if someone spilled the world's biggest box of Crayola Crayons. Even if they fail in the record attempt, organizers will have educated thousands about invasive threats to area waterways, including Zebra mussels, Asian clams, and rock snot.
Since the fastidious Guinness Book of World Records oversees the Raft-A-Palooza record attempt, the rules require considerable organization. Think of the paddling craft as a floating flock, albeit one colored by Fisher Price, with half a dozen pontoon boats serving as shepherds, using auditory and visual signals to keep the raft counted, connected, and free floating for the required 30 seconds. Touching shoreline in that 30-second span disqualifies the attempt, and only hands may keep the craft connected. Given the number of paddlers, their varied paddling prowess, and the variables of wind and current, it's like herding water spiders.
The Raft-A-Palooza folks will also attempt to set a new world record for the largest number of paddlers to simultaneously launch, which is also overseen by Guinness.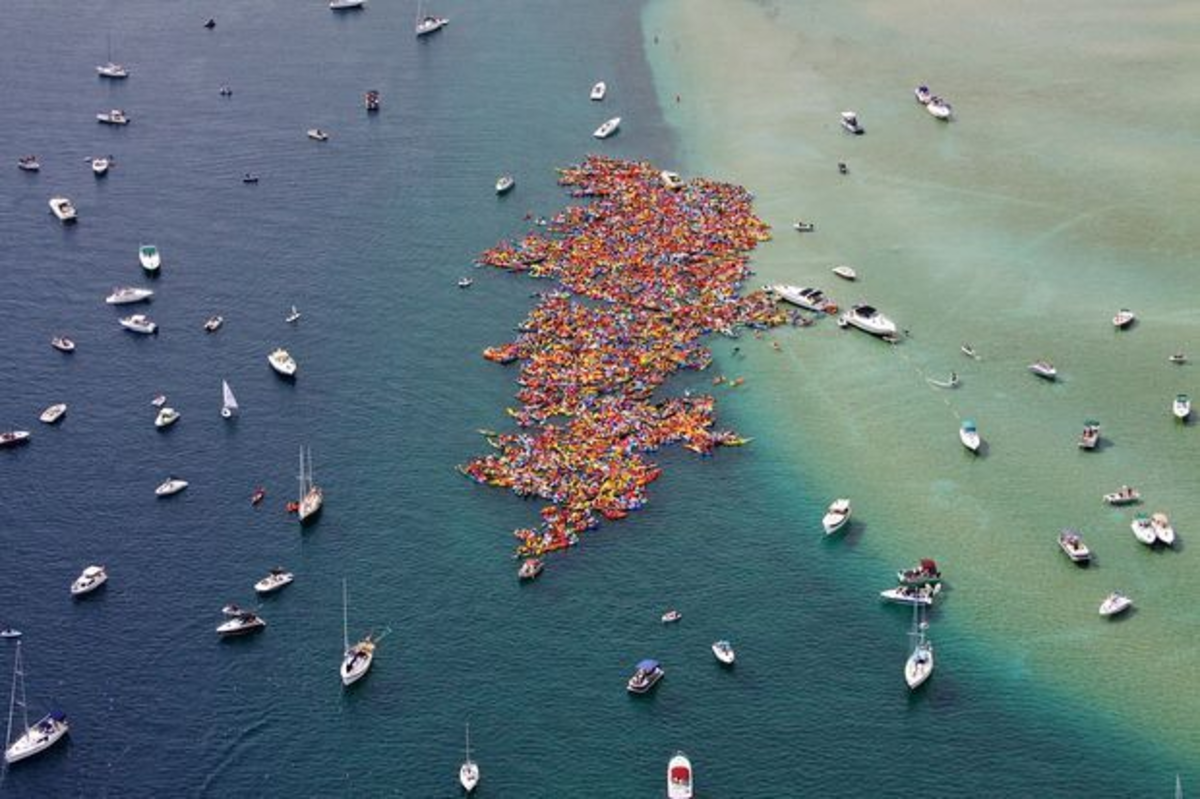 "The record for the simultaneous launch of canoes and kayaks is 308 boats," says event manager Kim Murdoch. "It sounds easily beatable, but Guinness is very, very particular about crossing your i's and dotting your t's. They define what launch and simultaneous are. It's controlled chaos."
But that's the undercard. The odds are longer in the main event. The current raft record is 2,099 boats, set by Floatilla on Suttons Bay in Michigan on August 31, 2013. Floatilla broke the record of 1,902 boats set at One Square Mile of Hope, a breast-cancer awareness event on Fourth Lake, New York on September 24, 2011. Can Raft-A-Palooza claim the record? 98 percent of their 2013 paddlers are returning, with friends and family and tow, which is promising.
Murdoch says, "We think we're in really good shape to break the simultaneous launch record and are going to try our best to break the raft record. Everyone who has held the record needed several years to gain momentum to set it. We are thrilled with our numbers and are growing and growing."
If Raft-A-Palooza does get the record, there's no telling how long it will stand. Four other events have their eyes on the prize this summer.
Next up is Floatzilla in Rock Island, Illinois Aug. 16. The very next day, Raft Up! in Vashon Island, Washington will take a crack.
The Suttons Bay Floatilla will re-form on Aug. 31 this year to surpass its own record and raise funds for area schools. And One Square Mile of Hope will attempt to take back the record on September 13.
It's not just about the record, says Andrea LaMoreaux, Vice President of the New Hampshire Lakes Association. "Everyone has a dream of being part of a world record, so it was crazy and fun, but it's an educational event disguised as fun. It's more than just crazy people gathering to set a crazy record. It's about protecting the water we love."
New Hampshire Lakes Association is focused on repelling aquatic invaders.
"It's about protecting New Hampshire's lakes and waterways," LaMoreaux says. The underlying element is educating boaters about the clean, drain, and dry procedure. It's what we want boaters to do: Clean your boat, drain any standing water, and dry it completely before you introduce it to another body of water. Zebra mussels, Asian clams, and rock snot threaten our waters and education is key. Everyone who comes goes through an inspection station, our wash stations. So, there's that huge educational component. The fun hooks them, but also a terrific platform to keep New Hampshire's lakes and waterways pristine."

LakeFest2014 also educates up and coming paddlers.
Murdoch says, "We added the Watershed Warriors program for kids, which is similar to a Junior Ranger style program. The kids go from station to station to learn about protecting the watershed, take an oath, and get a Watershed Warrior badge."
The attempt will take place this Sunday, Aug. 3 at Endicott Rock Park at Weirs Beach on Lake Winnipesaukee, Laconia, NH, from 12:00 p.m. – 7:00 p.m. There will be food trucks, music, an artisan marketplace, and vendors.
Register on-line at www.lakefest.wordpress.com and if you have the hankering, but lack the craft, boats may also be reserved on-line. If you have a boat, it must be a canoe or kayak (no inflatables). The entry fee is $20, with all proceeds going to keeping New Hampshire's lakes and rivers pristine.
Attending will put you in the fine company of others who are happiest with a paddle in their hands.
Murdoch says, "I am surprised by the passion and the excitement that is shared by those who are returning and those who are new too. Their enthusiasm, energy, and love for New Hampshire's lakes are just great. Our event is rain or shine. The forecast is fluctuating, but we're looking pretty good right now."
The article was originally published on Canoe & Kayak
For access to exclusive gear videos, celebrity interviews, and more, subscribe on YouTube!