Ernest Hemingway famously said, "There are only three sports: bullfghting, motor racing, and mountaineering; all the rest are merely games." Never one to shy away from short, declarative boasts, the famous writer was implying that if you're not risking your life, you're kind of a dork.
Hemingway romanticized bullfighting— still popular, yet controversial, in some countries like Spain, nonexistent in the States— where a stately gent in fancy duds plays peek-a-boo with a ferocious, charging 2,000- pound bull who wants to gore him. Though bullfighting can be fatal, it seems an unfair match, as the preening bullfighter slowly, and quite literally, skewers his pursuer in a slow dance of death.
If Hemingway were alive today, it's hard to see how he wouldn't include bull riding in his short list of noble bucket list pursuits. While a longtime rodeo pastime, bull riding didn't hit the big time as a spectator sport until the founding of the Professional Bull Riders (PBR) in 1992, when a group of 20 enterprising cowboys each invested $1,000 to create a proper league with rules and bylaws consistent with other major sports.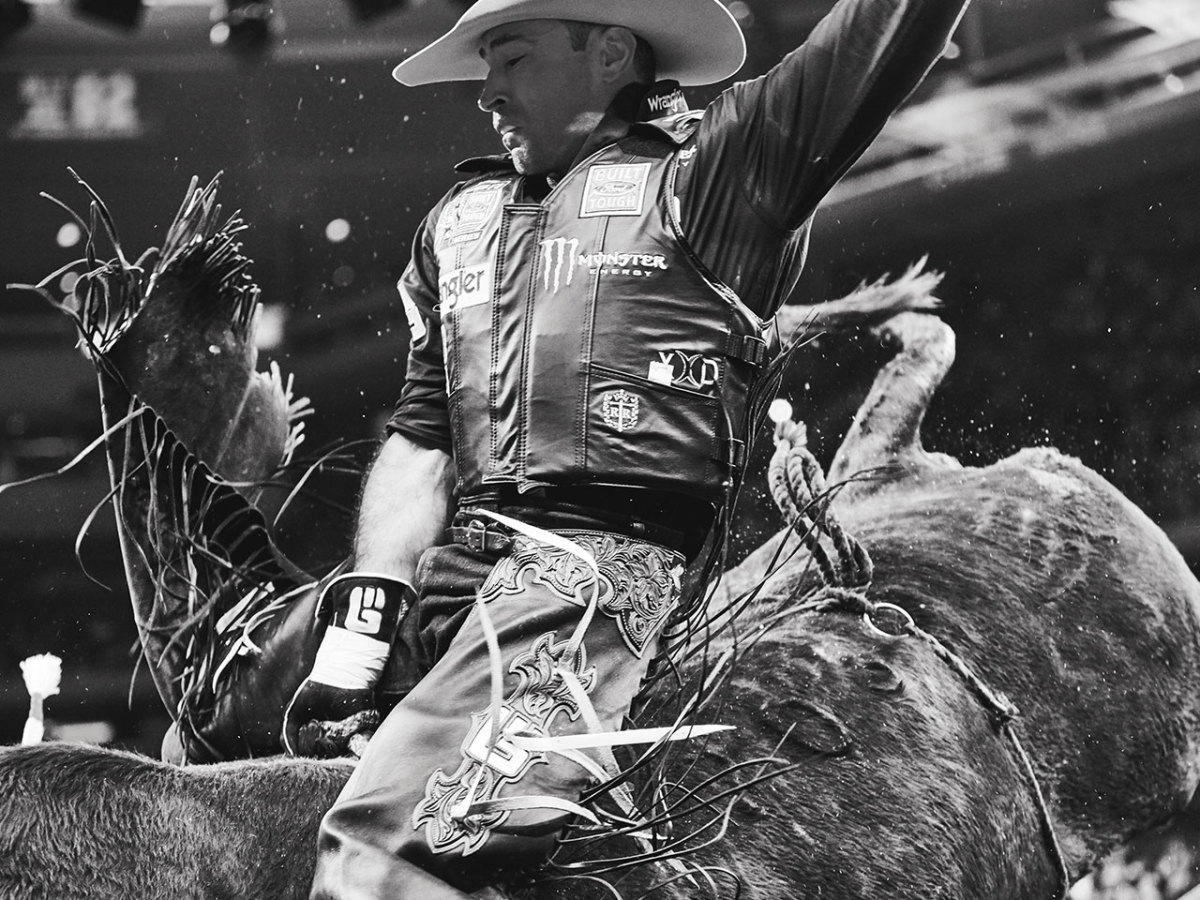 Guilherme Marchi. Photo by Edgar Artiga
After a slow start, the PBR (which coincidentally is the same acronym for a cheap beer beloved by hipsters) is a genuine phenomenon. Called "the fastest growing sport in the world" in 2013 by Forbes, that initial $20,000 investment is reportedly worth more than $4 million today. "As best as I can tell, no U.S. sport has produced a return close to PBR over a similar period," finance expert Mike Ozanian wrote in Forbes. Perhaps that's why talent agency WME|IMG, the folks who acquired UFC in 2016 for $4 billion, bought out PBR in 2015 for a reported $100 million.
Professional bull riders make a living now—a good one, actually. J.B. Mauney, the all-time top money earner on the circuit, has pulled in more than $7 million. That's not counting earnings from endorsements, special appearances, and other extras available to any successful pro athlete, niche or otherwise. You may think that's a pretty good payday for only eight seconds of work, the allotted time riders must stay on a bull in order to earn points. If that sounds like easy money to you, then this is your first rodeo. No matter how experienced, skilled, or tough a bull rider is, his next ride may be his last.
"All sports have the pressure of winning and losing, but where our sport goes to another level is that a bull rider literally has the pressure of living or dying every single time he competes," says Ty Murray, known as the King of the Cowboys and the most celebrated rodeo athlete of all time. "It's the world's most dangerous sport."
Now retired, Murray is a nine-time world champion cowboy and an original PBR investor before becoming its biggest star, winning the gold buckle (world championship trophy) in 1999. He's the only PBR personality with crossover cred, having dabbled in mainstream network TV with appearances on CSI, Walker: Texas Ranger (in which he played himself), and Dancing with the Stars in 2009, where he hoofed his way to fourth place.
A competitor in rodeo events since he was 5 years old, Murray is a descendent of a long line of cowboys. He's also a veteran of languishing in various stages of disrepair from his bull riding injuries while grimacing in the waiting rooms of orthopedic surgeons.
"I've had all four limbs surgically repaired—both knees redone and both shoulders redone," says Murray, recounting the physical trauma of his PBR years. "Being a bull rider is comparable with being an NFL running back, as far as career lifespan. A 32-year-old bull rider is an old man. And when I say it's comparable with being an NFL running back, that's if everything goes right. When things don't go right, it can be 1,000 times more catastrophic."
Few have faced these risks as often as Guilherme Marchi. The Brazilian-born Marchi, who's ranked 30th in the world, is the first PBR competitor to reach the 500-ride mark and is closing in on 600 as he veers toward retirement after 13 years on the circuit. Ranked third all time in PBR prize winnings ($5.1 million), the 34-year-old is a resilient athlete who has suffered his share of torn ligaments and ripped tissue yet still has the stamina and mental toughness to sit in a chute, take a deep breath, and brace for liftoff. "I have had a blessed career," says Marchi in a thick accent. "I'm now 34 years old, and I'm still enjoying it. I love what I do!"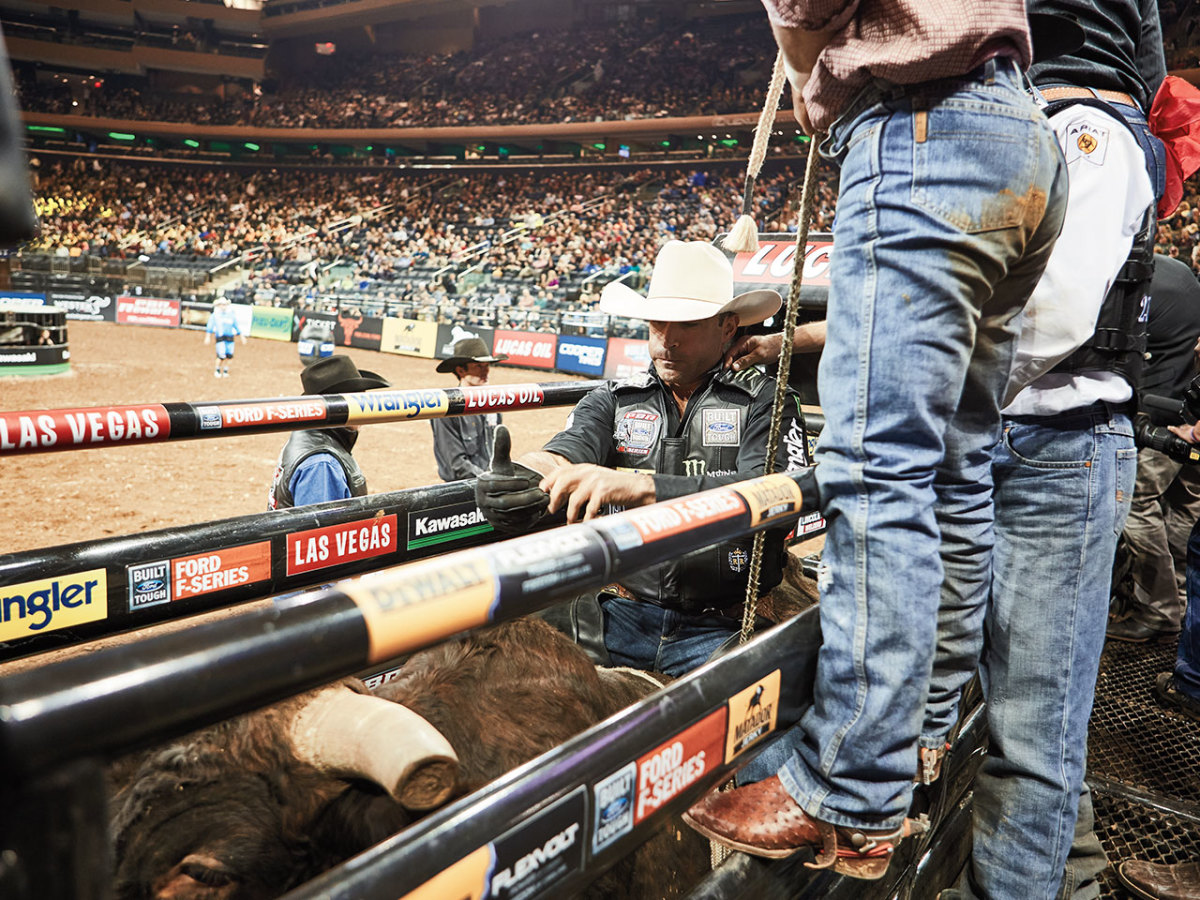 At 6′ and 198 pounds, a good size for a bull rider, Marchi has benefited from a smart, effective training program that's helped him become one of the most consistent PBR riders in history. He's also a symbol of the international appeal of the sport and its potential to reach far-flung markets in South America, Australia, and beyond.
The PBR currently has riders from six countries—U.S., Canada, Brazil, Mexico, Australia, and New Zealand—who compete in major markets around the country, gradually disabusing a wider audience of the crude rural stereotypes that have clung to rodeo events for decades. PBR is a well-organized, professional league that serves a diverse demographic (in the early years, women ages 24-44 made up about 60% of the sport's audience). Broadcasts of PBR events earn strong ratings of their approximately 50 showings on CBS and CBS Sports Network each year, and word of mouth after live events continues to contribute to its explosive growth. Currently, PBR conducts more than 300 bull riding events each year.
As with NASCAR, the element of risk is part of the sport's appeal, but tragic injuries and fatalities are almost nonexistent, thanks to equipment improvements and other safeguards put into place. But make no mistake—there's enough danger in a night of PBR rides to impress even Ernest Hemingway.
For access to exclusive gear videos, celebrity interviews, and more, subscribe on YouTube!