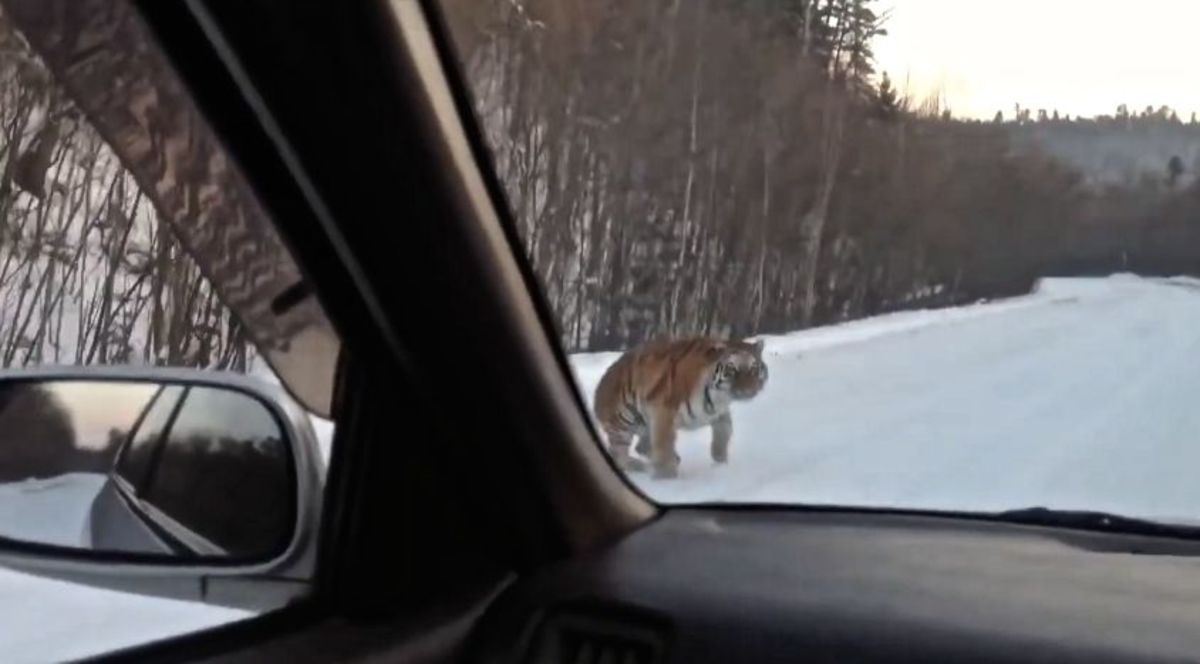 The population of wild Siberian tigers is said to be less than 600 worldwide, so one wouldn't expect to casually encounter the endangered species, even in the forested regions of southeast Russia where they mostly reside.
So when some Russian motorists were driving along a snowy road in a forested area and came across a big cat in front of them, they were quite surprised, as evidenced by their reactions.
They were further surprised and thrilled over what the big Siberian tiger did next:
When the rare video provided by Sergey Popov first begins, it shows the Siberian tiger standing in the middle of the road before lying down. As the car approached, the animal stood up and stared down the vehicle before starting to run alongside for a bit, much to the delight of those in the car.
Eventually, perhaps afraid of what the Siberian tiger would do next, the motorist sped up and left the largest cat in the world behind.
According to National Geographic, Siberian Tigers are renowned for their power and strength.
"They are powerful hunters that travel many miles to find prey, such as elk and wild boar, on nocturnal hunts," NatGeo wrote. "Tigers use their distinctive coats as camouflage (no two have exactly the same stripes) and hunt by stealth. They lie in wait and creep close enough to attack their victims with a quick spring and a fatal pounce."
In this instance, the Siberian tiger appeared to be ready to pounce, but fortunately, it recognized that this prey was uneatable — at least on the outside.
More from GrindTV
Kelly Slater on GMOs, 9/11 and the upcoming election
CJ Hobgood in the hectic life after pro surfing
Take a peek inside some of our favorite adventuremobiles
For access to exclusive gear videos, celebrity interviews, and more, subscribe on YouTube!