"I don't really pick up football books," Rashard Mendenhall says, walking into Small World Books, in Venice, California. "I feel like, whatever's in there, I lived it." Mendenhall was the starting running back for the Pittsburgh Steelers in two Super Bowls, but last year, at age 26 and still in his prime, he walked away from the game to become a writer. On this spring day, he is an anonymous customer, scanning the fiction section in tortoiseshell sunglasses and leopard-print Nike midtops. He grabs a Gil Scott-Heron novel about the civil rights movement, and asks another customer about a few Jonathan Franzen titles. The best book he's read lately is The Prophet, by Kahlil Gibran, the early-20th-century Lebanese-American writer. "It's dope," he says. "What I like about his writing is the balance of secular and spiritual." Mendenhall passes a shelf of screenwriting guides. "I feel like you can self-teach yourself anything," he says. "Anything I want to learn, I just OD on it, and pick it up."
Mendenhall spends his days a few miles north of here, at HBO's West Coast headquarters, working as a staff writer on the show Ballers, which premiered in June. Dwayne "the Rock" Johnson stars as a recently retired pro, forging a second career as a financial adviser to young players. Mendenhall's literary interests, plus his firsthand knowledge of life in the NFL — the stuff fans don't see — make him an essential asset for a show that explores the turbulence of even the most successful NFL careers.
After a year hunched over a laptop in a room full of writers, reworking story lines and punching up dialogue, his sizable biceps no longer stretch the seams of his short-sleeved maroon oxford. Physically, he misses "feeling like a superhero," but he is stumped to think of anything else he regrets leaving behind. Life has only gotten better after football. "A lot of guys feel that way," he says. "More than people think." In the span of two weeks this spring, five NFL players under 30 retired for various reasons. "I wanted to walk away the second I was ready," Mendenhall says. "I didn't want to crawl away."
In 17 years of football, Mendenhall never suffered a concussion, but he tore ligaments, sprained both shoulder joints, and played through a quad contusion for most of his pro career. His right hand, which carried the ball, is more or less intact, but the pinky finger on his left, which grappled with strong safeties, is permanently bent like a fish hook. Once, at the University of Illinois, he hobbled to the team facility with a broken ankle, and the coaches told him to suit up for a scrimmage anyway. "My shoe is taped to my fucking leg, and I played in a scrimmage," he says. Mendenhall's abbreviated six-year career was still twice that of the average NFL running back.
But he learned early on that football is a fickle profession. His first start as a rookie came after the team's running back, Willie Parker, suffered a season-ending knee injury. "Fans were like, 'We can't wait to see you start. You're better than Willie Parker," Mendenhall says. "I haven't put on a helmet. This guy's a two-time Pro Bowler, and you're already giving me the world? I saw that, and I knew it was gonna happen to me, too."
Mendenhall also grew frustrated with the off-the-field demands placed on NFL players. The conservative nature of the league, especially in Pittsburgh, felt stifling. Once, the Steelers wanted him to answer several personal questions for a video feature. When they asked for a favorite book, Mendenhall offered The Autobiography of Malcolm X. Eyebrows raised. "They were like, 'Yeah, we can't put that. Do you have another one?'  " Mendenhall says. "I could have said Quiet Strength by Tony Dungy, and it would have been acceptable. But I'm like, 'You walked up to me, asked me my favorite book, and it wasn't OK?' "
In 2013, Mendenhall signed a one-year, $2.5 million contract with the Arizona Cardinals. After starting 15 games that season, he could have signed another deal, but his interests beyond the field — travel, reading, writing — had become more satisfying than football. "I wanted to be in my solitude, where I can put stuff together and create," he says. "I wanted people to know me for my work." He consulted a former Steelers teammate, Baron Batch, who had retired a year earlier, at 25, to become an artist. He encouraged Mendenhall to get out. "The NFL takes control of your life," Batch says. "Most guys are tired of it after they play a few years. It takes all of you."
That spring, Mendenhall published an essay in the Huffington Post announcing his decision to retire. Fans were bewildered — some even irate — but many fellow players were empathetic. Mendenhall got a congratulatory text from a friend who had just signed a long-term deal worth more than $50 million. He was jealous, Mendenhall says.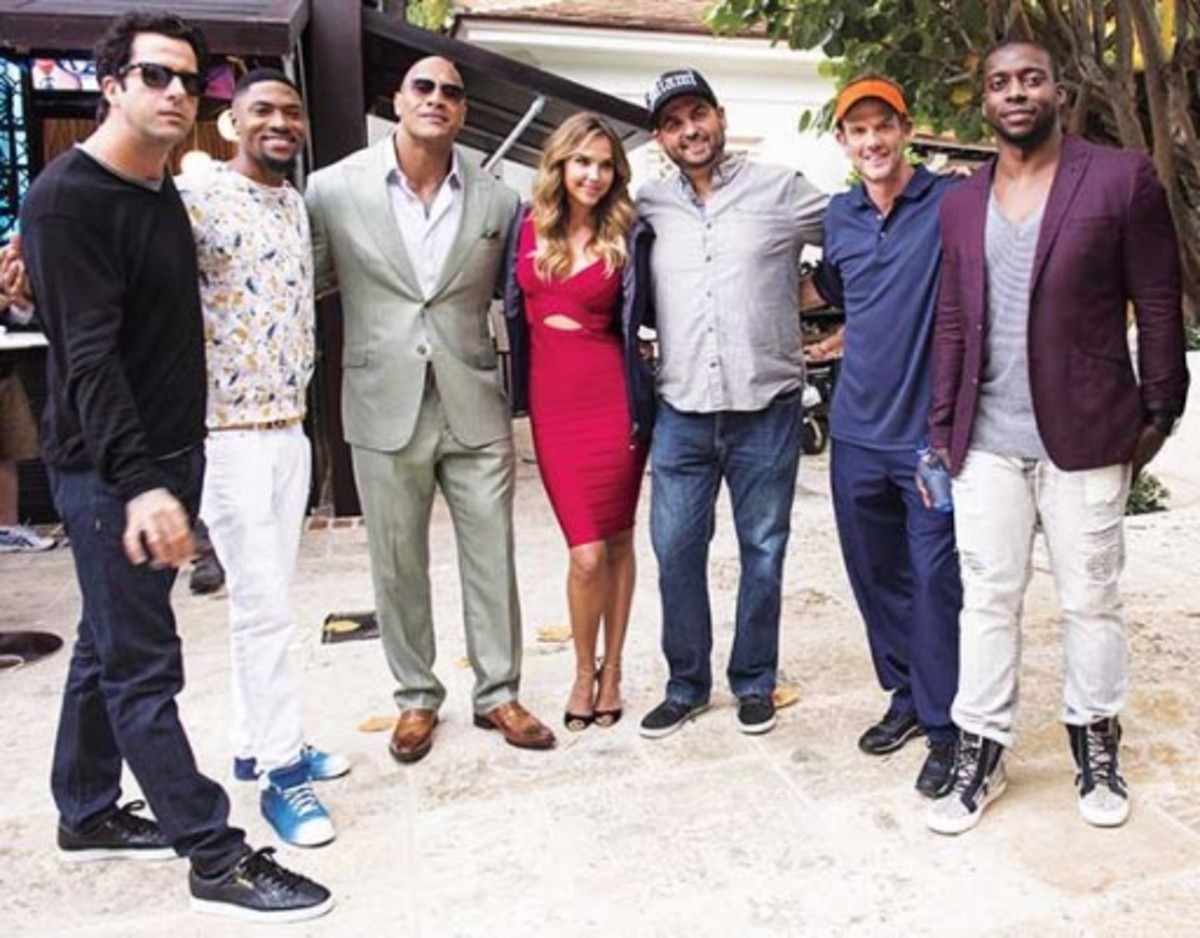 (Photograph Courtesy HBO)
After the essay, Mendenhall heard from literary agents and book publishers, but the most intriguing call came from HBO, which, along with a team that includes Johnson, Mark Wahlberg, and Peter Berg, was developing Ballers. Mendenhall had recently written a screenplay based on a Gibran short story. He liked the form but was wary of a series that claimed to go behind the scenes of the NFL. "As a player, when you see these shows about football, it feels so outside-in — just one big party without the real stories," he says, noting that Playmakers, the Nineties ESPN drama about life in pro football, had missed the mark, too. "I've never seen somebody do coke before they go out on the field." (ESPN canceled the show under pressure from the NFL.)
Of course, Mendenhall admits, there were parties. The wildest were the ones rookies are expected to throw at the start of each season. Mendenhall recalls a young offensive lineman making the mistake of giving his credit card to Steelers quarterback Ben Roeth­lisberger. "Ben just did the whole thing," Mendenhall says. "One night — the rookie ended up with a $25,000 bill from the club."
When HBO offered Mendenhall a three-week contract, he assumed that would be it. "Coming from football, you know you can get cut at any moment," he says. His first job was vetting the accuracy of action sequences on the field, as well as the behavior of young millionaires off it. For a scene at a club in which several players sit around discussing a woman's chest, Mendenhall told his fellow writers, "That doesn't feel natural — they'd be talking about her butt." He was brought in as a full-time writer for the rest of the season.
"Rashard just had a different point of view than other players we talked to," says one of the show's executive producers, Evan Reilly. "He's so thoughtful and introspective and curious, and he's got real creativity."
Mendenhall has since helped shape the show's story lines and characters. He is most excited about the portrayal of Johnson's retirement struggles, including the effect of all those tackles on his brain. (Johnson actually played on the defensive line for the University of Miami in the early Nineties.) "You see this guy who's larger than life, conquering everything, and then you see a moment where he's facing his fear," Mendenhall says. "That takes you to the completely other side of being invincible, to the humanness of it."
Mendenhall recently sold his condo in Chicago and moved into a townhouse in Santa Monica. (At a restaurant just off the beach, he has trouble choosing between the tuna tartare tacos and a kale salad.) A number of former teammates and opponents have dropped by the set and expressed envy of his new life.
"I always wanted to make movies," says Terrell Suggs, a linebacker for the Ravens, who spent a week with Mendenhall in the Ballers writers room. "I'm definitely gonna pick Rashard's brain about the business."
One weekend afternoon last fall, Mendenhall got stuck in traffic in Chicago and couldn't figure out why the streets were so crowded.
Then he noticed a sea of Bears jerseys. It was Sunday. A hundred men would be gathering in a nearby stadium to play a football game for millions of viewers. "Not for a second did I feel like I wanted to be back out there," Mendenhall says. "I already lived that. It was complete for me. The tough part is trying to wrap my head around where I'm at now."
For access to exclusive gear videos, celebrity interviews, and more, subscribe on YouTube!