Ardeshir Radpour, a stuntman on CBS's action series SEAL Team, was crumpled on his couch, spent after a 4 a.m. call time when he got a call. It was Thursday evening, Nov. 15. Southern California was being ravaged by wildfires and there were horses trapped in its path.
"I hopped into my truck and sped out as fast as I could," Radpour, a longtime horse rider who plays polo professionally, tells Men's Journal. His rig, a Ford F-350 Super Duty pulling a six-horse trailer, was a welcome sight for the equestrian community of Hidden Hills. "I was out there until about 2 a.m., and we were able to get a couple loads out before they closed the roads."
Radpour isn't part of an official organization or program dedicated to this type of work; instead he's part an unnamed collective within the horse-riding community who pick up the phone when friends need help getting their animals out of the path of these destructive fires. And as Radpour notes, he finds himself getting the call more often these days.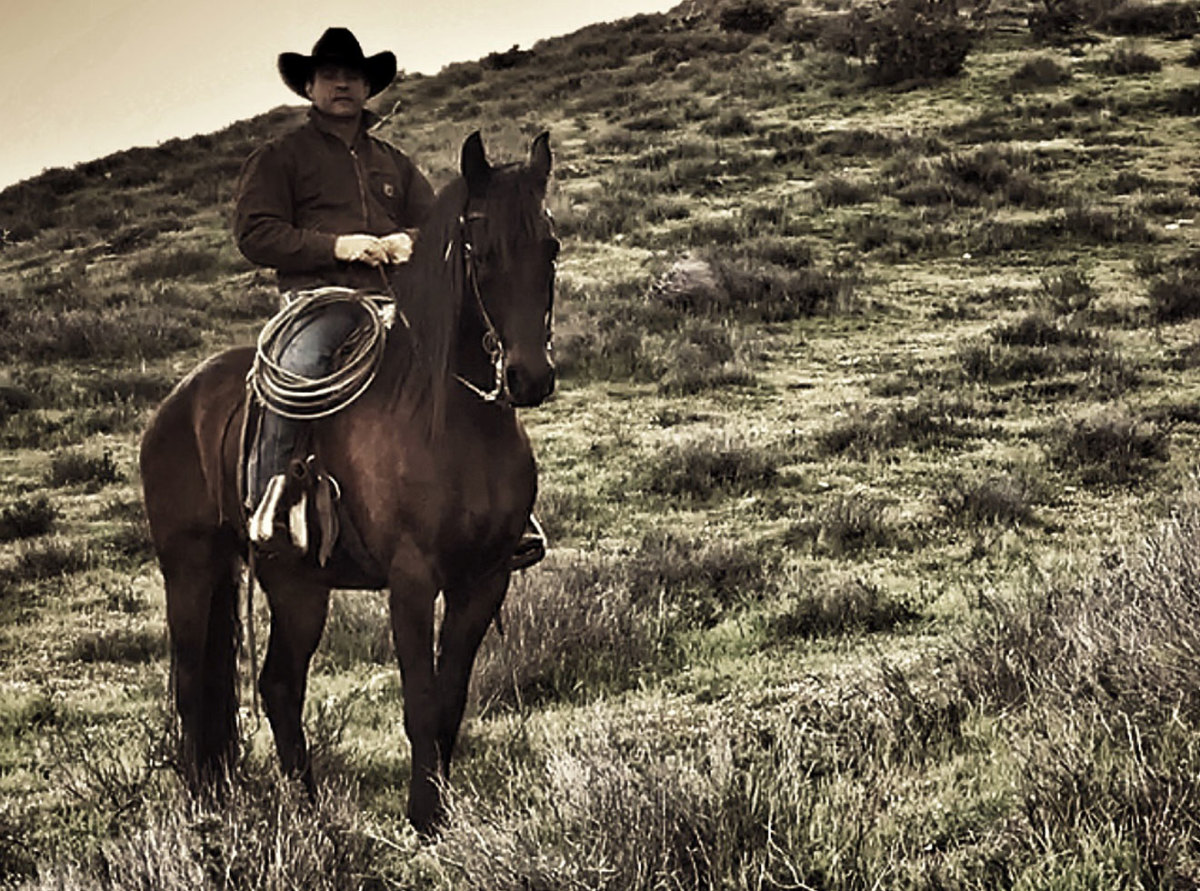 How long have you helped people in this way?
The community out here is a small one, and everyone knows each other. I started back in 1998—just jumping into trucks with other people and helping them load the horses. I got my own rig in 2000 for my polo horses, and that allowed me to really help the rescues a lot more.
What was the first big fire you remember?
The first big one I remember was back in 2004, when I was in my rig on my way to a polo game. I ended up having to play while the fire was going on, but after I got my horses into one of the stalls and used the rest of the space for the animals that needed saving. There were about three big rigs working together, and our phones were ringing off the hook. We spent hours picking up horses and bringing them to safe barns or fields out of the way. That was a learning experience, but it was still impressive how fast everyone mobilized.
How often have you gotten that sort of call?
There were a few years after that one before I got another call, but they've been happening more and more often. Last year a friend and I probably moved about 300 horses away from the fires.
How did you guys deal with rescuing horses in the ongoing California wildfires?
This time around it was a little different because the fire crept around Agoura Hills toward the 101 and Santa Monica Mountains. You need to take these narrow, winding roads to get down there, which makes it difficult logistically for the bigger rigs. I got the call to go down to Hidden Hills, an equestrian community, and it was urgent. We grabbed a few loads of horses and got out of there, then couldn't get back in. The roads were shut off. Luckily everyone managed to find there way out.
Do the horses understand that you're helping them?
They behave just like people. Some stay level-headed in these situations and there are some that just lose it. Then it gets more dangerous, because you can't catch them. Hopefully you can help the owner get that horse into the trailer first or let the horse see the rest of the group go in and know that it's going to be alright. You have to remember there's much more going on beyond the fire. There's insane traffic, fire engines with their sirens blaring, and helicopters or planes flying low-level overhead. You see people panicking in these situations too, and they're more aware of what's happening.
How quickly do the fires move?
It's easy to underestimate how fast these fires can spread. An ember can flow with the wind maybe a mile away and you will just see a fence line pop into flames like sorcery. If you can smell the fire, you're in it.
These fires took out a Hollywood institution you worked on, right?
I was supposed to work at Paramount Ranch about two weeks ago for Westworld, but ended up having to do a day on SEAL Team. In Westworld, I got to ride horses as part of Hector Escaton's gang in the "Paint It Black" episode during an epic robbery. I didn't believe that it actually burned when a friend sent me photos. I thought it was a horrible mistake. Once I took a closer look and saw the church among the other buildings, my stomach sank.
How do things stand now for the community?
I have a lot of friends that don't know when they're going to get back home. I know four people who just lost everything, and two riding facilities that are completely gone. I don't know how many horses they house, but they don't have a place to go back to. This situation gets complicated because even when I'm thinking of driving out places to help, there's another side of the fire that could head in the direction of my horses and my stalls. One thing I know is that my community will be there for me, just like I'll be there for them and these animals.
For access to exclusive gear videos, celebrity interviews, and more, subscribe on YouTube!