"Doug and I were both overly cavalier about jumping into dangerous things," says Yvon Chouinard, founder of Patagonia and a lifelong friend of Douglas Tompkins, the pioneering conservationist. "It's almost as if we've had a subconscious wish to invite catastrophe so we can try to get out of it."
For nearly five decades they managed to do just that. But in December, the 72-year-old Tompkins and Chouinard, along with climber Rick Ridgeway and three others, were on a five-day, 50-mile kayak paddle in southern Chile when the group ran into what Chouinard calls a perfect trap. "We had 40-mile-per-hour winds at our back," he says. "Then we got this side wind, so we had huge waves coming in on either side."
Chouinard paddled safely to shore, but Tompkins and Ridgeway, sharing a two-seater, capsized 200 yards from land, in water below 40 degrees. The pair tried repeatedly to right the boat. When that failed, they swam. Ridgeway grabbed a loop of rope on one of the other kayaks and was pulled to shore. Tompkins, however, had spent nearly two hours in the water by the time he was rescued. He died from hypothermia at a nearby hospital.
ALSO: The 2.1 Million Acres in South America Protected by Doug Tompkins

Tompkins, who founded The North Face and co-founded the Esprit clothing company, lived a life of such relentless adventure, and in the company of such illustrious friends — including Tom Brokaw and the novelist Thomas McGuane — that he was a near-legendary figure in the outdoor world. For half a century, Tompkins claimed new climbing routes on big mountains, surfed throughout the Western Hemisphere, and made first descents on whitewater rivers around the globe. Tompkins and his second wife, Kristine McDivitt Tompkins, also rank as the greatest private wilderness conservationists of all time, having bought and preserved 2.2 million acres of mountains, rivers, and rain forest in Chile and Argentina, an area equivalent to about three Yosemite National Parks.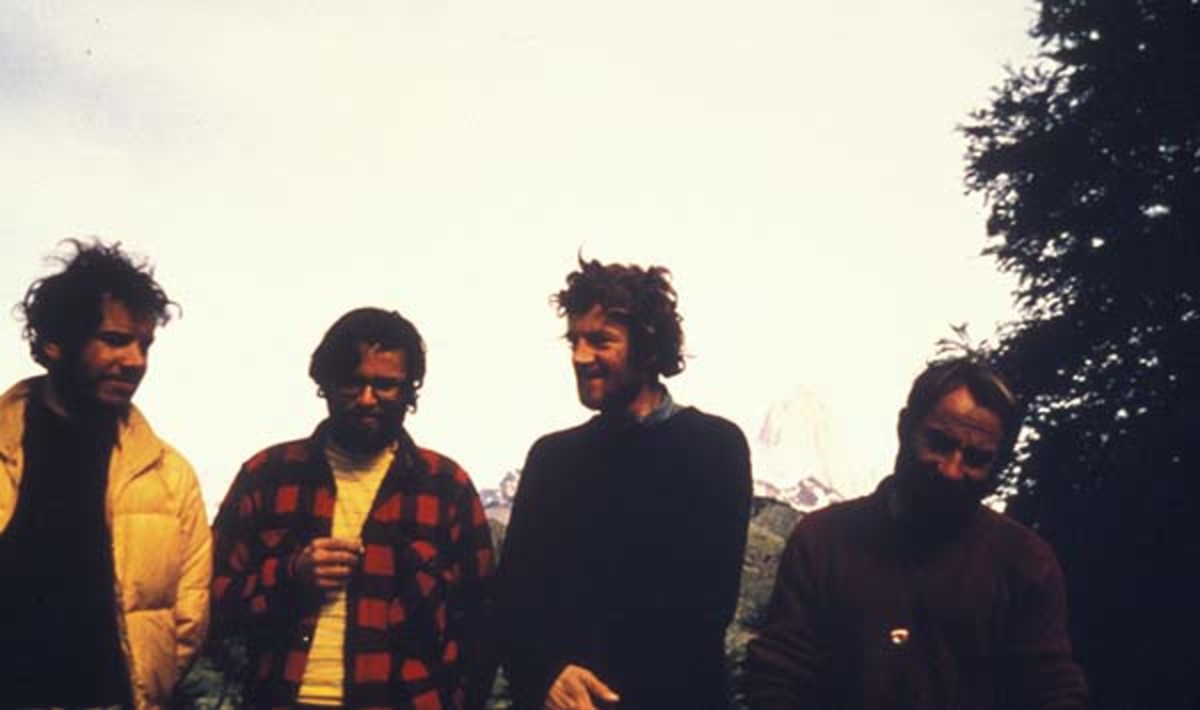 (Tompkins, Dorworth, Jones and Chouinard in 1968. Photograph Courtesy Chris Jones)
Born in 1943 in Conneaut, Ohio, Tompkins displayed an almost intractable restlessness his entire life. As a teenager, he got kicked out of his Connecticut prep school and took off for South America to train with the U.S. ski team. While there, he borrowed a motorcycle to ride across Chile. Next, Tompkins spent various parts of two years rock climbing in Europe, Colorado, and California.
Those trips convinced Tompkins that he could make better outdoor equipment than anything on the market. So in 1964, at the age of 21 and with his first wife, Susie Tompkins Buell, he took out a bank loan to start The North Face as a mail-order catalog. Among other innovations, Tompkins created the first domed tents held up by bendable poles.
In 1966, Tompkins opened a brick-and-mortar retail shop in San Francisco's North Beach neighborhood, next to an infamous strip joint called the Condor. The Grateful Dead played at the store's opening, and beatnik poet Allen Ginsberg and jazz trumpeter Dizzy Gillespie often dropped by the store.
At the time Chouinard, who first met Tompkins climbing as a teenager, was a private in the Army and stationed nearby. "Doug would call up and scream at my commander, 'Hey, damn it, this is colonel so-and-so! Where the fuck is that Chouinard! I want him down at the baseball diamond right now!' " says Chouinard. "Doug would be waiting for me with a motorcycle and a change of clothes. He had absolutely no respect for authority."
Soon Tompkins was itching for another ambitious project. So in 1967 he sold The North Face for $50,000 to become a filmmaker like Bruce Brown, whose The Endless Summer had recently become a global hit. He bought a 16mm camera and, with Chouinard, climber Lito Tejada-Flores and ski racer Dick Dorworth, packed an old Ford van with surfboards, skis, and gear, and drove 8,000 miles from California to Argentina.
That trip's holy grail was Mount Fitz Roy, a 11,000-foot rock tower in Argentina where they were trapped by storms. "We spent 31 days in a snow cave, and that's grim," Chouinard recalls. When the storms finally cleared, they made the first ascent of the now-classic California Route, with Tompkins yelling repeatedly at Tejada-Flores, their designated cameraman, "Hey, Fellini, how about getting some footage?" Tompkins' eventual movie, Mountain of Storms, never achieved commercial success, but it inspired a generation of outdoor-adventure road-trippers.
While Tompkins was gone, his wife, Susie, started the company that became Esprit. "Women's fashion was not first on Doug's list of things to be interested in," says Dorworth, "but he was interested in running a good business." By 1978, they had boosted annual sales at the company to more than $100 million.
Eventually, though, Tompkins grew tired of making clothing, and his marriage had begun to fray. In 1989, Susie bought him out of Esprit for $170 million, and Tompkins turned all of his intensity, and most of his new wealth, toward conservation. He already loved Chile and Argentina, from all his trips to Patagonia, and land there was cheap, so he and Kristine — a former Patagonia CEO who Tompkins married in 1993 — began acquiring immense swaths of it. At the time in South America, there was no precedent for private individuals — much less foreigners — spending gargantuan sums to save wilderness. "People thought he was a spy at first," says Claudio Seebach, a former adviser to Chilean president Sebastián Piñera. "Nobody believed he would really give the land back."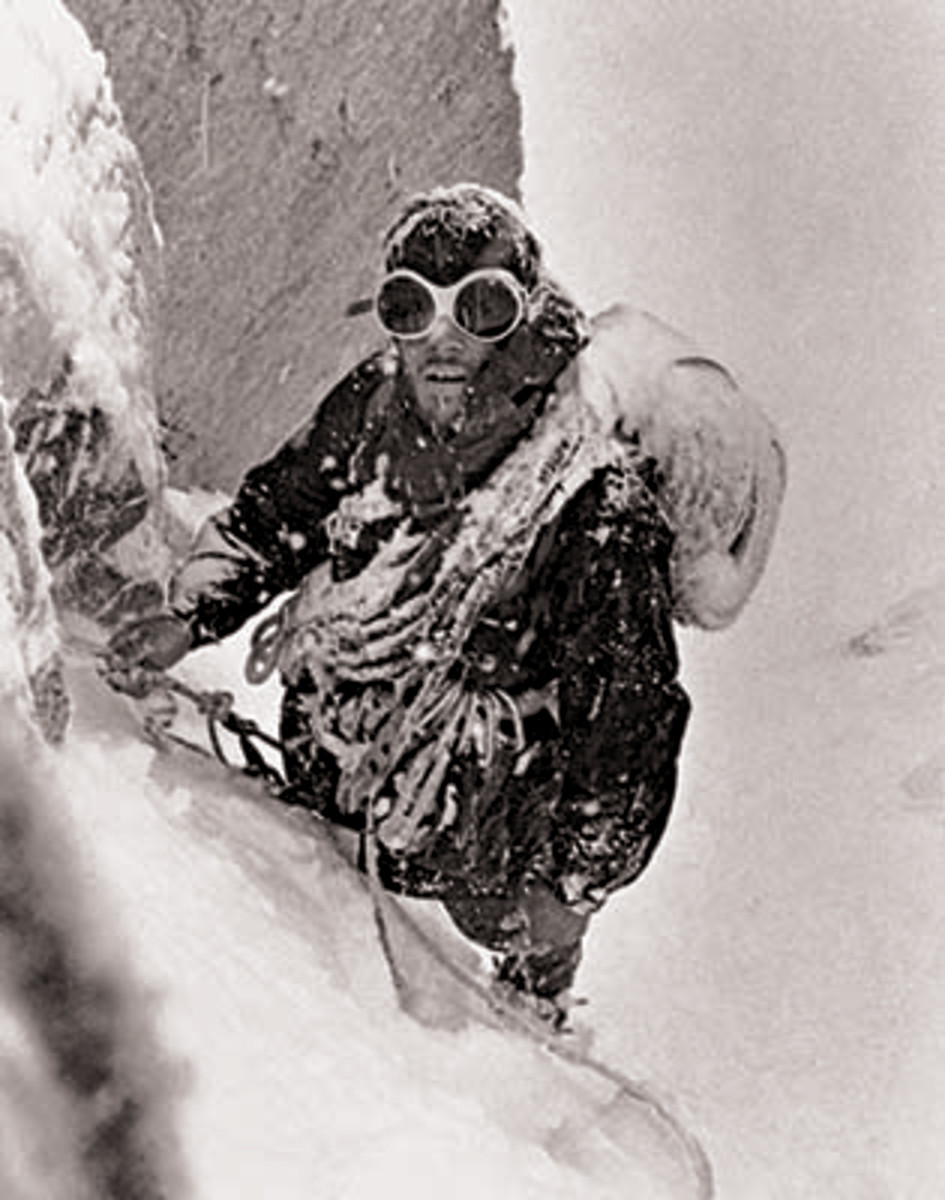 (Tompkins climbing Mt. Fitz Roy in 1968. Photograph Courtesy Chris Jones)
Tompkins' convictions never wavered. "Conservation is not without its critics and opposition," he acknowledged in an interview just before he died. "There are a lot of special interests that don't want to see land set aside." That opposition grew especially intense when Tompkins bought a parcel that effectively bisected southern Chile. "Doug got accused of being a Nazi or planning to bring down girls and give them abortions," Chouinard says. "For a while, he and Kristine had to live in the American embassy to hide out."
But perceptions changed once Tompkins began deeding the land to the public: By 2015, he had created three national parks in Argentina and two in Chile, and he was pushing for the creation of several more. One of these, Parque Patagonia, is on track to cover 650,000 acres of mountains just south of 90-mile-long General Carrera Lake. It was there that Tompkins and Chouinard set out on their final paddle together.
"We just weren't prepared," Chouinard admits now. "I mean, he was dressed in pressed chinos, a Brooks Brothers shirt, a light sweater, and a rain jacket. Like that Zen painter who always leaves part of his painting unfinished, we always left room for disaster."
One area in which Tompkins was not cavalier, of course, was land preservation, and after news of his death spread, Tompkins' grand vision for his holdings got one more boost. "The presidents of Argentina and Chile called," says Chouinard, "and said, 'Hey, let's get the rest of these parks done.' " 
For access to exclusive gear videos, celebrity interviews, and more, subscribe on YouTube!