In 2008, Antawn Jamison was averaging a double-double for the Washington Wizards. He was a 10-year NBA veteran at the time and he was invited to play in the NBA All-Star Game in New Orleans. Just three years removed from the devastation of Hurricane Katrina, the massive rebuilding effort was still underway, and as a native of nearby Shreveport, Jamison's All-Star appearance was a homecoming game that left an indelible impression.
Every year during NBA All-Star Weekend, players and coaches participate in all kinds of community outreach projects though NBA Cares. For many, this is nothing more than a photo opportunity and a mandatory appearance doing something good for the host city. That weekend Jamison paired with KaBOOM!, an organization that builds playgrounds for areas in need.
"It brought me back to my childhood," he says. "It brought me back to being a kid, being able to go out to the local park or the local basketball court. That was pretty much my sanctuary. I didn't run with the wrong crowd. I wasn't dealing with gangs. It was about having a place to go, no matter if it was raining or sunny, and being able to be a kid and have a great time."
KaBOOM!, founded in 1996, is a national non-profit dedicated to promoting children's play in communities where there is a dearth of safe areas for neighborhood kids. KaBOOM! zeroed in on Gulf Coast cities like New Orleans that were ravaged by the storm, and in the 10 years since the floodwaters claimed almost 2,000 lives, it has helped to rebuild 170 communities.
"Five or six hours out of my day working and putting together these playgrounds is going to make a world of difference," Jamison says. "It's not about writing a check. It's about participating and seeing this project come together, and when you go to bed, you have a smile on your face because you know you put in the work to make the lives of kids and their community a little brighter."
Since 2005, KaBOOM! and its partners have invested $21.4 million and built 194 playspaces across the Gulf Coast that serve close to 300,000 kids. The first playground build took place 100 days after Katrina, on Dec. 17, 2005 in Bay St. Louis, Miss. One week after it was built, the residents spent Christmas at the playground, grilling holiday dinners. In many areas, the playgrounds were the first permanent structures to be rebuilt.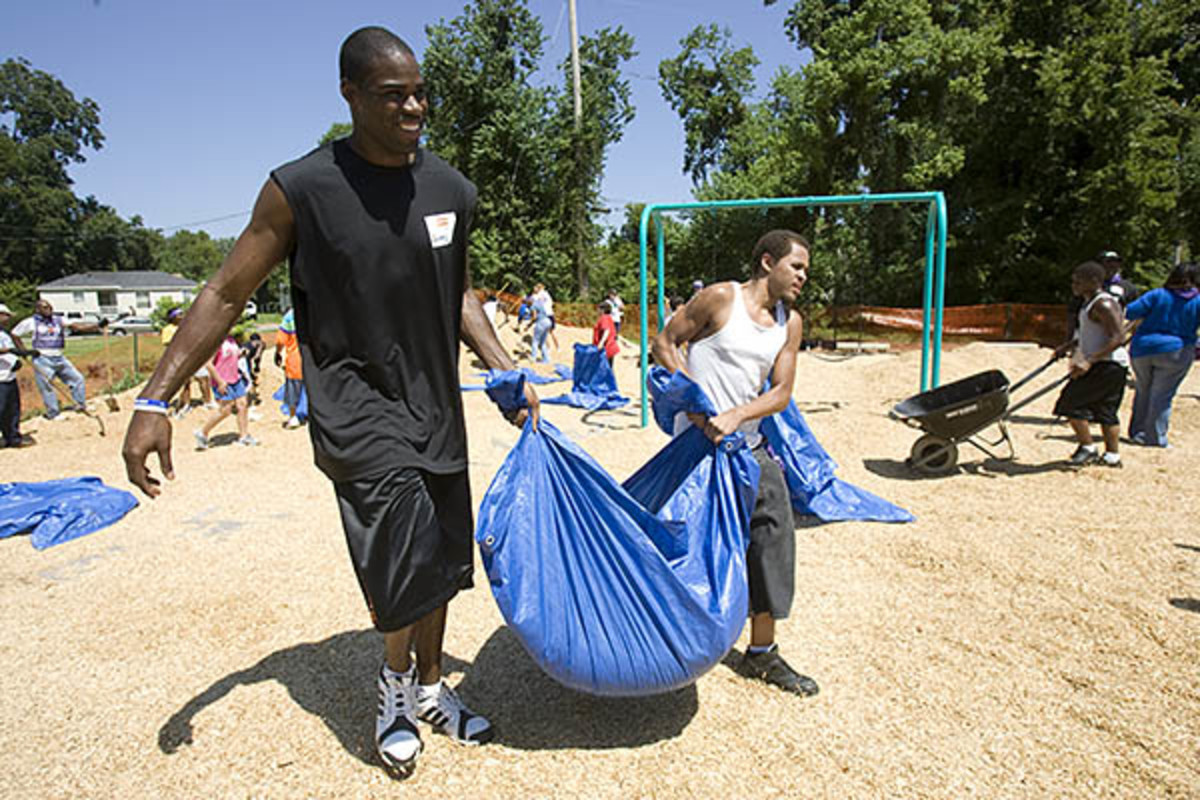 "Many believed it was too early and people needed to get back on their feet first," KaBOOM! founder and CEO Darell Hammond said in a statement. "Play just wasn't a priority at the time, so we decided to take a risk and invest our own resources to put the needs of kids first. The support from the community was remarkable. More than 600 engaged, caring adults showed up to transform an empty lot into a family-friendly playspace that united and strengthened a community torn by disaster."
The idea is that freedom to play has a profound impact on children. Studies have found that playtime fosters creativity, nurtures brain development, builds self-confidence, and strength, and is also therapeutic for children dealing with anxiety issues. In the aftermath of Katrina, the need for playgrounds, which can also serve as a social hub, was apparent.
KaBOOM! addresses that need with lightning-fast efficiency. The organization builds playgrounds in designated areas in less than a day. And these aren't just a set of monkey bars and a swingset. KaBOOM! erects state-of-the-art climbing walls and sophisticated playspaces with the help of guys like Jamison, who is now an influential spokesman for the organization, and members of the community who will use the playground for years to come.
"There's nothing like seeing pieces of a playground laying there on the ground and not quite understanding if this is going to happen. And then the community comes out to help and volunteer and participate," Jamison says. "Don't get me wrong, man, when you are done, you are dead tired and sore because it's a lot of lifting and moving."
In the aftermath of natural disasters, play becomes even more critical to recovery because it creates a sense of normalcy and provides an emotional outlet for kids. After the May 2013 tornadoes in Oklahoma, companies like Nike partnered with KaBOOM! to rebuild those communities. To date, five playgrounds have been rebuilt at Plaza Towers Elementary School, which was one of two schools completely destroyed by the disaster.
"We're in the days of video games and social networking, and I have four kids of my own, and believe me, you gotta fight them sometimes to go outside and play," Jamison says. "It wasn't like that at all when I was growing up. You had to fight to stay outside from not coming in the house." All these years later, Jamison is still fighting to stay outside and play.
For access to exclusive gear videos, celebrity interviews, and more, subscribe on YouTube!