Editor's Note: Mountaineer Tomaz Humar was considered by many to be the premiere climber of his generation. The Slovenian showed no fear and lived as a hero in his home country. Humar died on a solo ascent of Nepal's Langtang Lirung in 2009, after numerous escapes from death. Our feature story by Jason Daley recounts his failed 2005 mission on Nanga Parbat that saw him rescued after six days in an ice cave at 21,000 feet. 
Natasa, the psychic, was picking up a green aura, a sign that Pakistan's 26,658-foot Nanga Parbat, the ninth-highest mountain on earth, was in a foul mood. It didn't take mystical powers to see that the peak's upper reaches were shrouded in a deep gray cloud, obscuring the Rupal Face — one of the largest and highest alpine walls in the world. Yet at the base of the peak, in the grassy camp where locals grazed their sheep along the banks of a glacial stream, Slovenian alpinist Tomaz Humar relied on Natasa's counsel to plan his next move. He was anxious to head up the mountainside at the first hint of clear skies.
Humar, hyperactive by any measure, had been particularly restless the past 10 days. Nanga Parbat's fickle weather had kept him camp-bound for weeks back in 2003 during an attempt on the 13,450-foot-tall Rupal Face, and he was beginning to suspect another shutout. The frustration was grating on him — even clouding his judgment. A few days before, he had wanted to set off into the storm cloud, in violation of one of the cardinal rules of mountaineering: Don't ascend into bad weather. Expedition cameraman and longtime friend Stipe Bozic managed to talk him out of the suicidal idea, but Humar was still in grave danger of becoming another Nanga Parbat statistic. The mountain had swallowed upward of 60 climbers in the past century, many of them casualties of the weather, and even in bluebird conditions it had repeatedly proved deadly.
Humar's frustration stemmed from the fact that he wasn't on Nanga Parbat just to tick off another 8,000-meter peak (he'd already climbed three). No, he was on an alpine pilgrimage. He believed the massif had singled him out and summoned him from halfway across the globe to come and climb. He was there now to learn why the Killer Mountain (as it's been called by climbers) had beckoned him for a second time.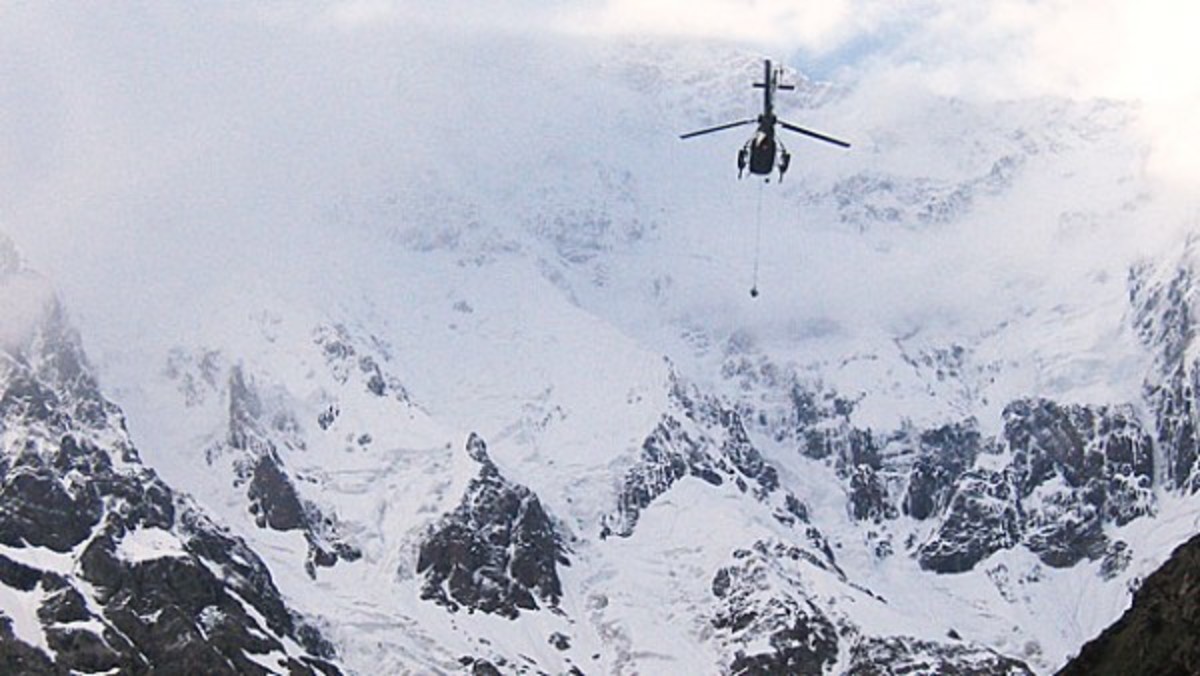 (A rescue attempt launched by the Pakistani Army.)
Unlike other alpinists who spend years — sometimes decades — mapping out their careers and climbs, Humar's approach is far less structured. Convinced that mountaineering is as much a mental and spiritual pursuit as it is a physical one, he's invested equal time reading books on meditation, spirituality, and philosophy as doing pull-ups and practicing his knots. In fact, the climbing lessons he has given to young alpinists in Slovenia are notoriously odd — he has required students to watch spiritual noir films like 21 Grams and read the philosophical novel The Unbearable Lightness of Being. His studies have convinced him that all mountains have souls, and in the past decade the spirits of Annapurna, Ama Dablam, Nuptse, Dhaulagiri, El Capitan, and Aconcagua have given him the go-ahead to climb. This New-Ageyness resulted in some of the most brilliant climbs ever done. Over the last decade and a half he completed 1,200 routes, including 60 solo ascents. His specialty is putting up new routes on high-altitude virgin faces, many times alone and alpine-style (which means carrying only enough food, fuel, and equipment to get up and down as quickly as possible). His climbing style is defined by a tendency to recklessly push into bad weather, ignore turnaround times, and follow risky lines. It has earned him both contempt and respect. Reinhold Messner, among others, cited him as the greatest climber of the current generation.
Humar's pièce de résistance was Dhaulagiri. After receiving the mountain's call, he climbed its 13,000-foot south face alone over nine suicidal days. Blood soaked through his gloves as he ascended more than two vertical miles, at times dry-tooling (climbing bare rock with his ice tools and crampons) steep faces of loose granite. He spent a night in an open bivouac cut into an ice ledge at 25,600 feet and removed a filling from an infected tooth with a knife. But with the weather worsening, he was forced to start descending just a few hundred feet from the summit. On his return he was hailed the greatest climber in the world.
Before he came to Pakistan, Tomaz Humar had faced — and foiled — death as many times as most seasoned combat veterans. At age five he survived a vicious dog attack; at 12 an overturned truckload of heavy wooden pallets came terrifyingly close to crushing him; and in 1997 a freak gust of wind blew his climbing partner off the summit of Nuptse, but Humar was spared — even after he later burned down his tent and was forced to descend alone without goggles or a headlamp. His closest call was not in the Himalayas but in his home in Stranje, Slovenia. In October 2000, while building a new house, he stumbled into an unfinished stairwell and fell 10 feet, shattering both of his legs, causing massive trauma and bleeding. "I felt something lying on my chest," Humar recalled. "I looked down. It was my right leg."
By the afternoon of August 1, 2005, the clouds started to lift from the summit of Nanga Parbat. Despite Natasa's continued misgivings, the conditions appeared safer, and the forecast called for three clear days of weather. So Humar stamped his crampons into the ice of the Bazhin Glacier and took his first steps onto the Killer Mountain. As always, he was aggressively optimistic; he believed that the clear skies would hold for him. This time, though, he couldn't have been more misguided.
Bozic and Ales Kozelj, Humar's Slovenian climbing protégé, followed him up the route to man an advanced base camp above the glacier where they would use binoculars to help guide him through a confusing tangle of ice and snow on the side of the mountain. After a four-hour march, the team reached the camp at 13,000 feet, settled in for tea and soup, and checked the forecast again. Early the next morning, with news of continued good weather, Humar set off on the first day of his solo ascent, a long push through a tricky maze of seracs. His goal was 18,700 feet, where he planned to dig his first bivouac. For eight hours he picked his way through soft snow and ice, which was so precarious at points that he had to sprint to keep from falling through. Three times his climb almost ended when the snow fell away beneath his feet, leaving him dangling by his ice axes.
If he could make it to the bivouac site, now just 900 feet away, he knew that he'd at least be able to rest. He pushed on, walking straight into a garden of 150-foot creaking seracs, which threatened to become a death trap when a small avalanche let loose. Once again, Humar leaped to safety. At the bivouac site he dug a tiny cave in the unstable snow. Exhausted, he lay inside as melting ice on the mountain created rivulets of meltwater, penetrating the cave and soaking his sleeping bag and clothes.
At 4 am, Humar crawled out and climbed through another deadly labyrinth of seracs and falling ice. A thick fog settled on the mountain, reducing visibility to 50 feet. But with no other options — there was no safe place to stop — Humar kept going without the help of his spotters. The unstable snow fell away below his feet time and again, leaving him at the mercy of his axes. For 10 grueling hours he ice-climbed his way up the slope to 21,000 feet, where, dehydrated, exhausted, and desperate to find a bivouac site, he entered an inhospitable world of vertical snow mushrooms and ice pinnacles. As twilight darkened the mountain, Humar began sinking into a large mushroom. It was as good a place as any to stay put for a while, he thought. So he excavated a hole roughly six feet long and three feet deep in the unstable cap. On one side of the hole, a chunk of ice provided him with a target to screw anchors and clip himself in with a static line. On the opposite side, the abyss. He was perched on a column of snow that could disintegrate at any time. And yet, he still wasn't worried — he was the man who always made it home.
Extricating himself from desperate situations was his specialty — he had done it on deadly mountains like Dhaulagiri and in the war zone of Kosovo, where he'd fought — but he was usually able to take control of the situation. This time it wasn't up to him. He didn't know it yet, but nature had already taken over. Warm, humid weather had given the snow the consistency of mashed potatoes. And even if he were able to continue climbing, avalanches would have buried him in minutes. Going down through the crumbling maze would be suicidal. Staying in the hole meant waiting for the weather to break, which was not guaranteed, or freezing to death, which was. Finally, Humar was out of luck. He was stranded at 21,000 feet. There was no way out.
Back in 2000, after his fall in the stairwell, doctors weren't sure Humar would live, much less walk again. They had discussed amputating one or both of his legs. He'd splintered a femur (which later led to a severe case of blood poisoning) and shattered a heel. But Humar refused to be chair-bound — he even refused to stay put in the hospital during his recovery, sneaking out in his wheelchair to wander the streets of the Slovenian capital, Ljubljana. By 2002, after nearly a dozen surgeries and a self-imposed superhuman rehabilitation regimen, he was hobbling through the mountains against doctors' orders. That year he made his first trip to Nanga Parbat on a trekking/rehab expedition. A year later he climbed Shisha Pangma. In 2004 he and Kozelj put up the new route on Aconcagua that won him a nomination for the Piolet d'Or, mountaineering's highest honor. By the time he made it to the Rupal Face last summer, there was no outward sign that Humar was once almost permanently disabled except for a few scars hidden by his clothes.
In fact, Humar's recovery, much of which he attributed to meditation and positive thinking, came in large part from what seems to be a literally superhuman physiology (Humar claims that in a past life he was a gladiator). On the surface he has an average build — six feet tall, tan, lean, not particularly muscular. But Humar, who constantly puts himself through batteries of physical tests, discovered that he was not at all average: He claims that in 2003 the Slovenian Ministry of Sport determined he could "hit the wall" five times and still recover (most athletes can only do this once). His anaerobic threshold is 190 heartbeats per minute. During a cold test, in which he sat in a –22 degree room for three hours, his core temperature dropped to 73 degrees with no ill effects — most humans are dead at 77. In 2000, during his recovery from his fall, doctors found a lump in his abdomen that they believed was cancer. A biopsy showed that the mass was a second spleen, the organ that produces blood cells. "I don't know if the spleen works," Humar says, "but if it does it would explain a lot." If anyone had the physiological makeup to survive multiple nights in these deadly conditions, waiting for a rescue, it was Humar.
Back at base camp Bozic and Kozelj scrambled into action as soon as Humar radioed that he was stuck. Initially they didn't discuss a helicopter rescue because it was unthinkable to take a chopper on a midair rescue mission higher than 18,000 feet, and Humar was stuck almost 3,300 feet above that. Unconfirmed reports that a pilot had landed a chopper on top of Everest in May, and an available fleet of competent high-altitude flyers in the Pakistani Army, provided a shred of hope. That was tempered by how complicated and time-consuming any such rescue would be. Time was running out. The crew at base camp began working the sat phone, calling Humar's network of friends throughout the world to see what could be done. They even purposely lowballed the estimate of Humar's height to 19,350 feet to attract help.
The Pakistani Army, ready for a challenge but also wary of putting their pilots in danger, dispatched an observation helicopter to assess the situation on Nanga Parbat. After picking up Kozelj in base camp they roared off toward the mountain, planning to locate Humar's bivy and drop him food, and a line, if possible. The chopper made its way through the thin air to 20,000 feet, high enough for Kozelj to find and photograph Humar's position. But there wasn't enough power to reach the stranded mountaineer. Still, the flight was considered a success — they returned with a photo that showed Humar's position as a tiny red dot in a menacing curtain of ice and snow. With a little more juice, like an 870-horsepower high-altitude Lama, they believed they could reach the site.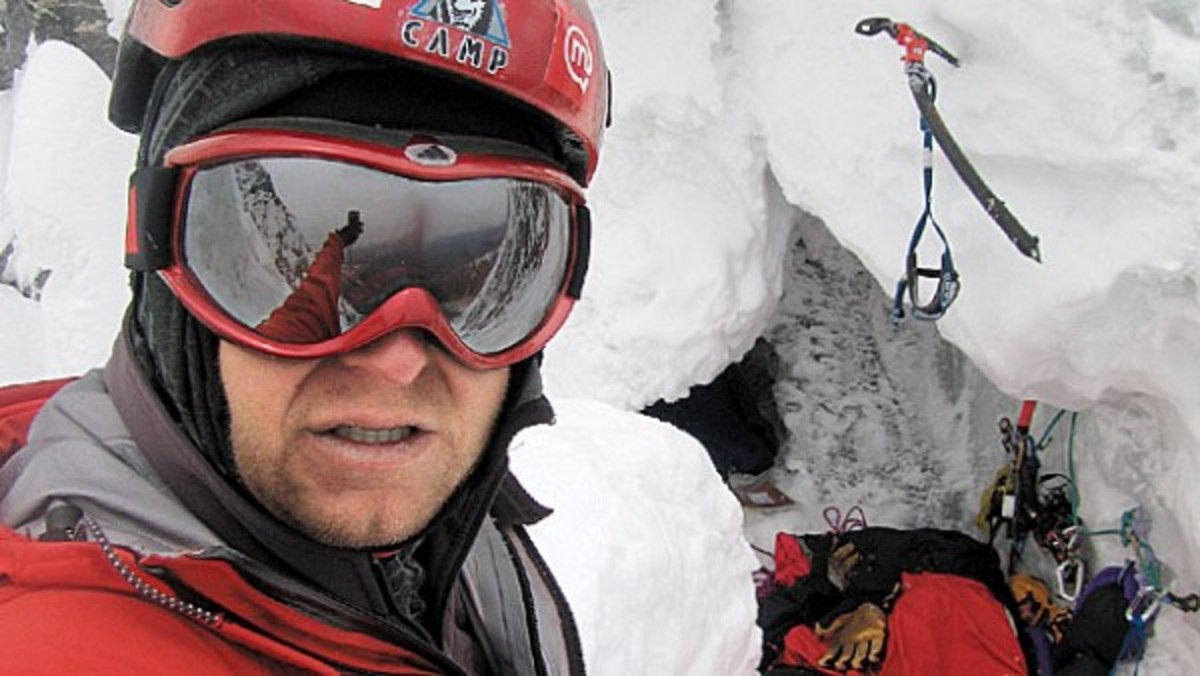 (A self-portrait snapped by Humar at 18,700 feet, where he bivouacked on Naga Parabat's Rupal face.)
The situation in the hole, however, was growing increasingly dire. Humar had been on the mountain for six days and holed up at 21,000 feet for four. Overnight the mild temperatures plummeted, and Humar's damp clothes frosted into a crusty shell. To preserve his strength — and sanity — he began putting himself into a state of semi-consciousness through meditation. The helicopter drama taking place thousands of feet below him was irrelevant — it would come to nothing if he didn't concentrate on staying alive.
To preserve his radio batteries, he only checked in every few hours. The plan was to save one-third of his food and fuel in case he was forced stay in the icy den for another week. Every time his energy flagged and he ate an energy bar, he felt increasingly guilty for wasting his supplies. Now his body desperately needed calories to stave off hypothermia. His feet were turning blue. In his tiny snow cave, though, there was nothing Humar could do to save himself. Sitting hour after hour in the hole with no chance to move around and create heat was driving him mad — the cave was the epitome of torture for a man who could barely sit still for five minutes. A climber with inferior DNA might have died already under the same circumstances.
It seemed almost inevitable — and at the same time impossible — to him that he would freeze to death as the whole world watched. There must have been a purpose to this catastrophe. This wasn't the way his story should end. Despite his New Age leanings, he began to pray the way his parents had taught him, reciting the Lord's Prayer.
At base camp they were having trouble monitoring Humar's condition. Sometimes the climber sounded morose, like he was two minutes from the end. Other times he was nearly euphoric, expressing his desire to build pediatric clinics in Slovenia and Pakistan. All they knew was that his situation was growing more urgent by the hour.
But there was hope. Three helicopters — two high-altitude Lamas and a fuel chopper — were on standby less than a half hour away. The Pakistani Army had authorized their pilots to attempt what was being billed as the highest midair mountain rescue on record. Still, without a break in the weather — heavy snow continued on August 8 —  the helicopters were about as useful as school buses.
Humar, however, did not have the luxury to ponder the details of his rescue. As darkness fell, the fifth straight day of precipitation turned into the coldest and snowiest night on the mountain yet. The falling powder filled his cave and all he could do was keep bailing it out with his hands. At 10 pm a small avalanche buried his hole, and he had to excavate his bivy once more or freeze. He could not sleep; instead, he massaged his toes to keep the blue away and cleared snow from the cave. The red jacket he wore was frozen stiff. Perhaps for the first time in his life, his legendary energy was critically low. At 4:30 in the morning his body gave in to the cold and exhaustion. Humar lay down in his casket-size hole and fell asleep, the kind of slumber that, uninterrupted, lasts forever.
At 6 am on August 10, for the first time in a week, the weather briefly cleared. The army pilots scrambled their two Lamas and roared off toward the south face of Nanga Parbat, pulling as much power as they could from their Artouste IIIB engines in order to reach Humar's high-altitude den. They wondered if they would be able to hover at 21,000 feet long enough to toss him a rope. After six days in hypothermia-inducing conditions, with dwindling food and water, would the mountaineer be strong enough to grab the rescue line, or worse, too frostbitten to hold on? Was he even alive?
It was the screaming from the radio that shook Humar out of his torpor. He heard the distant whumping outside his cave and within minutes a Lama was struggling to hover over the bivy as he groggily prepared himself for the evacuation. A rescuer lowered a line anchored by a sack of rocks. Humar reached out to the rope and clipped it into his harness; at that exact moment the chopper, buffeted by wind and unable to keep its position, lurched up, blasting Humar with a burst of air from its rotor blades, and literally jerking him out of the snow cave. He hadn't had a chance to unhook his Kevlar static line from the ice screws and the line, connected to his harness, pulled taut. For a half second the helicopter and the mountain fought each other for Humar, until the mountain line snapped near the harness, catapulting Humar 40 feet into the sky and toward the swirl of the 30-foot rotor blades. The chopper veered to the right and Humar missed the human meat grinder. Instead he dangled from the Lama, 30 feet below it and thousands of feet above solid earth.
For eight painful minutes, as the tight harness pinched him, Humar dangled below the helicopter, whisking through the cold alpine air towards the green valley below. At base camp, his crew watched as the little figure came closer and closer, until Humar, clad in his frozen red jacket, was set down in front of them. He unclipped his harness and fell to his knees, crying and kissing the ground. That night in his tent he didn't sleep. He was afraid he would wake up again in the cold, wet ice cave. 
Over the course of a Monday afternoon in late September, Tomaz Humar's six-foot-long dining room table, half of which is crowded with a display of polished stones, bowls of crystals, and carved wooden elephants, fills up with gifts from neighbors and anonymous admirers — a dozen green apples, a gallon bag of hand-shelled walnuts, a massive pile of green and red grapes, a roll of cinnamon bread the size of a small cat. There is a photo on the windowsill of a small homemade shrine that says "Thank God for Saving the Life of Tomaz Humar." His pantry is lined with homemade liqueurs distilled from apples, cherries, pears, blueberries, and fennel — so much swag that he has had to become an avid regifter just to keep his house clean. Humar accepts the presents — most of which are brought inside by his nine-year-old son Tomaz — with a slight bit of embarrassment, explaining that in Slovenia this is just the way. "The people like to give to me," he explains. "The way it works here, you give and you get back."
Ironically, Humar gained more fame for his rescue than for his dazzling successes. His August ordeal on Nanga nearly brought the entire nation to a halt. His website, humar.com, which is published in English and Slovene, logged 56 million hits in one week and required seven dedicated servers. In an informal survey of Slovenes on the street after his ordeal failed not one hadn't heard of Tomaz Humar, even if they confused the details. ("He's the guy that was stuck on Everest last week, right?")
"It's hard to understand," Humar keeps repeating as his cell phone continuously vibrates on the table. "How many people died in Sudan last year? 100,000? 600,000? And then there's one fucking jerk stuck in the mountains and the planet stops. Fifty-six million clicks for one life." But Humar does believe, as he does about almost everything that happens, that there is a divine purpose behind his struggle on Nanga Parbat. "Pakistan was willing to open its borders to foreign help — they would have allowed the French and the Swiss to bring helicopters on their territory," he explains. "That's huge. Maybe this is the start of some international cooperation. Something new. I kept thinking up there: If I die, there would be something very wrong with this story."
It's doubtful that Humar's ordeal made any sort of impact on Pakistan's foreign policy, but it's this kind of belief — that his climbing has a bigger purpose — that keeps at bay worries about his mortality, criticisms by other climbers, or concerns about his children. He was called to mountaineering, called to the mountains, and called to Nanga Parbat by a force he cannot understand and that he chooses not to argue with. Still, Humar is not blind to the fact that what he does is dangerous. "If you let alpinism become your way of life, you must know this one thing: Most of us climbers will not finish our lives in our beds."
Still, he believes something was protecting him on Nanga Parbat, or at least that his incredible luck came through once more. "If you repeated that rescue scenario again 100 times," he says, "Not one of them would be successful."
Humar doesn't know if the mountain will call him again, or if she accomplished what she intended by holding him hostage for six days. He says it will be many more months, maybe years, before he really knows what he thinks about the incident. And, a month after his climb, he isn't feeling the call from any mountain just yet. But right now, with his phone ringing every few minutes with calls from reporters wanting interviews, talk shows wanting an energetic and opinionated guest, or regular Slovenes looking for words of encouragement; with friends streaming through his door for a chat; with his inbox dinging constantly; with his kitchen table piling up with a frustrating amount of produce, all Humar wants to do is to get on his mountain bike and head into the Alps out his back door, or wander through the woods in search of fat mushrooms. Anything but sit still.
The Sound of Survival
A partial transcript of Humar's radio conversations with base camp during his six days stranded at 21,000 feet
Friday, August 4
Base camp: Are you running out of food?
Tomaz Humar: I have two gas tanks, two soups, five cheese packets, one prosciutto, and a packet of biscuits. That's all.
BC: What are you thinking about?
TH: How to find the path forward. I am counting on help from above.
Saturday, August 5
TH: This is my third day here and the weather is only getting worse. Any rescue will be difficult in these conditions.
BC: What's the slope above you like?
TH: It's really steep. Why?
BC: Is there enough room for the helicopter to hover above you? The problem is above you. Is there enough space for the rotor to stay clear of the wall?
TH: I think so.
BC: You have to take into account that they might not be successful.
TH: If they don't pick me up till Tuesday, there will be a storm. I can't move from here. Avalanches kept falling over me after we talked this afternoon, very big ones.
Tuesday, August 8
BC: Have you managed to warm yourself?
TH: I'm soaked to the skin and frozen to death. I didn't make a connection this morning because I had to turn myself off. I couldn't take it anymore. I don't know how many nights I've been here already.
BC: Have the avalanches calmed down?
TH: Snow slides by all the time.
BC: So the snow fills up your three-foot pit and you dig yourself out. What happens at night, when you're sleeping?
TH: I'm in the open all the time. Every time an avalanche hits my head it limits my position.
BC: How are your legs?
TH: The last two days were really a nightmare. My toes were completely blue. I gave myself a massage. Now I'm waiting for the night again. I will be freezing again. Last night it was 23 degrees inside my sleeping bag.
Wednesday, August 9
BC: Try to keep as warm as possible, and melt snow so you can drink.
TH: If this weather persists I won't be able to take it much longer. This is not a bivouac; the water is streaming over me and freezing.
BC: All the weather maps show that today in the early afternoon there will be an improvement. The weather forecast for tomorrow is clear, too. I repeat, everyone is saying the weather will improve today, in the early afternoon.
TH: Okay.
For access to exclusive gear videos, celebrity interviews, and more, subscribe on YouTube!