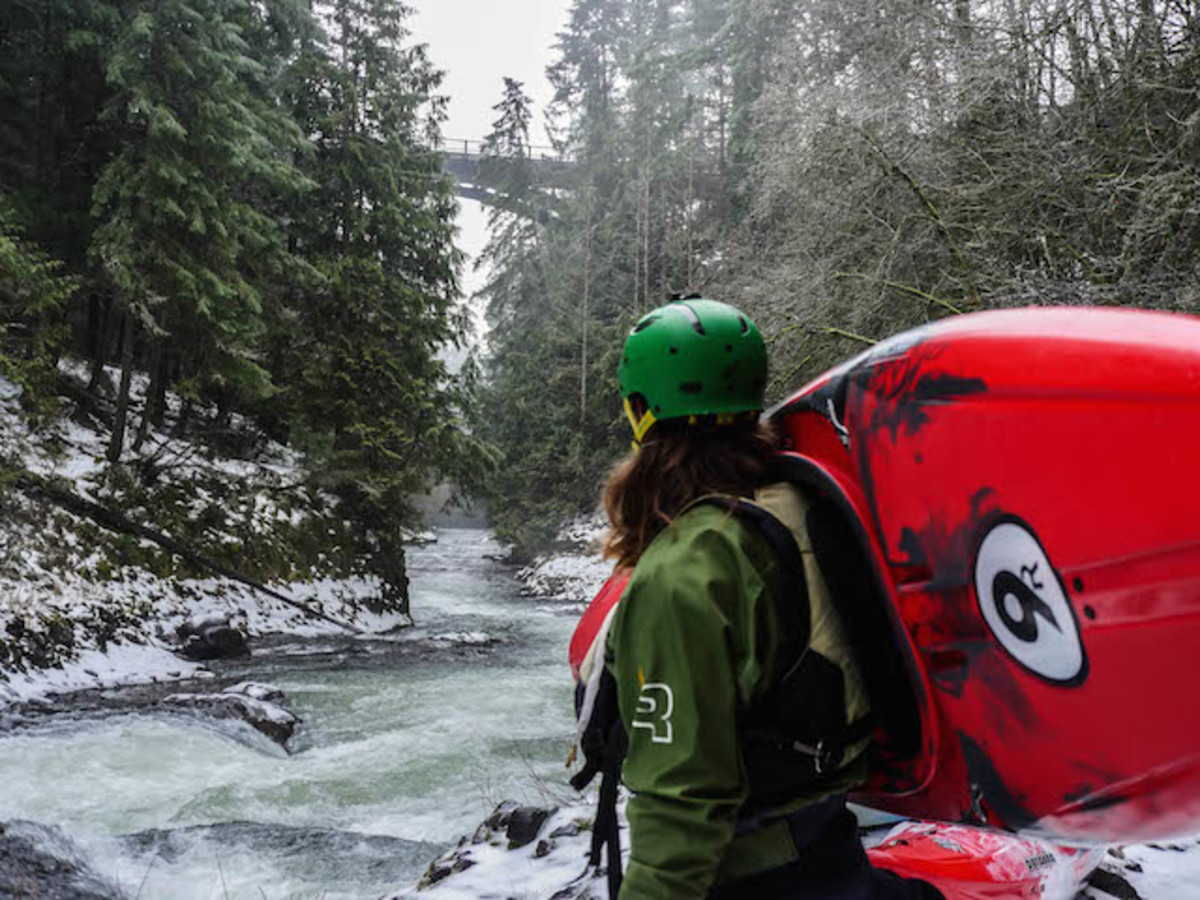 After dominating the market for over a decade, ultra forgiving displacement hull creek boats are finally going out of fashion. As the motto, "fast is fun," takes root in the soul of the whitewater community, paddlers are looking for a creek boat that will carry speed over drops and downstream.
In answer to this plea, Pyranha built the 9R. It's been on the market for about a year now and I finally got a chance to take one for a few test laps on the Green Truss section of the White Salmon.
Performance
The bow rocker keeps the front of the boat on top of the water through a lot of river features, but the length of the stern makes it more difficult to boof than shorter boats like my Tuna, the Nomad, or the ZET Raptor. I found that I really need a powerful stroke to boof smaller ledges and holes. Fortunately the generous bow rocker keeps the bow from plugging too deeply even when a boof stroke doesn't quite work out as planned.
Even with the generous bow rocker, sometimes you just have to plug through a foam pile. The 9R resurfaces well. This is one of the most defining advantages of the boat. When the bow plugs under a foamy wave-hole, the boat is like a lawn dart. The length and narrowness of the boat keep it moving fast and straight even when the bow does submerge.
The 9R is relatively low volume for a "medium" creek boat. At 72 gallons, I worried that it would be prone to backenders through big holes. Boy was I wrong. The stern's length makes up for a lack of volume and keeps the boat from squirting toward the sky when exiting big holes or sticky ledges.
While the volume isn't an issue on regular day trips for a paddler of my size, I would not feel comfortable loading it up with a bunch of gear for an overnighter. Of course that's why they built the new 9R Large, which I have yet to test.
The 9R's biggest downfall is its tendency to spin out while decelerating. The boat glides out from drops with tons of speed, but the bow tends to run away unpredictably once the boat begins to decelerate. Once it's off course, I find that I lose a lot of energy trying to bring the bow back in line.
The 9R is more forgiving than I expected it to be, but that still doesn't mean it is completely easy to paddle. Be prepared for a bit of a learning curve on your first few outings. I found it challenging to make last-minute corrections to my bow angle when moving fast.
Here are some raw POV clips from my test runs with the 9R:
9R Clips from David Spiegel on Vimeo.
Outfitting and Size
At 170 lbs and 5'10", I did not feel like I max out the boat's weight range. I think paddlers up to 185 lbs will feel fit just fine if they're using the boat for day trips.
I've never been a fan of Pyranha's outfitting. My knees rub uncomfortably on the hull of the boat, the back band sits low on my back, and the seat doesn't feel high enough. That being said, the outfitting is totally serviceable and safe. You can customize it if you want to get the perfect fit. I found it helpful to add an extra centimeter of seat foam.
When I sit in the 9R my legs are relatively straighter than in most creek boats. This is a result of the boat's narrow width. I love this leg position because I feel like it gives me more leverage and control over my bow and does not negatively impact my side-to-side stability.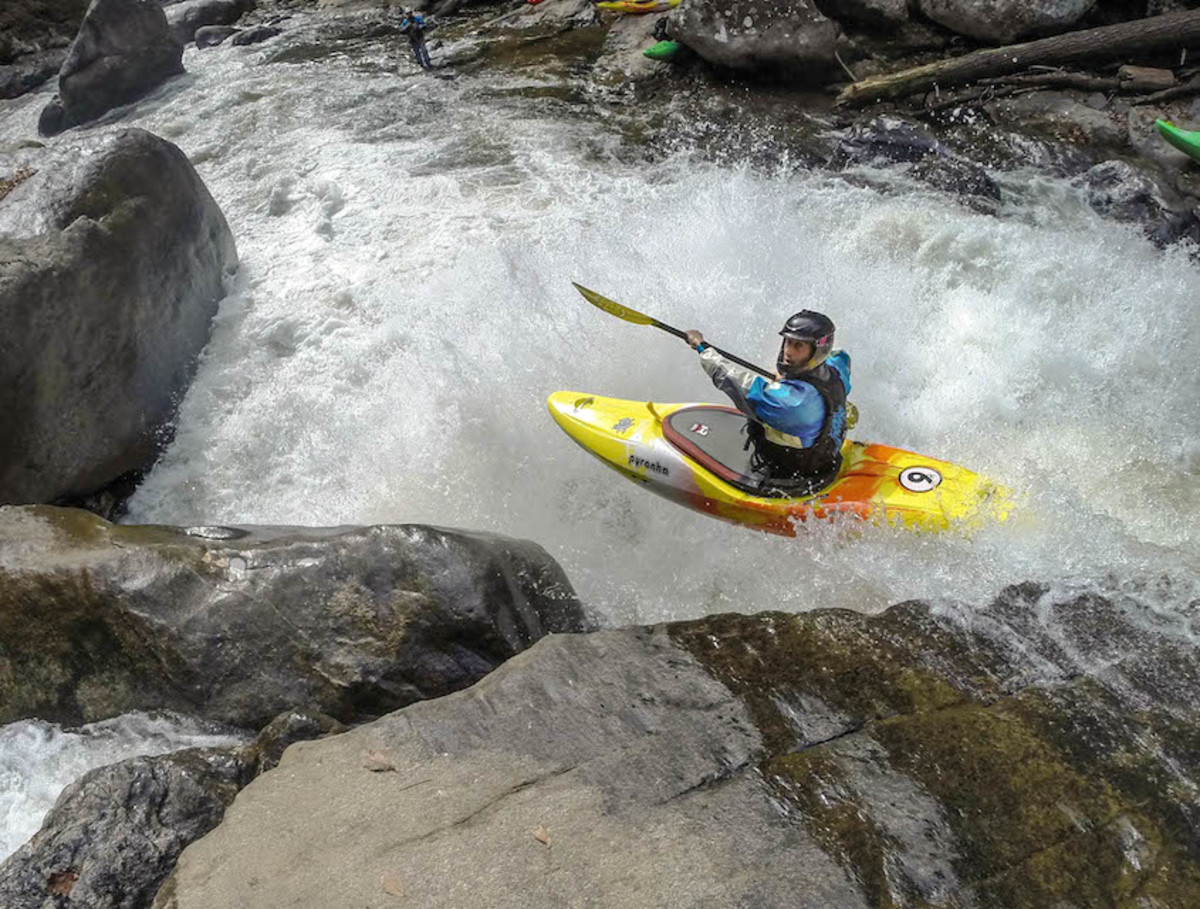 Bottom Line
"Fast is fun" but all that speed can definitely get you into trouble. The 9R best suited for medium paddlers who want to have a crazy good time exploring the fast lines on their local bread and butter runs. It is not the boat I would choose for pushing my limits on a new/unknown creek.
The 9R is undoubtedly fun, but it will not be a "quiver killer" for most paddlers. It's quirks and challenges will make it intimidating on new runs or when pushing your ability level. The rewards of a good line in the 9R are huge, but it sometimes you will pay for those highs when the boat decides to punish lazy paddling.
Buying a 9R will be a very easy choice next time I am in the market for a creek boat.
—Read David Spiegel's review of the Waka Tuna creek boat on CanoeKayak.com
–Check out MORE GEAR updates, reviews and tips at CanoeKayak.com
The article was originally published on Canoe & Kayak
For access to exclusive gear videos, celebrity interviews, and more, subscribe on YouTube!