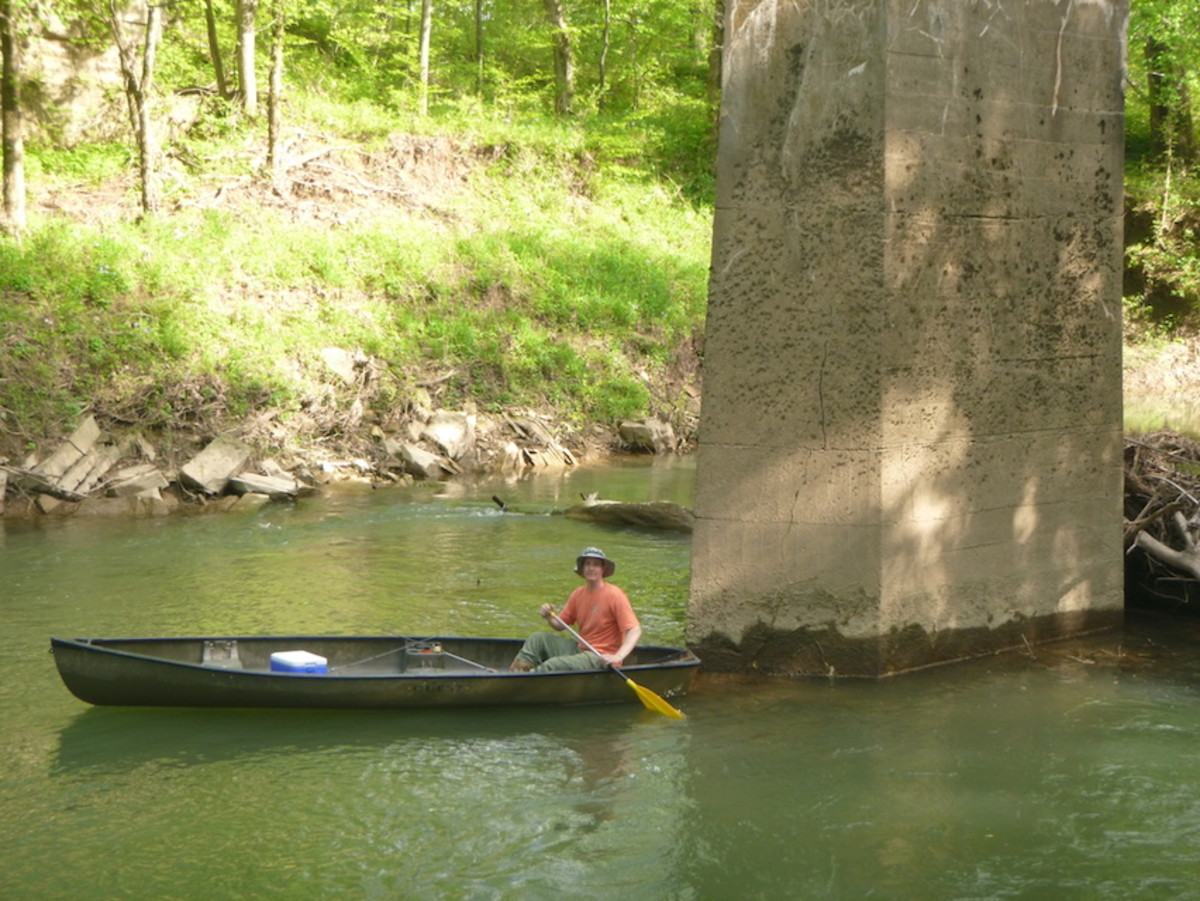 Chris Bostic, 44, is a civil engineer who lives in suburban St. Louis. Whereas most engineers are drawn to technology like bees to buttercups, Bostic loves his WaterQuest 15.4, a square stern polyethylene canoe he describes as "a heavy, plastic beast." Bostic has paddled Kevlar and aluminum canoes in the Boundary Waters, Wisconsin's Apple River and various lakes and ponds across southeastern Missouri. He's kayaked the Florida Keys and rafted the Pigeon River near the Great Smoky Mountains National Park, but he revels in reaching a creek few know and nearly none paddle, his beloved and aptly-named Crooked Creek in Missouri. On Crooked Creek, the WaterQuest runs straight and true.
CanoeKayak.com: In a time where many paddlers upgrade to Kevlar or carbon, why do you stick with your old, plastic canoe?
Chris Bostic: It's indestructible and very wide. Though most of my trips are two people to a canoe, the WaterQuest fits up to 800 pounds very comfortably when it needs to. The 42-inch beam is really roomy and stable. Better yet, it has proven to be long-lasting. Other than replacing a couple lost seat bolts, the boat has held up remarkably well. It's obviously not a light canoe. A Kevlar like the Wenonahs I've used in the Boundary Waters are down in the 42-pound range, which makes my polyethylene WaterQuest nearly three times the weight at a whopping 110 pounds. But I take comfort in not being able to practically see through the paper thin sides of the Kevlar and feeling them buckle and crackle under pressure. I can scrape rocks and bounce off logs all day long and not worry about needing to do a cloth and resin repair.
Tell me about paddling Crooked Creek.
Crooked Creek, tends to run very low in the summer months. Despite the weight of the canoe, the wide beam helps it displace a minimal amount of water. Still, the WaterQuest rubs the gravel of that Ozark foothills stream at practically every bend. But despite all the bottoming out, the rugged polyethylene hull doesn't show the slightest bit of wear from all the scratching and dragging.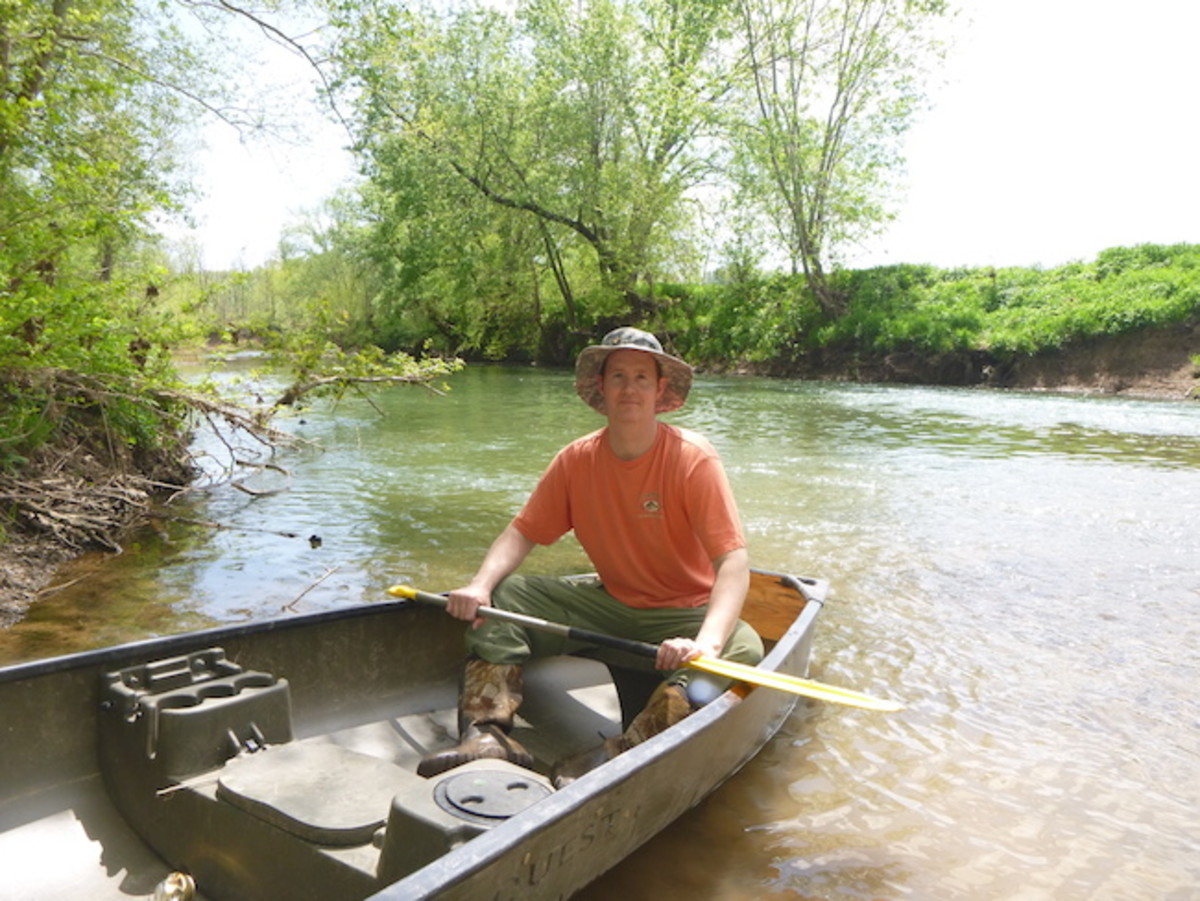 Why does Crooked Creek charm you?
The best part of Crooked Creek is the total lack of other paddlers. I hear a few other folks have floated that particular creek, but I've never run across anyone else. In the Boundary Waters, the so-called wilderness of northern Minnesota, I've crossed paths with literally dozens of other paddlers. Right now I'm thinking I probably should've changed the creek's name to keep it my own little secret getaway. Everyone else can keep going with the crowds to Current River and the other famous floating streams of southeast Missouri. As for sightings, there's beauty at every turn—from historic old railroad piers to babbling water spilling over the rocks. There's a slow stream gradient such that the WaterQuest moves at a crawl, like a bobber in a breeze, and that kind of peaceful float yields plenty of sightings of deer, wild turkeys, snakes and turtles.
As lovely as Crooked Creek sounds, there must be something about it to discourage others.
Oh, yes. Fallen trees present obstacles, forcing us to step over while the canoe slides under or wrench the canoe over the top if there's not enough room to slide it beneath the tree. We need to think seriously about bringing along a chainsaw.
Beyond its sturdiness, what else does the WaterQuest do well?
It hauls a big load, so three adults are no problem for it. There are nice little features like molded cup holders, an integrated cooler, a gear tie down and comfortable seats. Better yet, the molded plastic hull flexes but won't dent, and it's so much quieter than aluminum. That's how I sneak up on the deer and other wildlife. As I understand it, the WaterQuest is a perfect duck hunter's boat, which makes sense now that I think about it.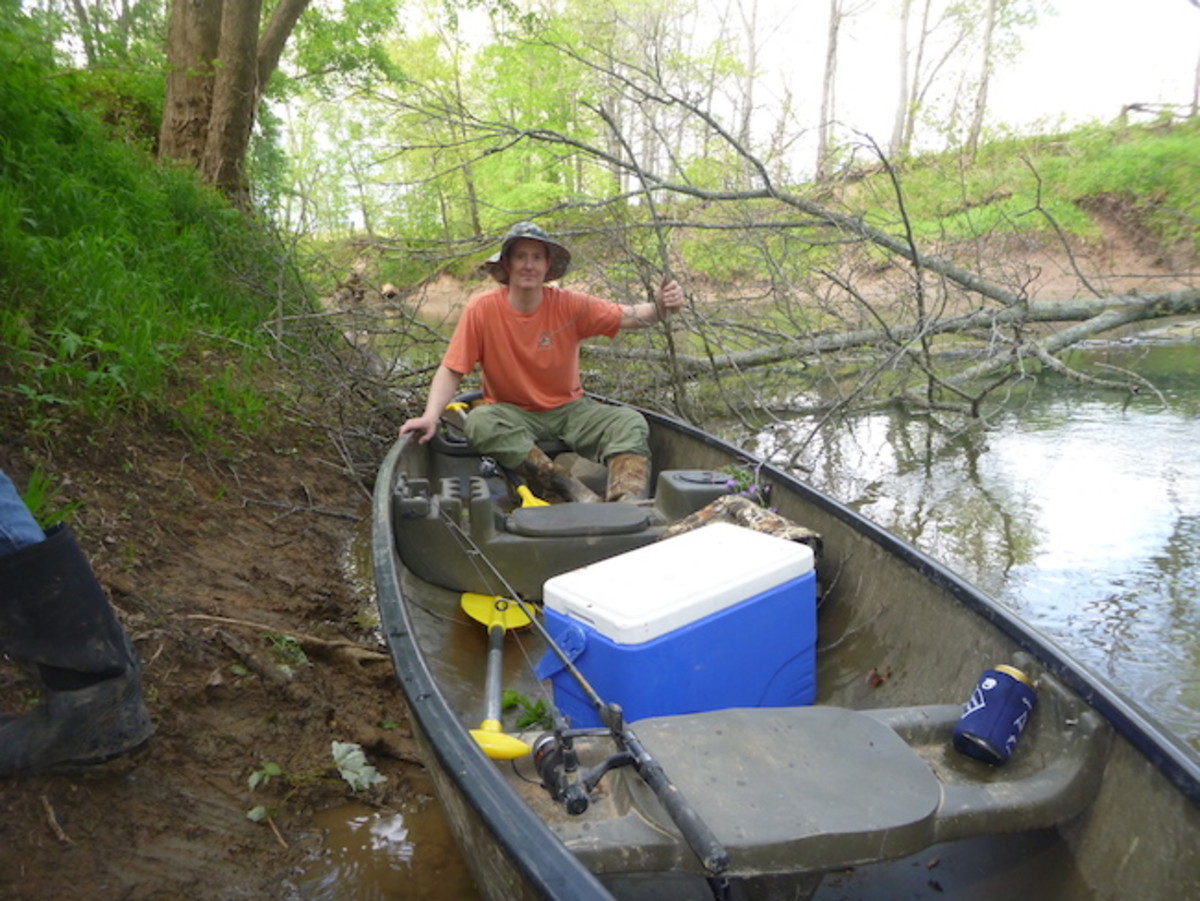 Do you know anything about the WaterQuest's maker?
Best as I can tell, Johnson Outdoors built the WaterQuest for only two years before the 15.4 foot length was discontinued. So that makes it either a 2003 or 2004. The Sundolphin Mackinaw is the current variant of my venerable WaterQuest.
–READ MORE ON OUR RIDES HOME PAGE–
The article was originally published on Canoe & Kayak
For access to exclusive gear videos, celebrity interviews, and more, subscribe on YouTube!