Dennis Mihalka, 71, is a retired dentist and woodworking wizard. Stories about wizards like Merlin and Harry Potter, however, remind us that sometimes the wizard's hand slips and the spell goes awry. Mihalka had such a slip. He was on the last cut for a cabinet drawer. He was pushing a melamine board across the saw table with plenty of room. At the very last bite of the blade, his hand relaxed, which allowed the edge of the board to be caught by the saw blade. The board shot backwards, rearranging that gifted hand. It split his index finger to the second joint, cut into the base of his thumb, and removed 1/3 of the tip of his index finger. He squeezed his hand without looking at it and asked his wife to drive him to the hospital. An air ambulance flew him to San Francisco, where the Bunke Hand Clinic repaired and restored. Today, he's back to casting spells on wood, turning boards into beautiful boats and paddling those boats off the big island of Hawaii, where he lives.
C&K: Your Night Heron was built from Guillemot plans, not a kit. For someone wanting such a comely craft, how do you suggest that they get started?
Dennis Mihalka: Search out Pygmy Boats and build one of their kits. They are a great design and handle well; they're lightweight and very fun. Building one will open a new world of enjoyment, both in the shop and on the water. They're stitch-and-glue kits with great boat designs, easy-to-follow instructions, and will build confidence in using glass and epoxy. I built three of these before the Guillemot.
Describe a moment where you realized what a fine boat you'd built.
On its maiden voyage. It was a moment of pause and awe as it was a stable, easy-to-handle, and well-tracking kayak. Without a rudder, it took a bit more paddling attention to have it turn and go straight as needed. That was no problem, as the boat tracked and turned on command in the calm water I was paddling. It was both stable and fast.
Tell us about your wood choices.
I chose redwood and cedar for their light weight, strength, and color contrast. I used purpleheart wood for decoration and definition between woods and for its hardness in protecting the chines and bottom center line.
What maintenance does it require?
Once every couple of years, a light sanding and coating with a UV protective polyurethane.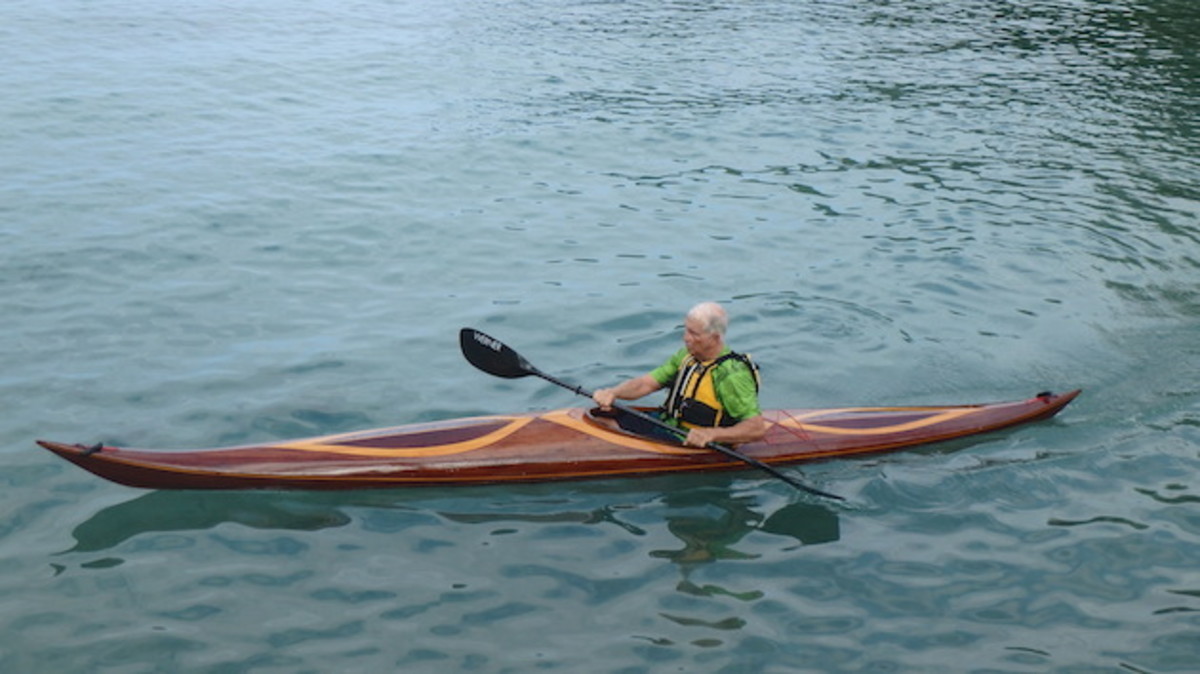 Has your beautiful Night Heron ever been put to the test?
A day before a 15-mile race, I was debating whether to take my Pygmy kayak with rudder or the newly finished Night Heron…without rudder. The morning of the race, I decided to risk it and paddle the strip-built Night Heron. There were over 50 entrants: three surf skis and 47 kayaks. After a good start and keeping up with the surf skis, a slight breeze picked up in spite of a somewhat foggy day. Fog typically means super calm and stable weather. Ten minutes into the race, the breeze turned into a 5-10 knot wind, which accelerated into 15-20 knots by mid-race. Behind the surf skis, but well ahead of the kayaks, my chin-tied hat blew off and I turned around to retrieve it. After picking it up, I was now joined by another kayaker. We continued across the main body of water somewhat separated and were in a survival mode as the wind was now 30-35 knots with a thunderstorm, rain, and hail. The wind swells were 2-3 feet and with a very close period. Literally every left stroke was a power forward and right stroke was a brace just to keep upright and straight. The wind was from my left rear and the swells from the same direction. I was thinking how my job number one was to keep upright and how much I missed the rudder. Well, upon entering the stream channel inlet area of the lake, about three miles from the finish, my whole body began to cramp up, so much so the only thing I could do was to roll out of my kayak just to straighten out. Moving close enough to shore, I was able to roll out into the chilling water and stand a bit to work off the cramps. All this happened as four to five other kayaks passed. I was bummed, but more concerned about how I was doing and if I would be able to finish the race. After the cramps left and upon reassuming my position in the kayak, the cramps returned with a vengeance. It was about this time a rescue craft came and asked if I needed help. I thought for a bit; I did need help, but there was a race to finish. However, I also considered the fact that these folks were here prepared to help someone. Humbly, I said, "Sure, I could use the help." Well, I was the only one to not finish the race…bummed, but happy I survived the event.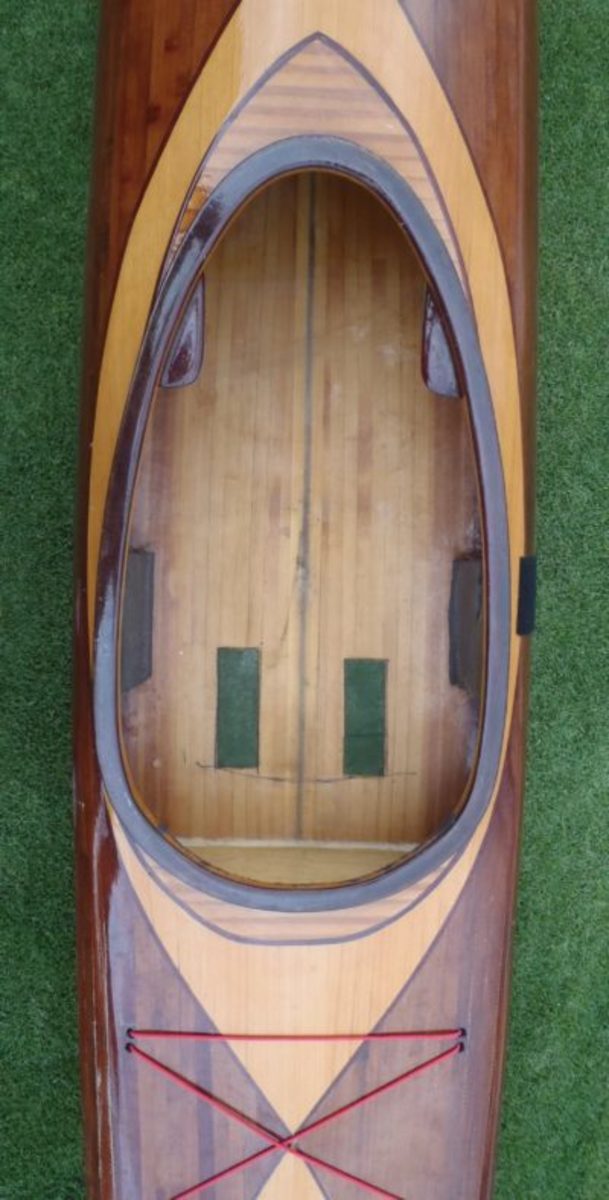 Wow, what a paddle. Want to share a race that had a happy ending?
Skip several months later when our club joined others with a quarter mile sprint on the Sacramento River the weekend before the well-known drag boat event. Again, we were joined by surf-skis and again my boat performed well, being tied with the first surf ski for 50 feet, then taken over by the second and third surf ski. At the end of the race, I was just behind the fourth surf ski and well ahead of the first kayak. The timer at the end of the race was told to time the surf skis and kayaks and that he could tell the difference between the boats as the surf-skis would be ahead of the kayaks. He had me listed as #5, placing my Night Heron with the surf-ski group. The timer was corrected when told that the Night Heron was with the kayaks. This first place finish was both a credit to the great kayak design of the Night Heron, as well as the desire to make up for the dismal maiden race. You will also note a small 3-inch skeg at the rear of the Night Heron, which gives just a bit of directional stability when the wind is blowing. The other significant note is that, thankfully, this boat was very stable in very rough weather conditions.
You live in paradise, but do you pine to paddle anywhere else?
Maybe Vancouver Island's southwest coast.
And what's your favorite place to paddle?
That would be Whiskeytown Lake in northern California. It's predictable water with little wind, but there are swells to ride from time to time. It's a good distance to run from one end of lake to the other: about 8 miles. It's also a wonderful experience paddling between islands in the San Juan area between Canada and the USA.
–READ MORE ON OUR RIDES HOME PAGE–
Have a canoe or kayak you love? Want it to be in RIDES? Contact Katie McKy at katemcky@hotmail.com and put "RIDES profile" in the subject line. You will have to provide photos of you and your beloved boat.
The article was originally published on Canoe & Kayak
For access to exclusive gear videos, celebrity interviews, and more, subscribe on YouTube!