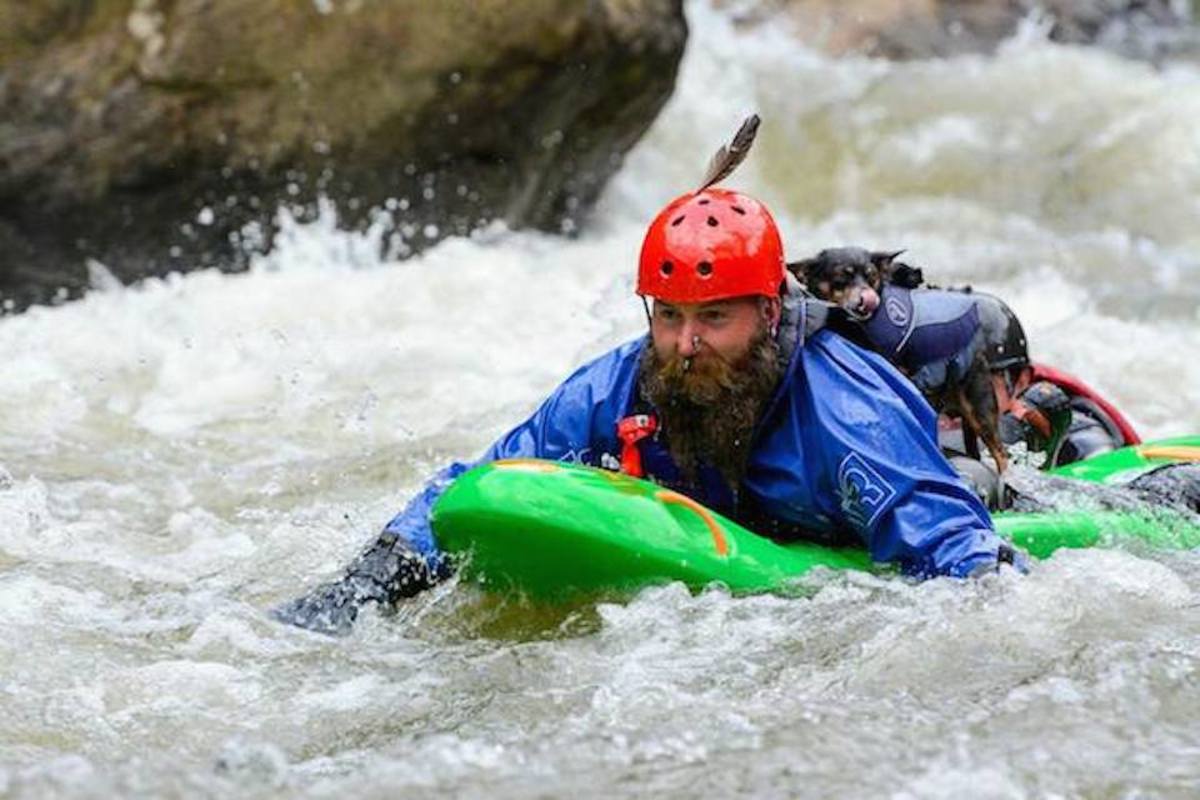 The comic-book Batman has the best toys: the best car, the best motorcycle, the best plane. Erich Bell, 38, is a real life bat man who believes he has the best boat, a Bellyak, and the best sidekick, a whitewater-loving Chihuahua named Polly . A Bellyak is essentially the hull half a kayak–its designer made the first prototypes by by cutting kayaks in half–and Bell lies face down on it, paddling along with webbed gloves. When Bell isn't (Bell)yakking, he's protecting bats, pinpointing the roosting sites of threatened and endangered bats like Northern Long Ear Bats and Indiana Bats, sites that might be in the crosshairs of pipelines and coal mines.
CanoeKayak.com: So, why shuck the paddle and lie rather than sit?
Erich Bell: It gives you freedom. You can lay on your belly to propel yourself forward or bust through a rapid. You can also sit on your knees and you can surf and do tricks like kayaks from the belly, knees, or sitting positions. You can even float beside it on flat portions or lay on your back and relax.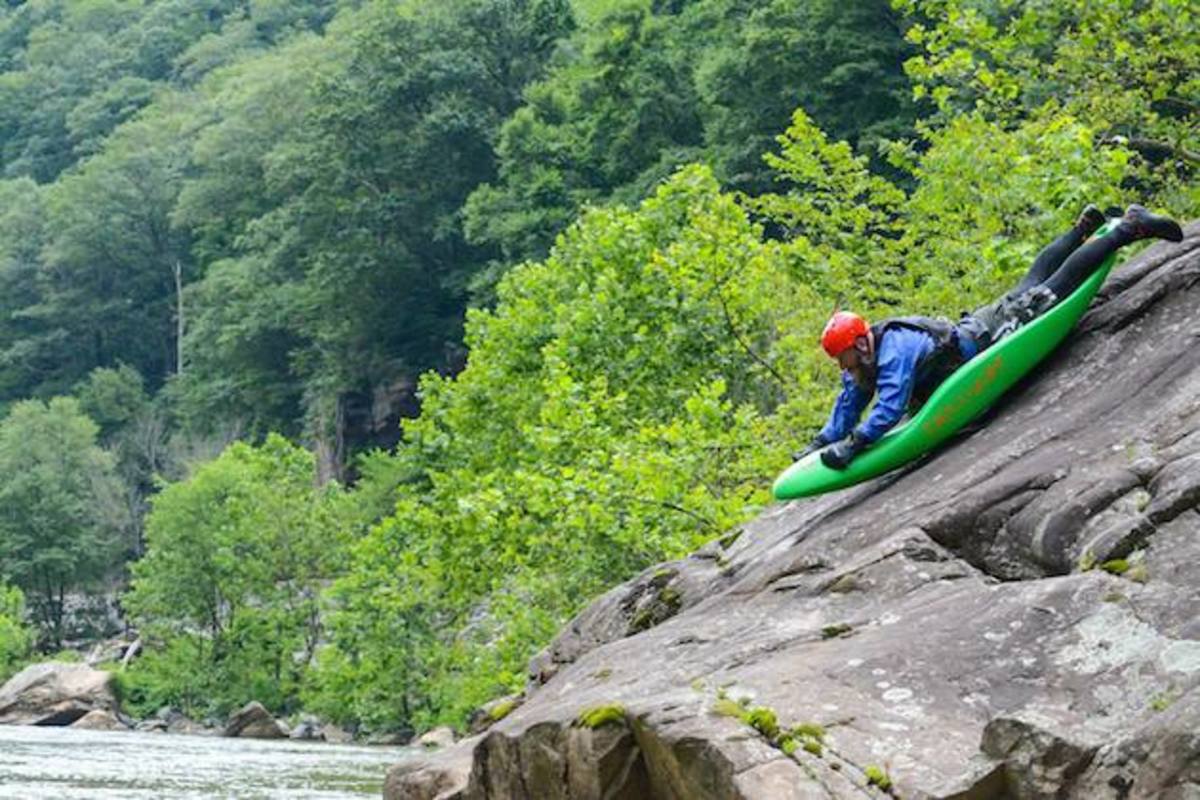 What else do you love about it?
It's face-first kayaking. If you've ever had a dream of flying, it's like that, but you're on the river. Falling off of it is no big deal as you slide your belly back onto it and start paddling again. The reason I got into it is because of the rule of half. It's half a kayak, so there's half the weight and half the gear. No skirt and no paddle are needed. It's about half the price too. The Bellyak gives a kayaker who's a little board with their favorite river they've done countless times a whole new way to go.
At first glance, it looks a little like a flat water craft.
People's biggest scare is that they'll run face first into a rock, but that doesn't happen. A Bellyak follows the flow of the water around a rock. The most fun I've had on the Bellyak was the Nolichucky River. It was Class IV on the first half and Class III on the second half. Some people even have the skills to do Class V. Some of the waves on the Nolichucky are so big that they wash over your whole body and you shoot out the other side. It's just so much fun to do. You can also turn around and aim upstream to surf it, doing flips and tricks.
So, what's life like as a bat man.
I work with bat biologists and bat ecologists. We capture and gather data on threatened and endangered bats, capturing and then tracking them with homing devices to find their roosting trees. This gives us a count on how many are there and then a pipeline will divert around the roosting tree rather than demolish it. I enjoy my work. If you find something you enjoy, you never work a day in your life. We do work late nights in the summer, but it's vital work. Bats are an indicator species like bees and frogs. When something happens to them, the problem gets bigger and bigger without intervention. If you like butterflies and hummingbirds, you have to like bees and bats because they pollinate too. They're big pollinators.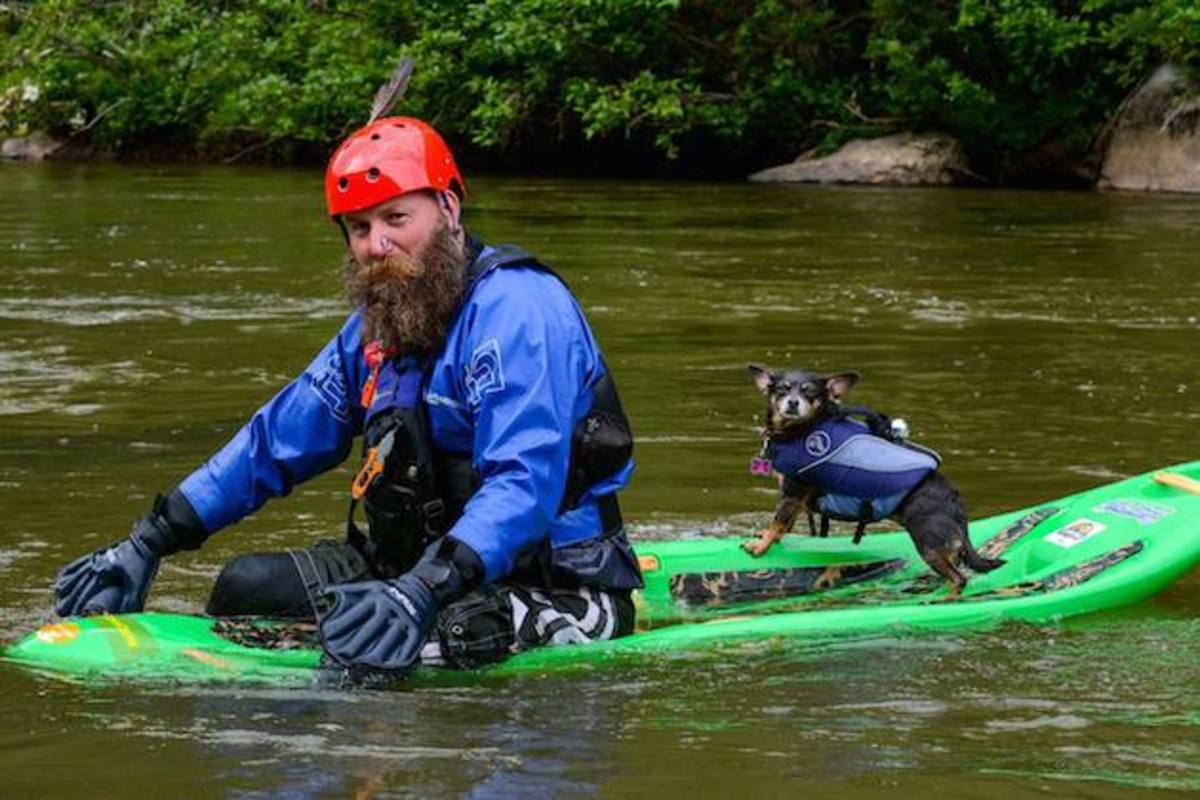 So, bat man, who's your Robin?
On the easier rivers, I take my dog and she rides on my back. Her name is Polly, the Adventure Dog. She's a standard Chihuahua, weighing in soaking wet at 13 pounds. She mountain bikes with me too and also does regular kayaking on weeklong excursions. She's an amazing little dog. Of course, dog lovers who read this should know that with Class IV and some Class III, she rides in the raft. In Class II and some Class III, she rides with me.
Share a sweet moment you had in your Bellyak.
Halfway down the Nolichucky Gorge, there's a seal launch where you're in your boat on land, but slide down into the water like you're a seal or otter. It was at least 20 feet and really steep. We climbed to the top and after a lot of contemplation, because we weren't sure if we wanted to do it, I let go. I was going so fast when I hit the river that my Bellyak and me went completely underwater like a submarine. It was amazing.
Who's a good fit for the Bellyak?
Everyone. Two summers ago, we were at a whitewater festival called FIBArk and we got to hook up with Team River Runner, a non-profit that helps disabled veterans have fun on the water. We put on the water and trained participants to use the Bellyak. Some paddlers had PTSD or were missing limbs, but they got on the river and had the same fun we did without being held back.
–READ MORE ON OUR RIDES HOME PAGE–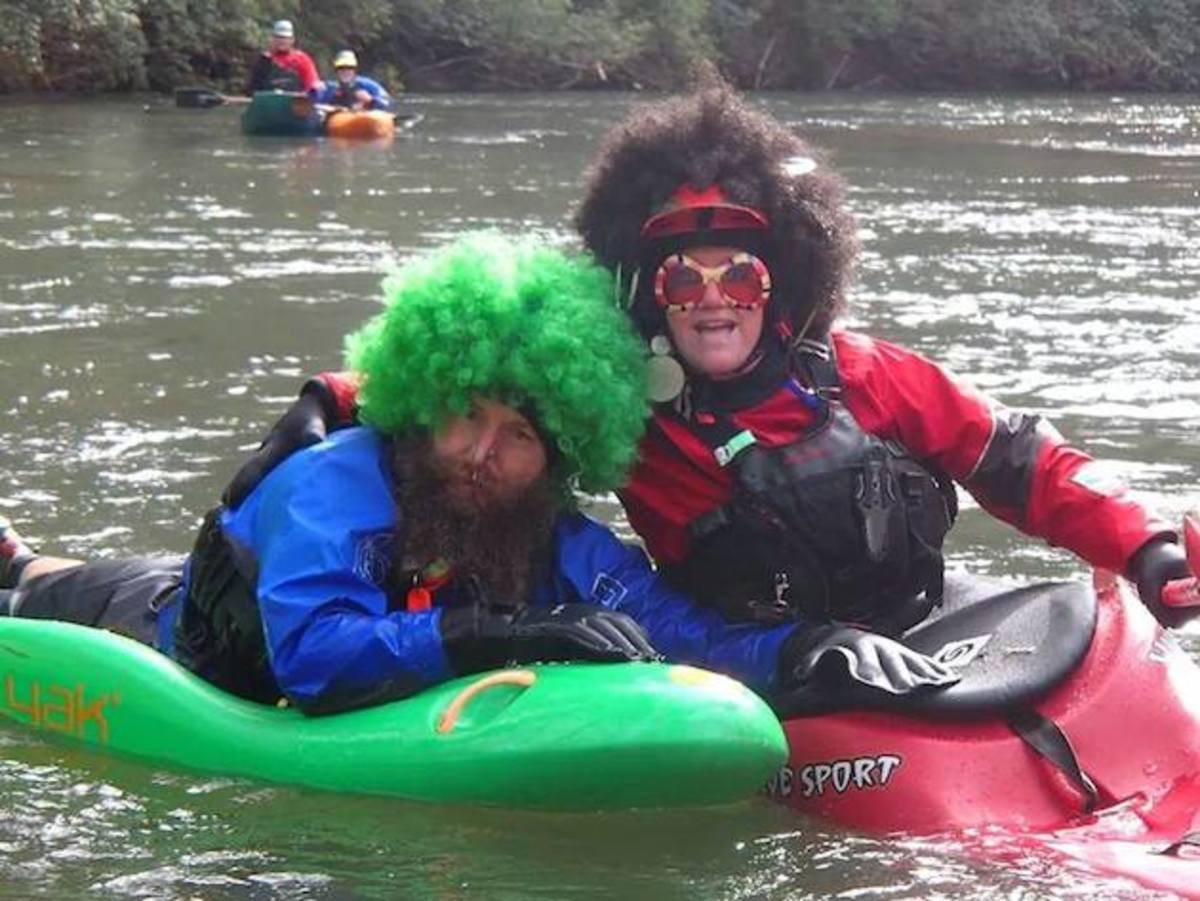 The article was originally published on Canoe & Kayak
For access to exclusive gear videos, celebrity interviews, and more, subscribe on YouTube!