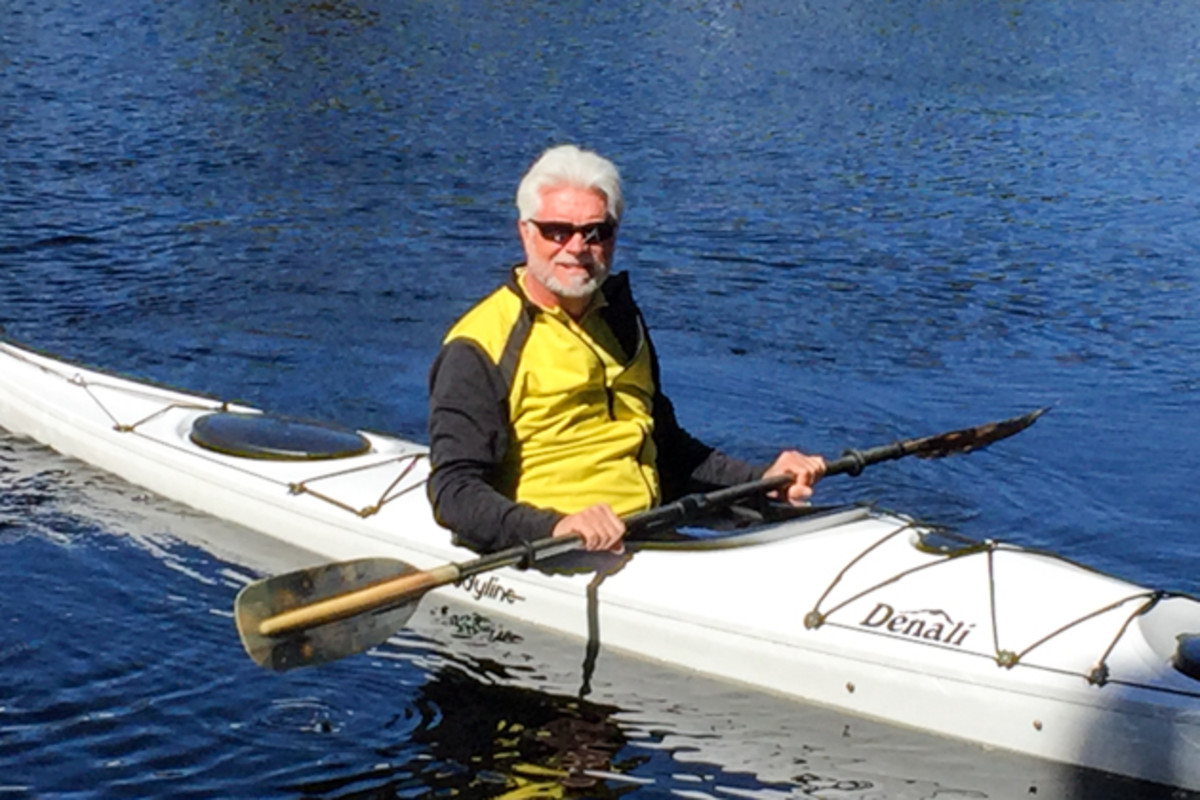 Mike Robertson has big feet. Being size 13, that's a lot of foot to cram into a boat. And aching toes at the end of a day on the water was a kayaking conundrum for Robertson, 66, of Gulf Breeze, Florida. His solution was a 15-foot 3-inch Eddyline Denali, with the requisite room to stretch his sore dogs. There's even room to spare, since the 6-foot 1-inch Robertson doesn't need to set the adjustable foot pegs at their farthest position. The Denali gives him a roomy cockpit for easy entry and a comfy seat, which makes for pleasant paddling. When Robertson isn't running his lawn and garden center, he's paddling clear water, watching critters cruise beneath his Denali.
C&K: So, your Denali is large and comfy. How does it track and turn?
It has a skeg, so it tracks true and performs well in crosswinds. However, I can also take it into clear, freshwater creeks and rivers fed by artesian springs. Creeks no wider than eight or nine feet across or rivers 300 feet across. Even in the tightest quarters, it performs. The first time I got in, it paddled straight, was easy to turn, and I fit. It was love at first paddle!
C&K: How about storage?
I really like the storage compartments, as they improved the hatch covers. They've got a real nice, easy fit that makes the cover go on and off without effort or leaking. I sometimes add a little WD-40 on the lip of the hatch covers and they continue to pop on and off like they're brand new. One of my favorite things is a five-inch micro hatch right in front of the cockpit. It's a perfect place for my iPhone and keys. There's a large hatch in the back and a bigger one up front up too.
C&K: How about the aesthetics?
It's a beautiful boat. Easy to keep clean and always looks good. I had my Eddyline Equinox for five years and it looked like a brand new boat after all the trips, creeks, and boat ramps. They don't show their age. The finish is beautiful, as are the lines and fit. Every piece of sporting goods I have is white, so I got the white one. White will show up if you're stranded on a blue or green sea. If I were doing the poles, I might trade it in, but I'm not doing that anyway.
C&K: What are some of your favorite places to paddle?
Most recently, I took a trip down to the Silver River. The Silver River starts at Silver Springs, Florida, a resort that opened in the 1930s. In the forties or fifties, the resort acquired some rhesus macaque monkeys. Well, a bunch escaped and they didn't think anything about it. Today, there are troops of rhesus monkeys on the Silver River that have done quite well on their own. I've been on that river three times and all three times, I've seen troops of rhesus monkeys. It's incredible to see that in North America. You see babies and moms nursing their infants. It's just incredible. Plus, the water is perfectly clear and always 70 degrees, in January and summer.
C&K: What's another great place you paddle?
I love kayaking on St. Joe Bay, which is between Apalachicola and Port St. Joe, Florida. It's a saltwater bay that feels like you're kayaking in a saltwater aquarium. It's very clear, shallow, and teems with life. You'll see stingrays and sea turtles and small sharks. Horseshoe crabs abound. That's sublime, seeing all that life.
C&K: Is there some place that this boat hasn't been that you'd like to go?
I'd like to kayak in the mangroves in the Keys. There are loads of birds this time of year and it's a place where a lot of open ocean fish lay their eggs. I would also love to kayak the Caribbean. I'm really attracted to clear water. You see the life under your boat. It's unreal.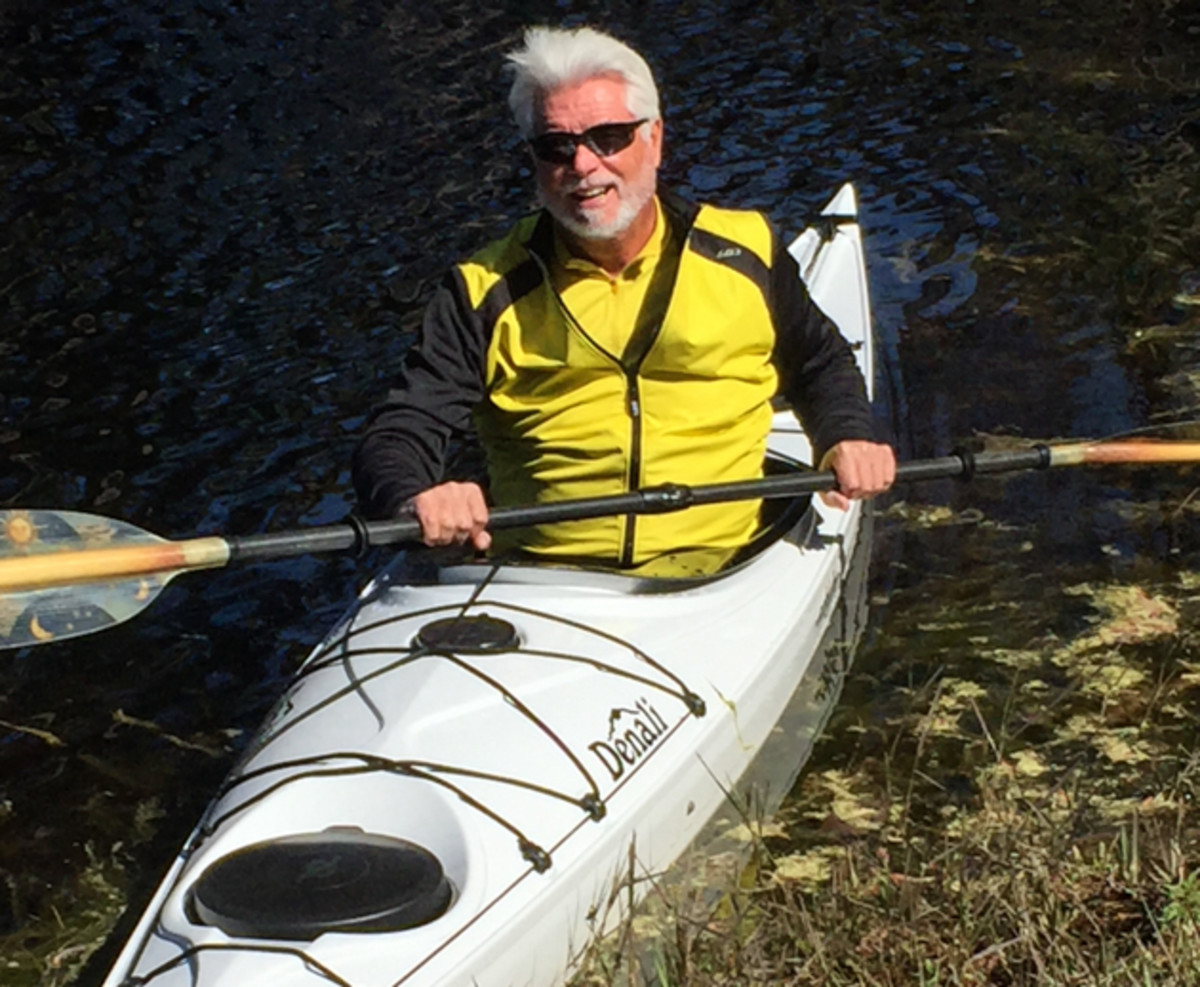 C&K: Any advice for beginners getting into kayaking?
I would advise someone who's buying a kayak to not just buy a nice kayak. Buy a nice enough of a paddle too. A good paddle makes a huge difference. You need a paddle that's light and doesn't have to be forced into the water. Buy the most expensive boat and paddle you can afford. You'll use them more, like them more, and they'll be good for your mind, body, and soul.
–READ MORE ON OUR RIDES HOME PAGE–
— All photos courtesy Mike Robertson
Have a canoe or kayak you love? Want it to be in RIDES? Contact Katie McKy at katemcky@hotmail.com and put "RIDES profile" in the subject line. You will have to provide photos of you and your beloved boat.
The article was originally published on Canoe & Kayak
For access to exclusive gear videos, celebrity interviews, and more, subscribe on YouTube!