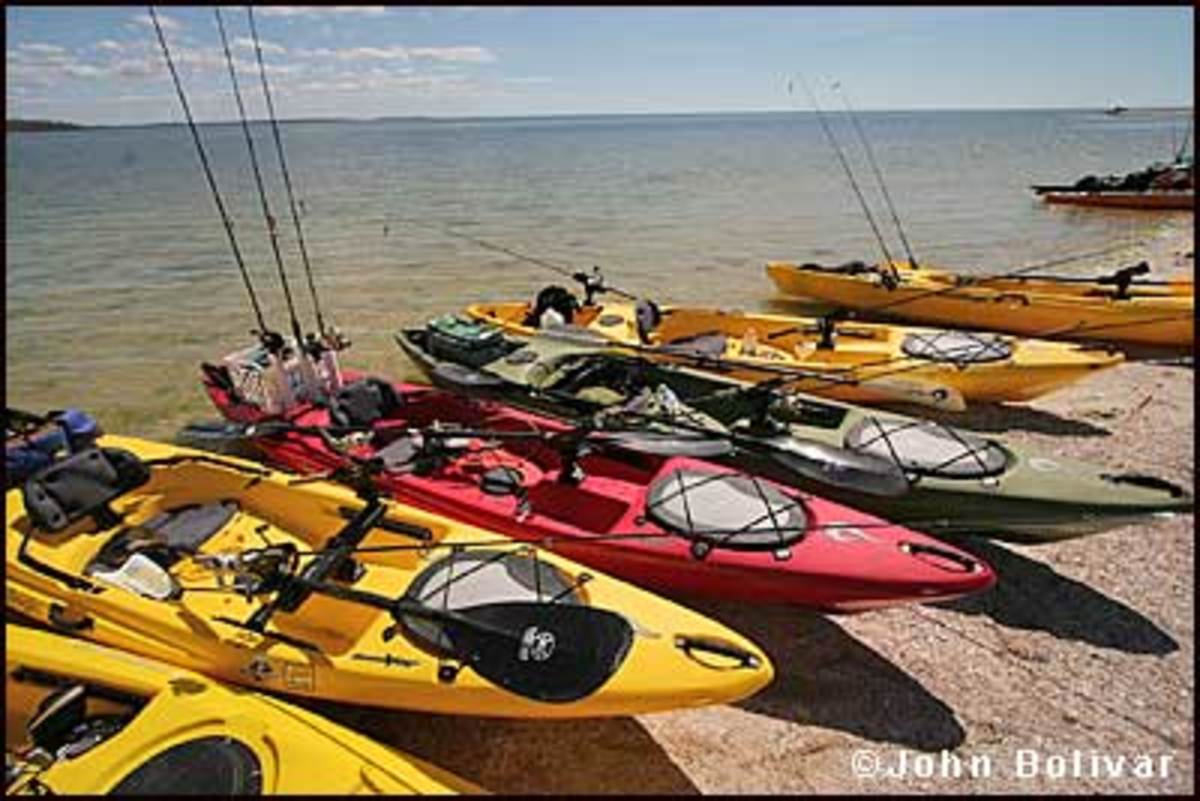 Take your time, and begin with the basic equipment that will get you on the water catching fish.
Let's assume you have a paddle and a PFD, so we won't talk about those.
Ninety percent of the people I fish with use rotomolded kayaks, either sit-on-tops or recreational sit-insides.
The first step in rigging a kayak is to decide what kind of rod holders to add. The three most common rod holders we use while fishing from the kayak are a flush-mount, a rod holder with base for fly, spin cast, or conventional reel, or a rod tube.
To install the flush-mount rod holder, you must cut a hole in the kayak. To prevent water from entering the hull you have to put an end cap on the rod holder (most kayak fishing stores sell a kit with the end cap). Before you cut any holes in the kayak, make sure the rod holder will fit on the inside, and make sure there is no bulkhead or other obstruction in the way. You can mount the rod holder on an angle if you want to troll, or straight back if you want the holder to secure your rod while you are traveling. Sit in the kayak and make sure you can reach the rod and that you don't hit it with your paddle. Most flush-mounted rod holders are positioned behind the paddler on the starboard or port side. You can make extensions to change the angle of the rod, the height from the deck, and ease to reach it.
I find the rod holder with base is easier to install. Use the Scotty or R.A.M systems. For both brands you use a mounting base that can be screwed into different locations on the kayak. Just drill four holes for the screws. I like to put mine in locations where I can use bolts with washer and lock nut for added stability. A nice feature when using the mounting base is you can change out the rod holders and place them in different positions depending on what you are doing or you can remove them while paddling, leaving only the base attached to the kayak.
Scotty has flush-mount bases. You have to cap the bottom of the base but they don't look as bulky on the kayak as the regular square bases that come with the rod holders. The R.A.M uses a base with a rubber ball so rod holders can be placed in any position and you tighten down the power handle and it will stay in that position. So paddling without fishing you have the rubber ball (base) on the kayak.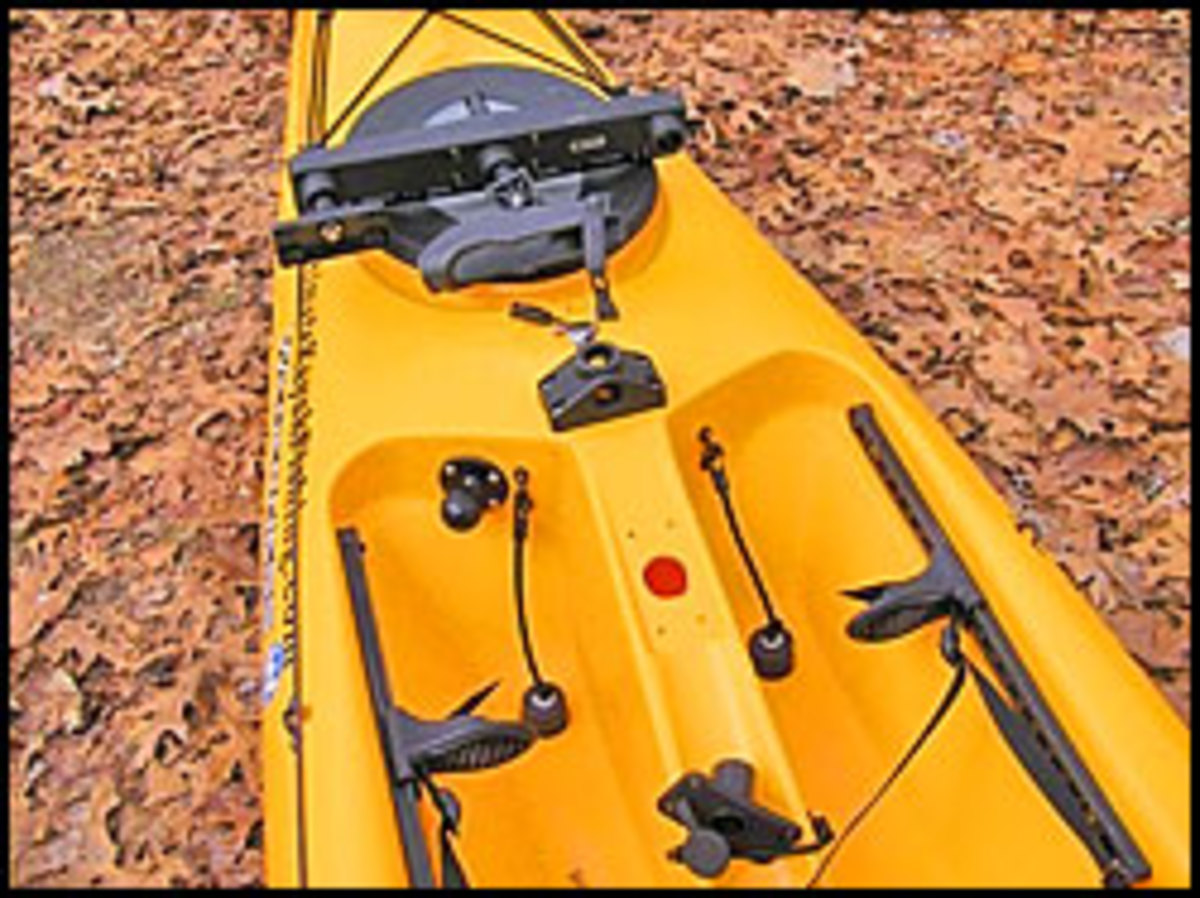 The third type of rod holder that I use is nicknamed "rocket launcher" because it uses a base and a tube that you put the rod into. R.A.M makes one and La Jolla Kayak Fishing Rod Holders makes another style. R.A.M uses the same flexible rubber ball for mounting in any position. La Jolla Kayak Fishing Rod Holders uses a rectangular or triangle base for a fixed position mount. I use the R.A.M rocket launcher on all my fishing kayaks because of ease of use and positioning. I position the rod holder and rod behind the seat to troll and the rocket launcher gives me easier access to the rod and at the same time keeps it out of the way of my paddle stroke.
To secure the rods you should use some form of leash. You can buy them commercially or make them out of a rope or an old telephone handset (coiled) cord. To keep expenses down, start out with the cord. Tie one end around the rod and the other to a deck loop on your kayak.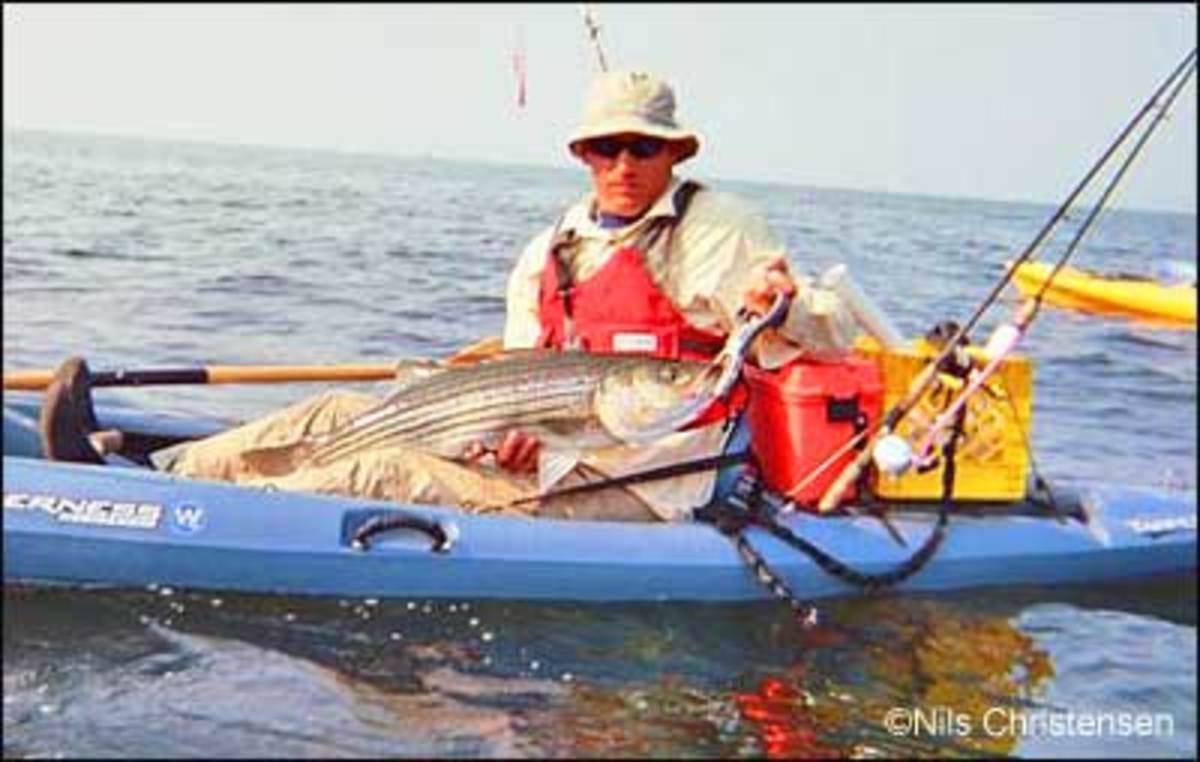 You'll also need a basic box to carry tackle. Include extra plugs, flies and other tackle you may need. Include a pair of side cutters and needlenose pliers for the terminal tackle or to release a fish. Add nail clippers to cut line and something to carry bait in if you are fishing with live bait.
This is a basic setup for a fishing kayak and will get you started. Later you can add more rod holders or a crate for carrying extra tackle. Adding a depth finder (fishfinder) helps locate structure and fishing holes. Then a compass should be added for navigation, and a GPS will help you find an area to fish or aid you going back in if the fog rolls in. An anchor or drift sock can slow you down on a windy day or help you hold the spot where fish are. For night fishing, you should mount a light so others can see you. There are ways to add a live well for transporting your live bait out to the fishing grounds.
— Join me at www.ultimatekayakfishing.com/forums, Ultimate Kayak Fishing's Web site, home of the annual Kayak Fishing Rodeo and the future home of the Extreme Edge Kayak Fishing Tournament.
The article was originally published on Canoe & Kayak
For access to exclusive gear videos, celebrity interviews, and more, subscribe on YouTube!