Channel Islands National Park sits just 20 miles off the Ventura coast, roughly the distance from Dodger Stadium to LAX. And though 15 million people live within a half-day's drive of the place, fewer than 130,000 visited last year — making it one of the least-frequented national parks in the Lower 48 and one of the last truly rugged places in California: a string of emerald jewels hiding in plain sight.
My friend Joe and I arrived in February, taking the hour-long ferry from Ventura for a weekend of camping on Santa Cruz, the largest of the park's five islands. Santa Barbara Channel was busy with tanker traffic bound for Los Angeles, and a thick gray marine layer cloaked the oil-drilling platforms that dotted the horizon. Then the fog cleared, and the islands came into view. Suddenly civilization felt a thousand miles away.
The Channel Islands have been a national park only since 1980, and their lack of creature comforts necessitates a degree of self-reliance. There's no food on the islands, and only two of them — Santa Cruz and Santa Rosa — have freshwater. Of the 80 or so people on our ferry, only five were hardy enough to spend the night.
Joe and I set up camp in a eucalyptus grove. Almost immediately, we had our first wildlife sightings: above, a soaring bald eagle, and, at our feet, an island fox. Geologists believe that the Channel Islands were never connected to the mainland; as a result, they've evolved dozens of species that exist nowhere else on Earth. The island fox is the friendliest — a house cat–size version of its mainland cousin who loves pilfering snacks from unsuspecting visitors. A decade ago, these critters were endangered, but populations have rebounded and they're likely to come off the endangered list. We double-checked the latch on our food box and set out on our hike.
Our destination was Smugglers Cove, a rocky crescent on the island's opposite shore. We made our way along sheer windswept cliffs, formed by seismic activity some 15 to 20 million years ago. Human remains unearthed on Santa Rosa date to the end of the Pleistocene epoch, more than 13,000 years ago — older than any others ever found in North America.
Crossing the island, we passed relics of its more recent history: barbed-wire fences, an old oil well, an abandoned dirt airstrip. For much of the late 19th century, Santa Cruz was owned by a Frenchman named Justinian Caire, who imported grapes for wine, raised cattle for beef, and brought in Italian cowboys to make his Genoese wife feel less homesick. Subsequent owners used the island for ranching and sport hunting; during Prohibition it served as a hiding spot for bootleggers and rumrunners, and during Hollywood's golden age it attracted silver-screen royalty like Cecil B. DeMille (who filmed there) and John Barrymore (who sailed the islands on his yacht). But unlike Santa Catalina Island — bustling with day-trippers at the south end of the archipelago, 25 miles off Los Angeles — these northern islands were inhospitable enough to deter developers.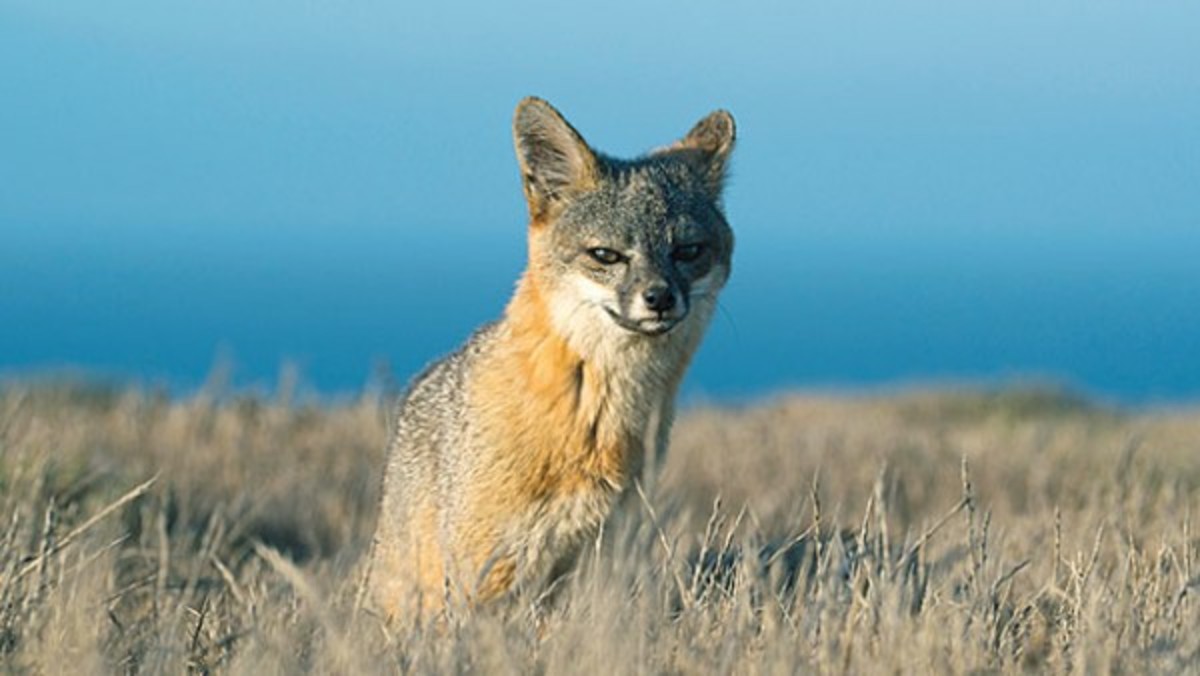 (The island fox is one of several species unique to the islands. Kevin Schafer / Alamy) 
After lunch in the shade of an olive grove planted by those same Italian cowboys in the 1880s, Joe and I hiked through Scorpion Canyon to Potato Harbor to see the sunset. We made it in the nick of time, plopping onto the cool grass bluff just as the sun kissed the horizon. Below us, sea lions barked over the crashing surf, and to the north, a migrating gray whale was breaching and spouting. "I don't know where to look," Joe said. "To my left, one of the best sunsets I've ever seen. And to my right, a fucking whale." Just then three young island foxes started frolicking behind us, chirping and tumbling in the grass. It felt almost like nature was pranking us.
Naturally our luck couldn't hold. The next morning dawned damp and gray, the mist and mud more Scottish Highlands than SoCal. Our plan was to hike up the Montañon Ridge to one of the island's highest points, then descend along the spine and overnight at the Del Norte backcountry camp. Unfortunately, winter is the wet season in the Channel Islands, and we found ourselves battling driving rain and fog so thick we could barely see 30 yards. After six muddy miles, the visibility got so bad that the trail seemed to vanish off the edge of the ridge. Soaked and defeated, we were back in our tent by dusk.
ALSO: The 50 Best Places to Live Now

In spring, we would have been walking through fields of blooming wildflowers. During high season, the islands offer sailing, snorkeling, fishing, world-class scuba diving — even surfing if you know the right spots. It's also easier to visit the outer islands, like neighboring Santa Rosa, with its white-sand beaches, once the big winter swells have ended.
By morning, the blue skies had returned, and the sun was warm on our shoulders as we broke camp and trekked down to the beach to meet our kayak guide. Three outfitters offer kayak tours of Santa Cruz; you can also just rent a boat, but given the unpredictable swells and jagged rock cliffs, it's safer to go with a pro. Ours showed us the proper way to eat kelp (chewy, salty) and led us through a half-dozen sea caves with dramatic, cathedral-like ceilings and brightly colored walls. In quieter moments, I thought of the Chumash Indians, who navigated these waters in redwood plank canoes, hunting seals and harvesting abalone for thousands of years, until being forced off the islands in the 1800s.
By the time we paddled in, it was time to catch the afternoon boat back to the mainland. Thankfully, the islands had one last gift for us — a gray whale and her calf passing slowly across our bow, making their way to their winter home in Baja. Our captain killed the engine, and we watched them swim for several minutes, the houses and highways of the mainland visible in the background. "And now we'll let them continue on their journey," the captain said finally, "and we'll continue on ours."
To Do This Trip:
Get there by ferry from Ventura Harbor, which operates year-round to Santa Cruz and Anacapa islands and from April to November to Santa Rosa. Round-trip tickets cost between $60 and $115 (islandpackers.com). You can camp on all five islands for $15 a night. Advance reservations are required. Scorpion Ranch on Santa Cruz has water and pit toilets; or rough it at the Del Norte site in the backcountry. If you're looking for a guide, try Santa Barbara Adventure Company and Channel Islands Outfitters. They both offer daylong kayaking excursions starting at about $120 per person. Ventura Dive & Sport will take you diving off Santa Cruz or Anacapa (which includes spearfishing, if it's in season) for about $125 a day.
For access to exclusive gear videos, celebrity interviews, and more, subscribe on YouTube!