[Editor's Note: RW Hand ended his second Hawaii crossing attempt late Tuesday after a Coast Guard helicopter spotted him 85 miles off the California coastline. Uninjured, though heavily fatigued from 12 days paddling in storm conditions and disoriented due to electronic navigation equipment failure, Hand received a ride in to Santa Barbara from the Coast Guard search party's deployed rescue cutter. David White, Hand's friend and land support, alerted the Coast Guard after receiving the following message from Hand's two-way satellite communicator/GPS device on Saturday (June 7) from 34 degrees 61 minutes north latitude, 122 degrees, 68 minutes west longitude: "Thnking abot heabing to la need to see if solar can be fbxed."
Driving back home to Colorado today after his first night's sleep in nearly a week and half, a "pretty beat" Hand said that not only did his deck-mounted, solar-charging system fail to charge his electronic power system (a 35-amp scooter battery stowed in a cooler), his battery-powered GPS failed. "It just pooped out on me," he said, though his DeLorme messaging system still functioned to alert White.
After a week of rough paddling that Hand says "was a beating everyday," once Hand made the decision to turn around he spent three days and two nights paddling straight, with no sleep in stormy, lumpy waters.
The adverse conditions prevented Hand from completing what Ed Gillet called the paddling crux of his successful 1987 expedition: reaching the more favorable southern latitudes at 30 degrees north and 130 degrees west.
"I was getting beat to death, especially at night," Hand said, though he admits he was able to "take a few naps," during long nights with his sea anchor deployed, bilging out waves crashing into his cockpit. Even with calmer conditions, Hand says that he could not fit in the 6-foot cavity to fully lay down inside his kayak anyway.
Though Hand admitted he's disappointed, he said that after some minor repairs to his kayak he is planning another attempt next summer.
"It's a doable thing," he said, "I just picked the wrong year."]
 BY DAVE SHIVELY
A humble character is trying to reopen a hallowed page of paddling history that was written by one.
Twenty-seven years ago, Ed Gillet made a self-described "low-key" departure from Monterey, Calif., embarking on what he would later call "the most difficult trip I could conceive of surviving." Well over 2,200 miles and 63 days later, Gillet landed in Maui and set a new benchmark for sea kayak expeditions.
Five days ago, R.W. Hand set out to replicate Gillet's voyage, leaving from the same harbor, in the essentially the same kayak from the same manufacturer.
Hand also took the same low-profile approach to his launch, with barely a digital trace or notification of his plans. At 5:11 p.m., Friday, May 30, Hand launched his fully loaded, 22-foot, stock Necky Nootka-plus tandem and started paddling west.
The silent plans came as no surprise to those closest to the stoic and towering 57-year-old.
"If you gave [R.W.] a mission and a choice between paddling from Monterey to Hawaii, or to learn texting and Facebook, he'd choose to paddle to Hawaii," said David White, a friend who drove Hand out from Canon City, Colo., and assisted him at Friday's launch.
With help from Hand's mother and daughter, White also built and is maintaining a Facebook profile where they are relaying news as they receive it from Hand's DeLorme two-way satellite communicator/GPS device.
"The first 12 hours, to get out, it was critical to hear from him," said White, who nervously awaited Hand's first position on Saturday, which was relayed to the Coast Guard. "Then he sent a text Monday that said, 'Wet and hungry but having a good time.'"
White relayed Hand's latest message, which stated, "Storms all day and all night took a nap this morning hope to make progress." The message was sent early this morning, reporting Hand's position from 35 degrees 26 minutes north latitude, 122 degrees 62 minutes west longitude, roughly 80 miles off the California coast (a latitude comparable to San Luis Obispo).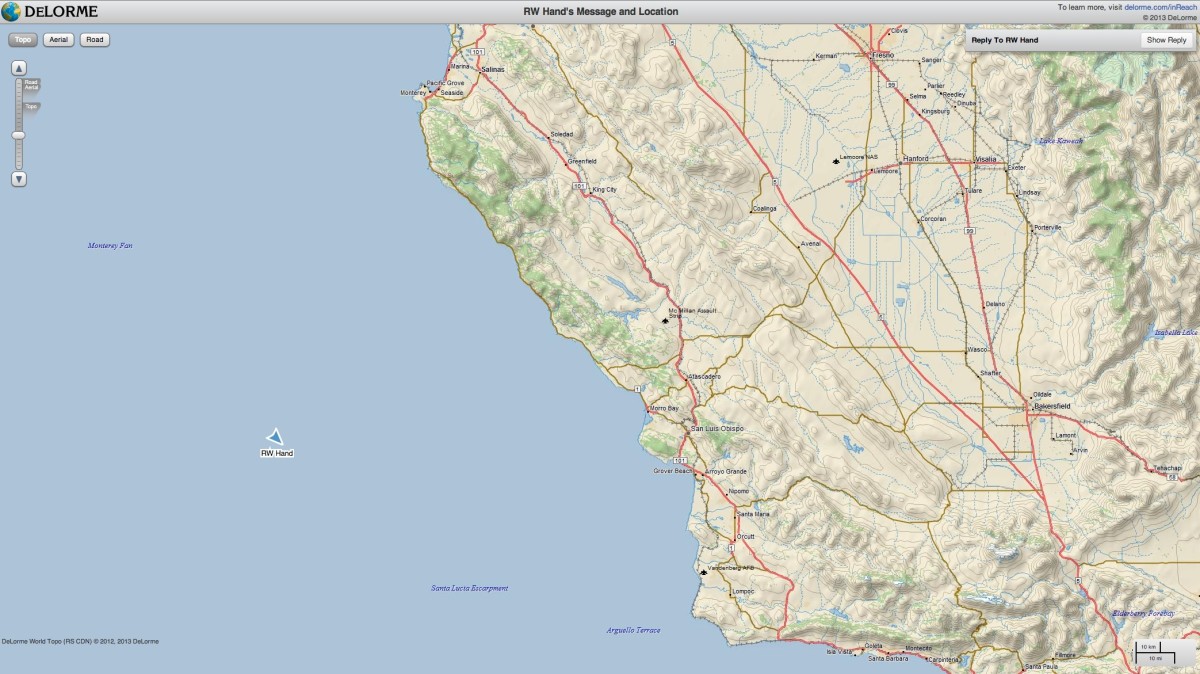 A year ago on June 8, 2013, Hand and Clay Biles, a friend from the pair's tenure working together at the Federal Air Marshal Service, launched two kayaks in an effort which Biles had conceived to recreate Gillet's journey. The expedition, however, deviated significantly from Gillet's with their intention to stick together while paddling separate kayaks.
After eight hours paddling offshore into lumpy conditions, the pair damaged their boats when they attempted to raft up to adjust a sea anchor and rest. With Biles's boat taking on water and the integrity of Hand's craft in question, Biles accepted a Coast Guard tow in and Hand paddled back to Monterey.
White said that the idea of a "mission undone" gnawed at Hand over the last year as he fixed the 4-inch gash through the gel-coat of his bow. White also mentioned that Hand opted not pack a sail, and that he left a cockpit dodger behind in favor of a jerry-rigged system of tent poles to prop his storm cag over him at night. Hand also launched with the following notable items: a sea anchor; two solar panels to charge a pair of GPS devices and a GoPro camera; a bow-stowed, five-gallon reservoir filled with a hand-pump desalinator; a pair of deck-stored, West Marine boat fenders to lash aside the kayak and stabilize it at night; food for 60 days, including a few cigars; and the symbolic reminder—a deck pole-mounted camouflage Mickey Mouse head with a missing ear—of Hand's simple goal to raise awareness through his efforts for the Wounded Warrior Project.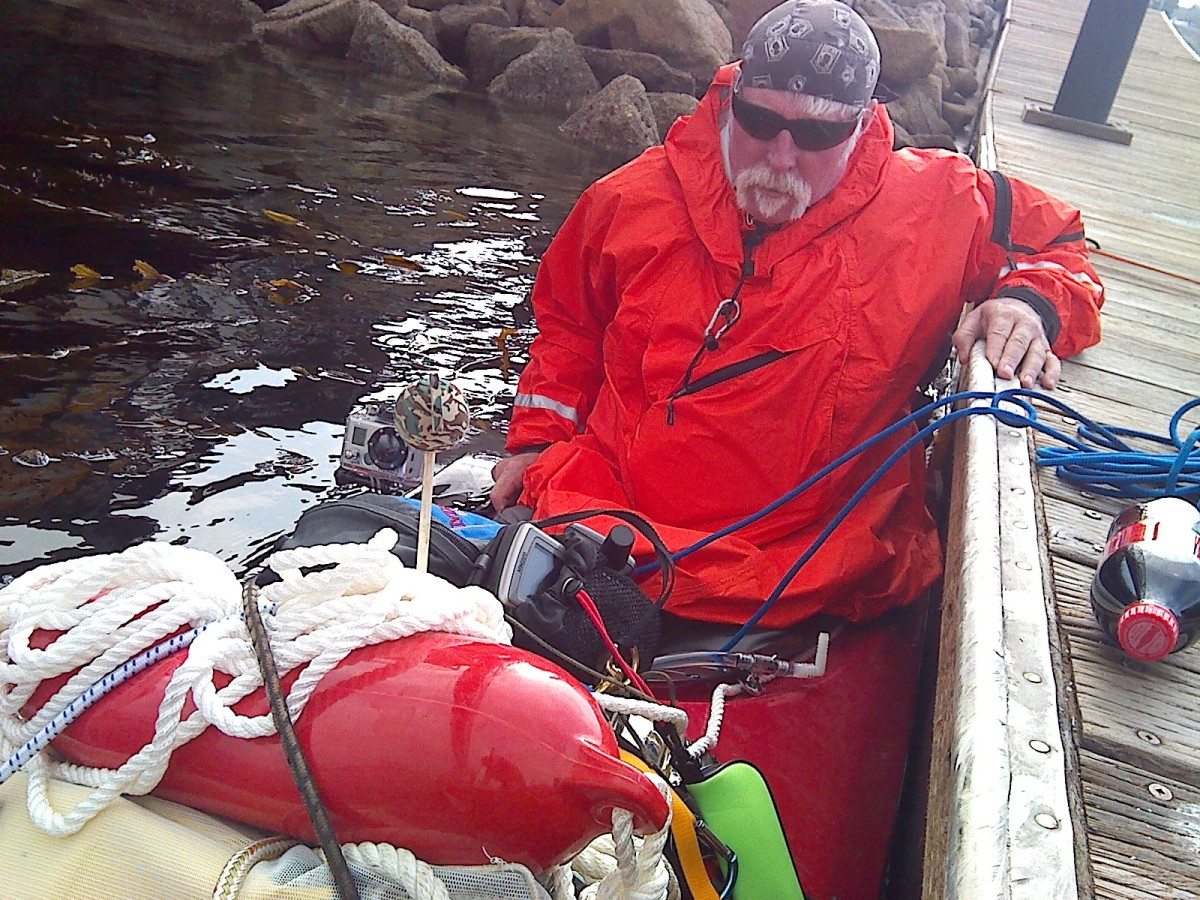 Since retiring from the Federal Air Marshal Service just over two years ago, the former Army Ranger from West Texas has stayed fit, maintaining a daunting, Hulk Hogan body-double-like physique by serving as a volunteer wildland firefighter and finishing a his goal climbing all of Colorado's 53 14,000-foot peaks—"except that one on private land, Culebra (Peak)" Hand added.
White has climbed some of those 'fourteeners' with Hand and can attest to his sense of duty to finish the job, as well as keeping personal goals in perspective. "We were climbing once and Rod told me that it wasn't mandatory we reach the summit, it was only mandatory to come home, and we talked about this being the same way."
Before launching on the first attempt last June, the soft-spoken Hand articulated some of his reasons for wanting to journey out and over the western horizon.
"Too many people kind of get in a boring routine: Go to work, go home, sit on the couch, watch sports," Hand said. "I told my daughter you just have to go out of your comfort zone to test yourself. It's the only way to learn."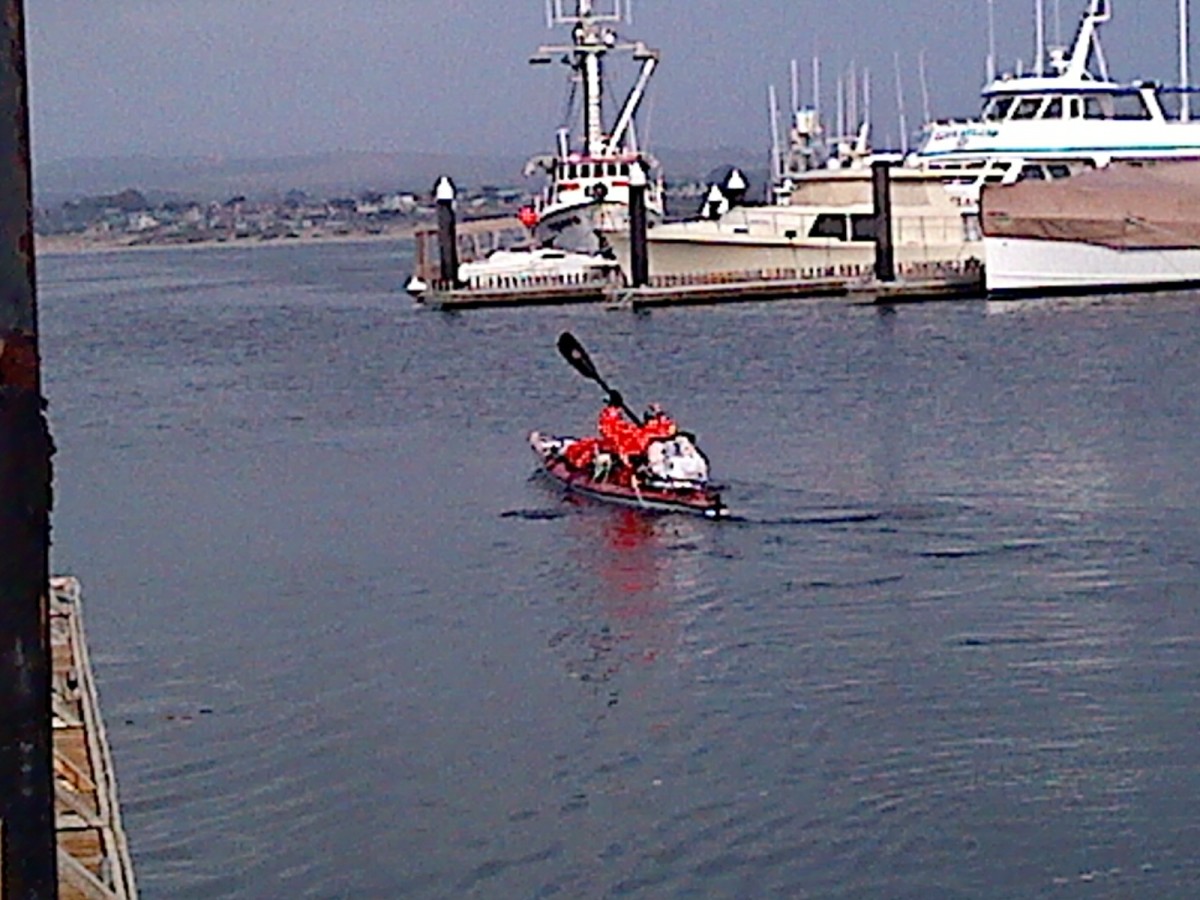 The article was originally published on Canoe & Kayak
For access to exclusive gear videos, celebrity interviews, and more, subscribe on YouTube!