There is nothing quite like paddling on a warm summer's day. If you live near a populous area, the first thing you will notice on such days is that all types of other boaters are enjoying it along with you. Those solitary trips of fall, winter, and spring can fade into memory as the fair-weather crowd takes to the water in droves. The benefit of this extra traffic is that it's easier to get assistance if the need arises. The downside is that it makes negotiating the waterways a little trickier. In addition to the usual shipping traffic, there are now more tourist boats and pleasure craft plying the same waters, and at a much greater speed than the average sea kayak. Paddling safety among a crowded waterway requires lots of attention, knowledge of rules, and a few basic skills.
Visibility: Fact is, most big boats can't see a small boat on the water at all. Ferry captains and ship pilots have told me that the only thing they see, if they know where to look, is the flash of the paddle blades. Bright colors disappear at a distance. Flares, smoke signals, and lights at night make you more visible.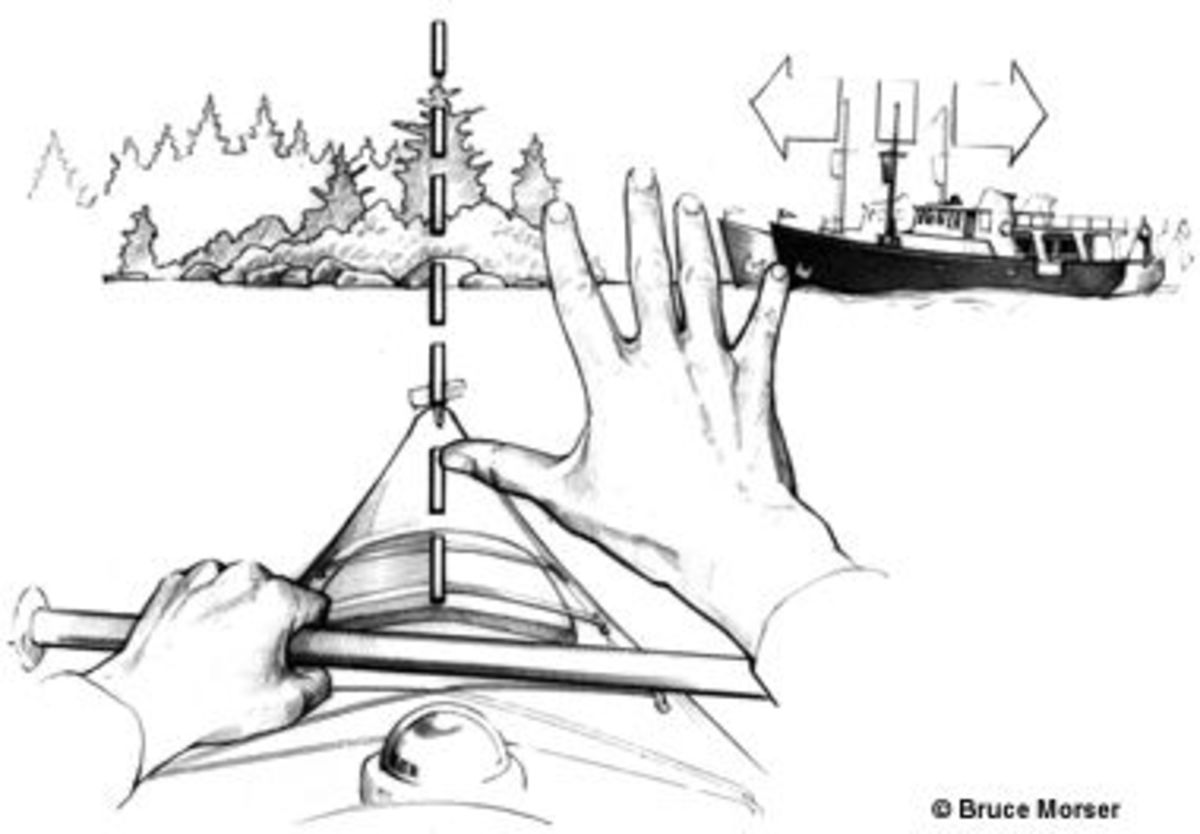 Right-of-Way: Right-of-way is relative. Since kayaks are very maneuverable, it is legally up to us not to cause less-agile craft to come to grief. While there are some situations where you have right-of-way, you cannot assume that other boaters are able to see you or even know the rules. In narrow channels and passes, we must stay to the right, as close to shore as safely possible, and not impede larger vessels that must navigate certain areas to be safe. If it is too rough near shore, wait until there is no other traffic and go down the middle.
Collision: When meeting a boat head-on, you should let it pass to your left, as should they. Make a definitive course correction so they have no doubt as to which way you are headed. If someone is approaching from your stern, you must maintain your course, and they must avoid you. You still must pay close attention to traffic from your stern, because they might not be able to see you below their bow. Boats entering waterways from slips or marinas will not see you, and you must exercise caution in those situations.
There are shipping lanes marked on charts, and less formal but equally real lanes where ferries run. Know where the shipping lanes and the ferry runs are, and avoid them. If you must cross them, do so with caution and speed, in a perpendicular path. NEVER try to pass between a tug and its tow, or outrun a ship or speedboat. By law, you must know how to judge whether you are on a collision course with another boat by using the angle-on-the-bow method (see illustration). This lets you judge whether the boat is going to pass in front of you, behind you, or right over you.
Speedboats and Personal Watercraft: They cause many problems, because they are very fast, curious, and sometimes oblivious to the rules. They may veer over to check you out, or give you a thrill ride on their wake. Be extremely attentive when they are in the vicinity, and be aware that they will be upon you in a hurry.
For further study, see "Rules of the Road" in the Coast Guard's book Navigation Rules. Also see Coast Pilots for applicable rules. Defensive paddling and smart planning always make for a safer trip. Be sure you know how to make the waterways safe and enjoyable for yourself and others.
John Meyer is head sea kayak instructor at and a co-owner of Northwest Outdoor Center in Seattle.
The article was originally published on Canoe & Kayak
For access to exclusive gear videos, celebrity interviews, and more, subscribe on YouTube!