Travis Kauffman just wanted to go on a trail run. What happened next is one of the more incredible wilderness survivor stories in recent memory. Kauffman spoke at a press conference about the attack 10 days after it happened, recounting the intense and harrowing experience he had in fending off a mountain lion, killing it by stepping on its neck.
Kauffman said he was planning to run near Horsetooth Rock Peak on February 4 when he found his planned trail too icy, so he turned back and took a different trail in the area. "About a quarter mile into that run, I ended up hearing a rustle and a stick break, and I turned around and was pretty bummed out to see a mountain lion chase after me," Kauffman said at a press conference on February 14. "I stopped, threw my hands into the air and started shouting, and unfortunately the shouts didn't deter it."
Kauffman, who has been trail running for about a year, according to CBS4 in Denver, said that the mountain lion then lunged towards his face, which caused him to try and block the lion using his arms. The animal grabbed his right hand with its jaw and started to claw at Kauffman's face and neck area. "That's when my fear response turned into more of a fight response," Kauffman said.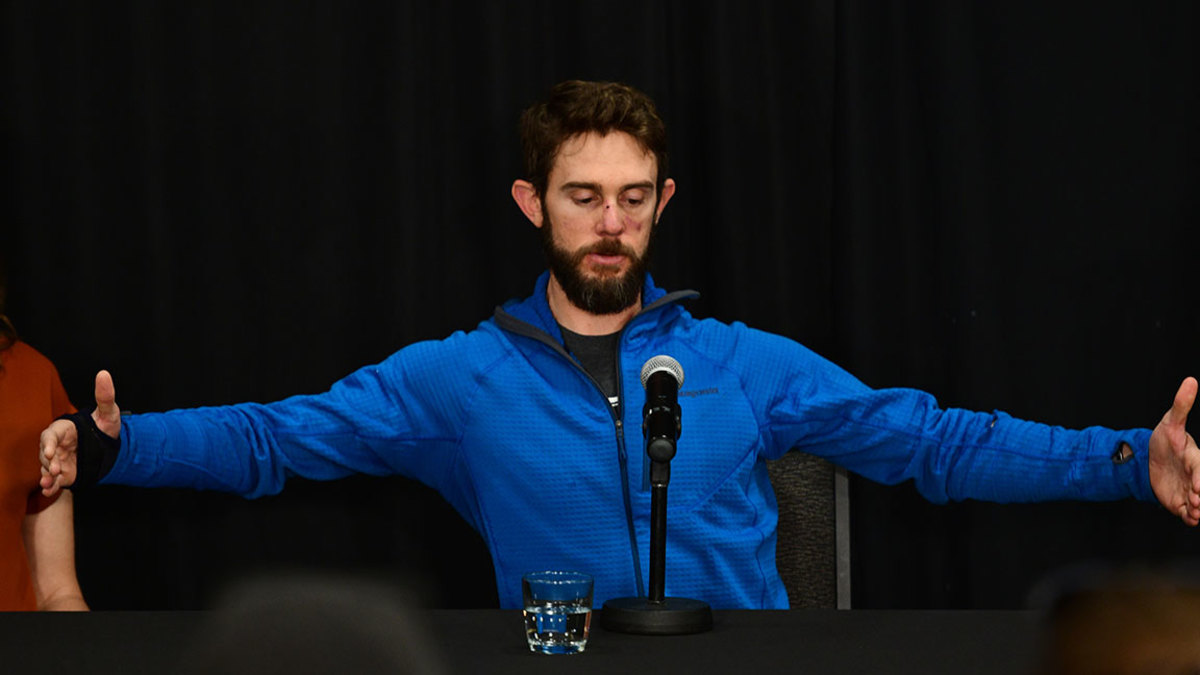 Kauffman said the mountain lion clawed his lip before the two fell off the side of the trail and down to another area—all while his right arm was still locked in the mountain lion's jaw. A "wrestling match" of sorts ensued after that before Kauffman was able to pin back the legs of the mountain lion and then start hitting its head with sticks and rocks.
"I couldn't really swing with one arm," Kauffman said. "So I shifted my weight and got a foot on its neck. And at that point I stepped with my right foot and just slowly after a few minutes, it started thrashing again, and I'd say, a couple minutes later, it finally stopped moving, jaw opened, and I scrambled up the hill and got the heck out of dodge."
Kauffman said he ran back up towards the trail and had to go about three miles to get out of the park before finding another runner, after which someone else gave him a ride to the hospital.
The Colorado Parks & Wildlife Service put out this video of Kauffman describing the attack in detail. Just a warning, the video has some footage of Kauffman in the hospital with some of his injuries still visible:
This is Travis Kauffman.

This is his story of how he survived a mountain lion attack.https://t.co/iMU9cgu5GM

— CO Parks & Wildlife (@COParksWildlife) February 14, 2019
Next time you head out on a trail run or a camping trip, make sure you do your research about animal attacks or animals in the area you're visiting. The National Park Service has on their website a safety guide that goes over the main ways that people can stay safe if they encounter a mountain lion and ways to prevent it happening in the first place. Check out these steps on what to do if you end up in a similar situation to Kauffman.
For access to exclusive gear videos, celebrity interviews, and more, subscribe on YouTube!