Adventure
Finding the Path of Least Resistance on Chile's 85-Mile O-Trek in Torres del Paine National Park
The night before departing on a five-day, 85-mile run around Torres del Paine National Park, I lie on a hotel twin bed journaling about the possible mishaps lurking in the days ahead. Patagonia's weather is notoriously fickle, the trails are rumored to be rocky and technical, and there aren't many bail-out options if something goes wrong. Despite an early alarm, my sleepless brain was moving at terminal velocity.
An hour earlier at dinner we'd ordered an extra round of pisco sours—Chile's traditional cocktail—and I was feeling sassy, spray-painting ink from my ballpoint pen onto the page. There wasn't a clear purpose or endgame other than the catharsis of scribbling. I had earbuds in, apathetically listening to the Tribe of Mentors audiobook, when this quote slapped me across the face:
"It's easy to convince yourself that things need to be hard, that if you're not redlining, you're not trying hard enough. This leads us to look for paths of most resistance, often creating unnecessary hardship."
Guilty as charged. I love challenges and generally prefer to work for something over having it handed to me. From the NYT Sunday Crossword to moto trips across Africa, I enjoy the process as much as the end result. In that moment, sitting cross-legged and lit by a headlamp, I was mentally gearing up for another self-indulged sufferfest. I crossed out my last sentence and wrote, "Why does it have to be hard?"
After a pause, my pen started to fly again. What if the next five days were easy? If the weather was mild, my nagging Achilles tendonitis never flared, and the execution was smooth? Would it feel as valuable or exciting? Heaven forbid, would it no longer merit publication if it wasn't rough and punishing enough? Many people, myself included, believe success comes from overcoming adversity, but what if we're just making life unnecessarily harder for hard's sake?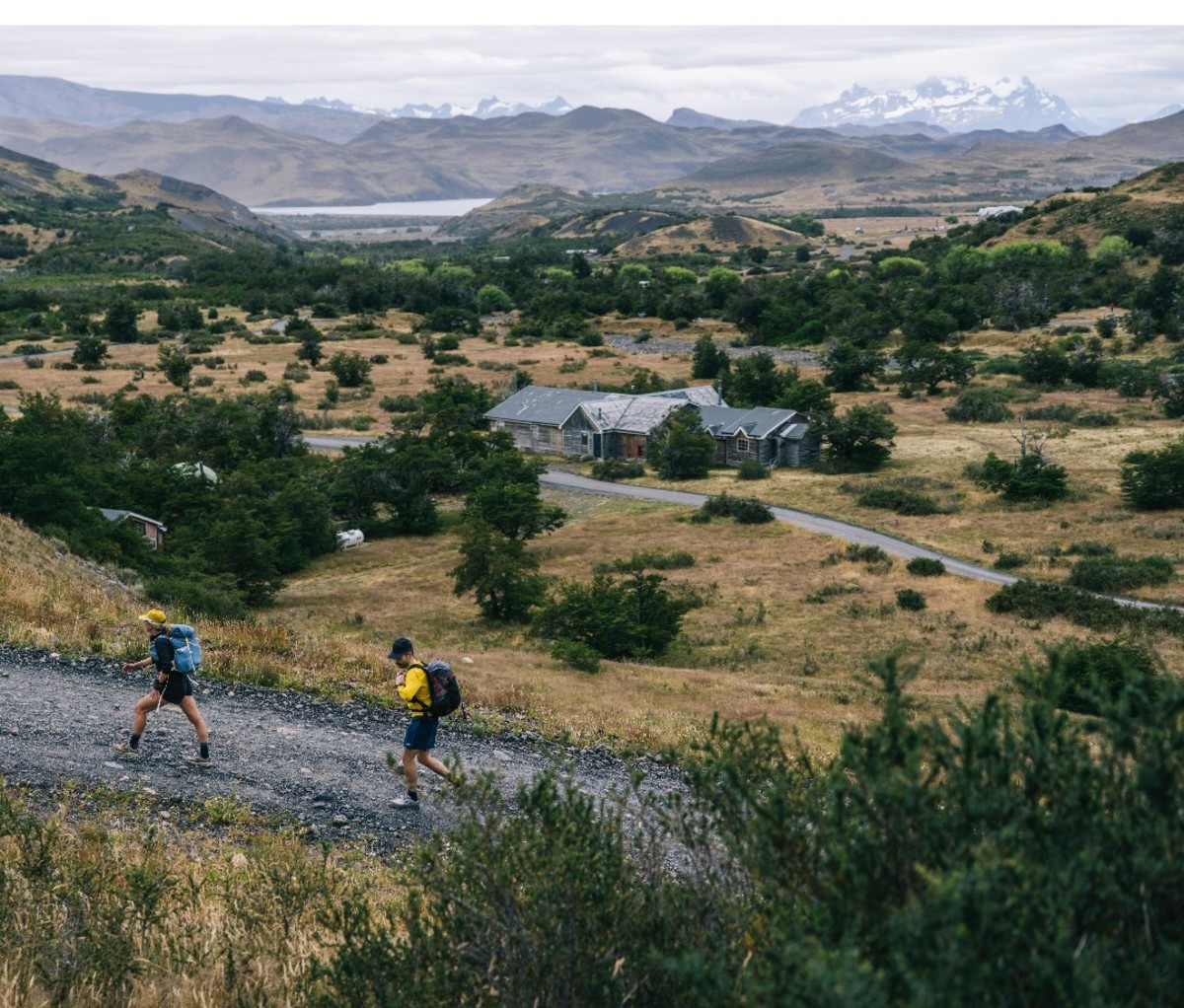 Rewind a Few Months…
Torres del Paine has long been on my list. It's one of the most famous parks in the world, and for good reason. In the heart of Chilean Patagonia, it's filled with jagged towers, vast glaciers, and lush forests. It's a real-life theme park. The downside is that Torres is typically saturated with crowds, but this year with stiff restrictions for entering Chile, I had a feeling we might be able to avoid the herds of people.
We began to put plans in place to fastpack (a hybrid of running and backpacking) the O-trek, which circumnavigates the Torres massif. The loop's total distance varies on the side trails you add to the itinerary and is typically hiked in 10 or so days. We opted to cut that time in half, running between refugios with relatively light 20-pound packs. Staying in these small huts at night, we carried just the basics: a spare set of clothes, snacks, first aid, and a few necessities—trying to balance weight with safety.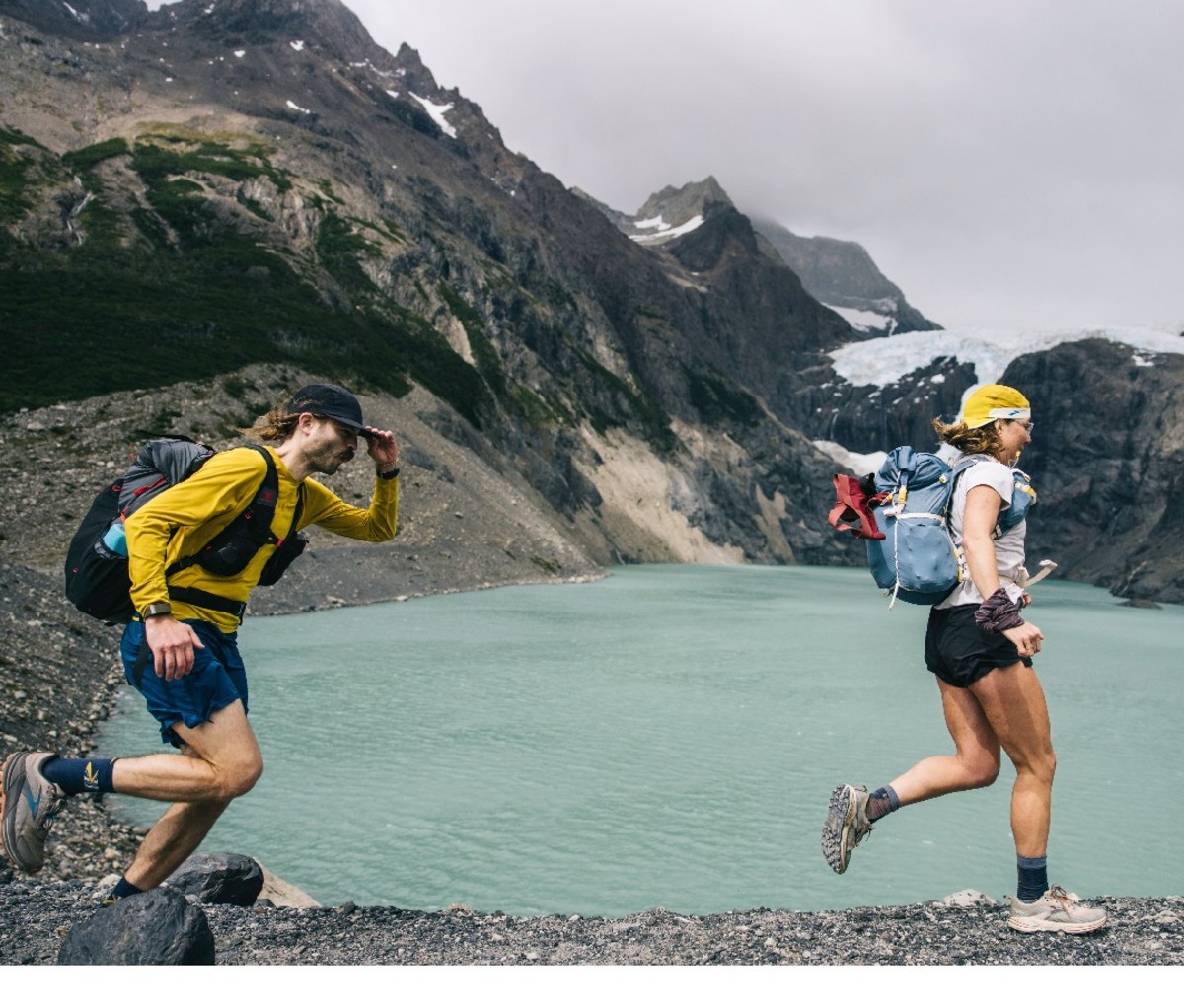 After two months of planning, two days of travel, and two negative Covid tests, we were finally in the shuttle, driving into the park itself. Chalo, our driver, was explaining the various types of ecosystems we would likely see. He explained the risk of pumas (there are over 100 in the park) and suggested the weather would likely be "all four seasons in one day"—because "that's how it always is here." I couldn't help but grin, realizing our plan was finally coming to fruition.
Following Paine River
The three of us woke early, had a simple breakfast of yogurt and fruit, and left Hotel Las Torres before the other guests had stirred. It was 50 degrees and misty—perfect running weather. The aim for the day was to run 21 miles, following the Paine River upstream until we reached Dickson Refugio. With fresh legs we moved quickly, getting to Seron campsite, our halfway point, in just a couple hours.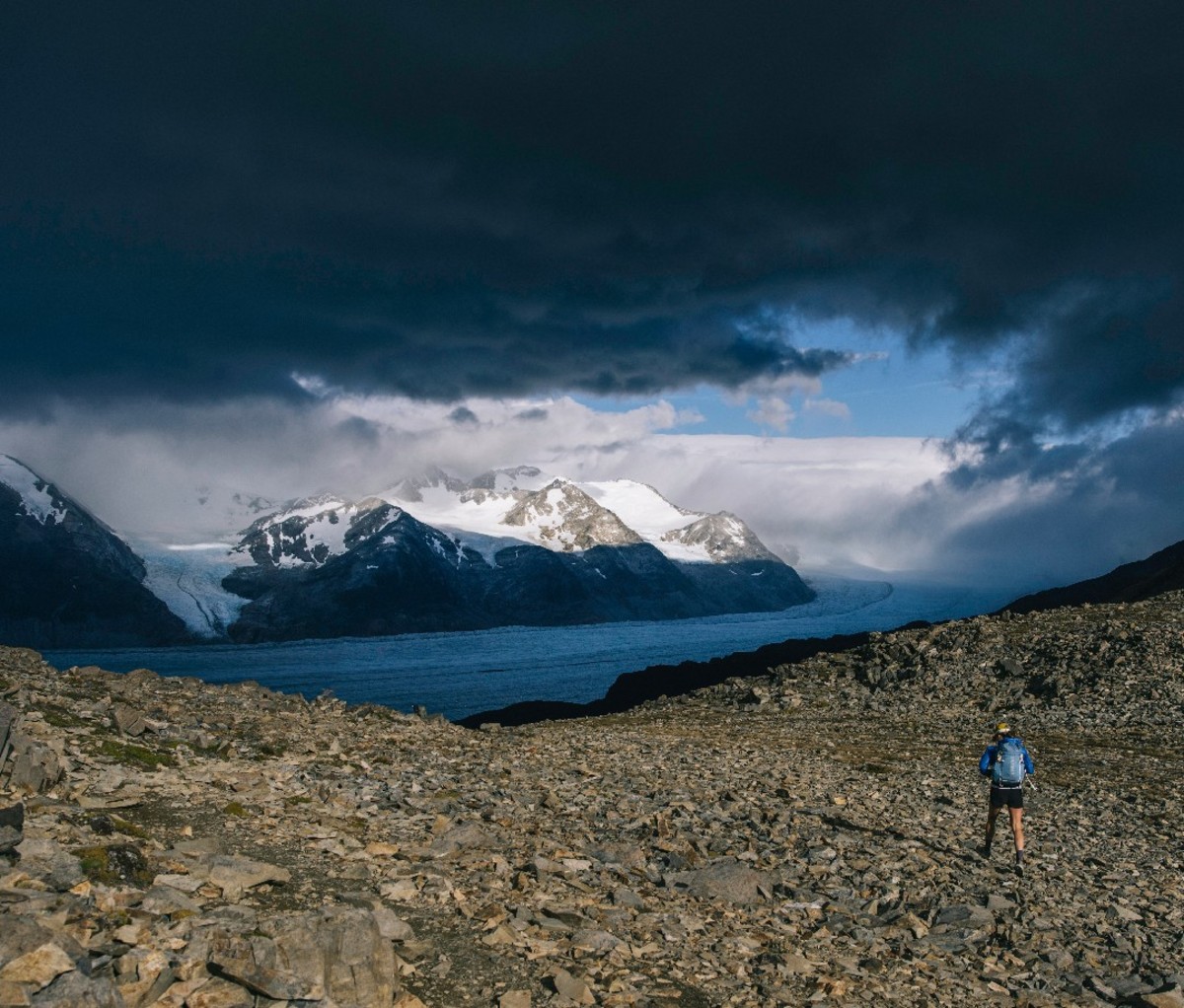 In that section we spotted more condors and guanacos—a relative of the llama—than humans. The O-trek was already living up to its remote and wild reputation. Filling our water at a campsite faucet, we greeted some park rangers in broken Spanish and continued on our way. I carried just two small flasks for the entire run, knowing we could refill from almost anywhere without risk of giardia.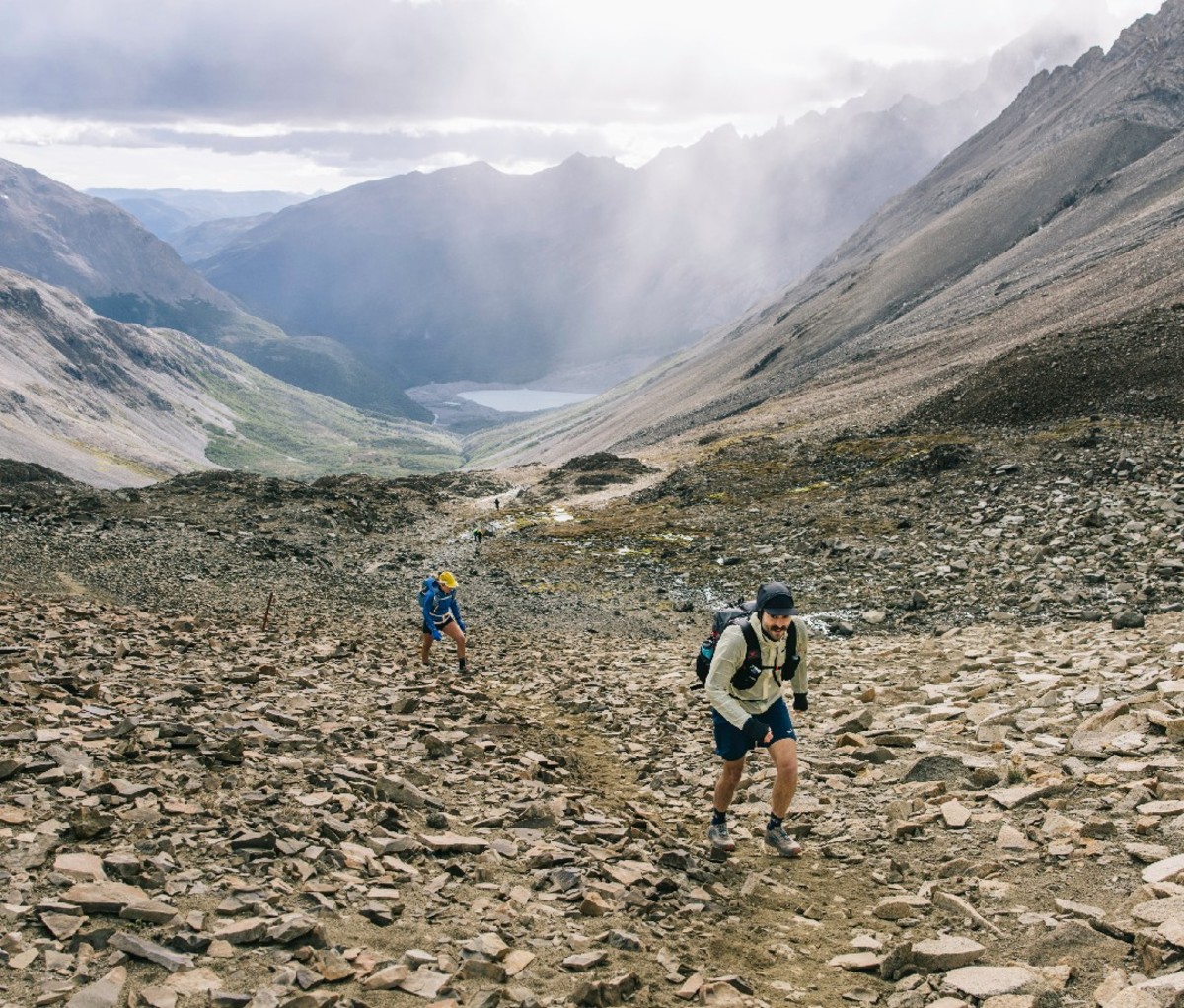 In the next few miles we slowed, hiking up our largest pass for the day. Still, things felt easy. We bantered about books and bad relationships, and before we knew it we were on the ridge above Dickson Lake, looking down at the refugio and campsite. I was sore and hungry, but not overly so. We had all afternoon to read, journal, and soak our legs in the glacial lake—nature's ice bath. The foreshadowing in the audiobook was starting to come true and I felt myself fighting it, almost willing something to go wrong.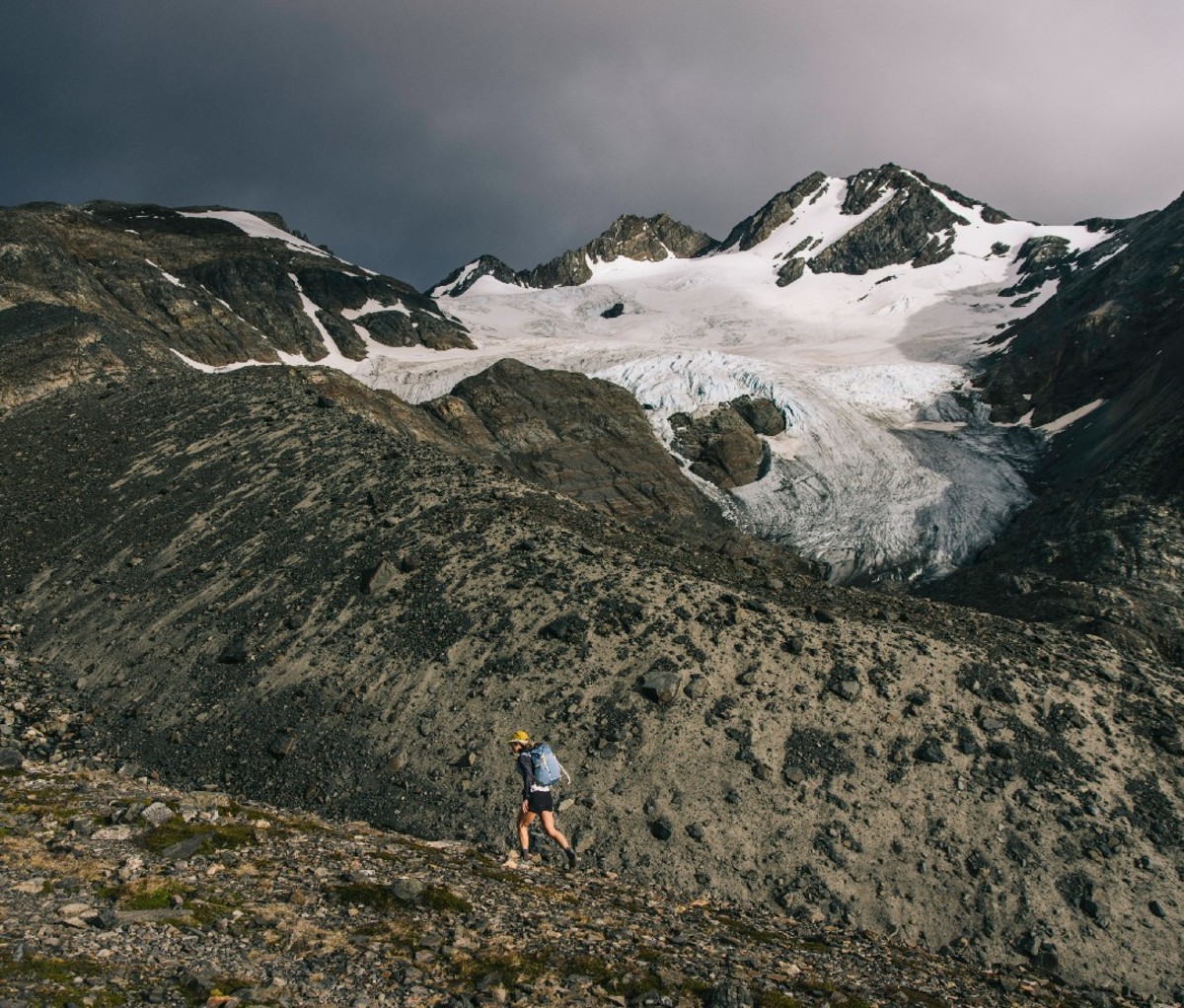 From Lowlands to Glaciers
The next two days were our shortest, due to regulations in the park. The concessionaire for the O-trek, Vertice, wouldn't budge when asked about consolidating them into one long day, citing safety concerns. So, we slept in and woke to the sound of rain pelting the metal roof above us. After three cups of coffee and a slow breakfast, we finally packed up and headed out for the day.
The climb up to Perros Camp is a steady grade, hidden in a thick forest. The trail was muddy with roots but notably better than the descriptions we'd heard. This wasn't a bushwack at all, but rather a mellow, winding trail. A week earlier we'd read a horror story about this part of the route—featuring a huge storm, frozen toes, and overgrown underbrush. That wasn't the case for us at all, much the opposite actually. So we added a few miles to the day, hiking up a side valley to Puma Glacier, exploring an ice cave before returning to the campsite for a stovetop dinner.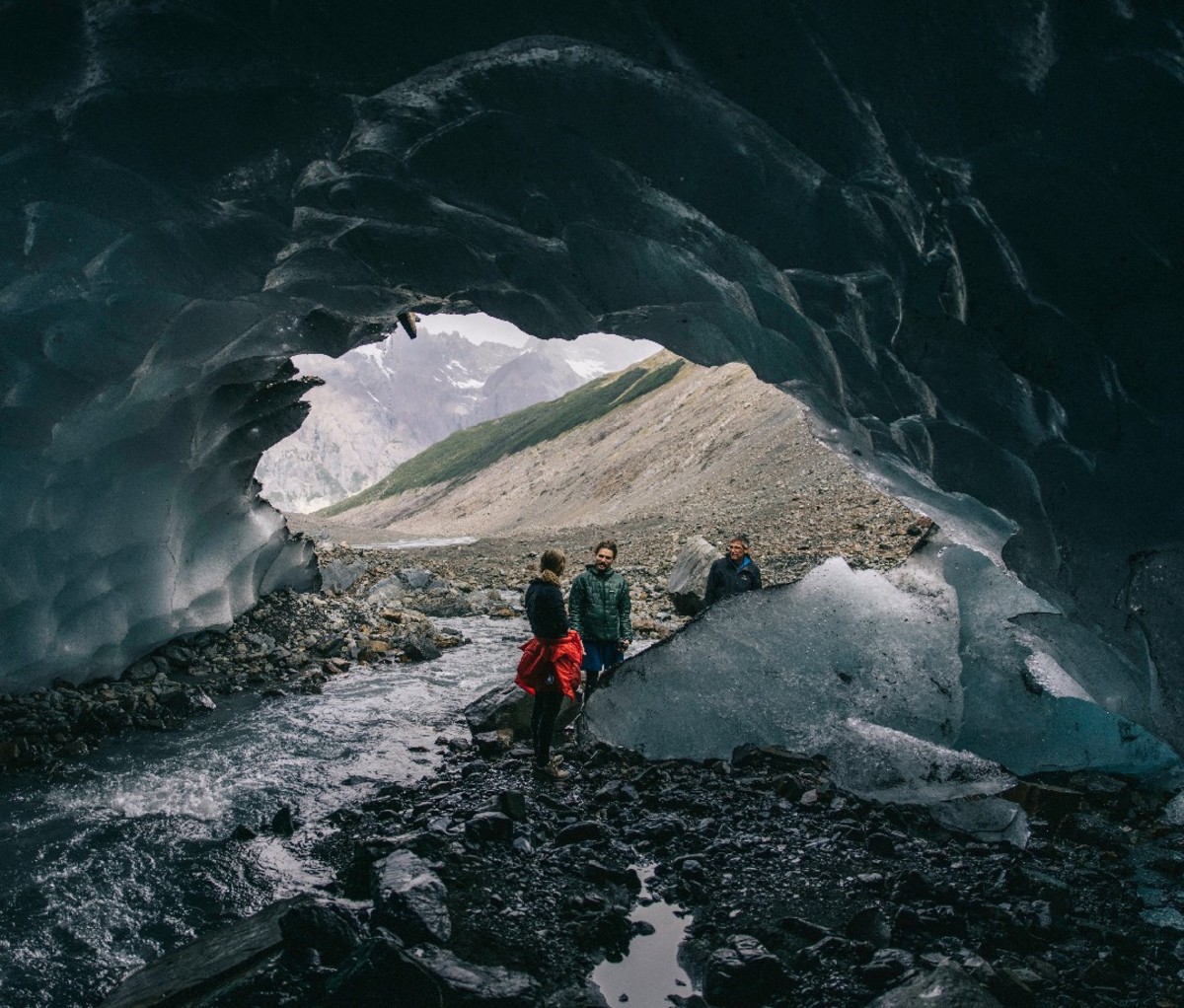 The next morning we continued uphill towards John Garner Pass, which is considered the crux of the route. A 3,000-foot climb in three miles is nothing to scoff at, but also nothing to be terrified of either. Due to weather coming straight off the ocean, the summit is known to be windy, sometimes with gusts that'll take you off your feet. Topping out, we looked down on the crown jewel of the park, Gray Glacier. Stretching from the lake below to the distant mountains, it might just be the Eighth Wonder of the World.
Finish on the W
After a steep, 5,000-foot descent, the trails along Gray Lake are flowy and stunning, including three large suspension bridges that almost defy logic. We cruised through these miles, staring at the baby blue waters adjacent to us. I started wondering if the whole trip might truly be trouble-free, if the group would continue to flow and my legs would stay fresh. So rarely does it all fall into place.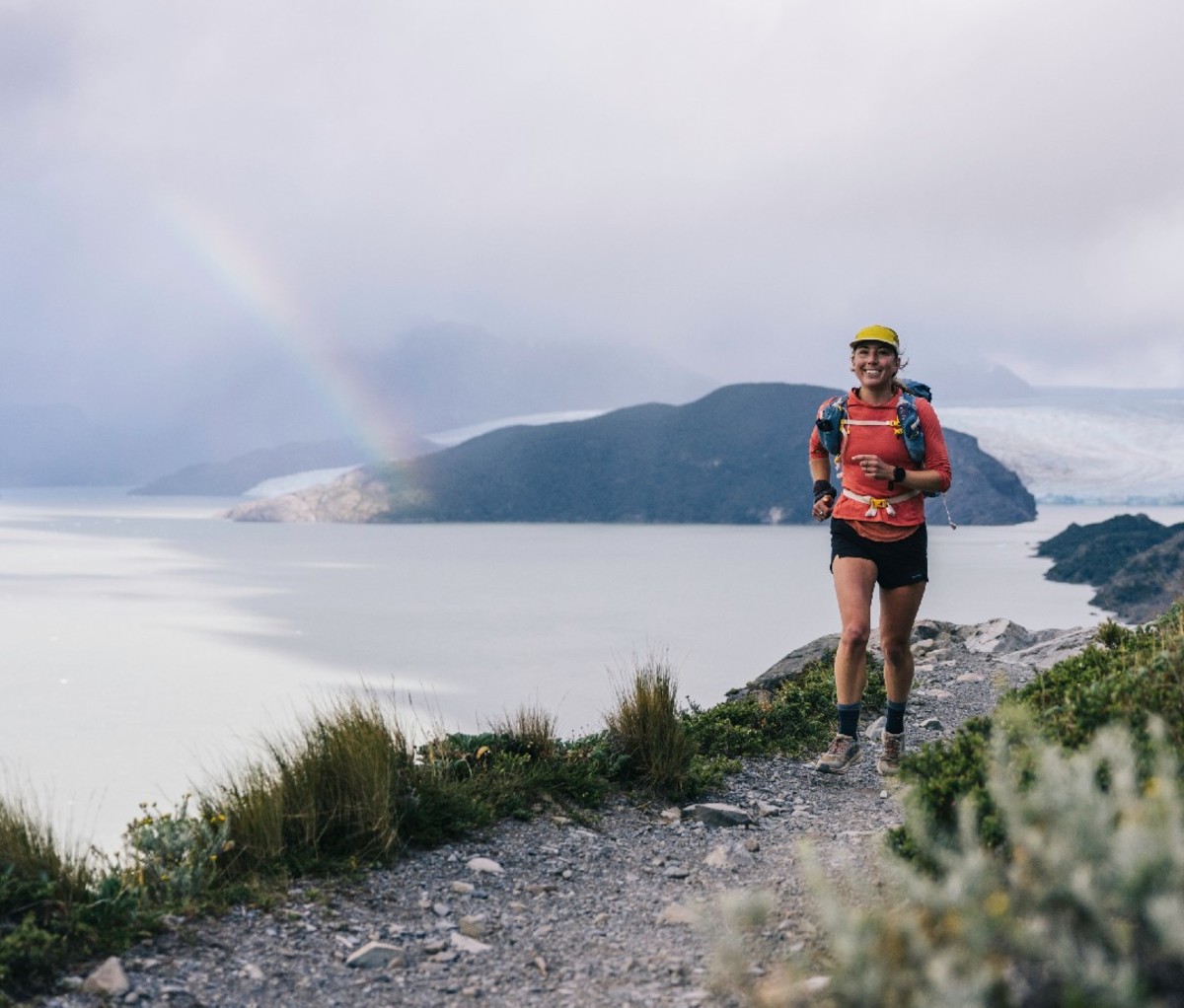 That night I journaled about finding the path of least resistance. We tend to glorify the struggle in the outdoor adventure world, but maybe I didn't need a harrowing experience to have a great trip? Did I need some sort of hardship to feel proud of our run in Chile? Or was that my ego talking? Did I actually want things to go wrong or was that just wanting a good story after? I decided to sleep on it.
Over the next two days we ran 30-odd miles and thousands of feet of vert, but the numbers don't matter. This section of the loop, the W-trek, runs from Gray Refugio, past Paine Grande, up (and back down) Frances Valley, past Cuernos Refugio, along Nordernskjold Lake, up to the Torres spires, and back to our hotel. A mile from the end, we stopped by a lake, admitting how anticlimactic it felt. Our grand adventure had turned into a joy ride, mostly by dumb luck. As we took turns skipping rocks across the water, I realized how happy I felt—and that instead of "solving" problems, I can sometimes just reframe them.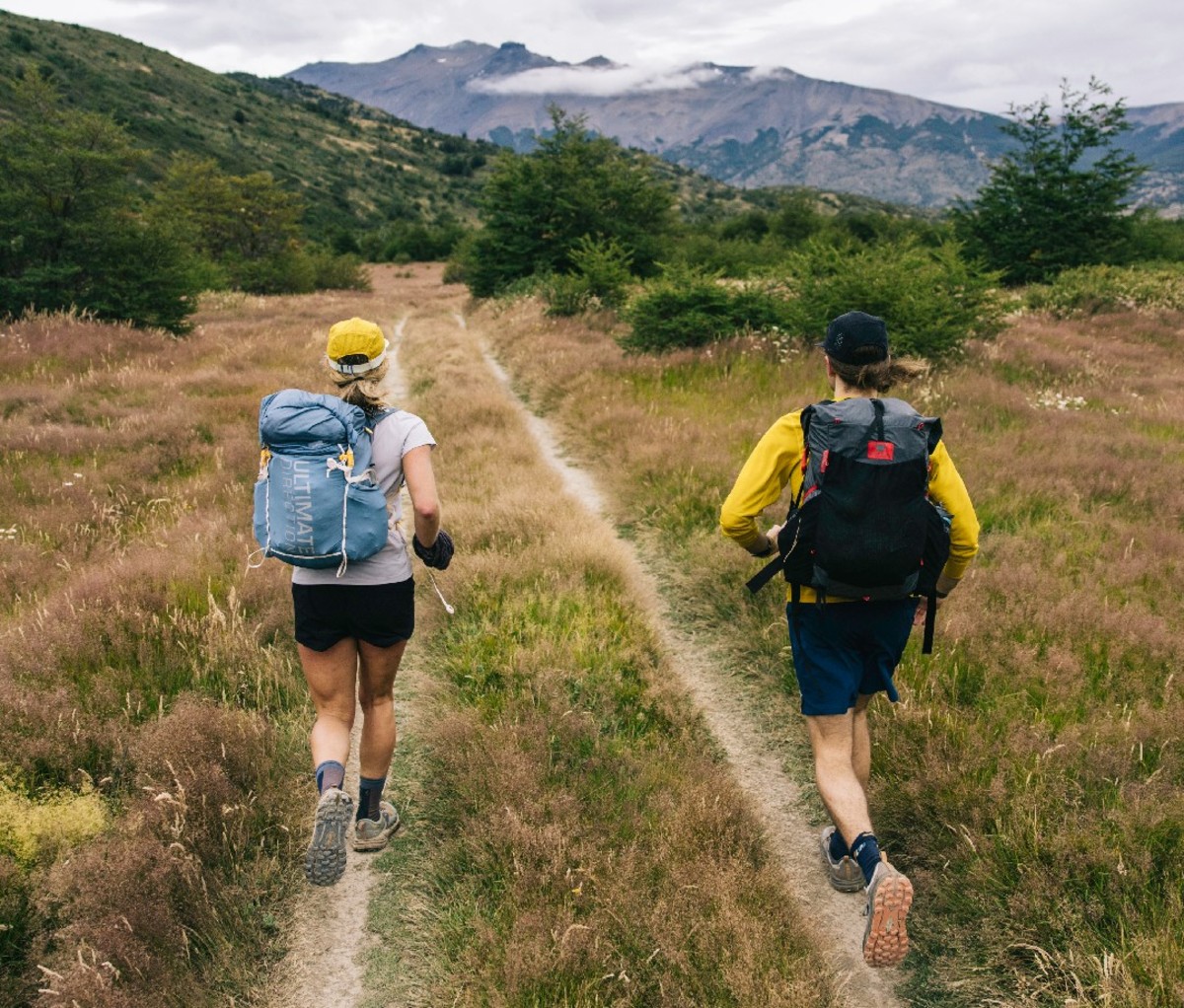 5 Key Pieces of Gear for Chile's O-Trek
For access to exclusive gear videos, celebrity interviews, and more, subscribe on YouTube!