Evan Garcia ran Salto de la Puma, but it had cost him. He had dreamed for six years of Chile's notoriously challenging waterfall, and on Dec. 28, 2013 he became the third person to run the 110-foot drop. Despite Garcia's good line, the bow of his kayak folded on impact. In agonizing pain, Garcia managed to roll his kayak and call to his crew for help. The rescue team rigged a pulley system and dragged Garcia out of the gorge and to a nearby hospital where doctors confirmed he had fractured his left tibia.
Some people—actually most—would call Garcia's stunt crazy. I disagree.
Garcia first saw the Salto de la Puma in 2008, when he was an 18-year-old paddling phenom. "There was just so much more to this drop than what I had seen in anything else," Garcia says in a video he made documenting the drop. He describes the rapid right above the waterfall as pushy and unpredictable. The current rushes over the lip and drops 110 feet to the pool below, where half of the river's flow goes into a recirculating "room of doom" on river right. It ranks among some of the hardest waterfalls ever attempted, but despite its mortally small margin for error, Garcia knew la Puma was runnable. In February 2012, Garcia's good friend Aniol Serrasolses proved the point with the first descent of the waterfall.
During the six years after he first viewed la Puma, Garcia and his friends upped their paddling game on intense Class V adventures around the world, including first descents in some of Central and South America's remotest regions. Garcia also began to distinguish himself in the extreme racing scene, placing top 10 in both the 2012 Whitewater Grand Prix in Chile and the 2013 Little White Salmon Race. By the time he visited la Puma in December 2013, Garcia had become one of the world's most skilled kayakers.
Garcia was confident, not cocky. He understood the potential consequences of a missed line. "I had always known that if I decided to run a 100-foot waterfall there'd be huge risks involved," says Garcia. "This is a part of the game."
That Saturday in December the water level was right, he could see the line and an experienced rescue team stood by on site. Garcia was ready to play.
Garcia ran la Puma, landed and remained in his boat when he rolled up. He bagged his first 100-foot waterfall. Despite the injury, Garcia doesn't second-guess his decision to run la Puma. "Even though it wasn't close to the outcome I had hoped for running this waterfall I'm still stoked I did it and am personally happy with how I paddled that day," said Garcia.
Many call Garcia's stunt crazy, but I see it another way. Garcia ran la Puma after years of developing experience and skill. He took a calculated risk, and that is anything but crazy. Facing risk is what pushes human achievement beyond what we think is possible.
So I say kudos. Garcia's fractured leg may have halted his paddling adventures for a little while, but the injury has not discouraged his ambition to find the next waterfall. When he does, I'll cheer him on.
C&K online editor Charli Kerns is a whitewater canoeist and kayaker. Her views are her own.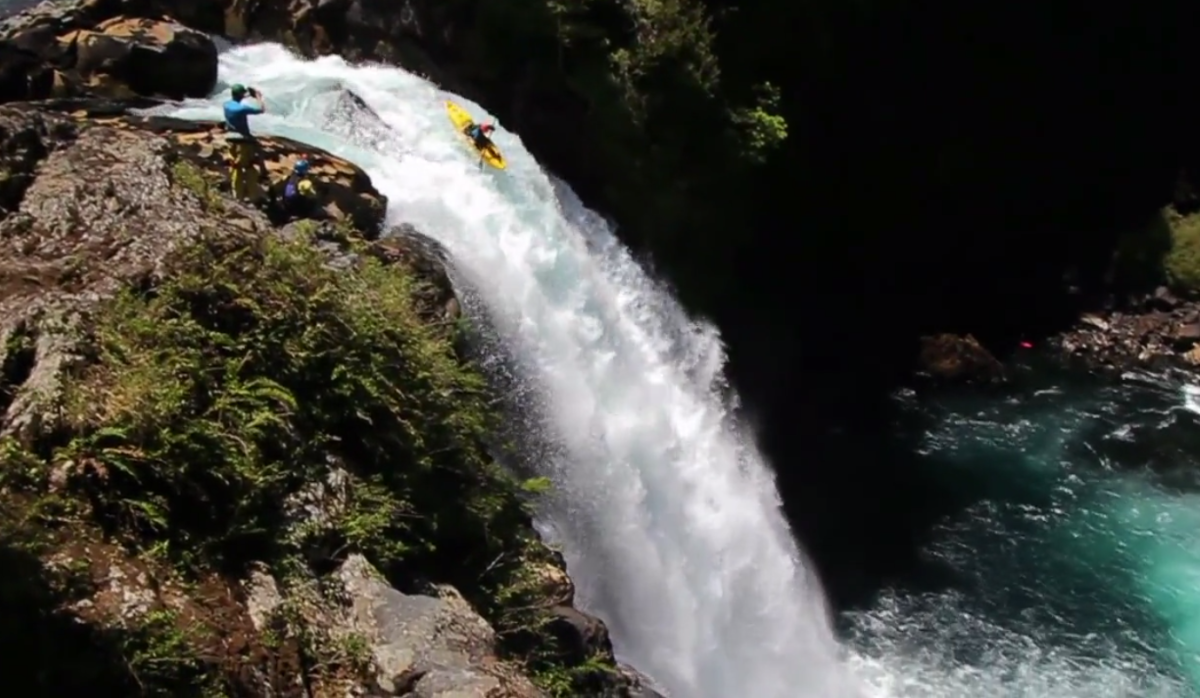 The article was originally published on Canoe & Kayak
For access to exclusive gear videos, celebrity interviews, and more, subscribe on YouTube!